Staind in Concert: Louisville Gardens 12/8/06
By Jason Koerner
On a fairly warm December night, Staind was back to perform for the Derby City at Louisville Gardens. Opening acts included Shinedown, Hinder and Of Sound Mind (sort of a Louisville area band). The night was full of misadventure from its onset and provided much to talk about.
Though everything was prearranged, at Will Call, there was a photo pass for me but no tickets to get in the show. Nice. (Been there, done that... probably won't be the last time.) My fears that I would have to take pictures of Staind from Muhammad Ali Blvd. were resolved when Staind's tour manager, Dave, resolved the issue after just one phone call. Thank you, Dave, for being the man who can get things done!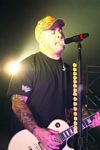 Photo By Photo by Eddy Burke
On to the show...
Of Sound Mind is doing well and it was good to see some local talent on the big stage. Louisville natives David Frazier (vocals) and Terry Harper (drums) are both great at what they do and seem to gain notoriety in any project they work in. The band has a lot of talent and potential and could do bigger and bigger things if the cards continue to fall correctly. From where I was sitting, the sound at the show was not that great, but the band's studio work shows what the finished product could be like. Of Sound Mind can be found at www.osmmusic.com.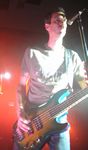 Photo By Photo by Jason Koerner
Hinder came up next and seemed to be a fan favorite. Much of the crowd seemed to be of a younger demographic that was more interested in the teen hormone-injected themes of Hinder than the more serious content of Staind, but nonetheless, Hinder worked the crowd very well. Their latest hits, "Lips of an Angel" and "Get Stoned" say it all. Sex, drugs and rock & roll, baby! Throw a little "Whoa-oh-oh-oh-oh-oh-oh" in the mix and you've got a hit record. I do fall prey to the line "because the sex is so much better when you're mad at me." That's catchy and sometimes true. On an odd note, during their set, two bodybuilding male strippers came out unannounced and did a show, then left. Hinder explained after the song was over that it must have been done as a practical joke by Staind and they were having a lot of fun on the road together. This will come back up again later, so read on...
Now it was time for a bathroom break. As many other things in life, sometimes simple tasks become monumental ones. This was one of those things. Part one involves my pit stop. Other than the usual filth (both physical surroundings and public conversations) of a Men's restroom, nothing eventful takes place. On to leg two- the dreaded Women's restroom line for my girlfriend. These things are always 10 times longer than the Men's lines (even when there are 10 times more men present) and they never move quickly, as women are a bit more complicated and sanitary by nature. I wait with her for a while and notice we're not moving at all. Come to find out, it's out of order. There's only one other female facility and you can imagine the line on that one now. So she holds it. Thank you, Tonya for having bladder control like none other!
Shinedown was up next and they were great- except for one part. I couldn't help but think of the infamous Ashley Simpson moment on SNL when she was caught lip-syncing. I am not accusing them of a similar charge, but it kind of seemed like that was the case during the chorus of "I Dare You." The vocals went out and I thought, "OK, no big deal- they lost power on the microphone." Then it happened again: same part, with varied volumes... a seemingly off-sync ending was the icing on the suspicion cake. At best, it was a great song tainted with technical difficulties, but I fear something more may have taken place. Why? I have no idea, because Brent Smith is an incredible vocalist with great range. I may be off on this one, but it struck me weird and I had to speak my mind on it. Other than that episode, the band put on a great show and impressed me with the quality of their live performance. The band is growing on me as I listen to them more. I was not a fan of the single, "45," but have become a late-bloomer fan. Shinedown proves to be one of the few true-to-form "rock" bands that I actually like these days.
Staind headlined the show and as always, delivered a great performance. However, this one was a bit different than my previous (four) experiences seeing the band live. Aaron Lewis was a little happier than usual. He actually cracked jokes! Strange, but acceptable. The band has changed a great deal over their decade of success, both musically and emotionally. Lewis (especially) has come a long way from the place he was when he wrote lyrics/music for Tormented and Dysfunction. This is not to say he is a stand-up comic now, but something was slightly less serious about this performance compared to others I've seen. Of course (as promised earlier in the review) this may have had something to do with the fact that the band kept getting interrupted by a fat guy in a gimp suit. Yes, the earlier joke on Hinder was returned and returned without mercy. It was pretty funny- the first time. However, it was not funny the second, third, fourth, etc. It got old quick as he continued to be sent out, once stopping Aaron while in the middle of Alice in Chains' "Nutshell," which he never came back to finish playing. It appeared that Aaron was getting tired of it too, though he was very sportsman-like about it on stage (minus the heckle-driven lyric change to "F**k You" rather than "I'm Sorry" during "It's Been a While"). Between the fat gimp, the inflatable penises and repetition of it all, it started to beat a dead horse. The joking took away from an already suffering ambiance. I don't think you can pull off songs like "Home" and "For You" with dick balloons bouncing around the crowd of teens crowd surfing- just to be crowd surfing.
With all due respect to Staind, as they are one of my all-time favorite bands, this performance was not their best for obvious reasons. However, they sounded incredible when left alone. It is always nice to see them play the older stuff from Dysfunction like "Mudshovel" and "Suffocate," but the highlight of their set to me was "Falling." That song does it for me.
On another note, I had the pleasure of interviewing guitarist, Mike Mushok, so be sure to check out what he had to say in the accompanying article. We talked in depth about the new album and DVD (which are great, by the way) and what's happening with the band now. Mike was a genuinely nice guy with a lot of energy about the band. Anyone who has seen him on stage could have guessed that from his convulsive body movement while performing.
I hope that when I see Staind next, it is without all the practical jokes and distractions. The quality of their music is of a high enough caliber to excuse a poor light show or general admission seats and also enough to get me through a smoky section of fellow concert-goers, but nothing can stand up to the aggravation of interruptions and cheap laughs. Maybe the antics were part of "end-of-tour" burnout relief, which would make me want to see a show at the front end of the tour, but that's pure speculation. It was a fun night, but it wasn't the Staind I know and love.