Scuttlebutt
A Sit Down With Black Stone Cherry
By Jason Ashcraft
Black Stone Cherry is: Chris Robertson, Vocals/guitar; Ben Wells, Guitar/vocals; Jon Lawhon, Bass/vocals; John Fred Young, Drums.
What are your first memories as musicians?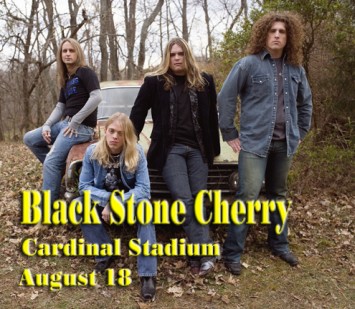 Black Stone Cherry
Chris: I remember quittin' and then hating it, but then I picked my guitar backup and started writing again.
Ben: Yeah, I think everybody did little bit of that...I used to dress up like Elvis...that is my first memory of getting into music.
John Fred: My Dad was a rock star for the Headhunters when I was two or three, before the Headhunters were huge. I remember we had these music cartoons that had Motown tracks playing in the background like Mickey had the Temptations. My Dad would put me in a baby seat while he would write songs in the living room and I would sit in front of the TV and watch. I guess when I was little, Motown was the first music I ever heard.
Jon: When we were first getting together, I went over to Chris' house and we worked up two songs...the one I remember was Rock and Roll by Led Zepplin. We went down to the Frat House that night, it was the first I ever played bass with a band.. first experience as a bass player was with a band and not on my own...I lucked out in that department.
How long have you guys been playing together and when did BSC form?
Chris: June 4, 2001, my sixteenth birthday, so we've been together almost six years, but I've known Jon Fred since kindergarten; for about sixteen years.
John Fred: Jon moved up from Jacksonville in '98 or '99 and Chris and I was just going into high school and we were forming a band, he lived in the next county and I lived in Glasgow. We used to do a lot of plays together in Edmonton, so we just kind of picked up some licks together and kind of went from there.
Ben: We took some buddies on the road with us and they kept us in line.
What has been the most exciting part of joining the Roadrunner Records artist lineup?
Ben: We're totally fortunate to be on a record label like Roadrunner. They're real cool when you get to know them, 'cause they're like regular people, not like suit and tie, looking at their watch like they got to go somewhere. When we did the showcase, they were just cool normal people who just dug music. So they definitely were our first choice. Plus they are a rock n' roll label.
What are some of your favorite songs off your album? Why?
Chris: All of them really. Every song we write, each person puts their own thing into it. You know, some songs we play more than others or what not, but "Lonely Train" would have to be one of our favorites because it was our first single and one of the first songs that pretty much the world got to hear. It was one of the songs we just felt really strong about, so we released it and it blew up by storm.
Ben: Yeah, it's hard to pick "a" favorite when we put all our heart into all our songs. But some are more fun to play live then others because we move around a little more and expect the crowd sing along more, like on "Lonely Train" or "Hell and High Water," you know the singles - "Rain Wizard." But it's cool because people will start singing the songs that weren't even singles.
What have been some of your favorite cities to play at?
Chris: Anywhere in Kentucky, obviously. People will drive from Edmonton to Louisville and from everywhere else to Edmonton, which is always good. I mean, Europe was awesome, like Birmingham, England and all the shows in Germany. The cool thing about Birmingham, England is that it's the base for Led Zepplin and Black Sabbath both, so they all like the rock and roll there.
John Fred: Every place in America is great is great to play. I mean we haven't found one place we didn't like. But then there are these hot spots, like everywhere in Texas and all over the South. But then you got Michigan, you got Iowa, you got Kansas. California loves us. We just got back from Florida from doing this music fest, where we played in a stadium to 30,000 people.
Ben: Canada was cool, too. We basically toured all across Canada from Vancouver over.
Chris: And you can never get tired of Beaumont, Texas or Rockford, Illinois. Those are two cities that, honest to God, are like going to play a show in Edmonton every night. The only place that was kind of weird playing was Seattle.......damn.
Good or bad, what is your most memorable road story to date?
Chris: Every day is awesome, but when we were on the Black Label Society tour, we were in San Francisco, when we had two nights left. We were in San Francisco and LA. Zakk (Wylde) had pneumonia and didn't know it. He was going to end the show after three songs, but he ended up playing some more. And we were sitting on the bus hanging out with some people from Dirt Bag clothing, when David comes flying up on the bus and saying "Chris, you got to come in, you got to come in!" And I said "what do you mean?" He (David) said, "you gotta go sing!" And I'm said "Black Label is playing. Our set is done" But apparently Zack told his guitar tech Moby, to come get me to come and sing. So he (Zakk) is doing a guitar solo and Moby is asking what songs I knew. So I was like this one, this one and this one. Well, turns out that those are two of the last songs that he wanted to play. So Zakk said "where is he at, where is he at?" So I went out on stage with the whole BLS band and got to sing "Stillborn" and a few others and it was awesome. I mean Zakk and I were singing on the same mic, but then he just went to playing guitar and I sang it. It was awesome. I mean, I've had posters of that guy on my wall my whole life. It's something I'll never forget.
John Fred: In Seattle, Ben and I got food poisoning or something and threw up for like two days and ruined four pairs of pants. Man, it was awful. Also, when we were in Birmingham (England), we were 30 minutes away from John Bonham's grave and I couldn't go cause we had to go play. So when I go back there, if I don't go get to see his grave, I'm gonna go off.
Ben: A really good moment for all of us was, [when] but we got to watch Aerosmith from side stage in Sacramento, California. It was the last night of their tour and we got to hang out for a while and be back there with all of them. They've had such an influence on our own music. So that was definitely cool.
Who have been some of your favorite bands to play with?
John Fred: I think everybody we have played with we have made really good friends with. We have been out with a lot of bands. One of our first was Saliva and then Buckcherry and then we went onto the Three Day Grace and Staind tour. And that was awesome. We made a lot of friends with those guys. Of course, Black Label and a few after that was amazing. And now we have been out with Hinder since Christmas and we have became really good friends with those guys. We have also been out with Papa Roach and Sevendust, so we made friends with all of those guys. We make great friends with all the bands we play with.
Ben: Doing the festivals is always fun because you get to mingle with all kinds of different bands. That's where you get to make a lot of your friends at one time.
What does your music aim to convey or get across to your fans?
John Fred: Don't do drugs. Worship God. Live life the best you can and rock out.
Ben: Keep your head up, don't be sad, quit being mad at your parents. Don't run away from home with your girlfriend (laughing).
John Fred: Wear rubbers, you won't end up dong better without one. So wear rubbers (jokingly).
Ben: Everybody just be happy. That's one thing we claim, We like to go and talk to middle school kids and elementary schools kids about doing good and whatever. And a lot of them are wanting to play guitar and drums and stuff. And we're like "keep it up!" And that's what we want to do, we want to be role models for these kids. We are just trying to be a good role model and not talk about doing drugs. When we were growing, the bands that were our role models, some of their careers were fading because they were on drugs, so were trying not to do that with our fans. Hopefully, we're doing a good job. We're trying to.
What does the future hold for BSC?
Ben: Man, there are going to be all kinds of next albums written. There are going to be more tours and more singles, videos and all kinds of stuff. We just want to keep on going and going. One thing we do is we always raise the bar for ourselves. We're never gonna say, "OK, we're good enough now, we can stop."
John Fred: Yeah, we ain't like a lot of bands, we gonna keep kicking ass until we die.
Ben: And right now we're still in the midst of promoting our debut album and were getting ready to head back out to do a few headlining shows, which we have never done, so were excited about that. It's gonna be a fun tour? We can't wait.