As I told you last month, "Celebration 2007" comes to Six Flags Kentucky Kingdom on the 21st of this month. The line-up features Jars of Clay, Building 429, Todd Agnew, Echoing Angels and Jackson Waters. Last month I looked at headliner Jars of Clay. This time, it's Building 429.
Some artists are a slow burn, quietly honing their skills while churning out albums of craftsman-quality tunes and slowly building an intensely loyal fan base through commitment and perseverance. Other artists seem to drop into the public consciousness fully formed, their debut project so perfectly crafted that you wonder where they came from ... and where they could possibly go from here. Then, occasionally, you find an artist like Building 429, who epitomizes both traits - the proverbial ten years in the making overnight success.
Front man and primary songsmith, Jason Roy, while still in college, formed the band. After playing nearly 200 shows a year as an independent endeavor, Building 429 burst onto the scene with its first project on a major label. Crisp rock sensibilities and finger-on-the-pulse lyrics combined to produce the band's debut record-breaking single, "Glory Defined." The song topped eight separate charts and was declared BMI's Christian Song of the Year, while Building 429 went on to capture the Dove Award for New Artist of the Year. Its follow-up project, Rise, challenged the presupposed sophomore slump with singles "Fearless" and "I Believe," and the group toured both nationally and internationally in support of the album. The band was in Louisville during the CD's "street week" (the week it debuted) and performed an acoustic set at the Highland Coffee Company. That was a blast! I wish more shows would be performed where you can get a delicious Chi Tea!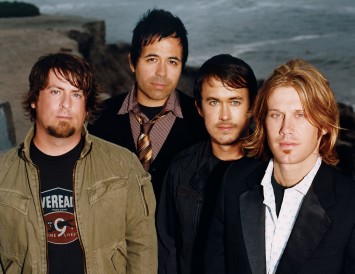 Building 429
Of course, nothing succeeds like "success," so when it came time to write for the band's new record, Roy did what he had always done - got by himself and started cranking out as many new songs as possible. And while the songs may have been good, they just didn't seem to work - not for this band, not for this project. With its current lineup of Roy (guitar, vocals), Michael Anderson (drums) and Jesse Garcia (keys, guitar), the group sensed that God was calling them in a new direction.
"We have always been a strong-willed band," Roy muses. "But suddenly that will was broken. When it came down to us three, we realized it had to be God's will, not our will."
Deeply unsettled in his spirit about the direction of the songs that he was writing, Jason hit his knees. The answer he got was not the one that he expected. "I felt like God said, 'Sing to Me,' and when we yielded to the possibility of writing from a strictly vertical perspective, the songs just started to flow. It was the easiest, most fulfilling and most fun songwriting process we have ever experienced."
The eleven tracks that make up Iris to Iris yet again reveal Building 429's ability to craft songs that are infused with pop smarts and embellished with rock details. Rather than overwhelming its listeners with stock emotionalism or witty wordplay, the band offers up a collection of songs that shift the focus off of them and onto God.
"Iris to Iris is just a record," he continues, "but it is also our whole heart, our whole life story. It is as if, for the first time, we realize what we were made to do. We realize what we are supposed to sound like. We realize what we are supposed to be writing about. It is about being eye to eye with God. It is about being so close to the Father that there are no distractions."
Producer for the project, Brown Bannister (MercyMe, The Afters, Steven Curtis Chapman, Third Day), agrees that the band was in its element. "If I had to use one word to characterize working on the new Building 429 record, Iris to Iris, it would be 'joy,'" says Bannister. "These are a great group of guys, wonderful spirits, great hearts and great talent. I am proud of these guys. I am so pleased that they are figuring out who they are and discovering the vision of what God has called them to. If you are familiar with their discography, I would describe this record this way: If 'Glory Defined' had an entire album recorded to compliment the quality of that song, it would be this album."
Garcia points to "You Carried Me" as a classic example. "That song really hits home. It reminds me of all the canyons I've crossed and all the muddy water I've walked through. But no matter what I've gone through He has always carried me."
"Constant" is another song that Michael points to as spiritual reference point for the band. "With all of its textures and nuances, it is the song that best represents where we all are both spiritually and musically, in a small package," he says.
In addition to writing with Anderson and Garcia, Roy had the opportunity to work alongside songwriter Chris Eaton (Amy Grant, Point Of Grace, Jaci Velasquez, Vince Gill). The Roy/Eaton-penned "Power of Your Name" combines guitar-driven grooves with worshipful lyrics, a backdrop for Roy's southern rock vocals. Their collaboration on "Singing Over Me" produces a sing along melody, while "Incredible" is a nod to the band's rock 'n' roll roots.
Not only did making Iris to Iris result in a collection of new songs, but it apparently also served to breathe new life into Building 429's earlier work. "Songs that we have been playing for years like, 'Glory Defined,' 'The Space In Between Us,' and 'I Believe' have taken on a whole different meaning," explains Jason. "And now we have an album featuring a number of equally powerful worship anthems that we don't even have to sing. We can just get out of the way and let God move."
Well said. You can get ticket info at sixflags.com. I do know that there is not an "additional" charge for the concert. It's included with gate admission to the park, so it's a good deal if you want to play in the park as well. It has been a couple of years since Six Flags Kentucky Kingdom has had a contemporary Christian show in the park, so it would be great to see a big turnout. It looks like it will be a really good show.
Coming up next month, it's what will surely be the biggest Christian concert of 2007: Mercy Me and Tree 63 at the Kentucky State Fair. It's a free show at Cardinal Stadium (with paid admission to the fair of course), so expect it to be packed. So if you haven't already, mark your calendar for Monday August 20th. See you there!