I've Got A Mind To Ramble
RBB Is Back In Town, And He's Rarin' to Clown
There is an excellent book titled, Children of the Blues, written by Art Tipaldi about the mentor-apprentice relationship of the blues musical tradition. Tipaldi writes about the recollections of 49 blues children who have learned from their elder teachers and fathers. One of these children is Ronnie Baker Brooks who, along with his younger brother Wayne, learned from their daddy, Lonnie. Ronnie started out playing second guitar in Lonnie's band in 1985. Those tours connected Ronnie with other blues greats like Luther Allison, Buddy Guy, Junior Wells, Albert Collins, KoKo Taylor and B. B. King. It was these road experiences and influences that made Ronnie the great show man he is today. He had a chance to show his stuff on a rare Sunday concert at Stevie Ray's on June 3.
Ronnie's logo that appears on his guitar strap and CDs shows him resting against his oversize initials. But Ronnie was anything but inanimate during his two long sets. His band included, Daryl Coutts on keyboards, bassist Carlton Armstrong and drummer, D. J. Tucker, who was playing just his fifth gig with the band. Armstrong's threatening scowl and his shooting from the hip guitar stance emphasized his intense playing. Brook's five Fenders at the side of the stage all saw action that night. He opened with "Are You Free For Me" that chewed up the full house with its throbbing beat. Brooks' "Born in Chicago" differed from Nick Gravenites version with his high intensity Elmore James licks and references to growing up on the south of town. Brooks, ever so slightly, slowed things down with "Love Again" from his latest CD, The Torch. "Stuck on Stupid" finally got the patrons on the floor slow dancing with the line "If I had been hit by cupid, man that would have been cool. I think I'm stuck on stupid, I am your new kind of fool." That killer blues was worth the price of admission. The crowd chimed in for the backup vocals on "Take Me Witcha," for we were ready to go down that road with Brooks. Not one to restrict himself to the bandstand, Brooks roamed out into the audience during "Sweet Home Chicago, " shaking hands and eventually going behind the bar to pour and sip a drink while playing his guitar behind his back and over his head. Brooks' original lyrics hit home when he sang, "Too many dirty dishes in our sink, for just us two. Who in the hell is making dirty dishes with you?" At the end of his first set, Ronnie acknowledged that Lonnie was doing well at 73 but acting like he's 23. Ronnie continued, "He taught me all I know, but doesn't know everything I know." Brooks closed out the final set paying tributes to his other mentors, Albert Collins, B. B. King singing "Rock Me Baby" and John Lee Hooker playing the "Boogie Man." The finale was a boogie jam to end all jams. Lonnie may have opened the door for Ronnie, but Ronnie has definitely made it on his own talents.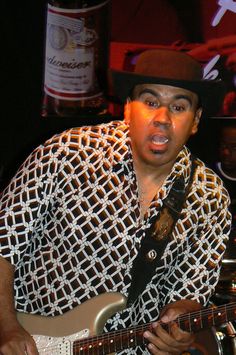 Ronnie Baker Brooks at Stevie Rays, June 3, 2007. Photo By Keith Clements
By the time you read this, Stevie Ray's will be smoke free. Yea!
Going Out On The West Side
I have survived the 24th Chicago Blues Festival which was June 7 to 10 in beautiful Grant Park. It would take another full column to write about all the musical experiences that occurred during those four perfect days on four stages and that may happen next month. I would like to share a late night excursion out into Chicago's west side on Friday night.
The evening shows in Petrillo Band Shell are over by 9:30 PM so blues fans have a chance to go out to the blues clubs and experience Chicago's night life. After a beautifully orchestrated Billy Branch's Sons of the Blues 30th Anniversary show, Jim O'Neal and his fiancée, Brenda, invited my wife and I to get some dinner and maybe some entertainment at Wallace's Catfish Corner. We flagged a cab and drove west on Madison to California Avenue where a large crowd of people were congregating around Wallace's fish carry out and restaurant. Jim frequently comes here when he returns to Chicago and was quickly recognized by the owner and ex-alderman Wallace Davis, Jr. He was full of hospitality and personally seated us in his new restaurant where we placed our orders for fish (naturally) and ribs. Wallace has managed this west side institution for nine years. What makes the place so colorful is for the last five years every Friday and Saturday, there is a loose continuum of blues and soul performed behind the building in a parking lot. A flat bed semi-trailer is permanently parked by the building which is the stage for the emcee, musicians and singers who take their turns on the portable venue. A large purple sign with white letters proclaiming Wallace's Catfish Corner was mounted on the wall behind the stage. After a dinner of excellent breaded catfish and non-greasy fries, we joined the action outside.
At 11:00 PM the corner was filled with several hundred people with an open area in front of the stage for dancing, greeting and hustling. This was not your typical out of town tourist hang out, but we felt very comfortable there. There was a designated emcee who seemed to know everyone, kept the tip bucket in circulation, introduced the performers and maintained constant chatter between songs. The rotating house band musicians were very adaptable to the diverse styles of singers, probably because they had sung there many times before. National soul legend, Cicero Blake, was entertaining the crowd that had gotten pretty mellow by midnight. Star time included several off the radar singers like Steel Bill, Mac Attack, Z. Z. Hill, Jr. and a raunchy lady by the name of Ramblin' Rose. This was a tough crowd for when Little Singing Sam began his first song, they started booing and he was quickly escorted off the stage. When Bobby Reynolds showed up with a well endowed little lady the men pressed in close to the stage. Reynolds did a Bobby Rush routine trying to make the lady's booty talk with his microphone when she gyrated. I'll let you imagine the details. Most of the singers dressed for the occasion especially a tall dapper man wearing a pink suit with matching shoes known simply as Cliff, who sang a little Motown.
Wallace keeps the peace on his turf, frequently advising his patrons to abide by the law for the police have tried to shut this public phenomenon down several times. This congregation of people gathering for good times, food and music, carries on the tradition of the Delta Fish Market, a similar but now defunct west side institution.
It was getting late so we waited at the corner for a cab. What we didn't realize was how hard it is to get a cabbie to drive to this end of town at 2:00 in the morning. After being entertained by The Magic Man, a street person who was adept with slight of hand card and coin tricks, we had a guardian angel in the person of Chuck Harris drive us back to our hotel.
Have Mercy, Diunna
I've been to many blues festivals and clubs over the years and it is always a joy to hear some fresh new talent that just blows you away on that first encounter. The final day of the W. C. Handy Festival on June 16 was loaded with outstanding acts like Doug MacLeod, Miranda Louise, John Nemeth, Little Charlie and the Nightcats, and finally, Mr. Superharp himself, James Cotton. It was the best line up the festival ever had for a single day. But a little lady from Houston, Texas, stole the show with her poise, personality and passionate gospel laden voice. Diunna Greenleaf has led her Blue Mercy band for eight years. They took first place in the 2005 International Blues Challenge and her lead guitarist, Jonn Richardson, received the Albert King Award. Since that honor, she was asked to join the Tribute Band for the Muddy Waters Legends Tour.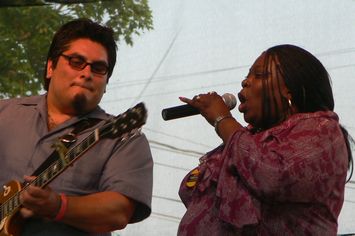 Jonn Richardson and Diunna Greenleaf at Henderson Photo By Keith Clements
As the late afternoon sun was casting long shadows on a parched Audubon Mill Park, Greenleaf hit the stage with her feisty version of "Lookin' For My Next John Lee" which was her tribute to John Lee Hooker. When Richardson had some guitar problems, Greenleaf did an acappella "I Can't See Myself Leavin' You" singing portions without even a microphone. She got back to her Texas roots with Hop Wilson's "Black Cat Bone." When Greenleaf started singing "Mother Earth" she was assisted down the stage steps and out into the audience to embrace as many people as possible while singing, "When all is done, you got to go back to Mother Earth." She mixed tradition with contemporary by doing a revved up version of Robert Johnson's "Judgment Day" to close her set. Normally, afternoon performers aren't permitted to do encores, but Greenleaf was asked to return and did a rousing "29 Ways." This big voiced contralto has now established her solid reputation in Kentucky.