Name: Chris Marple
Age: 24
Instrument: Guitar (currently w/ Caldera). Also drums for 10 years.
Band/Former Bands: Caldera (Guitar/ Currently), Flatlyne (Drums), Hollow Point (Guitar), Execrate (Drums), Headstoned (Drums), Breakpoint (Drums) and 747 (Drums).
How Long On Instrument: Guitar: 6 Years/Drums: 10 Years
Equipment: Paul Reed Smith Custom Gibson Les Paul Standard, ENGL Fireball Head, 2 ENGL 4x12 Cabinets, ENGL Z-12 Midi-controllers, T.C. Electronics G-Major (Major effects and Noises), Rocktron Super Hush (Noise Gate, ALSO the junt-junt provider for the choppy metal riffage), Phonic Power Conditioner, Dunlop Crybaby Wah 535Q, Ernie Ball Volume Pedal, Ibanez Tube Screamer, DiMarzio Straps, Monster Cables, SKB and Gator Cases, Dunlop Gator Grip Picks, DR and Ernie Ball Strings.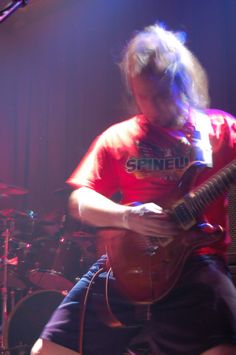 Chris Marple
Influences: Guitar: Slash, Zakk Wylde, Dimebag Darrell, Jeff Loomis, Jason Becker, Dave Mustaine, Marty Friedman, Chuck Schuldner, Steve Vai, Joe Satriani, and Paul Gilbert. Drums: Vinnie Paul, Dave Lombardo, Lars Ulrich, Dave Weckyl, Chad Sexton and Tommy Lee.
First Gig: My first gig was in 1999 at this birthday bash in the middle of nowhere. I was playing drums in Headstoned and the show was with One With Misery and Execrate.
Hobbies: Playing guitar, Frisbee golf, ice hockey, 420, going' To the gorge, drinking, Motocross and watching new and old horror films.
Favorite Movies: The Shawshank Redemption, American History X, Beetlejuice, Star Wars, The Evil Dead, Predator, The Shining, Fast Times at Ridgemont High and Bill N' Ted's Excellent Adventure.
Favorite Food: Steak and chicken on my grill; pizza, pasta, all vegetables
Favorite Place: Playing on-stage at anytime, anywhere and going to Red River Gorge
Bad Habits: I'm OCD
What I'm Listening To Nowadays: Megadeth, Death, All That Remains, Lamb Of God, All Shall Perish, Unearth, Opeth, Soilwork, Gizmachi, Black Label Society, Chimaira and Born For Osiris.
Coolest Thing I've Done: Getting V.I.P. and kicking' it backstage with Lamb Of God, Slayer, and Children of Bodom on the Unholy Alliance tour 2006 and Watching Killswitch Engage headline the second stage at Ozzfest 05' behind Justin Foley's drum kit, courtesy of our friends in KSE.
Most Embarrassing Moment: Stepping Through a hole patched by duct-tape while jumping around on stage at Bulldog Cafe. Sent me sailing into my road case, which had my amp and all of my rack gear in it, and then I fell into Tim Flaherty (from Antikythera), who was watching from alongside the stage. If Tim hadn't caught me and held my case up, all of my gear and I would have came tumbling down offstage.