I've Got A Mind To Ramble
At The Hopp's
The day that I had waited twelve years for had finally arrived. The event was the celebration of Foree Wells' CD, It's A New Day Brother. Foree Wells had signed a contract with Rooster Blues Records on March 20, 1995 and on Sunday, April 22, we finally had our Wang Dang Doodle at Alumni Hopp's. It was a happy reunion for the producer, Jim O'Neal, who came from Kansas City, Perry Aberli, past KBS president, who came from South Carolina, and the other sponsors, plus the Walnut Street Blues Band. My wife and I provided accommodations for Jim and his fiancée Brenda who arrived late the night before. After our many exchanges of e-mails during the long process of getting Foree's CD released, it was nice to have the opportunity to spend some time with Jim.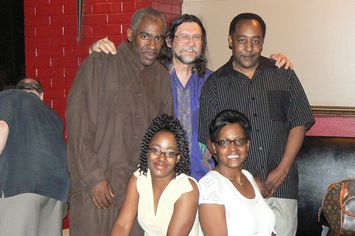 Back row, from left: Greg Wells, Jim ONeal, Michael Wells. Front, Greg's daughter, Arti Wells. Photo By Keith Clements
I had met him, briefly, in Chicago during one of the early Chicago Blues Festivals in the mid-1980s. At that time, he was co-editor of Living Blues magazine with his wife, Amy. Their office/home was at 2615 N. Wilton Ave. on Chicago's north side. They lived upstairs, the office was downstairs and the basement was filled with shelves of blues LPs. In the brief time I was there, Professor Eddie Lusk dropped by as well as the owner of Flying Fish Records. Jim was telling Eddie about taking a very nervous Otis Rush to the airport the previous day for his first tour in Japan. Jim O'Neal was like "Chicago Blues Central." The last time I saw Jim was at the 2003 King Biscuit Festival (when it was still the Biscuit), chatting with Willie King. Jim is not what you would expect for being the guru of BluEsoterica Archives & Production and Stackhouse Records. His laid-back demeanor belies the fact that he is considered one of the most respected authorities on African-American blues. Jim will be participating in three presentations in the Route 66 Road House at this year's Chicago Blues Festival. After sleeping in and having brunch at Twig and Leaf, Jim looked through several of my photo binders of blues festivals in Chicago and Helena. He helped identify several pictures of musicians I did not know.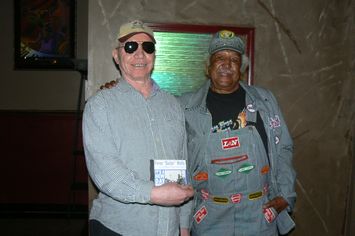 Smoketown Red and Sonny Sitgraves. Photo By Keith Clements
A nice picture story by Jeffrey Lee Puckett in his "Sound Effects" column the previous Friday helped fill Hopp's with a racially blended crowd to honor Foree. The Walnut Street Blues Band got there early to do the sound set up. As people gradually arrived, there were plenty of hugs, hand shakes and introductions. Perry Aberli had just visited the gravesite of Foree and his wife, Lorene, in Calvary Cemetery for the first time since the headstone was dedicated in October, 1999. Smoketown Red (Junie Downes), who I had not seen in years, arrived plus Barrington "Boogie" Morton, who played sax on three of the cuts on Foree's CD. Appropriately, the 10th Street Blues Band opened the party. The guitarist Pen Bogert and his wife, Brenda, have done extensive research on Louisville's blues history, including Foree. Drummer Sonny Sitgraves used to play with Smoketown and Foree in a group called The Skullies. That group went to their gigs in a hearse and had a 'skull and crossbones' logo on their instruments. Billy Bird blew harp and sang while Danny Elliot, recruited from The Mr. Wonderful Production Band, played bass. Their regular bassist, James Watkins, was recovering from a neck operation. The 10th St. Blues Band continues to play in the tradition of their mentor, Fred Murphy, which is the classic blues of the Fifties and Sixties.
Later, the Walnut Street Blues Band took us into the 21st Century. The power exhibited by Michael Wells on guitar and his brother Greg on keyboards is in sharp contrast to the vintage blues of the 10th St. Blues Band. Their driving beat is laid down with Jerry Harshaw on drums, Donnie Bridges playing bass and rhythm guitar by Eric James. After a few warm-p instrumentals and some songs from Foree's CD, Arti Wells came up to sing. Her poise and the potency of her voice have come such a long way from when she first started singing. She is one of Louisville's premier blues divas, along with Susan O'Neil, Robbie Bartlett and Tanita Gaines. When she sang "Steal Away," she had the crowd in the palm of her hand. After Walnut Street completed their set on a Santana note, it was time for thanks, eulogies and pictures to close out a memorable evening. KBS President Gary Sampson, Perry Aberli, Jim O'Neal and I all had a chance to praise Foree's contribution to Louisville's blues legacy.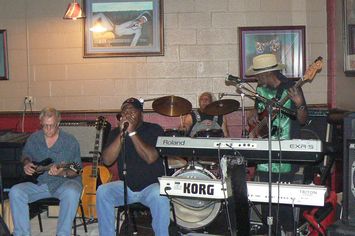 10th Street Blues Band. Photo By Keith Clements
The following day Jim and I made the rounds of the music stores along Bardstown Road and Baxter Avenue. It was interesting that most of the records Jim bought were not blues, but other music he could sell through BluEsoterica.
If you have not gotten a copy of It's A New Day Brother it is available at Ear-x-tacy, Underground Sounds and the KBS booth during festivals.
Blues You Can Use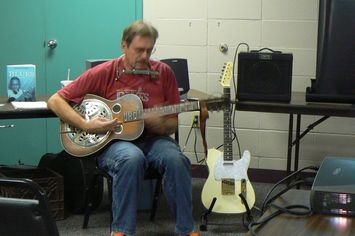 Walter Lay. Photo By Keith Clements
When Dale Cashon, the promoter of the Jeffersontown-Crusade Blues Festival, asked if the Kentuckiana Blues Society would like to do a blues seminar as a prelude to the festival, everyone looked at me. I had never done anything like this, but had always wanted to. All of my blues records and books have been sitting on shelves and had not been used much, except for an occasional loan. The first step was to prepare an outline of the history of the blues from its origins (slaves from West Africa, field hollers, fife & drum, gospel and W. C. Handy) to today's contemporary blues of Chicago, Texas, West Coast and Mississippi. Next was the challenge of which musicians to select from the different periods, regions and styles of blues. Once the musicians were chosen, I had to pick a song that was a good representation of their music and reduce it to a thirty-second sound bite. Finally, I had to go through many books to find the best picture of the musicians or location. Fortunately, I had the help of Natalie Carter, the KBS newsletter editor, to design the Power Point. We got together to scan, crop and digitize each picture. She added the text and format and I made the audiotape. To make our seminar more of an authentic live presentation, I asked guitarist Walter Lay if he would perform some Mississippi Delta, Piedmont and Chicago blues. I included several posters, recommended books and magazines and even some cotton picked in Mississippi for the presentation on May 15 at the Jeffersontown Community Center. There was a modest but interested audience that attended who were all willing to stay longer for an additional presentation about Louisville's Blues Legacy. The 129 slides, spoken narrative, taped music and live performances combined to make a program that was an hour and forty five minutes long. Since a lot of effort went into the presentation, the KBS would like to make it available to schools and other groups that are interested in music and history. If you want the KBS to take this show on the road, then contact me at hyclem@bellsouth.net.