They Can't Rest Them Weary Bones
By Jason Ashcraft
They call themselves 16 Bones and refer to their music as "Acoustic Appalachian Mountain Core Porch Stomp." If this holds and is agreed on by the music community, well, congratulations, Louisville, we have another musical genre to throw into the gene pool. In all seriousness, if you've never heard of "Acoustic Appalachian Mountain Core Porch Stomp" before and then listened to 16 Bones, you'd probably agree that this is exactly what it would sound like.
It's an unlikely association of musicians: David "Sailor" Bryant, guitar, vocals; Bryan Fox, guitar, vocals; Corey Ogle, drums; Erin Bolden and Jason Horne, guitar, make up the core of the band. They have yet to name a full time person on bass.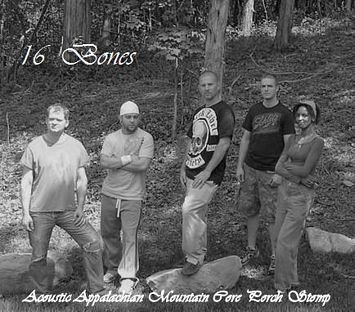 16 Bones
Sailor, formerly of My Own Victim and current vocalist for Surviving Thalia, is the pilot for 16 Bones' music. Sailor usually writes most of the original melodies and lyrics and then emails those out to the rest of the band to develop for their next rehearsal.
Bryan Fox, formerly with End Of Me and now building a solo country career, plays a major role in that development and definitely adds the country flavor to their music with harmonizing vocals and Southern guitar picking. Erin Bolden's violin reinforces that "mountain core" sound and compliments Sailor and Fox's lead. She also plays classical violin in the JCC Orchestra; this is her first experience playing with rock-based musicians. Jason Horne, who is also getting a first taste of playing with a group, keeps the rhythm steady while Cory Ogle adds a rockin' beat on drums, which at times, seem a little more amplified then necessary. But Ogle, formerly of Silent Q and Meat Basket,is used to playing loud and hard and he shows no intent of slowing down the pace of the songs.Along with the drum tracks, he also helps arrange parts of other tracks and helps develop Sailor's multiple singing voices. Nonetheless, Ogle definitely makes up for not having a regular bassist.
As busy as these guys (and gal) are with the rest of their musical projects and home life, it is absolutely amazing how brilliant the songs are that they have written together, considering their short time together. Songs like "Out Of Your Mind," "Rollback," "Weary Bones," which have not been recorded, may make them reconsider their initial "project" mentality of playing together.
Sailor said that main reason 16 Bones came together was because he always felt he wrote this kind of music well but could never play it with his metal projects. He also mentioned that he wanted to quiet down those who have questioned his ability to write something other then metal. Most importantly, Sailor dedicates 16 Bones' music to the memory of his recently deceased mother who always liked these songs he wrote.
Asked what the goal is for 16 Bones, Sailor responded, " I haven't really thought this one out all the way. I just got an idea and it grew into what you see now. I guess my goal is to create something that first of all is good and can be respected by myself and my peers. Also, to show some I am more than one-dimensional and that I can create the most abstract, Southern rock, alternative, metal, blues project that I can. I guess after saying all that, you could say that my main goal would be to give birth to "Acoustic, Appalachian, Mountain Core, Porch Stomp."
Want to see or hear for yourself? Check out 16 Bones when they play next at The Bulldog Café on June 9 or you can visit their website at www.myspace.com/sixteenbones.