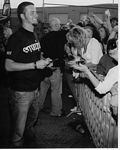 Name: Chuck Willis
Age: 25
Instrument: Vocals
Band/Former bands: Heaven Hill (element H/ Breckinridge)
How long on instrument: see age/ started singing, performing about at 4 years old.
Equipment: Shure Beta 58
Influences: Prince, John Cougar Mellancamp, Motley Crue, Days of the New, Kid Rock
First gig: The one and only Maple Inn .(Thought I was gonna get killed!!)
Hobbies: Boozin', looking for new female prospects trying to get hopped up enough to make some bad decisions!
Favorite Movies: Boondock Saints, Stigmata, Notting Hill
Favorite food: Tumbleweed, Angelo's Pizza (Berry Blvd.)
Favorite place: O' Connell's Irish Pub, Any watering hole dirty enough not to kick me out
My bad habits: smoking, drinking.
What I'm listening to nowadays: Rehab, Nickelback, Finger Eleven, Pickin' on Zepplin
Most embarrassing moment: Too many to list (honestly). For the record, I fell on my ass one song into a label showcase, obviously it didn't go too well. But that's what comes to mind!