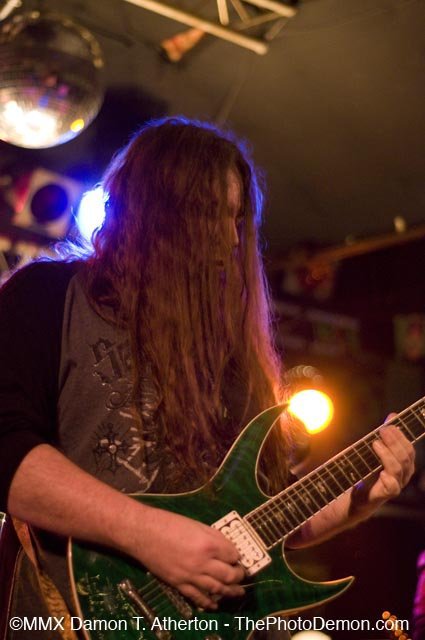 News From the Pit
I hate winter, except for skiing, which I've been too poor to do. Believe it or not, I can ski, Picture this: I'm on one ski, with arms pinwheeling in circles, but I'm going fast and actually going down the hill. Ha!
Winter. Harrumph! Hardly any big major shows ever come through, it's cold as all hell and not too much really too much is happening around town music-wise. Doody. I did finally find a cool roommate, a ramen noodle-eating bassist from Michigan named Mike Rivette, who is getting attacked by about twenty bands because the dude can play. He's a cool dude, though. He's teaching bass at Power Play Music in Clarksville, Indiana, if any of you want to learn some mean bass from a dude who studied under Billy Sheehan at GIT in Hollywood, California, give Mike a yell at the store. He'll even teach you death metal if that is your wish! He'll teach you what you want to learn.
I did go to the Bx3 'Bass God' Convention on February 19 to see Billy Sheehan and jazz bass legend Jeff Berlin, a chubby old dude who cracked on himself all the while blowing my mind on bass, and funk bass legend Stu Hamm. Wow! is all I can say. The way those cats play boggles the mind and I've heard some pretty badass bass players in my time. They make Louisville bassists look like clowns beating on a 2x4 with strings nailed on!
I went to the highly anticipated Mastodon show and was somewhat disappointed (see review below). I also journeyed up to Main Street Lounge a few times and supported my friend Lisa Lincoln's new rock showcase that she has every Friday night. I left too early one night: I heard that chicks were inserting bottles into their, uh, nether regions. Ha. And I fargin left early! Lame. I would have been in the front row cheering with flags, a megaphone and banners!
My butt also went up to the Phoenix Hill's Mardi Gras bash and it was off the hook. 99MPH was playing, there was much nakedness in the saloon and I was hangin' with two hotties, so needless to say, I had good time, until I woke up with a hideous hangover and a stomach that was flip-flopping.
That night, I also went upstairs to my friend Bizkit's original music show in the Roof Garden and it was a lot of fun, too. I saw Noise Auction, a killer band from Ohio that was definitely different in a good way. Then my buddies in Thorn tore it up with a blazing set of their melodic tunage. These guys keep getting better and better. The whiskey was flowing that night and many friends were in attendance.
Aside from the concert-going, I've not done too awful much, except trying to find a decent woman who isn't a bubble-headed basket case. I swear, I'm the pickiest guy you've ever met. I go through women like Cheech and Chong go through a pack of rolling papers! I'm respectful and nice, mind you, but I just can't seem to find one I really, really like enough to commit. I seem to meet a lot of party girls with no ambition. I recently went out with a buxom blonde beauty who was really sexy, but my ardor was cooled when she accidentally drank from a beer with a cigarette butt in it! I was horrified! It was a nightmare. I was in slow motion, going "noooooooooooo!" Needless to say, the smootching was somewhat delayed for the evening. Well, that's it for me this month, my loyal readers.
Eddymetal1@aol.com
TheMetalGrapevine
Subrosa Cover Story: Remember a few months back when I said I was going to try to do a cover story on this band of fine young fellers? The April issue will have the exclusive story on this young band that is popular as a Las Vegas whorehouse on a Saturday night, so all you Subrosa fans, it's coming.
Mastodon Review: It was a packed house, full of degenerates laden with tattoos, wicked chicks, mosh pits, dreads and a love for molten metal sounds of fury. Louisville stoner / groove / metal merchants Stonecutters put on a pretty good set and the crowd was into them, but the music calls for a little bit more singing than what actually goes on. Vocalist/guitarist Brian Omer does a good job, considering he does both at the same time, which is hard on some riffs! He can play some really good leads on guitar, too. (I did like "Quasimodo") This was a good gig for Stonecutters, right up their alley. Congrats, guys.
Then came a Canadian band, Priestess, I did not know but which was my favorite band of the night. They looked like 'Black Crowes meets the Almond Brothers' but their music spoke for itself. It was a high intensity, groove-laden machine that went full tilt the whole set. The guitars were 'Black Sabbath meets Kyuss' in a punk rock duel, but the main deal was the catchiness of the tunes and the excellent songwriting that won me over as a fan for the evening. Excellent bluesy type guitar solos were coming forth from both the guitarists. The vocals were also a bit bluesy but also had that high screech rawness so sought after in the world of stoner groove. Gotta have those highs! There was definite talent in the vocals of Mikey Hepner, who got low, screamed, sang, growled or whatever was needed for the song.
Next up was Atlanta's Mastodon, a band that is quite popular in the metal world. I had never seen them live, only on a video on Headbangers Ball, where they were runnin' around dressed up as, uh, shrimp. I wasn't into it very much and couldn't see what all the hype was about. However, I figured I'd see them live and give them a chance to win me over as a fan. It didn't happen.
Sure, they can play their instruments well and all, especially the drummer, who was wicked, but to me there was a missing element or two. For one, Mastodon's growly type vocals from Brent Hinds and Bill Kelliher were lackluster, especially compared to Priestess. There was no range to them at all.
Their music was good; several times, I was jamming to the riffage, but the "hook and overall groove." element was missing. Some of the tunes had a groove in places, but the music sounded broken up and didn't mesh well. The songwriting did not impress me very much at all, though the lead guitar work was okay but not very technical.
The crowd loved them, though, and that's what matters. Still, I heard several people saying that they weren't very impressed, either. The mosh pit was going pretty good and bodies were flying everywhere. I saw some brutal hits!
Overall, it was a pretty good show, with Priestess saving the night.
Black Label Society Invades: On Tuesday, April 3, a madman will roll into town to spit on himself and play some insane leads that defy normality. That's right folks, Zakk Wylde and Black Label Society will be playing at The Corner, so make plans to see the legendary former Ozzy Osbourne guitarist in action with his own band and songs. If you are a guitar freak/fan, then this show is a 'must see.' Zakk is truly the king of pinch harmonics and the messiah of Gibson Les Paul guitars. I'd kill for one of his signature Gibson axes, but I'm lacking the $4k that they go for, so if any of you out there is rich, hook me up! Contact The Corner for ticket information and I'll see you rednecks at the show. Bring a umbrella if you plan on being in the front row, as Zakk apparently has a 'saliva issue.'
Powerman 5000/ Flaw: Sunday, March 11 at Headliners, Powerman5000, Flaw, Fall For Nothing, Anvil Grey, Morning Augment and I, Sleepwalker. Tickets are $10 and $12 DoS. This should be an interesting show, indeed. I've never seen Powerman before and I've not heard good stuff regarding the Flaw camp, so I'm interested to see how things play out now that they have a singer (Van from Incursion) on, uh, bass guitar? I like the very catchy melodies of Flaw, so I hope they get their crap together and fast!
Swedish Invasion: On Monday, April 2 at Headliners, it's a Swedenfest, with two excellent death metal/thrashy Swedish bands. The Haunted and Dark Tranquility will be playing their killer death metal type music. With them will be Scar Symmetry and Into Eternity. If you don't know The Haunted and you love brutal metal, trust me, they wail! I saw them open for Testament several years back and they blew me away. They remind me of Slayer if anybody. I'll be at there.
Evanescence, Chevelle, Finger Eleven Coming: I'm not a big fan of either, but I figured to let you folks know about this March 27 concert at Louisville Gardens. I wouldn't mind hearing Amy Lee live, to see if she has the chops down live, but that is about the extent of my interest. Cristina Scabbia she isn't! Lacuna rules! There probably will be a lot of women there, so that's an enticement.
Chimaira, Killswitch, Engage Coming: Sweet! On March 8 and April 9 at Expo 5 these two excellent bands will be coming through our neck of the woods. These should be excellent shows! I'll be there, covering them. Be sure not to miss these extreme metal shows! Chimaira is on March 8 and Killswitch on April 9. Both at Expo 5. Tickets are $13 or $15 DoS. Doors open at 7 p.m.
Never The Man CD Release Show: On Friday, March 9 at Headliners, you can see a great female-fronted band, Never The Man, premiere their brand new CD. Playing with them will be Subrosa, Kinsey, Serene and Ashes Eve. Be there and support these great bands.
Broken Vault Reviewed: I finally got to really watch the newer band Broken Vault play and I admit that they are much better than what I thought they'd be. For some reason, I thought they would be like their former project, Arizen Enemy, which was a decent band but not too impressive. But I was very wrong in my assumption; the difference is night and day. Broken Vault is about three times better.
Their sound is ballad-y rock metal, but they have got some great songwriting going on and the vocalist, Jeremy Baxter, is very good, with great range, all the while playing guitar at the same time. Impressive!
The guitar work of Derek Hibben was nice and his guitar tone, perfect. Excellent clean riffs that enter through the skin and go straight to the heart and soul. Check out the songs "Fear" and "Today" on Myspace.com/brokenvault.
The drummer and bassist were quite talented as well. I bet drummer Chris Knight would be a badass on some thrash double-bass drumming. I expect to see a lot more from this group of really nice/talented guys in the near future. It's not so much heavy metal, but more appropriately dubbed, soul-metal.
Photo By Eddy Burke
Fight Poverty with Rock: On Saturday, March 17, drive out the Meade County Fairgrounds in Brandenburg for Subrosa, Heaven Hill, Born Broken , Last To Reconcile and The Weaks Notice. The show starts at 7 p.m. and all proceeds go to an organization that saves starving kids from all over the world. Props to Born Broken for setting up the show!
Welcome To The 13 th Age: The rock/metal band Phearus split up in September 2006 for personal reasons, but 13th Age formed in its ashes in November 2006, with three new members: Jon Black on guitar, Jon Blanford on bass and Mark Whobry on drums,. Guitarist Brett Beckmann states "13th Age is more progressive and has a much more different feel than Phearus. We are very excited about this new project." 13th Age is recording a 4 song demo EP due in mid-March. Go see 13th Age on March 14 at Mudd's PHT Louisville Rocks Wednesday gig, or tune in to Fender's March 18 live gig at 6 p.m. on www.aiirradio.net to hear 13th Age live in action.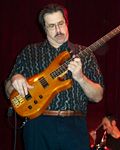 Photo By Eddy Burke
I've got a long history with these guys, who are former members of Lifetap. We started playing music out at roughly the same time in '94 or '95, even competing against each other in Carl Casper's Auto Show Band Battle a few times! Anyways, it's good to see almost the full band back together again and rockin'. Myspace.com/13thage
Secondhand Grenade Set To Explode: The intensity is building up, the word is getting out, a buzz is building (word of mouth, you clowns, not a high) and on March 2, Secondhand Grenade, this new band of seasoned metal musicians are going to show you what's up with it! The music is fargin great, the guitars chunky and groovin', the vocals, melodic and good/ The result is a killer new band whose members have been promoting themselves like nothing I've seen in many years, since long before Internet networking, and I love that! Two other excellent new bands are also on the bill: Sulfate and Boom Orangutan, who both really impressed me with their demos. So get your butts up to the Hill on March 2 to see a explosion of new talent. It's an extra early show. 9 p.m.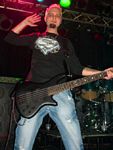 Photo By Eddy Burke
Caldera Countdown: It's the countdown to explosion time: at the end of March brutal metalmeisters Caldera will be hitting Canyon Studios to record a brand-new, full-length CD. Look for a early summer release!
Sowing Discord is Satan: I was checking out a new metal band called Sowing Discord and I liked what I heard: brutal stuff, with some insane riffage. Come to find out that the guitarist, Donnie Torrance, is an old bandmember of mine from the Sideshow days, a short-lived gothic/alternative/metal band I had back in late' 99 following the demise of Inhuman.
Donnie is an incredible musician and a helluva songwriter. He used to sing and play guitar for the band Dump Gang as well. Remember those freaks? Well, Sowing Discord is very different from anything Donnie has done in the past. This is some brutal chit that will have death metal fans in ecstasy! Donnie is great on guitar and such a proficient musician that he could make pounding on a bucket sound great. If you like Slayer, Lamb Of god, Cradle Of Filth and similar madness, then you will want to Sow some Discord yourself. Give Donnie and the guys a look at Myspace.com/sowingdiscordmusic. I'm ready to see these cats live! And the beer is on Pimp Dog!
Lost In Life's New CD: The CD starts off with a Fear Factory feel, but quickly comes into it's own. There are screams, singing, super-punchy guitar rhythms that sound very fat, almost to a Megadeth-type feel. This is top-notch musicianship and the songwriting is also top-notch. The vocals of Mike (no last name listed) are pretty darn good. Excellent high-pitched screams along with great, actual singing. Do yourself a favor and check out this band. If you like Fear Factory, Megadeth, Static X, then you will probably like lost In life. Contact them at Myspace.com/lostinlifemusic.
Noise Auction Review: I saw this metal/alternative Columbus, Ohio. band at a Bizkit show recently and they were good enough to get this mention even though I rarely mention out of town bands. They use industrial sounding samples and keyboards mixed with heavy melodic riffs to form one very cool, very different type sound. The vocals of Tom (no last name) are melodic but also have a raw edge at times. The screams are good as well.
The slow-starting "Sorry" is a song that I bet a lot of women like and there's certainly nothing wrong with that at all. The music is catchy and hook-laden and the samples and extra sound effects makes it all the better .No band in town does stuff like this, so it's quite refreshing. And the guys were super cool people to hang out and chat with.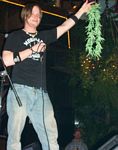 Photo By Eddy Burke
Props to Bizkit for bringing another good band to town! Hey, Louisville bands, you might want to contact these guys and trade some shows with them. Myspace.com/noiseauction
New Writer Alert: LMN has a new assistant rock writer that will be helping out with the Louisville Music News cause. His name is Jason Ashcraft and he used to write stuff with short-lived The Ville magazine. Now he works for LMN and will help out, since I have been slammed beyond belief writing-wise the last few years. Look for his work in April issue!
Any Bands Need shows? Main Street Lounge is booking original rock music, so if interested, contact my friend Lisa Lincoln at 502-417-9709, she's an awesome gal who is a huge help to the scene. If your band rocks, you wanna contact her!
Louisville Rock Pics: Don't forget, you can be a part of the LMN team by submitting pictures of your favorite bands to a section I created just for you. Just send the photo, name of persons in it, band name, venue and when and we might print it for all to see! Be sure to mention your name so you get full credit. Editor@louisvillemusicnews.net
Upcoming Shows BulldogCafe
Friday, March 2 - Caldera, Decension, Chaos Factor (Illinois) and Kno Lyfe (Michigan).
Saturday, March 3 - Kill What I Adore, Four Story Massacre, We Speak Texan, Anchor for Hope and Arise From Ashes.
Tuesday, March 6 - This Painted Red, Asphodel Fields, Sounds From the Clouds Tour, Wake The Day and Grace I Am.
Friday, March 9 - Mungus, 7:06, Straining To Vent, Within A Tragedy and Anvil Grey. 8 p.m.
Saturday, March 10 - Straight Line stitch, Band Camp, The Win System, The Making Of and Landen Falls.
Wednesday, March 14 - Trenchfoot and The Battlecat.
Friday march 16 - Futures Faded, Psychoset, Underworld, A Sovereign Departure.
Saturday, March 17 - Escape From Earth, Nema, Sphere, Inner Blue and Four Storie Failure.
Sunday, March 18 - The Armor Agenda, Bloodloss and Hyndsite.
Tuesday, March 20 - Lights Below (Canada)
Thursday, March 22 - A Kiss For Jersy.
Friday, March 23 - Silhouette AD, As Hell Retreats, Grace I Am, Sacred Sorrow and Annalynn.
Saturday, March 24 - Futures faded, Shrill, Flying Graysons, A Promise Worth Dying For and Escaping Memory.
Tuesday, March 27 - This Time It's War.
Friday, March 30 - 1931 and Rose Funeral.
Saturday, March 31 - MSD, Inner Blue, Born Broken, Four Story Failure and Surviving Thalia.
Expo 5
Thursday, March 8 - Chimaira, He Is Legend, Escaping Memory, Peace Of Augsburg, Hollywood Beloved, Grace I Am and Annalynn.
Monday April 9 - Killswitch Engage, Devil Wears Prada and Still Remains.
Headliners
Friday, March 9 - Never The Man CD Release, with Subrosa, Ashes Eve, Kinsey and Serene. 8 p.m.
Wednesday, March 14 - Chiodos, The Devil Wears Prada, Jeny and Not Quite Superheroes.
Saturday, March 17 - Antikythera, False, Incursion, Stonecutters and Deliver Us From Evil. 18 and over. 7 p.m. $8
Friday, March 23 - Bloodbrothers, Celebration and Moonrats.
Friday, March 30 - Secondhand Grenade, Boozer, Boom Orangutan, Hardlein, Savior and 2 Pump Chump.
Monday April 2 - The Haunted, Dark Tranquility, Into Eternity and Scar Symmetry.
Main Street Lounge
Friday Night Live Concert Series
Friday, March 2 - Chamberflow
Friday, March 9 - Andrea Davidson, Olive Trees, Anton Mink, Prey for Maria. 9 p.m. An all-female-lead-vocalist show!
Friday, March 16 - Ugly, Nova Red, Thorn and Undone. 9 p.m.
Friday, March 23 - Asleep and Centered. 9 p.m.
Friday, March 30 - False and Incursion. 9 p.m.
Phoenix Hill Tavern
Friday, March 2 - The Original Rock Showcase Series: "March Unpleasantness" with Antikythera, 16 Bones, Secondhand Grenade, Boom Orangutan and Sulfate. 9 p.m.
Friday, March 9 - Vince Neil special appearance.
Wednesday, March 14 - 13th Age. 9:30 p.m.
Friday, March 16 - "A Bizkit Show" with Dead Nettle, Prey For Maria, Envain, Seedus, Spacehooker.
Saturday, March 24 - "A Bizkit Show" with Asleep, 13th Age and Halfway Hollow. 8 p.m. Sharp!
Friday, April 6 - The Original Rock Showcase Series: Heaven Hill, Halfway Hollow, 7Daysun, Kinsey and Hearsay Theory.
Friday, May 11 Because of Derby, The Original Rock Showcase Series is on the second Friday: Subrosa, Broken Vault, Nova Red.
Uncle Pleasants
Wednesday, March 21 - Lions In The Street (Canada) and Boozer. 9 p.m.
Saturday April 21 - Secondhand Grenade, Straining To Vent, Dogwater and I Will Defy. 8 p.m.
Wicks (on Baxter Ave)
Saturday, March 17 - Nova Red, Ugly and Thorn. 8 p.m.
Outtatownerz and Otherz
Saturday, March 10 at the Boonedocks in Shepherdsville - I Will Defy, Inner Blue and Sphere. 8 p.m.
Props of the Month
Three's company! Ever since the demise of Wasted Days, former Wasted Days manager Bizkit has stepped it up a notch and decided to play a more active role in promoting Louisville music. The Phoenix Hill Tavern has become a second home for the Bizkit man, as well as for 93.1 the Fox's Mudd, who hosts "Louisville Rocks" on Wednesdays at the Hill.
Shows are going well for both Bizkit and Mudd and things are definitely here to stay for more original rock to be heard at the Phoenix Hill Tavern. When you get the chance, head up to the Hill and see some of Bizkit's, Mudd's, or my Original Rock Showcase Series concerts, because us three are here doing this for you peeps.
The word is getting out farther and farther, day by day. Heck, we three get bands contacting us from several states away, wanting to be a part of the festivities! So keep supporting Louisville music promoters. We fargin like it.