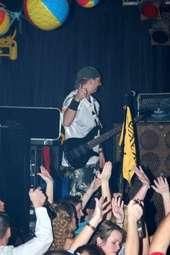 Name Regan Calhoun
Age: 40
Instrument Five-string bass, classical guitar and Piano
Band/Former Bands: 99MPH, The Unknown, Nomads, Breakneck, Nobody Knows and too many that may have been forgotten. Without Nobody Knows, I would have gone home. Thanks, Lynn and Billy Yeakey.
How Long On Instrument: fourteen years on bass
Equipment: Keep it running and clean. Gear should not make your sound, your ears and fingers do. I've played just about everything a non-signed player could afford.
Influences: Everything under the sun. If you have one influence, then you've limited yourself to just that. In other words, listen to any and everything that you can.
My First Gig: The Frog and I hated it!
Hobbies: Whatever relaxes me at the moment, time or phase.
Favorite Movies: All James Bond movies. I have just as an open mind with movies as I do with music.
Favorite Food: I love greasy and comfort with healthy and traditional.
Favorite Place: My safe haven. Home with my family.
Bad habits: I MUST PLEAD THE 5TH
What I'm Listening To Nowadays Country, The Beatles, Led Zep, The Who, Aerosmith, Steely Dan, Fleetwood Mac, Abba, The Police, Rush, John Denver, The Beach Boys, Elvis and the guys down the street..
Coolest Thing I've Done: Raised a family.
Most Embarrassing Moment Every time I get on stage with the most talented, unbridled, unselfish musicians that I'm around. My band.