Cowboy Corner
Joe Nichols to Help Ring in the Kentucky Derby
Spring is in the air and the calendar says that May has arrived, therefore it's none other than DERBY TIME! The 133rd Run for the Roses happens on May 5. What better way to get into the spirit of the Kentucky Derby than with a free concert featuring country crooner Joe Nichols. Nichols will perform at the Derby Fest-a-Ville downtown at the Waterfront on Thursday, May 3. A 2007 Pegasus Pin is required for entry into the Fest-a-Ville. Nichols will take the stage around 9 p.m., but be sure to head to the Waterfront early to catch the 26th Annual Colgate Country Showdown contest, which is searching for the next great country performer. Showtime is 7 p.m..
Carrie Underwood Dominates CMT Music Awards
When the 2007 CMT Music Awards were handed out in Nashville last month, Carrie Underwood was the big winner of the evening. Underwood took home the belt buckle trophies for Female Video of the Year and overall Video of the Year for "Before He Cheats." This same video earned director Roman White the Video Director of the Year award. Upon accepting the Video of the Year award, the 2005 American Idol winner said, "It was at the CMT Awards last year that I gave my very first acceptance speech ever. Let me tell you, it's great to be up here again. Thank you, fans. I've had such an amazing, blessed two years. I started out on a fan-based show and you guys have continued to support me through everything."
Kenny Chesney took home the buckle for Male Video of the Year for "You Save Me," Rascal Flatts' What Hurt the Most" was named Group Video of the Year and Sugarland's "Want To" was named Duo Video of the Year.
In addition to these awards, on behalf of the entire Cash family, Rosanne Cash presented longtime close family friend Kris Kristofferson the Johnny Cash Visionary Award for his extensive contributions to country music as one of the genre's premier songwriters.
And the winners are: Video of the Year: Carrie Underwood's "Before He Cheats"; Female Video of the Year: Carrie Underwood's "Before He Cheats"; Male Video of the Year: Kenny Chesney's "You Save Me"; Duo Video of the Year: Sugarland's "Want To"; Group Video of the Year: Rascal Flatts' "What Hurts the Most"; Breakthrough Video of the Year: Taylor Swift's "Tim McGraw"; Wide Open Country Video of the Year: Jack Ingram's "Love You"; and Video Director of the Year: Roman White for Carrie Underwood's "Before He Cheats."
Congratulations to all the winners!
ACM Awards Reminder
This is a friendly reminder for all you country fans to set your VCRs and program your TiVos for the 42nd Annual Academy of Country Music Awards on May 15. Reba McEntire will host the show from the MGM Grand Garden Arena in Las Vegas and fans can catch it live on CBS-Television. George Strait and Brooks & Dunn's Ronnie Dunn top the list with eight nominations each. In addition to Entertainer of the Year and Top Male Vocalist, Strait is in the running for Album of the Year for It Just Comes Natural and Single Record of the Year for "Give It Away," both as artist and producer, Song of the Year for "Give It Away," and Video of the Year for "Seashores of Old Mexico." Dunn and partner Kix Brooks are going into the competition with seven nominations, including Entertainer, Top Vocal Duo, Top Vocal Album for Hillbilly Deluxe and Vocal Event of the Year along with Vince Gill and Sheryl Crow for "Building Bridges" both as artists and producers and Video of the Year for "Hillbilly Deluxe." Dunn's eighth nomination comes in the Vocal Event of the Year category along with Ashley Monroe on "I Don't Want To." Rascal Flatts will compete in six categories, followed closely by Carrie Underwood and John Rich in five (four as half of Big & Rich) and Vince Gill, Josh Turner and Gretchen Wilson each in three categories.
During the ceremony, Brooks & Dunn will be honored with the Humanitarian Award presented by the ACM and The Home Depot. B&D will perform during the telecast along with Rodney Atkins, Kenny Chesney, Miranda Lambert, Reba McEntire & Kelly Clarkson, Tim McGraw, Brad Paisley, Rascal Flatts, George Strait, Sugarland and Carrie Underwood.
Good luck to all the nominees!
Former Cash Home Destroyed by Fire
The former home of the late country music legends Johnny and June Carter Cash, located on Old Hickory Lake in Hendersonville, Tennessee, was utterly destroyed by a fire on April 10. Current owners Barry Gibb, of the famed Bee Gees and his wife Linda were in the process of restoring the 13,880 square foot home. Home, which sat on 4.6 acres. The Gibbs purchased it in late 2005 and intended to restore it to its original condition. A flammable wood preservative had been applied to the home's exterior and interior in recent weeks prior to the fire; the home was engulfed in a matter of minutes. Next door neighbors Marty Stuart (who was once married to one of Cash's daughters) and wife Connie Smith along with neighbor Richard Sterban of the Oak Ridge Boys watched the blaze destroy home where Cash wrote numerous hit songs and entertained U.S. Presidents and music royalty, leaving merely the foundation and a rock fireplace standing.
A week following the devastating fire, Gibb released the following statement: "Linda and I have decided to build our own home on the higher ground surrounding the Johnny Cash and June Carter Cash home and the original foundations shall be kept intact and preserved for the people of Hendersonville and the people of Nashville. This land is sacred land to all of us here and must be protected forever. To the [Cash and Carter] families, we owe the highest respect and the deepest regret that our dream could not be realized. Now there is a dream for us and a new beginning."
The exact cause of the fire is still under investigation.
Divorce Country Style
Ashland, Kentucky native and country music diva Wynonna Judd recently filed for divorce from her second husband and former bodyguard D.R. Roach following his arrest on March 22. Roach had been at the Shades of Hope Treatment Center in Buffalo Gap, Texas since February 21 for treatment for drug and alcohol addiction. Roach was arrested in Abilene as a fugitive from justice in the state of Tennessee and charged with three counts of aggravated sexual battery against a minor. Bail was set at $750,000. Commenting on these events, Judd said, "I am obviously devastated. Our family will pull together, begin the healing process and hopefully - by the grace of God - become stronger. We will move forward with our faith, family and our friends to find resolution to this difficult situation."
Sara Evans' legal wrangling continues surrounding the divorce from her estranged husband, Craig Schelske. Evans and her attorneys were recently sued by Evans' former nanny, Alison Clinton Lee, who claims that she was libeled in court documents the country singer and her legal team filed last October, in which Lee was accused of having an affair with Schelske. Lee has denied she had an affair with Schelske and is suing for $3 million in punitive and compensatory damages and has asked for a public retraction of the accusations. In addition to this lawsuit, Schelske is suing Evans' divorce lawyer, John Hollins, Sr. and his law firm for $20 million for slandering his reputation in the media.
Keep reading in the upcoming months as these high-profile country divorce proceedings continue.
Billy Ray Cyrus Still Dancing
Although he's no Fred Astaire on the dance floor, as of press time, Flatwoods, Kentucky country boy Billy Ray Cyrus remains in the competition on this season of ABC-Television's Dancing with the Stars dance competition. Cyrus is paired with professional dancer Karina Smirnoff and has earned praise from the three professional judges as the most-improved and most-determined celebrity contestant. Now that shooting of the Disney Channel's Hannah Montana sitcom in which he co-stars with real-life daughter Miley Cyrus has resumed and he is recording a new CD, Cyrus has admitted that it is difficult to find time to rehearse a new dance routine each week. It appears that he is ready to be voted out of the competition to spend more time on his true passion: music. Besides this, it seems that he is greatly uncomfortable performing such sexual moves in the required dance routines with this "other" woman.
Fans can keep up with Cyrus and his thoughts on this competition by reading his DWTS blog at www.billyrayblog.com.
Dolly Parton Kicks Off New Dollywood Season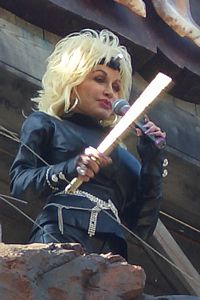 Photo By Michael W. Stout
International superstar Dolly Parton was on hand last month for the 22nd season opener of her Smoky Mountain theme park, Dollywood. Parton introduced the park's biggest addition ever, the $17.5 million roller coaster thrill ride The Mystery Mine and talked about her musical plans. Also kicking off the park's annual Festival of Nations celebrating music and cultures from around the globe, Parton welcomed the top-notched Irish troupe Rhythm of the Dance to her "Tennessee Mountain Home."
Parton wrapped up a month-long tour of Europe the week prior to Dollywood's opening and she assured fans that she is putting the finishing touches on a brand new album called Backwoods Barbie, which she hopes will hit store shelves this fall. The majority of the album will be brand new, self-penned tunes. And to make her American fans happy, she stated that she hopes to tour the States September through December this year in support of the new album.
And while we're on the subject of Dolly Parton, the Country Music Hall of Famer was recently named this year's recipient of the Johnny Mercer Award to be presented at the Songwriters Hall of Fame dinner at New York's Marriott Marquis Hotel on June 7. When speaking of Parton's songwriting abilities, Songwriters Hall of Fame chairman Hal David said, "Her songs have a straight-from-the-heart appeal combined with homespun poetry."
Upcoming Live Country
Now that winter is behind us, the country concert season is upon us and I think fans will be happy of the numerous shows already scheduled for the Derby city. In addition to Joe Nichols' concert at the Derby Fest-a-Ville on May 3, one of the most highly anticipated and once-in-a-lifetime tours will roll into town next month. The "Rowdy Frynds Tour" featuring Hank Williams, Jr. and rock legends Lynyrd Skynyrd will set up shop in Freedom Hall on June 15. Martina McBride fans will be glad to know that the pint-sized singer will bring Little Big Town to town with her in Freedom Hall on July 19. And "Don't It Make My Brown Eyes Blue" singer Crystal Gayle, who hails from Butcher Holler, Kentucky, will perform at the Louisville Zoo on July 21.
Although it's still three months away, it's never too early to start thinking about the Kentucky State Fair. A few country concerts are already scheduled for this year's fair. The Oak Ridge Boys will perform their annual free concert on August 19. Jo Dee Messina and "Brand New Girlfriend" singer Steve Holy will appear at the fair on August 23. And "Some Beach" crooner Blake Shelton will perform on August 25.
Although it's entire schedule has not been finalized for this year, 4th Street Live!'s country concert series already has a few confirmations. Jack Ingram will appear on June 6, while Diamond Rio is scheduled to perform on October 26. Keep reading in future months for more details and more concert announcements as they become available.
Well, that's it for yet another month. Here's wishing each of you and safe and happy Derby. Always remember: "Keep your boots shined up and your hat on straight, 'cause country music is comin' your way."