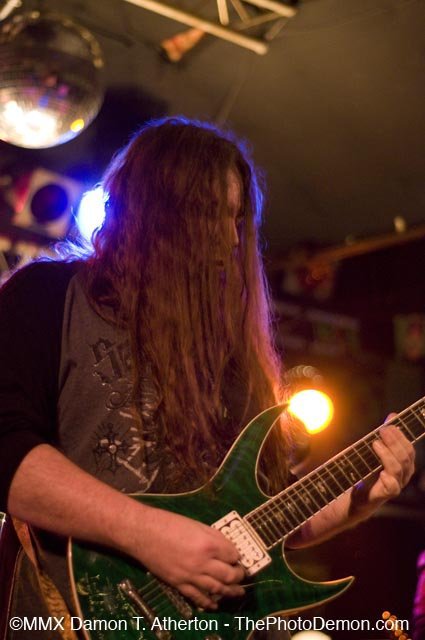 News From the Pit
I'm heartbroken: today, I lost my best friend of 17 years. He was there for me through girlfriends, depression and family illnesses. He nursed me through bad breakups with women I loved; the good times we had are too numerous to list. Many of you have been to my house and met my little Yorkshire terrier, Oscar. Women loved him; he was a bona fide babe magnet.
After a year of continued bad health and failing kidneys and eyesight, I finally mustered up the courage and had him put down. I sat with him till the end.
It made me realize how precious life is and to never take your loved ones for granted: let them know that they mean the world to you.
Now that I have the sad stuff out of the way, I can get down to the Louisville music business. Things are heating up, show-wise and there's a ton of stuff coming in May for you metal freaks!
I got into the Black Label Society show (see review) after a that left me wanting to punch one of the BLS people, but being the professional I am, I didn't.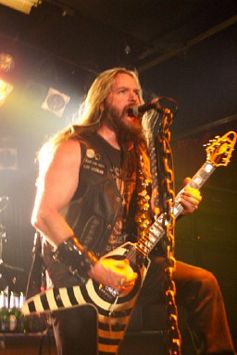 I missed seeing The Haunted, at Headliners, which I totally forgot about and was bummed about that!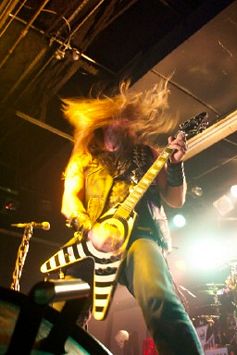 Expo 5, a venue I used to dislike, has a bunch of shows coming your way this summer, courtesy of Terry Harper and newcomer Todd Sowders. There's even a bar in there now! I was there for Killswitch Engage (see review); they (and the PA system) sounded great! There were some 500 people there, by far the biggest crowd I've seen there.
Terry and Todd are gonna rock that place out this summer, so keep your ears open for upcoming show dates at Expo 5. There is a near-stampede of new promoters in the scene, of whom I like a lot, so it's very cool! Todd and Frank with Villified, Hope and Trellyn with HTK promotions, Under The Rose Promotions, Divinity Rose and Hope with G1NBC.tv (a new broadcasting company) and some others I still don't know too well. All-in-all, this equals one big party scene with multiple shows/options every weekend. It makes me feel like a founding father, of the "Godfather" type, since I've been around doing this for soooo fargin long and seem to be an inspiration to some. Just call me Eddy "the Don" Metal.
Now if I can only find a nice little hot honey to go with me, one that meets my standards, I'll be happy.
The Metal Grapevine
Hellyeah is coming, Hellyeah! Five well-known musicians, three different bands coming together for a musical project, a sonic creative collision. A Dallas-based rock band, Hellyeah features Mudvayne's lead singer Chad Gray and guitarist Greg Tribbett; former Pantera drummer Vinnie Paul and Nothingface guitarist Tom Maxwell and bassist Jerry Montano. They will be in town. Tuesday May 22 at Expo 5, courtesy of Villafied Entertainment and Terry Harper. Tickets are 18 Adv/$20dos. All ages! 7 p.m.
Flaw Hits the Road: After a killer "welcome back" show at Headliners, Flaw is back in business and on the road, getting ready for world domination, part two!
You can see them at Expo 5 on Saturday, May 5. If I go to the Derby and pass out in a lawn chair again or go to Godsmack, I'll see you there!
Kittie / Unearthed Coming: All-female thrash rockers Kittie will be on May 1 at Headliners with Unearthed, Walls Of Jericho and Escaping Memory. This should be different, a hardcore show from hell. I've never seen Kittie before. I might have to attend and see chicks wail on some death metal riffage. I wonder if they are hot? Hmmmnnnnn.
Black Label Sausagefest: I've never been a huge fan of Zakk Wylde, but I do admire the way he works that guitar, so I went to O'Malley's to see Black Label Society, a band that is becoming a leather-loving, motorcycle-riding family. I've seen BLS several times before and I get into it a little bit because the music rock, but Wylde shouldn't sing. He should stick to the guitar riffs that brought him fame and leave the vocals to someone who can actually sing. He sounds like a really bad version of Lane Staley, but downers. Of course, his guitar chops were still decent as ever; he wouldn't be Ozzy's longtime guitarist if he didn't have serious guitar chops!
I've always liked the other Ozzy guitarists: Randy Rhodes, Jake E Lee, Brad Gillis, then Zakk, but there was definitely support for the Zakkster on this evening. The place was nearly packed, mostly with leather-clad dudes, which was a bummer for me. The BLS people were pretty cool, except some biker-esque 'security guard' up front who took his authority too seriously, pushing me out of the way of taking pictures, even though I had a Backstage/Photo Pass. These people were acting as if Zakk were a superstar rock god. Puh-leeze, I like his music, but he's past his peak. Zakk put on a pretty good metal show, but the sound didn't cooperate very well, so it was the worst I've heard him play. He attempted some Randy Rhodes solos on a polka dot flying V just like Rhode's old one, but he wasn't up to reproducing Rhodes' solos. Still, Zakk played his pinch harmonic guitar style as if there were no tomorrow. The BLS fans seemed not to care that he didn't' play the Rhodes stuff right; they seemed quite happy to be hearing a guitar great like the Zakkster.
Not knowing the tunes very well, I asked a friend who did to point out the best songs that night. He said "New Religion," "Suicide Messiah," "Still Born," "In This River," "Concrete Jungle" and "Fire It Up." I had a good time at this show, I just wish he would get a better singer. Nevertheless, with the wall of amps, red sirens blaring and a crowd of whiskey-drinking rednecks watching, everything was fine in the name of rock and roll.
Thanks to Melissa and Black Frank the ticket.
I'm Killswitch Engaged: Well, I finally got to see what all the fuss was about: Killswitch is awesome. The 500 kids at Expo 5 were up for the openers, but I wasn't interested in punk, emo, screamo metal, just the headliner.
I was surprised to see that the guitarist for Killswitch was Pat Lachman, a very good vocalist and, a seems, an excellent guitarist, too. Many of you know of Pat from singing with Dimebag Darrell's (R.I.P., bro) Damageplan project, which I loved! My dumb butt didn't even know he played guitar!
Killswitch plays thinking man's metal. Not your average no-nonsense thrashing, but a thoughtful emotion-filled endeavor into every kind of metal style, including death-metal riffs, pretty choruses, clean guitar parts, technical riffing that kicks butt and all-out, rockin' groove-oriented riffage. Speaking as a guitar player myself, some of the stuff looked very difficult, very complex riffs. The singer, a large black man named Howard Jones, has some serious range and voice projection. He can take one note and throw it out there, and it will just hang in the air forever. He's a melodic vocalist who uses vibrato and growling techniques to add variety to the music.
The sound was fat and sounded great. The band let the kids get up onstage and stagedive pretty much the whole set, so all you could see was a mass of bodies flying everywhere. The band was so cool about it, helping kids onstage, giving them water, talking with them, laughing; it was cool to see such down-to-earth guys connecting with the kids that way.
It was the band's final show for this tour. They were tired but really happy with the reaction they got from the crowd. Jones' vocals sounded just like the CD, something I always listen for. I thought he might have used more vocal effects like on the CD, but he hardly used any, which surprised me.
Seeing Killswitch live was worth the wait and I'd go see them again for sure and so should you if you like metal and melody all rolled into one big joint of some good old homegrown, butt-kickin music! Thanks to Terry Harper for bringing them in.
Lacuna Coiled: My favorite female singer is coming to Headliners on Monday, May 7 and I can't wait. Cristina Scabbia and Lacuna Coil will headline, so their set will be longer than the Ozzfest sets of last year. The dark, Gothic, melodic sound of Lacuna backing with Scabbia's voice has gained many fans.
It's Clutch Time: On Friday, June 15,Terry Harper and Todd Sowders bring Clutch in to Headliners. This band always draws, so you definitely want to get your tickets early if you want to see them. Tickets are $16 in advance and $19 day of show. Tickets are available at ear X-tacy! See you at the show.
Incursion's new CD / Axeman: According to Van Avery of Incursion, the new stuff they've been working on is the heaviest, darkest and most brutal music they've written. Van's excited about it and wanted me to tell Incursion fans the six or seven new songs the band has composed recently. Also, Gezus, formerly with False, is playing guitar with Incursion now, plus writing and composing killer riffs. So be on the lookout for a new CD, featuring a the new guitarist. Sounds like a good choice for a guitarist: Evil meets Evil-er!
Ugly Sittin' Pretty: Ugly, which includes former members Tantric and Outspoken, has just signed a deal with Rock Ridge Music that will end their long drawn out battle with their former label.
"This has been the longest year in our musical lives,"said frontman and Detroit native Geo."We are just really, really lucky to get a chance to bring this record to the people, that's all we wanted!"Look for the new CD in late summer or early fall.
Godsmacked in the Mouth: Saturday, May 5 at the Palace, be sure to see Godsmack in the Palace's very cool Spanish Baroqueatmosphere. Godsmack may be a band that plays simple rhythms and radio songs, but they sound excellent live, with outstanding vocals.
Cannibal Corpse Invades: On Friday, May 4 at Headliners, you can see one of the most brutal and technical metal bands in the world. These guys are total sickos and they love every minute of it! They sing of rotting corpses, eating the dead and pus-filled gashes in your head that spew maggots. Pretty graphic huh? I'm interested to see them live, so I might attend! If you like it brutally heavy, come to this concert/
The Burial: The Burial is a thrashy, punk-rock band I saw at Bizkit's 4:20 show and I liked them quite a bit. A heavy sound like old-school thrash, but other times, fast and punky, with impressive guitar solos. The rhythm guitarist and double-bass drummer were very good and the vocals were not bad, either. Overall, a great new band to watch for. I'd like to see them again when I wasn't so drunk. Kudos to Bizkit for booking them.
Villebillies on Tour: The Villebillies landed the perfect fat; they'll be on tour with Hed(pe) for a bit, including a one-nighter in Louisville. Demi and the boys will no doubt tear it up when they get back home and Hed(pe) rocks. Sunday, May 20 at Headliners is the date, so make plans soon, or you'll be out of luck the night of the show, when the chit is sold-out! I'm gonna try to do an interview with the Villebillies next month for you Villebillies fans.
Sofa City Sweetheart: Cricket is the band, a Louisville rock 'n' roll band if there ever was one. 'Refreshing' is how I would describe Cricket, especially compared to the endless sea of upcoming and veterans' bands occupying this region.
Sofa City Sweetheart is the new 12- song CD from this strange but wonderful band. Cricket reminds me of The Ramones, Nirvana or some alternative, bluesy hippy rock. Heck, I don't know what to it. Hippy rock, pseudo metal, funk progressive, indie blues? Whatever, it jams!
Bassist Jeremy Winkie is a rock bass monster, with a serious, funky groove and tone, more so than the average Louisville original rock bassist. Guitarist and vocalist Ben Fields never misses a note, although he's doing the work of two on both guitar and vocals! "Here We Are" is a muddy desert riff, sludge rock monster that reminds me of Kyuss but with punk vocals that match pretty well. Vintage rock sounds out in "Liquid Acid," along with some decent blues guitar solos and melody. "Stroking It" recalls early English invasion a la the Beatles and Oasis. Pretty guitars and vocals make this song a happy tune to jam to. Fields' dreamy vocals and vintage guitar sound make it like being stoned in a field of daffodils while making love to your girlfriend.
"Carousel" is another vintage rock endeavor with a Nirvana-influenced part that leads into a trippy, space-guitar effect I cannot identify!!
Ben Fields has a good voice, especially in the studio, on this CD. The money was well-spent on this recording, because it brings out the best in Cricket and Fields. Sometimes he's bluesy, sometime he sings in a high-pitched, feminine tone, other times he gets into that Ramones gravel rock style that I identify him with.
Cricket is a well-oiled, vintage powered, funky rock and roll machine, ready to do what it takes to spread the word of Sofa City Sweetheart. If classic artists like Zeppelin, the Beatles, the Ramones or The Police are your favs, then you need to seek out Cricket. Buy Sofa City Sweetheart. Hear some at Myspace.com/wearecricket
Slokillaz Return: Slokill, a rap rock/metal outfit that did pretty well until their recent breakup, is being resurrected by former vocalist John "J" Mayhew. "J" told me he's gonna have the band up and running soon. He gave me a rough demo of some new stuff he's been doing to prepare for Slokill's return. The track is called "You Can't Kill A Slokilla" and is more industrial rap than the metal rap of the old Slokill. There were good rhymes and decent lyrics that made sense, plus catchy verses in the new stuff and interesting vocal effects that make his voice lower. "J" said that they are going to be even heavier this time around. You never know what's going to happen with the new Slokill, but whatever it is, they'll put butts in the seats. "J" is the only vocalist in Slokill now, but he has the skills, so look for the new Slokill on June 1 at Phoenix Hill Tavern.
MachineGunSkullF *** : I met this young dude on mojo and he was absolutely crazy, in the funniest. most sickeningly dysfunctional sort of way. Frogg Corpse, 19, is his webname and he has a brand new band called, um, MachineGunSkullF***.
He asked me if I liked the name. I was like, how the heck will you promote yourself on the radio or in the newspaper? Dude didn't care, he just wants to thrash out.
Frogg and his band of very young psychos are ready to unleash their brand of black metal annihilation on the masses soon. I have heard through the grapevine that they are quite good and have the metal goods needed for such a bold conquest. So if you are into blazing heavy metal and the sickest darkest thoughts of a demented young mind, then check out MGSF at a venue near you.
Two Bands 2 Look For: Here's the word: check out Sulfate, from Madison Indiana, and Kinsey. Not only does Sulfate rock, but the songwriting is exceptional as well. Check out "Changes" on their myspace page; it sounds even better live. They get heavy and melodic and actually sing.
Kinsey, which recently played my PHT showcase, rocked out bigtime! I knew they were good, but dayum, not that good! I was trippin'. The players are very young, only one or two of them is over 21, but they play like seasoned pros. They are a pretty heavy band as well, much harder than I thought they would be. Be sure to check out these two upcoming bands soon!
So sayeth the Metal Man!
Nailgun Needs Bassist: Metal thrashers extraordinaire Nailgun Strategy are looking for a bass player with five years playing experience and able to travel. Send them a message on their profile for try-out times and dates along with an mp3 of your music. http://www.myspace.com/nailgunstrategy
Sonic Epitaph seeks Bassist: Sonic Epitaph is seeking a male or female bassist with decent experience, good equipment and a willingness to take the time to write the best original music. Sonic Epitaph is a female-fronted, power/symphonic metal group similar to Within Temptation, Nightwish, or Lacuna Coil. Contact the band at http://www.myspace.com/sonicepitaph or sonic-epitaph@insightbb.com or call (502) 645-6758 after 9 p.m.
Anvil Grey Needs Axeman: Louisville metalheads Anvil Grey need a guitarist who is dedicated, creative, responsible and has good equipment. Contact mypace.com/anvilgrey, for a listen to their music and who knows, maybe you could be their next axeman!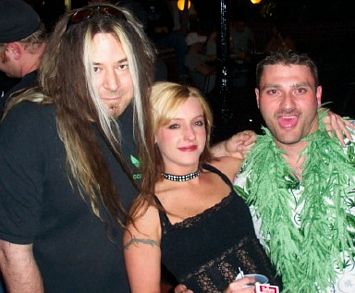 Jay's Derby Eve Bash: Jay, the former owner of Needful Things headshop, has decided to get into the promoting business. He's putting on a fat Derby Eve gig at Expo 5 featuring Flaw, Ugly, Thorn, Asleep, Nova Red, Hardlein, 2 Pump Chump and Adept. $20 day of show or $15 in advance. The show starts at 6 p.m.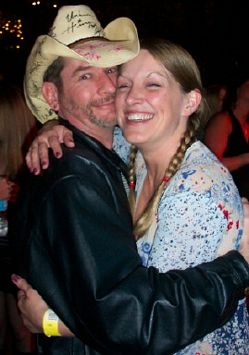 Fender's New Partner: Fender from aiirradio.net has a brand-new partner, Patty, who has a great personality and has already supported the scene for a long time already. She's a sweet person and a lot of fun to hang out with. Check out Fender and Patty on aiiradio.net on Sundays at 6 p.m.
Eddy's Canoe Trip, Wanna Go? I might organize a canoe trip for rockers. A Louisville Music News Canoe Trip! A lazy day floating down the Green River near Mammoth Cave. I've been a few times and it's awesome: cliffs, caves, 4:20, swimming, canoeing, partying, um, kinky sex in the woods, tipping over your canoe like a moron, it rocks! I say let's get a rock 'n' roll Louisville music scene entourage to go and party our asses off. This time, I'm taking "Off" bug spray, because giant dragonflies were dive-bombing us last time!
Wanna go? Lemme know if interested, I'm thinking early/mid June! Eddymetal1@aol.com
UpcomingShows
BizarreCafe
The Bizarre Café is at 1521 Baxter Avenue. May 1 is Global Love Day, a gathering of music business individuals striving to improve the music scene with unity and support, is an event to check out, featuring bands such as Nova Red, Prey For Maria, Anvil Grey, Institution and Echos Aim. The music starts at 11 a.m. and continues until 10 p.m.
Between 4:30 and 5 p.m., the national female metal band Kittie will be making an appearance for a "Meet and Greet" with autograph signing. G1NBC will be covering the entire event. Aside from the music, there will also be spoken word artists, an art show and a local comic book artist who will be doing caricature drawings, while graffiti artist Eddie Santiago will be working on a piece for the cafe.
TheBulldogCafe
Saturday, May 5 Holbrook, Red Handed, Morning Augment, Halfway Hollow.
Saturday, May 12 Caldera, Anvil Grey, Surviving Thalia, Stonecutters and Hyndsite. 8 p.m. All Ages!
Friday, May 25 Schools' out BASH!!! Straight Line Stitch, Human Fuse, Behind the Beheaded, Never Label and Last To Reconcile.
ClubExile
Wednesday, May 2 Full Nelson
Saturday, May 5 Sphere and Embertide.
Wednesday, May 9 Grae
Wednesday, May 16 Fat Jane and Remain Tame.
Saturday, May 19 Dogwater.
Wednesday, May 23 Ashes To Avareo.
Expo5
Tuesday, May 22 Hellyeah, featuring members of Mudvayne and Pantera. 7 p.m.
Saturday, June 2 Insane Clown posse, Twizted, X-Clan and Underworld Assassins. 7 p.m.
TheFoxDen
Friday, May 11 Dogwater and I Will Defy.
HeadlinersMusicHall
Thursday, May 3 Haste the Day, From Autumn to Ashes, Maylene and The Sons Of Disaster, Alesana and Twelve Gauge Valentine. 6:30 p.m.
Friday, May 4 Cannibal Corpse, Job For A Cowboy and Psyopus.
Monday, May 7 Lacuna Coil, Within Temptation, In This Moment and Stolen Babies. 7 p.m.
Tuesday, May 8 The Red Jumpsuit Apparatus, Halifax and Jeny. 8 p.m.
Friday, May 11 Emanuel, Madina Lake, Firescape and Fightstar. 8 p.m.
Saturday, May 12 Heaven and Hell Show, featuring Subrosa, Fall For Nothing, Inner Blue, False, Antikythera and Anagnorsis.
Monday, May 14 Static X, Otep and Full Blown Chaos. 8 p.m.
Thursday, May 17 Norma Jean, Glass Ocean, and Maylene 7 The Sons Of Disaster.
Sunday, May 20 Hedpe, The Villebillies, Mower, Danny Diablo and Zero Authority. 8 p.m.
Sunday, May 27 7DaySun, Evil Engine # 9, Kinsey, Halfway Hollow and Serene.
HighlandsTaproom
Tuesday, May 15 Matthew Foggle, "on the brink" CD's for sale.
Lisa'sOakStreetLounge
Friday, May 11 Prey For Maria.
PhoenixHillTavern
Friday, May 11 The original rock showcase series: Nova Red, Subrosa, Broken Vault and Serene. 9 p.m.
Friday, May 18 Never The Man, Phantasm and Thorn. 8 P.M . Sharp!
Friday, May 25 Bizkit's Pajama Party: Asleep, Prey For Maria, Hindsight, Hardlein, Serene, Crimson Dust, Dead Nettle and Bonk. $10. 9 p.m.
Friday, June 1 The original rock showcase series: 16 Bones, Dogwater, Thorn, Slokill and Prey For Maria. 9 p.m.
TexasRoadhouseOnDixie
Thursday, May 3 Bike Night The Mad Taxpayers. 6 p.m. All Ages.
ThirdBase
Saturday, May 5 The Mad Taxpayers. 9 p.m.
RusticFrog
Saturday, May 12 Outdoor concert: Incursion, E-Flat and Halfway Hollow.
Friday, May 18 Anvil Grey, MachineGunSkullF**k, The Jane Rose Band, Poetry Of The Dead, The Douglas Brothers and Grae.
UnclePleasants
Friday, May 11 Fall For Nothing, Shatterstone and Grae.
Saturday, May 12 At One With Nothing, Monopulse, Remain Tame, Shatter the Odds, Undone, Red Eyed Lies and Jack 21.7 p.m.
Sunday, May 20 Assisting sorrow, Antikythera, Jaw and Coliseum.
Wednesday, May 23 Soil, Seemless, Ligion, Twin Method, Intheclear and Anvil Grey.
Saturday, May 26 Antikythera, Nailgun Strategy, Caldera, Four story Massacre and Escaping Memory.
Saturday, June 2 Dogwater, Poetry Of The Dead, Once Fed Lies and Clear Conscience.
OuttatownerzandOtherz
Friday May 11 at the Beechwood Park in Scottsburg, IN. Surviving Thalia, Intheclear, Escaping Memory and Within A Tragedy. All ages. $5
Saturday May 19th - Huge outdoor field party benefit show in Madison, IN, camping and three or four bands with E-Flat headlining. Stay tuned to myspace.com/eflat for directions!
Props of the Month
Todd Sowders of Ville-A-Fied Promotions Inc., has stepped into the music scene as a full-fledged promoter intent on bringing in big name acts to entertain us Louisville rockers and I, for one, am grateful.
Terry Harper has done an excellent job, but another promoter looking out for us rock 'n' roll hungry rebels is a welcome addition! Todd is bringing in Hellyeah, Clutch and almost got Black Stone Cherry and Saliva
Todd is really working hard to get some shows happening, so be sure to listen to what he and Terry Harper have in store for you this summer. So, thanks a lot ,Todd, for being a nice guy and for thinking of us rockers in the 'Ville. a town that usually gets left out of major rock/metal tours!
With the help of people like Terry Harper and Todd, maybe we won't, so good luck in your promotions. Contact Todd on myspace for concert info, networking, or if you want Todd to check out your band, at www.myspace.com/saintandrewspub