I've Got A Mind To Ramble
Night Trippin' with the Nightcats
When a national act comes to Stevie Rays it's a big deal because it happens so infrequently. Little Charlie and The Nightcats are one of those well-traveled West Coast Bands, like Rod Piazza and The Mighty Flyers, who have passed through Louisville several times and always draw a good crowd. California must breed great harp bluesmen. Starting with George "Harmonica" Smith, who relocated from Illinois to Los Angeles in the mid-Fifties, there has been a continuing legacy of fine musicians and singers from there. Smith directly influenced Rod Piazza and William Clarke. Other harpmen followed, including James Harman, Mark Hummel, Paul de Lay, Gary Smith, R.J. Mischo and Rick Estrin.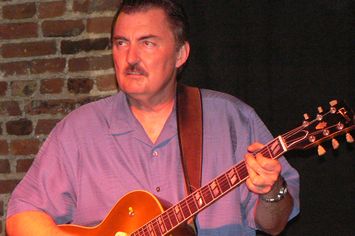 >Charlie Bat at Stevie Ray's
Estrin took the stage with his sly, hipster swagger and blew and sang through the first set with such highlights as "Wrap It Up," about buying a new wardrobe to wear to a party. After the third song, Estrin asked the crowd if they liked what they heard. Following a hearty approval, he said, "there would be no refunds." Other wry songs included "I Got A Big Bone Lady," "You Got to Have A Job," "Got Eyes Like A Cat," and "That's Sweet." The rhythm section, featuring Lorenzo Farrell on upright and electric bass and Jay Hansen on drums, has been with the band for just a few years. Hansen took over the vocals on "I'm Taking Out My In-laws."
The band changed tempo to a gloomy, slow blues on "Circling The Drain," a lamentation about growing old. Their first set closed with "Dump That Chump" and "That's Where My Baby Stays." Baty is one of those rare masterful guitarists who can transition from blues, jazz, swing and rockabilly with great ease. I could have listened to him play all night.
There was one more set to go. I stopped taking notes and sat back and just listened. At one point, all of the musicians except Estrin suddenly turned 180 degrees and continued to play with their instruments behind their backs. What was Estrin to do? He couldn't play his harp behind his head, but he tried. You would have had to be there to appreciate it.
Later in the set, Estrin and Baty exchanged their harp and guitar, with each performing inspired solos on their borrowed instruments. If you missed or want more of Little Charlie and the Nightcats, you will have a chance to see them at the Handy Blues & Barbecue Festival in Henderson, Kentucky on June 16, which will also headline the great harp maestro, James Cotton.
Dahl and All
When was the last time you heard the Metro Blues All-Stars play together? Was it at the Butchertown Pub, a Lonesome Pine Special, or a Waterside Festival during the late 80s? In April 2005, I interviewed Nick Stump, their lead guitarist, for an article in LMN. At that time it looked like there would be a reunion of the band. Unfortunately, that did not come to pass and we had to wait two years. The gathering of Nick, Rodney Hatfield and Caroline Dahl happened thanks to a reception and exhibition of Dahl's embroidery at The Kentucky Center on April 6.
After she was crowned "The River City Party Queen" when she reigned with Metropolitan Blues All-Stars, she abdicated and went to San Francisco in the early Nineties. While in California, she continued to play keyboards, playing solo and in various bands and traveling throughout the U.S. and Europe. At the same time she gained wider recognition with her embroidery art. Dahl frequently works on her intricate fabric projects while traveling between gigs. Her whimsical woven images and scenes are derived from life experiences on the road and visits to Mexico. Her show, "Xtreme Embroidery," will continue until May 8. Dahl has released two CDs, No Hats and Night House, on Globe Records that feature her artwork on the covers.
Earlier that day, there was a "Live Lunch" performance in the Public Radio Partnership studio with Stump and Hatfield. The back room was packed with fans anticipating this long-awaited reunion. Metro TV was also there to tape the show for Insight Channel 25. Just prior to playing, they briefly huddled together, clasping their hands. They came ready to play. Dahl opened with her rockin' version of "Swanee River Boogie," which segued into "Old Folks At Home" and "Red River Valley." Hatfield followed with "Gee Baby, Ain't I Good To You" and then the torch was passed to Stump, who sang an old Carl Perkins tune, "All Momma's Children."
As some of us finished up our box lunches from City Cafe, Stump commented on how nice it was for all of us to be at the Nick Stump Dinner Theater. Both Stump and Hatfield had a chance to stretch out with some gut-wrenching solos on "It's The Same Thing."
Laura Shine hosted the show and briefly chatted with Dahl about how she met Hatfield at U of K when he rode by her dorm on his bike. Later, they were in some school plays together.
The second half had a little gospel, with Hatfield singing "Closer Walk With Thee." Stump and Hatfield confessed they used to poke fun at religion, but now that they're older, they think more about Jesus and writing children's books. But it was quickly back to the devil's music with "Sweet Jelly Roll" where Stump sang, "It's good for the body, it's good for the soul." Hatfield took off on a harmonica boogie, which brought back memories of "Pike County Love Stomp." The show went out with the rockabilly "Don't Dog My Cat," where Hatfield was trying to make out with his girl but was interrupted by his big gray cat. When it got to which one he had to choose, the kitty won. Dahl's rollicking keyboards drove the other two to their laid-back limits, just like the old days.
Dahl used to embellish her piano with curious trinkets for each show, but this time it was her attire. She wore a flared white skirt decorated with silver cacti and cowboys that she found in a vintage store. Using her embroidery talents she added sequined hearts to the skirt and her black shawl.
That evening at the Kentucky Center, the trio took on the new name Three Bean Salat, but it was the same music in a new setting. A display of about two dozen of her works was in the front west lobby. One of the best displays was another dress Dahl had created. This one was black with gold sequined flames surrounding her waist. A more artsy crowd gradually gathered to celebrate her artistic and musical creations.
I hope we don't have to wait so long for another reunion.