Scuttlebutt
Here Comes Heaven Hill
They sing about booze and they sing about broads. They sing about drugs and their southern roots given by the grace of God. They sing about hurt, they sing about pain and they sing about things that drive them insane. OK, never mind the poetic intro. In all seriousness, Louisville-based Heaven Hill keeps their music simple but oh-so-Southern. At first, their music seems to be about a rather typical lyrical and life agenda for most rock-n-rollers. But don't expect the members of Heaven Hill to fall victim to the vices that are central to their music, of which usually leads to the demise of most rock bands.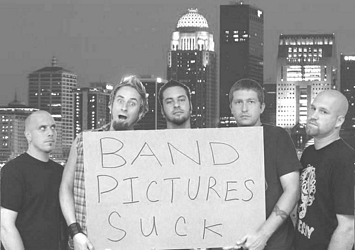 Heaven Hill
Both Chuck Willis (vocals) and Teague Ridge (bass), formerly of Breckinridge, are no strangers to dabbling into the national spotlight, having been the first unsigned band to ever make it into Billboard's "Heatseeker" charts and also being sponsored by Budweiser and Red Bull. When asked what the biggest musical difference is between Breckinridge and Heaven Hill is; Ridge stated, "It's a lot more grown up. The music is more mature and these guys [the other HH band members] have made us [Ridge and Willis] better musicians. That's about all there is to that."
Speaking about the rest of Heaven Hill's lineup, there is also Chris Evans (guitar) formerly of The Constant and Never the Man, rookie Kris Kerr (guitar), who is getting his first taste of playing in a band with Heaven Hill and Atlanta native Steven O'Reilly (drums) formerly of Exit Left and S-Tribe. After seeing O'Reilly perform live, he is definitely vying to be one of the Louisville's most talented drummers and is an impressive addition to Heaven Hill's lineup.
Although you could never tell it by watching them play live or listening to their five-song demo, Heaven Hill's inspirations as musicians are quite diverse. A few of them credited other people and the others were for a reason. When I asked them what inspires them musically, here's what they had to say:
Kerr : "Pretty much playing guitar as much and as fast as I can to get laid."
Ridge : "(laughing at Kerr) My neighbor got me into it, a guy named Ray Rizzo. He is one unbelievable drummer and he played in a band and lived across the street from me. I watched them play and pretty much from then on I have been hooked. I was always into the whole grunge deal like Nirvana and Red Hot Chili Peppers."
Willis: "Teague got me into it (laughing)! I owe my whole life to him. No really, I'm kind of the same way except I grew up being all pumped up on rap. But then I met Teague and went the complete opposite way. But I'll be honest. Prince and Michael Jackson still inspire me. "
O'Reilly: "Tommy Lee!"
Evans: "At first it was something cool to do because not everyone did it. I started playing bass because nobody else did. But lately it's been these guys [looking at his other band mates] who have influenced me to keep playing, because I wouldn't be in another band. And then there is also those people who keep telling me I need a regular job and ask 'when are you gonna grow up?' - so that's another reason why I still play. It's like a big 'F-- you' back to them for me to keep playing."
Heaven Hill rehearsals are definitively unlike other Louisville musicians with whom I've spent time. These guys have an ever-present element of seriousness to their rehearsals, which is exemplified by the "closed session" sign that hangs on the door leading into their rehearsal space. Although a few other random people and I were in attendance for their rehearsal, once it began an apparent 'zero contact' policy went into effect as HH formed a circle around O'Reilly's drum kit and began perfecting their instrumental opening. Ridge, who was sitting perched up on his bass cabinet, along with Evans seemed to be the dictators of the musical creativity, at least on this day. While the rest of the band debated on the specifics of the instrumental opening, Willis began warming up his vocal chords to Elvis's "Hound Dog," which was the only abandonment from my aforementioned comment on the element of seriousness of their rehearsal. Once they had all the initial musical debates over with, the reason why they play together as a band became immediately evident.
Heaven Hill is a melodically driven band, with lots of southern guitar licks, almost soulful bass lines, in-your-face but entirely coordinated percussion and grungy vocals that usually progresses into a harmonious yet popish chorus. Heaven Hill's songs are fresh, energizing, simple, prideful, southern inspired and all with a twist of lyrical raunchiness that everyone can relate with or admit to doing himself or herself. Probably the two songs that best represent this contention are "I've Done It" and "Top of the South." Here are a couple of songs that best sum up Heaven Hill's musical attitude and unless they have some other unreleased cuts (which they probably do), these are going to be the songs that will more than likely pave the way for wherever Heaven Hill is destined to go in the music business. But, they've also written a couple ballad-esque type of songs that gives them depth in their creativity and the types of audiences they will reach. "Wait For Me," and "The Oblivious" are two other tracks that should translate to getting spun on a diverse range of radio stations and not just the rock stations, which will be their bread and butter.
Heaven Hill is set on succeeding and launching themselves into national music scene. To do this, they have already been signed by Krowe Records; an independent label based in Atlanta, Georgia. They are set to release their thirteen-track debut album Somewhat Civil by the end of 2007 or possibly the first part of 2008. They still have some finishing up to do on mastering and the album artwork, which guitarist Chris Evans referred to as "another argument waiting to happen," is yet to be completed. Once Somewhat Civil is finally released be, on the lookout for some regional touring dates as well as a few Louisville area shows. You can keep up with Heaven Hill's progress, find out about tour dates and listen to a few demo tracks on their website at www.myspace.com/heavenhill.