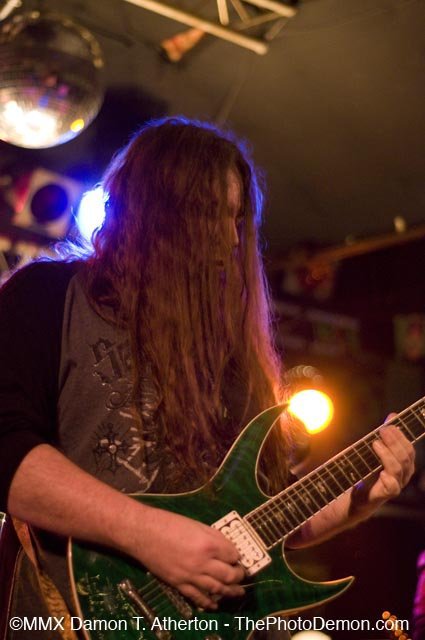 News From the Pit
"Ooooohhhhhh,mypoorinnards!"
As I sit here all weak-kneed, working on my article for you folks, I have to admit that sometimes I think I'm the luckiest bastard around. Things have been much better for me lately, in all aspects.
LRSFest has come and gone (see review below), but the station is still having issues with the ownership changeover, (it's taking longer than they expected). So it looks like it might be a while before anything can be worked out on the Louisville music radio show they offered me a month or so back. Heck, maybe I should have just started immediately like they wanted. But I was worried the new owners might change the music format, so I opted to wait and see.
It still may go through sometime in November, but I'm not holding my breath.
In the meantime, I have taken a job as DJ at the infamous Louisville strip bar Deja Vu. I tell you, the fun we have there shouldn't be legal! A few friends of mine from the Louisville music scene, Mudd from 93.1 the Fox and Jeff Toy (of My Own Victim and I Will Defy) and his pretty lady came up to the club to see some of the hotties!
I've got a cool new idea for the club. I'm going to put some of the bands around here in the club's computer so the girls can dance to regional music. Maybe even have a musicians' night or something! I've been spinning some Flaw and Nova Red while the girls danced, so if you want to be played to naked dancers, send me a CD. If you got the right sexy groove, you might get played at the Vu. 4006 South 5th Street, Louisville, KY, 40214.
The Vu has been way cool about working around my LMN stuff and Phoenix Hill shows, so you can still expect to see my concert reviews and stuff every month here in LMN and my Original Rock Showcase on the first Friday of every month.
And if you think I'm goofy here in LMN, then come see some uncensored Eddy bring a multitude of hot females on the world famous Deja Vu stage. Hit me up and I might hook you up with a few free passes.
The Phoenix Hill's Chili Cookoff was a fun day. Four thousand plus people showed up. Beer, lots of cute women and lots of friends made the day a blast, until I had to earn my keep as judge! I ate three Rolaids before the judging even began.
So then it began. An assembly line of chili came my way. A half hour into the judging, I was full, then they laid the hideous news on me: "You're halfway through, Eddy" said Phoenix Hill's Chili Dictator/Torturer Kim Donze, as she shoved more chili at me.
The result of eating chili from over 70 entrants in an hour (beads of sweat were abundant on my forehead) was quite disastrous the next two days. Special honors for bravery/endurance goes to the trooper of a female who was kind and tolerant enough to be with me those two unfortunate days when my innards were farged up.
Type O Negative and locals are playing in a few days at Headliners. I'm definitely going! Look for the review in the December issue. Another show I'm looking forward to is the return of Primer 55. Yup, Louisville's own Bobby Burns (also bassist for Soulfly) is coming back with the hopcore/hardcore metal band that he had back in the late Nineties (check out the interview below). They are playing the Phoenix Hill on November 30.
Well, that's it for me this month. As always, thanks for making me the top rock writer in the region!
I will continue to do my best to deliver the metal news/info, keep the weasels in the scene at bay and put together top-notch Original shows. Hit me up on myspace.com/Eddymetalrocks, or Eddymetal1@aol.com.
The Metal Grapevine:
Primer 55/Soulfly Interview: Remember Primer 55? A hardcore/hipcore band from Louisville/Tennessee that I used to play on the radio way back in '98? And I brought them up for a few shows at the Toy Tiger and Phoenix Hill? Well, they are reunited and are coming back for a special show at the Phoenix Hill Tavern on November 30. I contacted Primer 55 guitarist, old friend and current Soulfly bassist Bobby Burns for an interview/
Eddy: How did Primer 55 end up getting back together and when?
Bobby Burns: I had no plans at all for anything Primer 55 happening actually. I get a call one day from Crash Music, saying they were big fans and wanted to put out a record or a DVD. P55 has never done a DVD, so I thought it would be a cool thing to do, a free and clear deal with no strings attached and I didn't have to promise to tour! Jason (singer) has been in a bad way for the last few years and it seems like he's finally back on top and eight months later, we have a DVD/EP hitting stores on November 21. We're out here on tour for the rest of the year.
Eddy: Are there any plans for a new Primer 55 album in the near future?
Bobby Burns: Actually yes, we're gonna start recording sometime in January for a brand new P55 album.
Eddy: A lot of people aren't aware that you also play bass for internationally known metal band Soulfly. Tell us about the new album you just recorded with Soulfly.
Bobby Burns: I've been with Soulfly for the last 5 years and 3 records. We just finished up the new Soulfly at my studio in Orlando, Florida and it's slammin'! It was a pain in the ass to be the studio owner and the bass player but it was a great time for sure. Max (Cavalera, formerly of Sepultura) told me 100 times that it was the most comfortable record he's ever made.
Eddy: Bobby, tell us about some of the shows you have played on the road with Soulfly.
Bobby Burns: We travel all over the damn world months and months out of the year, Russia, Africa, Australia etc. I mean we've headlined 70,000 seats in Spain I think. Huge shows, man.
Eddy: Tell us a little about your project called Love Said No.
Bobby Burns: It's a rock band I started with Erik Rogers (ex-Stereomud vocals), Frank Fontsere (ex-Stuck Mojo drummer) and Billy Grey on guitars. I play bass and we just go out there and have a killer time. I have them with me on this P55 tour at the moment so Frank, Billy and I are playing two shows every night!! It's been rockin' and the fans are still here and coming out every single night. Check it at myspace.com/lovesaidnorocks
Eddy: It's been a while since you guys have played a show in your hometown. What do you have to say to your friends and fans in Louisville about your upcoming Phoenix Hill Show on November 30?
Bobby Burns: I love Louisville with all my heart. I grew up there and my family is there and it's the P55 stomping grounds. We cannot wait to get there and play this show!!!!!!!!!!
VillebilliesInterview: I ran into Demi Demaree of Villebillies/Plan Of Man and he agreed to an interview.
Eddy: You've come a long way since you first contacted me, wanting a gig with Plan Of Man several years back. So what's the word on The Villebillies as of late? I heard you guys are going through a few lineup changes.
Demi: Yeah, I think I first called you in '98. Some people might not even know about Plan of Man, r that everyone in P.O.M is in the Villebillies as well. It has been a journey though. We are a seven-piece band now. Child, Tuck and myself on vocals and Tim, Justin, Adam and Ron on drums, guitar, banjo and bass. Some people used to say, "I don't see how you all can keep it together with ten people in your band." It was a challenge at times, but we had fun. I guess losing a few members was bound to happen eventually. Between alcohol, egos, artistic views and business quarrels, you can see how it was a little tricky. We are happy with the lineup we have and have been in the studio working on album number two. For the record though, they all quit. When you can't afford to tour because there's ten people in the group and someone quits. See ya! I ain't gonna quit.
Eddy: The Villebillies has a new record coming soon. So what will the second Villebillies album be like? How many songs? Where you recording? And when can we expect it to be released?
Demi: The second album is still gonna be Villebilly. We'll still have that homegrown sound, but we have evolved as musicians, too. So you will be able to hear that on this album. We do plan on putting a lot more songs on this album than the last, though. Having eleven songs on the album was the label's doing, not ours. We have been writing and doing preproduction the last few months but plan on hitting the big studio in January. We are recording at Saint Claire Studios in Lexington, KY. It will probably be released in March or April. We'll see.
Eddy: Tell me a good Villebillies story.
Demi: I forget what town we were in but we stayed at this cheap motel that that was apparently having a private swingers ball. We thought it was swing dancing, because there were a lot of older men and women walking around the halls in flapper dresses and suits. As the night went on, we started roaming the halls drunk, because that's what we did to get away sometimes. A couple of the guys walked out in this courtyard to find a bunch of open windows filled with people having open sex with multiple partners. Not giving a f#$% who saw them. The funny part was seeing all of them the next morning at the continental breakfast area with utter disgust and disappointment on their faces. Comedy!
LRSFest Results: I was pretty disappointed with this year's LRSFest, particularly the national acts. So were a lot of other people, including some of the bands that played.
First of all, the band that won the vaunted "Battle Of The Fans" had to go on first at, um, 3 p.m.?
In the past, the bands that did the best leading up to the show got the latest set times and even were allowed to play the main stage. Subrosa, the winning band, should have played right before the national acts. To put the winning band up first is pure madness! And Drowning Pool at 5 p.m.? Louisville bands Subrosa, Sacred Sorrow, Kinsey and Caldera did very well, but the crowd for them was considerably smaller compared to past LRSFests. The sound from the second stage was pretty good.
The nationals were pretty lame, although Drowning Pool was cool, other than the three cover songs they did, including the Billy Idol tune, "Rebel Yell." I liked Drowning Pool's last singer better than the new guy; he had much more grit and intensity. The new guy had no power or balls in his voice, plus he cracked his notes quite a bit, especially on "Tear Away."
The skate/punk/emo music was like being locked in a closet, listening to "Shiney Happy People" by R.E.M for two days nonstop! My date was actually begging for us to leave. We had to retreat after Sum 41.
The people who did the sound that day did an excellent job: it was a full, clean and tight sound. The much younger crowd seemed to love Sum 41 and the other emoish nationals, so maybe it was just we metalheads who were disappointed, although I heard Puddle Of Mudd did well.
The youngsters had a good time and so did I, seeing friends, eating, drinking and hanging out all day. The nationals just weren't my cup of tea.
Nonetheless, I think what LRS does for Louisville original talent every year is awesome. And they definitely get two thumbs up from me for all their hard work supporting the scene with LRSFest and the band battle shows leading up to the event. LRSFest was the best show I've ever played, by far.
The Misfits Are Coming. Attention punk rockers: on Friday, November 2, legendary punk thrashers The Misfits will invade Expo 5 on 7th Street with Louisville's own Dead city Rejects opening. Don't miss this punk rock explosion!
Dave Moody Joins Billy Ray Cyrus: Dave Moody has taken a break from playing bass with the cover band Jefferson TARC Bus and is now touring with Billy Ray Cyrus, the "Achy Breaky Heart" guy! That's the last band I'd expect Dave to join, but I guarantee the money is right. So good luck to Mr. Moody in his country music endeavors.
Sever This Illusion: Wow. I finally got to see Sever This Illusion and, boy, was I impressed. I had heard vocalist Trevor sing karaoke before and wasn't very impressed, so I wasn't expecting too much. To hear him sing his own music is a different story altogether. He has come into his own, with a viciousness/intensity that's hard to match, throwing singing and screaming into the mix whenever needed. The music of STI is slammin,' freight train brutal, heavy metal tearing past at 90 MPH.
If Slipknot, Fear Factory and Chimaira are to your taste, then you need to see Louisville natives Sever This Illusion.
The Revenants:The first thing I noticed about The Revenants' new album Hand Of Midnight was the very cool cover: a blood-red and very sweet looking background with a gothic style Revenants logo. Evil.
The first track on this CD, "Black Hearted Jade" is the best I've heard from The Revenants! It's superbly polished, gothic punk thrash that kicks ass! The keyboards on this CD scream money. As they rip into Track Three, I can plainly hear that they have come a long way since I first met them. This chit sounds killer and fargin demented. Kinda different and crazy all in one delightful treat. It's like the Munsters meet Cradle of Filth, then go hang out with Dimmu Borgir and Moonspell, then go to a strip bar with the Misfits! Very dark, European black metal influences here in the songs "Black Hearted Jane," "Lament" and the slow groovin "Road Of The Broken."
There are very good riffs, musicianship and songwriting going on here. My only complaint is that the vocals seem a tad low in the mix, but other than that, this CD sounds terrific qualitywise. Fans of goth/blackmetal/punk must check out this evil sounding achievement. Myspace.com/revenants
Anton Mink Hits The Road: Louisville indie rockers Anton Mink are set to depart on their second West Coast tour to Reno, San Francisco and Oakland as well as heading up north into Oregon, Idaho, Washington and back over into Colorado. It's a very impressive tour for a Louisville original band. Their next Louisville show is on December 8 at Wick's on Dixie with Never The Man, Serene and Hanover. Good luck with the tour!
Introducing Andrea Davidson: OMG. I was out one night and I saw a new cover/original band, fronted by 22-year-old Andrea Davidson. She sings like an angel, is a decent guitarist and, fellas, she's smokin' hot! Andrea and her very talented band play some older tunes like Bad Company, Creedence, Marvin Gaye, but do so with a fervor I've not seen in a while. Her own music is very good as well. If you dig older rock/blues, then you MUST see them. They play Dutch's Tavern every Tuesday and have a E.P coming out in a few months. Myspace.com/andreadavidson
Rock 4 Kosair III: Yup, it's time once again for The Third Annual Benefit for Kosair Charities at the Phoenix Hill Tavern on Friday, November 16. The whole club will be dedicated to original music. We will have several guitar giveaways, a tattoo giveaway and an arsenal of killer bands that have generously donated a performance to helping sick underprivileged children have a better Christmas.
Performing are Nova Red, Incursion, Heaven Hill, Antikythera, Asleep, Evil Engine # 9, 7DaySun, I Will Defy, Broken Vault, 13th Age, E-Flat, Caldera, One Day Away and The Burial . The show starts at 9 sharp, but if you want to win a guitar, you want to get there early to be sure to get a free numbered ticket while they last with your $7 admission charge. The drawings will be between midnight and 12:30.
Tell everyone you know about this good cause. This show is going to be a blast and the original show of the year at the Phoenix Hill.
Rocktoberfest: I caught Subrosa's Rocktoberfest at Headliners and partied/networked a bit. Broken Vault opened and kicked serious butt. This band is really coming into their own with there new music; perhaps there's a recording deal of some kind due. Then Sighlo from Ohio played a good set of decent music. Kinsey played a good set as well.
But Nova Red tore the roof off as they released their new and very, very good CD that night. I was wondering if Rahul would hit the notes he achieved on the new CD. Some of that was pretty high pitched, so I was curious if he could do it live. Good ole Rahul pulled it off in excellent fashion as they ripped it up. A very good set.
Unfortunately I didn't get to see Subrosa, but I'm sure they sounded as good as always. I had a pretty good time.
Once Fed Lies: I finally saw this band and I liked them. they are much, much better live than their recorded stuff. Maybe it was the recording that didn't do their mixture of blues/rock/metal justice. The music's not super heavy, but I dug the guitar tones and solos and the energy of the singer Troy Saint Troy. This band has exhibits charisma and generates good, old-fashioned fun. Check them out at Myspace.com/oncefedlies
Second Hand Grenade Fizzes Out: Louisville metal band Second Hand Grenade is no more. I really liked their music and enjoyed seeing them play out live. It's a shame things couldn't be worked out, but I'm sure we'll see some of them in new bands soon enough!
Anvil Grey ' s E.P: Anvil Grey will be releasing a E. P within the next month, so be on the lookout for that. This is a good metal band, chock full of meaty Slayer type riffage, so check them out. By the time this comes out, it may already be available on their site at Myspace.com/anvilgrey
Holbrook ' s Two New Tunes: I don't know much about this band and have never seen them live, but listening to this band of young guys for the first time, I admit it's pretty fargin awesome! Hardcore to the max, with crunchy thrash riffs thrown in for good measure. The hardcore vocals are brutal and work well with the music. There is a bit of a European metal mixed with hardcore but not quite death metal, because it has some decent melodies in the guitars. I think I need to go see a Holbrook show! Or better yet, get them into the Hill. Whoever recorded this band did a good job. If you love hardcore, then you need to check this vicious young band. Myspace.com/holbrookband
New Band Alert, Fall Of Dusk: A band from Columbus, Indiana came down to my show and gave me a CD. The musicianship sounds pretty good, but The quality of the recording is sorely lacking, especially the bass drum, which sounds like a kid pounding on a plastic tub with a soup ladle. This band can play well and has good potential, but they have got to record at a good studio.
[Bands! You get what you pay for. You get a cheap studio and you get doo-doo. Spend that cash and achieve a quality recording! It's all-important.]
The guitars and drums are slammin,' though. No complaints there. Not bad songwriting, either, but these vocals are killing me. Properly recorded and mixed, these guys would wail, but honestly, the singer kind of ruins it for me. His best work is the song "Slit Wrist Theory" where he don't sound half bad. Very cool song though. I like it. Check them out for yourself and you be the judge! Myspace.com/fallxofxdusk
UpcomingShows
The Bulldog Cafe
Friday, November 2 Anvil Grey.
Monday, November 12: Four Storie Failure CD Release with Primal Dust, Sever This Illusion, Embertide and Sonic Epitaph.
Wednesday, November 14: Diecast, Decension and Ekotern.
Saturday, December 8: Dimebag Darrel Tribute Show with Dying Kind, Incursion and 2 bands T.B.A.
Expo 5
Friday, November 2: The Misfits, with Louisville's own Dead City Rejects. 7 p.m..
Headliners
Friday, November 16: Evans Blue w/ Framing Hanley, Neurosonic, Saving Abel and Sphere.
Sunday, November 18: Amherst w/ Jeny, The Armistice, Annalynn, Sacred Sorrow and J and J Dizzale.
Saturday, November 24: Benefit for Ryan (a.k.a. Madpicka) with Incursion, Inner Blue and 1 band T.B.A.
Phoenix Hill Tavern
Friday, November 2: The Original Rock Showcase Series with Chamberflow, Never The Man, The Willing and Centered.
Wednesday, November 7: Louisville Rocks showcase with Decension. 10 p.m. sharp.
Friday, November 16 Rock: 4 Kosair III: All original every stage! All proceeds go to buying toys for Kosair Charities. Nova Red, Incursion, Heaven Hill, Antikythera, Asleep, Evil Engine # 9, 7DaySun, I Will Defy, Broken Vault, 13th Age, E-Flat, Caldera, One Day, Away and The Burial. Guitar and Tattoo giveaways. 8 p.m. sharp. $7
Friday, November 23: The Jane Rose Band.
Wednesday, November 28: Louisville Rocks Showcase with The Jane Rose Band.
Friday, November 30: Primer 55. 8 p.m..
Friday, December 7: The Original Rock Showcase Series with Deliver Us From Evil (Evansville IN), Sever This Illusion, I Will Defy, Anvil Grey and Caldera. 9 p.m..
Saint Andrews Pub
Saturday, November 3: Decension, Maude Flanders and Sever This Illusion.
Friday, November 16: Anvil Grey and Sonic Epitaph. 9 p.m..
The Electric Cowboy
Sunday, November 11: Boom Orangutan and Remain Tame. 8 p.m..
Uncle Pleasants
Friday, November 2: He Is Legend, Far Less Telescreen and Josh Moore.
Saturday, November 3: Dark Funeral, with Naglfar, Daath, Behind The Beheaded and Beaten To Death. 7 p.m. All ages. $20
Tuesday, November 6: Suicide Silence, A Life Once Lost, Walls Of Jericho, The Agony Scene and Beneath The Sky.
Thursday, November 15: Dying Fetus w/ Cephalic Carnage, SkeletonWitch, Demiricous and The Absence.
Wednesday, November 21: Look What I Did, Lye By Mistake, Antikythera, Arafel and Thomas Medicine.
Sunday, November 25: As Cities Burn w/ Dear and The Headlights, The Photo Atlas and Oceans Firing.
Friday, December 7: Enslaved w/ Anagnorisis, Assisting Sorrow, Sowing Discord and Purgatorium.
Wick's on Dixie
Saturday, December 8: The Jane Rose Band, Serene, Never The Man and Hanover. 7 p.m..
Saturday, November 10: Incursion, Antikythera, Caldera and Dying Kind. 8 p.m..
Outtatownerz and Otherz
Friday, November 9: Crowe Hollow Blonde and The Jane Rose Band at Grumpy's in Bowling Green, KY. 8 p.m.
Props of the Month
Disappointing national acts or not, I have to give LRSFest credit for helping the music scene in town the way they have since LRSFest started. Let's face it. Every year LRS promotes the heck out of original rock here in town!
The band battle goes on for months leading up to LRSFest, showcasing the best talent around. They provide good exposure for those bands on the station and with the band battle playoffs. And last but not least, they let those lucky band battle finalists play LRSFest to way more folks than they are used to jamming to! Which is pretty darn cool in my book. LRSFest has become an annual staple for Louisville original music and every year people get excited about who will play it. So keep up the good work supporting your town's music!