I've Got A Mind To Ramble
Hey, Hey, The Blues Is All Right
Life works in cycles and because - as Willie Dixon once said - "the blues is life," the blues also comes and goes in cycles. In Louisville, the blues scene is on its way back up again. I will tell you why. Blues jams are blues at its grass roots, where anyone can come to sit in with a group of musicians to learn and show their stuff. There are currently three weekly blues jams around town. Longshot Tavern has been hosting a jam that has recently changed to Thursday night, starting around 9:30 p.m. The house band is John Burgard on guitar, Mike Lynch playing bass and New Orleans ex-patriot Andy Brown, drumming. Occasionally Harmonica Red (George Heard) plays when he is not on the road. This same trio also plays at the recently resurrected jams on Tuesday nights at Stevie Ray's starting at 9 p.m. On Wednesdays at 9 p.m., Lamont Gillispie and 100 Proof Blues (Dr. Boom, Mark Bright, Dave Witherspoon and Byron Davies) host the jams at an intimate little bar called the Dugout on 921 N. Swan St.
The Kentuckiana Blues Society is now in its nineteenth year. Look out for a big twentieth celebration next year. The Society is back up to over three hundred members and the coffers are full. We meet regularly at O'Shea's the first Wednesday of every month at 7 p.m. All members and guests are welcome to attend and see how we do our blues business.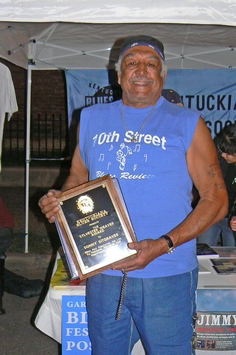 Sonny Sitgraves with his Sylvester Weaver Award. Photo By Keith Clements
In the past, the KBS had to scramble around to get enough entries for our annual Blues Competition. In fact, two years ago it was cancelled due to a lack of interest. This year the Blues Contest received applications from a record eleven bands. A pre-qualifying committee had the tough task of selecting the most appropriate bands for a more manageable number to compete on one night. The seven bands set a high level of quality for the four judges, Rocky Adcock, Jeff Carpenter, Jason Lockwood and Marvin Maxwell. Velveeta Jones, which competed last year, was the winner and will represent the KBS in the International Blues Challenge in Memphis in January 2008. This high-energy power trio plus vocalist from Central Kentucky originally formed in 2001. They embraced their diverse influences of country, bluegrass and rock-n-roll with their first love, the blues. The band took a break after 9/11 for a few years but reunited in 2005 with a rekindled fire. Sondra Kirkpatrick brings a Janis Joplin-like passion to all her songs and lets her long blond hair come tumbling down during each show. Duane "Doc" Miller propels the rhythm with his powerful drums and cymbals. Michael Anderson is a blues history buff and provides solid bass on his Fender. The lead guitarist and occasional singer is Pat Morley, a veteran of many bands. Pat's hot guitar is always there to relight Sondra's smoldering vocals. Velveeta Jones will be featured at the KBS Annual Birthday Party on November 17 at Flanagan's from 6:30 to 10 p.m.
The Blues Foundation recently started promoting a new competitive category for the best self-produced blues CD in 2007. The KBS has selected Harmonica Red and the New Heard, I Was Born in Louisiana. The winner will get national exposure.
Another very active blues society was recently birthed early last year in Bowling Green, Kentucky, thanks to the energy of Kenny Lee. Kentucky Blues has its own competition, jams, festivals and logo. They are planning on compiling an anthology of Kentucky blues for a CD, and will be working on a history of blues to use in their Blues in the Schools program. They are very ambitious for an organization that is less than two years old.
The 'Saturday Night Blues Party' on Public Radio Station WFPK continues to spread the music over the air waves from 9 to 12 p.m. every Saturday with host, Kevin Yazell, carrying on the tradition started by Scott Mullins over twenty-two years ago. Behind Kevin comes Woody Chancy with his "Roadhouse of the Mind," spinning an eclectic mix of R and B, rockabilly and blues. (I wish that the powers that be at the station would bring back the syndicated Bob Porter's, "Portraits in Blue," and Blues Caravan programs.)
The one area that needs more blues support is venues. You can count on one hand the clubs that regularly feature blues music. We have an abundance of local talent that deserves to be heard as the recent KBS contest demonstrated. The bar owners need to be made aware of the resurgence of this music. When they book and promote the blues, the fans need to come out and support them in a smoke free environment.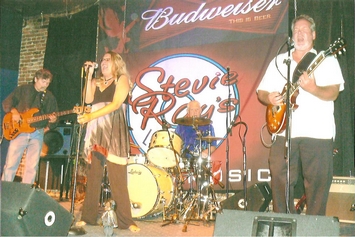 Velveeta Jones, winners of the 2007 KBS Blues Competition Photo By Keith Clements
The final sign that the blues is thriving are the number of festivals. At these events, we can hear a wide range of local, regional and national acts over a weekend in our own backyard. Regionally, there are blues festivals in Henderson, Aurora, Bowling Green, Carrollton and Kenlake in Kentucky; Madison and Bean Blossom in Indiana; and Cincinnati, Ohio. They are all just a few hours away by car. Locally, there is the Jeffersontown Crusade Blues Festival in May that initiated a Blues Bash the night before the festival. The Louisville Blues and Barbecue Festival at the Water Tower in July became all blues and expanded from two to three days. Now the Garvin Gate Blues Festival has come back home after eleven years. Like the "Prodigal Son," the festival was received with love and joy. For two days on October 12 and 13. the intersection of Oak Street and Garvin Place was a homecoming, filled with hundreds of people from diverse backgrounds. There were no barriers for this free festival; everyone was welcome. Friday evening featured two Louisville bands - the 10th Street Blues Band and Lamont Gillispie and 100 Proof Blues. Following the first set, the KBS presented the 2007 Sylvester Weaver Award to Booker 'Sonny' Sitgraves, the drummer for 10th Street. I wrote an article about Sonny for the <a href=" http://www.louisvillemusicnews.net/webmanager/index.php?WEB_CAT_ID=50&storyid=844&headline=I've_Got_a_Mind_To_Ramble">March</a> and <a href=" http://www.louisvillemusicnews.net/webmanager/index.php?WEB_CAT_ID=50&storyid=2640&headline=I've_Got_A_Mind_to_Ramble">April 2002</a> issues of Louisville Music News. He was long overdue to receive this honor.
Lurrie Bell was Friday's headliner, putting on a powerful show that introduced the crowd to his intense style of Chicago blues standards. He hunched his shoulders and clutched his red Gibson close to his chest and took us on a turbulent journey through the blues, calling out with his gritty, gutsy vocals. Daryl Coutts' impassioned keyboards sparked excitement in the band's repertoire. He has been playing with Lurrie for only one month, having played with Ronnie Baker Brooks. The Clay St. Blues Allstars closed out the night playing in the Rudyard Kipling to a small but enthusiastic audience.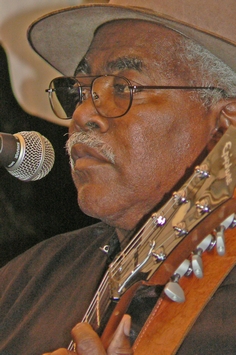 Jimmy Burns at the Garvin Gate Festival. Photo By Keith Clements
Saturday brought warmer temperatures and a day full of blues from 3 p.m. to 11 p.m. River City Blues opened with John Burgard standing in for Mark Stein on guitar and his son, Jason Burgard, blowing some sax. The showmanship of The Walnut Street Blues Band shone as they segued from song to song with barely a break. When Artie Wells sang, "Lyin' Time," she confesses that the woman in the song is all messed up and even has her panties on backwards. Velveeta Jones replaced Nick Stump and Friends and showed why they won the KBS competition.
The tribute to Jim Rosen started with a toast of Bushmills Irish Whiskey in memory of Jim by Mike Suttles, the emcee for the festival. Sue O'Neil was momentarily reunited with da Mudcats to do an emotional set. Everyone experienced her "Wang Dang Doodle." The Stella Vees, two-time KBS Competition winners, brought their retro jump/swing style of blues to the festival. They had another workout in the Rud following the festival.
Saturday's headliner, Jimmy Burns, arrived just in time to set up. This dapper sixty-four-year-old Chicago guitarist was profiled in my September LMN article. Lurrie was excellent, but Jimmy was even better. He connected with the crowd with his good spirits and gracious intimacy. He opened with "Better Know What You're Doing" (when you hang around with your doin'), which had a lot of North Mississippi influences and even a little scatting. Tony Palmer collaborated with the kind of searing solos on second guitar that only a seasoned Chicago musician can do. Near the end of his set, Jimmy eased into "Stand By Me," which filled the area in front of the stage with dancers, including Metro-councilman George Unseld, the festival's main sponsor. Promises were made when the festival came to a nostalgic conclusion that it would be back next year. I hope so.
It's the combination of all these positive factors that contribute to make the blues alive and well in Kentucky today.