The "Better Questions" Tour with Todd Agnew, Rush of Fools and Joy Whitlock comes to Okolona Christian Church on October 28. Todd has been to Louisville already this year, but this marks the first concert appearance by Rush of Fools, arguably the hottest new Christian band of 2007.
Rush Of Fools consists of Wes Willis (lead vocals, electric guitar); Kevin Huguley (lead vocals, electric and acoustic guitar); Jacob Chesnut (bass, vocals); Jamie Sharpe (drums, vocals) and JD Frazier (electric guitar, keys, vocals). They signed their record label deal with Nashville, Tennessee-based Midas Records earlier this year. In addition, the Birmingham, Alabama-based group signed a management deal with Patton House Entertainment, headed by seventeen-year Christian music veteran Andrew Patton, a former major record label department head for a number of the CCM music industry's top labels and the recent recipient of the Radio and Records Promotion Executive of the Year award. Rush Of Fools rounds out its CCM industry team with the signing of a concert booking deal with Greg Oliver Agency (BarlowGirl, Mark Schultz, Big Daddy Weave, Todd Agnew), in support of their debut, self-titled release.
"I speak for everyone at Midas Records when I say that we are so blessed to have Rush Of Fools as an addition to our roster," says Brad Allen, head of A&R for Midas Records. "We are confident that their music and message will resonate with a new generation of worshipers for many years to come and we are thrilled to play a part in their beginning."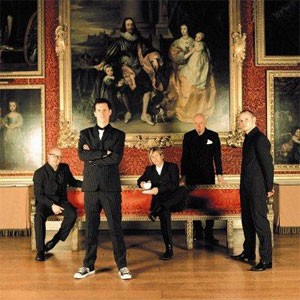 Rush of Fools
Top level music producers Matt Bronleewe (Jars of Clay, Michael W. Smith, Plumb, Rebecca St. James, Leeland), Jason Ingram (Bebo Norman, Gray Holiday and front man of CCM band The Longing) and Scott Davis (Jessie Daniels) have joined forces with Rush Of Fools. "I just feel that Christ has led us to say things in their purest form," says front man Wes Willis. "Our songs tell how it is." With Wes Willis and band founder Kevin Huguley (acoustic/electric guitars and background vocals) co-writing most of the songs on the record, Kevin says that, "When I write songs, my main goal is to show my countless weaknesses. There is no doubt in my mind that we have been assigned this mission by God to spread the true Gospel back into our Christian culture. I hope for people to see less of me and more of Christ, in our songwriting, at our concerts and through our lives."
Formed in 2005, Rush Of Fools' name was inspired by 1st Corinthians 1:25-27 which says, "For the foolishness of God is wiser than man's wisdom and the weakness of God is stronger than man's strength. Brothers, think of what you were when you were called. Not many of you were wise by human standards; not many were influential; not many were of noble birth. But God chose the foolish things of the world to shame the wise; God chose the weak things of the world to shame the strong."
Band With A Mission, a resource for independent Christian artists to harness their gifts and develop effective ministry tools, chose Rush Of Fools as their 2006 winners. "We had an amazing turnout for the first year," says Austin Cook, creator of Band With A Mission and President of Indevo Records. "I was really excited whenever I first heard Rush Of Fools, you could really tell that Wes had a passion and believed in what he was singing about." The yearly event, created in 2005, benefits bands and solo artists alike by allowing them to showcase in front of decision makers in the Christian music industry and assists participants with booking and promotional resources.
In support of the band's debut, Rush Of Fools completed a two-week radio promotion tour in December 2006 and saw unprecedented chart action with the release of their debut single, "Undo," with numerous adds well before its official add date. The single has been in rotation on Louisville Christian radio for over six months. The band took part in the "World On Fire" tour, in the spring of with By The Tree and The Turning and performed at Alive Festival in Canal Fulton, Ohio along with Switchfoot, Chris Tomlin, Leeland, David Crowder Band and Toby Mac.
"We are excited about the music and ministry of Rush Of Fools and are honored to be a part of their team. I think this band has the ability to have real staying power for many years to come." Stated Greg Oliver, president, Greg Oliver Agency. "We are looking forward to working with the team of Midas Records and Patton House Entertainment to build the career and ministry of Rush of Fools."
Todd,whowas here earlier this year for Celebration 2007 at Six Flag Kentucky Kingdom will be headlining. His latest CD,Better Questions , co-produced by Agnew and John Hampton, is a sixteen-song selection (including prelude) that has a bit of everything with ballads, worshipful church anthems, humorous lyrics and solid rock moments.
"I'm finding more and more people who aren't fooled by the 'everything's fine' version of Christianity," says Agnew. "I'm trying to just get some of those questions out there, with questions people are afraid to ask in church, but also to get them asked sincerely and not with anger." Such questions bring Agnew to this place in time and art, using his platform and talent to get to the core of who we are as humans, to get to that moment where we're able to ask the Better Questions.
Todd Agnew is a five-time Dove Award nominee, garnering numerous top ranked radio singles including two No. 1 hits, "Grace Like Rain" and "This Fragile Breath (The Thunder Song)." Agnew continues to perform over 150 dates per year and has currently sold over 500,000 units.
New artist Joy Whitlock will be making her Louisville concert debut that evening as well. Tickets for the show are still available at area Christian bookstores as well as itickets.com. Advance tickets are $10.50 for groups of 5 or more, $12 for individuals and $18 at the door. I'll definitely be there!