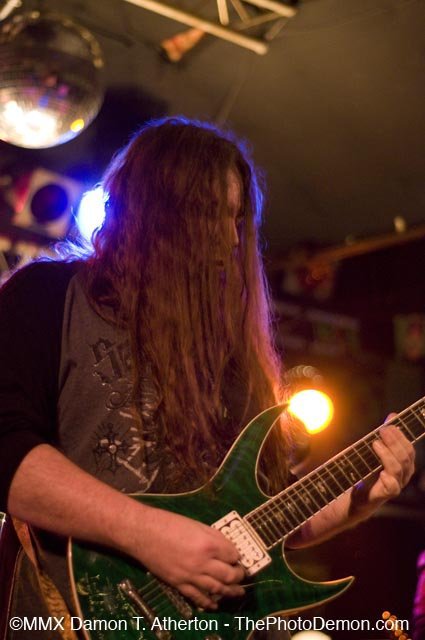 News From the Pit
Lately it seems every clown with a calendar and a pen wants to be a local music promoter. No credentials, no paying your dues, just instantly coming out of nowhere and calling yourselves a promoter. Some of these people are good people and good for the scene; others are just plain pretenders and wannabes out for the notoriety and a quick buck. Anyways, I hope all of you had a good summer. Mine was pretty good!
I've been training my new miniature Yorkshire terrier puppy Roo, who is a certified babe-magnet. The little barstid even got me laid a few weeks back. For summer fun, I borrowed my dad's boat a few times and had some erotic adventures on the lake with a lady friend who is apparently turned on by water sports. It was killer, except when I ran us into a mud bog and had to jump out into the sludge to get us out. Which sucked.
I even went camping for the first time in about 16 years, down to Dale Hollow Lake in Tennessee. I was diving off cliffs, intoxicated (I'm no role model) into the crystal clear water. If you get a chance, go there.
Sounds of the Underground at Waverly Hills was a killer day in Louisville metal history, even though some councilman on the metro city council whined about it. Now it's fall and time for some fun fall festivities.
I was asked to be a judge at the Phoenix Hill's chili cook off on October 14, so you might just see me on the news and in the paper and stuff. That should be fun, if my innards hold out! All those different hot chilies are a volatile mixture that could singe your nose hairs! I'm looking for a date that night who has no sense of smell. This year, I'm bringing a case of Gas-X.
Anyways, c'mon out and bug me at the cook off.
The "Rock 4 Kosair" Children's Hospital Benefit at Phoenix Hill Tavern is coming up on November 16 and we have a killer lineup in store for you already. So far these unselfish bands have donated a performance to helping the kids: Nova Red, Heaven Hill, Incursion, Antikythera, Asleep, Evil Engine # 9, 7DaySun, I Will Defy, Broken Vault, 13th Age, E-Flat and more T.B.A. And don't forget! Our sponsors at Willis Music and Uncle Samm's Jams will be giving away a few guitars! Last year, we gave away four! So on top of all this great music, you might win a guitar, or a tattoo from Adam at Kentucky Tattoos and Body Piercing. But the most important thing is that we raise a lot of cash to buy toys for the sick, needy children at Kosair Hospital. All proceeds go to the cause. Jo Barrett at Kosair Charities has informed me that Christmas is when they need the most help.
I got to see one of my favorite newer metal bands, All That Remains (see review below), Hot Action Cop at the Hill (see review below) and I also had VIP at Breaking Benjamin and Seether at Coyote's, which was a killer show (see review in this issue) with so many women in attendance that even a hideous old dude like me made out well!
I had tickets to Aaron Lewis (of Staind) at the Brown Theatre but gave them away because dude's music is so depressing; it makes you want to slit your wrists with a rusty razor. Dude's a millionaire; he needs to cheer up some.
The Metal Grapevine
Breaking Benjamin and Seether "Live": I got tickets at the last minute and went to see a show I really wasn't too interested in. I ended up having a blast. I got there in time to see Seether go on and was thinking to myself "Do I know of even one song title they sing?" I couldn't think of one.
Then song after song, melody after melody, I recognized the radio tunes one after another and it all sounded great, just like the CD's. Shaun Morgan and Dale Stewart's vocals were dead on and the music, I'm not ashamed to say as a metalhead, was rocking.
I was very impressed with the sound, too. I had seen Seether a few years ago, but they didn't sound this good. They began with one of their first hits, "Driven Under," moved on to "Fine Again," then played one of their newest hits, "Remedy." Seether had the crowd in their palms and in my opinion, stole the show that night.
Breaking Benjamin came on to "Diary Of Jane," off their third album. They followed with "breath," and a pretty cool song I hadn't heard, "Evil Angel," then their big hit and my favorite song by them, "So Cold." Vocalist Ben Burnley seemed like he might have been a wee bit tired of touring, but guitarist Aaron Fink was a bad boy on the guitar.
Their encore was "Blow Me Away." The crowd was going nuts, but I would have liked to seen a longer set from them. B. B. got outdone that night, I thought, but maybe I was just a little buzzed. (Too many Tequilas).
Thanks to Mary and Eric Wiegel at Coyote's for this killer show and also to Scott Frazier.
Incursion and The Haunted Network: If there ever was a Louisville rock band connected with the infamous haunted houses around Halloween, that would be Incursion, so I arranged a chat with Incursion vocalist Stem to talk about this year with the fright business and Incursion's new CD.
Eddy: You guys have been doing the Haunted Hotel for years now, so how did you come to get that gig and what's this year going to be like?
Stem:"Jeremy, Brian and I have been working at the Haunted Hotel for about 13 years now and as soon as Van and Nick got in the band, we hooked them up with a job there. Gezuz came in about 3 years ago, before he joined Incursion. He transferred over to Industrial Nightmare when the owners of the Hotel acquired it to spread the wealth of experienced actors a little. Van basically runs the Haunted Hotel now and the rest of us still do the acting gig. We consider it kind of a respite from doing the band thing for a month; that way we have a little time when we don't have to think about it. It keeps us from getting burned out. This year is gonna be insane. If you've ever been to the Haunted Hotel, then you know it always is, but expect the gain to be turned up on 15 this year, because we've got the chainsaws gassed up, the machetes in hand and we're more primed up than ever to have people crawling out of this place crying. Also, Van, Gezuz, Nick and my bro Donnie Hardin from Dying Kind completely rebuilt Industrial Nightmare so everybody's gotta go check that out as well. Both places are full of nutcases, some from Louisville's best bands including Incursion, Antikythera, Stonecutters, Dying Kind, and 99 MPS."
Eddy: Incursion has a new CD coming out in the immediate future - tell us about it.
Stem: "The new CD is definitely still a skeleton at this point. We have about 25 songs that we're working with right now to pick from and no title as of yet. Some of the songs that will probably be on it you've heard us playing live for a while now but others are brand new and unheard by anyone other than us. What I can say about it is that it will not be like any other Incursion album. It's been awhile since we were in the studio last and we've had quite a bit of time to evolve since then and the addition of Gezuz has really filled out our style and sound nicely. It's heavier and faster in some respects and darker and more melancholy than we've done before in others while still maintaining that solid groove that seems to be our forte. It's gonna be our best album thus far, I can guarantee you that. After the Halloween season is over we've got a couple of shows to play in November and December, then we're taking a break from shows to buckle down and get everything pre-demoed, the kinks worked out and then recorded. I'd project that it may be out around the middle to end of spring."
Eddy: You've definitely been around quite awhile and accomplished some cool stuff. What do you see for Incursion in the future?
Stem: "You gave us our first bar show ever at what used to be called Bulls Eye Tavern on Goldsmith Lane! That was in late 1995, I think! But seriously, the reason we're not signed is simple. When it comes to Incursion, we are musicians first and foremost. The music and its evolution means more to us than any paycheck anybody could write us. We don't want to have somebody trying to tell us what to do just "because it sells." I could give a farg less what sells. All I know is what goes on in my head and my heart and I believe we portray that quite well. Apparently people dig it. We've been around this long, we must be doing something right! I just don't want us to be one of those bands where you listen to them before they got signed and they rocked but then you listen to their major label debut and you're like "What the farg happened? Is this even the same band?
"We are, however, in the process of sending out a plethora of promotional kits to labels that we believe will allow us to do what we do creatively without a lot of outside interference. That is what I see in our future. If that doesn't happen, then farg it. I guess we'll be doing it grass roots style until we die!"
You can see Incursion at "Rock 4 Kosair 3" on November 16 at the Phoenix Hill Tavern.
Type O Negative Coming: On October 26, at Headliners, vampire Goth rockers Type O Negative will be tearing it up. These guys don't get down to the Bluegrass state very often, so don't miss this chance to see them stomp skull live! Local demons Empyrean Asunder will be opening for Lordi and the Negative boys! Tix are $20 and you better snag them up before they sell out! Hot Goth chicks and booze.
LRS Fan Battle Winner: Subrosa is the 'Band Battle of the Fans' winner and won the right to play LRSfest on the main stage. Other Louisville bands making the cut were Caldera, Kinsey and Sacred Soul.
They should have had more Louisville bands like they did a few years ago, instead of two of four unfamiliar nationals. Drowning Pool and Puddle Of Mudd are cool, though, so it should be a great time! Anyways, LRSfest is unfortunately past my deadline, so you'll have to wait until next month to hear my take on how it went!
All That Remains' Hardcorefest: I thought there wouldn't be many people at this show, because they are a up-and-coming band. But I was wrong! This show was packed with hardcore metalheads who were ready to get crazy. The first band up, The Accacia Strain, from Massachusetts, was unholy. It was some dark, brutal, chunky, downtuned, demon riffs that I enjoyed very much. Death metal/thrash/aggressive/progressive metal/whatever. The drummer is a badass, and the songs and rhythms were very memorable. The pit was ruthless during their set. A mosher went flying up on stage and flipped and accidentally kicked the guitarist in the face. Dude was pissed and for a second, I thought he was going to wail the kid, but he was content to grab the youngster and throw him into the madness of the pit.
Then Protest The Hero came on and was pretty good, too, but dude's voice was like the Eighties band Slaughter and I didn't think it mixed well with the heavy riffs. He was whiney. The music was very tight, though, and the guitarist was rockin.'
Imagine Fear Factory meets Hatebreed meets Chimaira, the result would be All That Remains. They came on and did not disappoint, as the room erupted into a vicious mosh pit. The band played music from a few of their albums but the best stuff was from their latest, The Fall Of Ideas.
They wailed on such ATR classics as "Six," "This Calling" and "Not Alone." Vocalist Philip Labonte was a bit lazy, though, as he pulled a Vince Neil move a bit too often. I hate it when bands get the crowd to sing the choruses! He sang enough though, so it wasn't so bad. Dude does have a very strong voice.
During the set, a glass of beer splashed guitarist Mike Martin right in the face. He was extremely angry. Martin's guitarwork is phenomenal. The band sounded super tight live and I'd go see them again in a heartbeat! In fact, I'm thinking of ordering their Live DVD. All That Remains kicks serious butt.
Hot Action Cop in Action: Well , I finally got to see Hot Action Cop live at Phoenix Hill recently and they impressed me. While they're not my cup of musical tea, I could definitely see why people love them so much. If you want a good, goofy, interesting and rocking band, then Hot Action Cop is the band to see. Not very heavy at all, they are about the good times of it all more than anything. Vocalist Rob Werthner came up with some off-the-wall chit. And he really is a good entertainer/guitarist. The energy was abundant and the crowd at the Hill was kickin'! Plus, it's cool to see Louisville native Tim Flaherty in action on the guitar.
Incursion Wins Band Battle at St Andrews Pub: Incursion won the $500 cash prize at Saint Andrews Pub recently, out of about 20 or so bands that competed. I went out there for the first time and had a blast hanging out there, checking out Incursion, Sulfate and buttkicking newcomers Deliver Us From Evil. There were a lot of loose South End babes in attendance, too.
BobaFlex's New CD: Tales From Dirt Town is the new 12-song CD by West Virginia's Boba Flex, which drops October 30. Metal Edge magazine said this about Boba Flex: "short, sharp bursts of energetic riffing, with a mix of gritty vocals and a lot of choruses built on the group's harmony." The band's first single is called "Home" and is already #5 at WBZX in Columbus, Ohio and also has been # 1 'Most Requested' for four weeks. Band manager Scott Frazier claims Tales From Dirt Town will prove to be one of the most accomplished rock albums of 2007! The band goes on tour with Dope October 25. Look for the Album review next month in LMN! Myspace.com/bobaflex
Deliver Us From Evil: From Evansville, Indiana, comes Deliver Us From Evil, a no-nonsense bulldozer of death metal. I saw them play at the Saint Andrews Pub Band Battle and I was like, Whoa. The guitarist threw out some ruthless riffs that were very creative, difficult and melodic and reminded me of King Diamond Arabic-styled 'old school' solos. I'll book 'em to the Hill soon. Until then, visit Myspace.com/deliverusfromevil
Louisville Rock Chix: As you all know, I do my column and musician of the month and invented Louisville Rock Pix so you people can send in your own pictures to have printed, giving you full credit, of course. I hope you all dig Louisville Rock Pix, because now it's hopefully time for Louisville Rock Chix! I give credit to the male musicians a lot, but now I'm thinking of doing a questionnaire and photo for a sexy Louisville rock fan chick every month. So you female fans of the Louisville rock scene might get to appear in LMN and answer some of my questions.
Thorn, a Done Tom Turkey: I reckon the band Thorn is done as vocalist and songwriter Keith Warren has decided to leave the band, as well as the state. Thorn bassist Nick Priddy is now jamming with Glass Eye.
Timmy's Glass Eye: Timmy Meeks, Nick Priddy and Jon Schindler have a new band, Glass Eye. I got to check them out at the Hill recently and it was some decent music. I've always thought Timmy was a great vocalist/songwriter, though he is on guitar now. The music is rock ballads with grungy riffs and hooky melodies. Women are digging it, as many were in attendance.
Centered's New Chit: Centered has some new music that's not metal, but it's got a good groove going. When I first heard them about a year ago, I wasn't sure I liked them, but now the riffs are hookier, the music catchier and the vocals seem much better. Very soulful.
They've got some new songs recorded, so I checked out "California," which sounds a bit like Queens Of The Stone Age. definitely stoner blues rock, but hard rockin! It jams and is nothing like any other original music in town! Check it out yourself at Myspace.com/centered
Empyrean Asunder and Three Rednecks: Louisville industrial rockers Empyrean Asunder were reviewed on the Howard Stern station on the Bubba the Love Sponge's show to 6 million listeners and was utterly bashed by the three rednecks.
The band responded "We are the proud owners of the title of the single worst band ever to be played on that show and we gladly accept the 'worst band name' awarded to us! When three illiterate rednecks hate your music this much/ you know you are doing something right!"
Apparently these cats are doing something right, because they are opening for Type O Negative on October 26 at Headliners. Plus, the band was recently signed to Dark City Records and will be putting out a full length CD in early 2008.
LRS and Me: The station's ownership changes will be complete by the end of September, so I should know by the first or second week into October if I will be hosting a new local music radio show on WLRS.
I've still got some pretty good ideas from when I did the local radio stuff way back when. So if negotiations are worked out, I can promise you that there will be a much wider musical spectrum of regional talent featured on the new show than ever before in LRS history. Much more! It will be kind of a LRS Xtreme! Hardcore, alternative, industrial, death metal, emo, commercial rock, 80's sleeze rock, thrash, hard rock, whatever, I'd play all that chit.
And most important of all? It will be FAIR!
Upcoming Shows
Bulldog Cafe
Saturday, October 6: Never The Man
Tuesday, October 9: In This Moment, The Confession, Serene, One Giant Leap and The Perfect Collision.
Saturday, October 13: Russ' B-day, bash: Poetry Of The Dead, Adaptize, Anton Mink, The Jane Rose Band and Never The Man.
Friday, October 26: Sever This Illusion
Wednesday, October 31: Sonic Epitaph' debut, Dogwater, Embertide and Anvil Grey.
November 12: Four Storie Failure CD Release with Primal dust, Sever This Illusion, Embertide and Sonic Epitaph.
Dairy Freeze in Valley Station
Friday, October 12: Serene, Hanover, Never The Man and Inner Blue.
Expo 5
Monday, October 15: Chiodos, The Devil Wears Prada, Alesana and Underminded. 7 P.M. All ages.
Saturday, October 20: Mad Dog Productions presents Helloween Nightmare: Kiss Army, E-Flat, Once Fed Lies, Lotus Blake, Dogwater, Embalmanation, Mourning Augment, Hardlein, Second Hand Grenade, Lost In Eden, Kinnerd, Throwing Stones and Bashammer. Tattoo artists and body piercing booths will be set up! 18 and over. 7 P.M - 3 A.M. $5
Headliners
Thursday, October 4: Five Finger Death Punch, Second Hand Grenade, Descention, Ashes To Azarel and Somatica. 7 P.M. All ages.
Saturday, October 6: Consume Consumer, Amherst, Creatures and Reading Like a Writer. 7 P.M. All ages.
Friday, October 19: Rocktoberfest: Subrosa, Nova Red CD Release, Kinsey, Sighlo and Broken Vault. 7 P.M. All ages. $10
Saturday, October 20: Antikythera, The Revenants, The Stonecutters and Dead City Rejects. 7 P.M. $7
Thursday, October 25: Chris Volz, Four Storie Failure, Discontent, The Venial, Grinstead and The Summers. 6 P.M. $10
Friday, October 26: Type O Negative, The Revenants, Lordi and Empyrean Asunder. 7 P.M. $20
Phoenix Hill Tavern
Friday, October 5: The Original Rock Showcase Series: "New Blood Edition" with Poetry Of The Dead, Sulfate, Embalmanation, Sever This Illusion, Once Fed Lies, and One Day, Away. Early show! 8 P.M.
Friday, October 19: Bizkit's Beer Fest: Asleep, Zeroking (my former vocalist from the band Sideshow), Hyndsite, Shindig, Sulfate, One Giant Leap and Seedus. 9 P.M.
Friday, November 2: The Original Rock Showcase Series: Chamberflow, Never The Man, Centered , Glass Eye (unconfirmed) and The Willing. 9 p.m.
Friday, November 16: Rock 4 Kosair 3 "The Third Annual Kosair Children's Hospital Benefit" with Nova Red, Heaven Hill, Incursion, Antikythera, Asleep, Evil Engine # 9, 7DaySun, I Will Defy, Broken Vault, 13th Age, E-Flat and more T.B.A. Your $7 admission gets you in and buys a chance to win one of several guitars and tattoos.
Rudyard Kipling
Sunday, October 14 Whitman and The Burial.
Shoote
r

s

Sunday, October 28: 93.1 The Fox Halloween show: Poetry Of The Dead and others T.B.A.
Uncle Pleasants
Thursday, October 4: Rifle, Southern Electric and Dogwater.
Friday, October 5: Lotus Blake, Antigriffith, 40 East and Tide For Last.
Saturday, October 6: Hash, Shinerunners Two Pump Chump and 40 East.
Saturday, November 3: Dark Funeral, with Naglfar, Daath, Behind The Beheaded and Beaten To Death. 7 P.M. All ages. $20
Wick's on Baxter
Thursday, October 4: The Burial and At One With Nothing.
Wicks on Dixie
Saturday, October 6: Crash Planet. 9 P.M.
Saturday, October 13: LRS/Villified Entertainment showcase: E-Flat, After Elvis (Nashville), Inner Blue and Thomas Medicine. 9 P.M.
Props of the Month
This month's props goes out to John Mark of Centered. John has a weekly original music showcase at Wick's on Baxter Avenue on Thursday nights that features Louisville talent. He has been doing it for a while now and has had some good shows. I have also noticed that he is fair about giving newer bands the chance to be heard.
And the fairer and more helpful people in this scene, the better. Lately it seems the backstabbers/chitalkers are in abundance. All in all, his showcase is a good thing for the scene and you should go up to Wick's and grub out on the killer food and see some good original music. The shows are 21 and over, so sorry kiddies!
If your band would like a shot at one of John's shows, give John a holler. Tell him Mr Metal sent ya! Bastionpro@gmail.com, or at 502-345-6996