I've Got A Mind To Ramble
Two Reds Are Better Than One
Louisville is fortunate to have two "Harmonica Reds" who have been performing recently at local venues. It has gotten a little confusing, however, because neither musician is willing to alter his name to avoid the confusion. Obie "Harmonica Red" Cox moved to Louisville from Monroe, Georgia, in 1957. He worked at the Ford assembly plant for over thirty years, where he performed on several promotional videos in a blues band with three other employees. In 1983, while Obie was jamming with guitarist Smoke Town Red (Junie Downs), Smoketown, on the spur of the moment, gave Obie his nickname. It has stuck ever since. I did an interview with Obie for an article in the 1998 December issue of LMN. If Obie is not sitting with a blues band at Syl's Lounge, you can hear him regularly every Friday night at Bluegrass Brewing Co. on Theater Square playing in a trio called Old School Blues Party with Harmonica Red. Obie's vocals and harp are as down home, gutbucket and back-to-the-basics as you would want to get.
I first became aware of the other Harmonic Red, George Heard, when he was playing with Big Al and the Heavyweights at Carrollton's Blues to the Point Festival in 1998 and the Louisville Blues Festival in 1999. On each occasion, he blew some incredible sounds from his array of harps and worked the crowds by playing in the audience on a remote pickup. An August 7 show at Stevie Ray's with his own group, The New Heard, confirmed he has now become an excellent front man and is on his way to becoming a national act.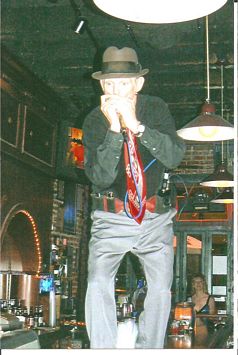 George 'Harmonica Red' Head, bar walking at Stevie Rays. Photo By Keith Clements
Heard has had a long and interesting musical journey that started in Baton Rouge where he was born in 1956. His mother played the piano and he heard country and Cajun music on the radio while he learned to play melody and sing. George refers to his vocals as an 'industrial singer.' The Bottleneck Blues Band in Baton Rouge and Big Luther Kent in New Orleans got George interested in the blues during the early Seventies. It was Baton Rouge local legend Rockin' Tabby Thomas who trained George to play the blues at his Tabby's Blues Box and Heritage Hall. Tabby thought George didn't have much of a blues name, so he conferred the moniker Harmonica Red on George in 1985. Charlie Musselwhite, Magic Dick, Paul Butterfield and Lee Oskar were all influential harp men to George. He absorbed them like a sponge.
While George was playing with a very young Terrance Simien and the Mallet Playboys during a three-week gig at the 1984 World's Fair in New Orleans, a woman in the audience pointed to George and said, "I'm gonna see you." They met later in Columbus, Mississippi and found they had many mutual academic interests. They started long distance dating and were married in October 1985 by a Justice of the Peace. After twenty-two years, Suzy is George's best critic. She comes to the good gigs, not the chicken wire circuits, and helps sell CDs at festivals. George said, "She let's me do it."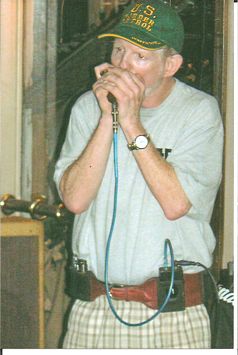 George 'Harmonica Red' Heard, jamming at Longshots. Photo By Keith Clements
When Paul Simon was planning his Graceland album in 1986, George came very close to playing on it, along with Terrance Simien. George received the session charts from Dickie Landry, a Zydeco musician and promoter, and was ready to go into the studio. Then he got a call from CBS to say the company had recently hired a new band, the Thunderbirds, and they wanted Kim Wilson to play on the recording.
During the mid-1980s, George was in the house band at Gilly's Club and played at the Moulin Rouge and the Warehouse on Bourbon St. In 1990, George played and recorded with swamp bluesman Clarence Edwards on Swamp's The Word and other Baton Rouge musicians on Chemical City Shakedown (both released on the Sidetrack label). George said, "Swamp blues is very primitive, usually tuned to the E string." Clarence would tell George, "E is where my voice is tuned." During the 1990s, George briefly played with David Allen Cole and Zachary Richard. In 1998, he returned to the swamp sound, recording with Selwyn Cooper's Hurricane Blues Band on the CD, Louisiana Swamp Blues.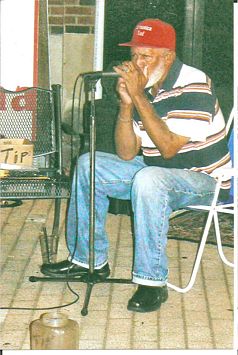 Obie 'Harmonica Red' Cox at the Bluegrass Brewing Company. Photo By Keith Clements
In 1997 George joined Big Al (Lauro) and the Heavyweights taking over where Roguie Ray left off on harp. He performed with the band for seven years, averaging 250 days a year on the road. He took a year-and-a-half break during that time and two CDs, Live Crawfish and Nothin' But Good Lovin' were released in 2002 and 2004. Big Al disbanded the group in 2004 when he got married, became a father and moved back to Louisiana.
George has been out on his own since then. In addition to mastering his minor-tuned Lee Oskar diatonic harps, George also played a chromatic bass harp when he performed "Moon River" with the New Orleans Symphony. The instrument is actually two large harps hinged together where you can only blow and not draw. The upper harp has the black keys; the bottom harp has the white keys. George also played the bass harp on his song, "I Got Happiness" from his recent CD, I was Born In Louisiana. This release was recorded in December 2006 at Mr. Fish's Ghetto Studio and Car Wash in Hattiesburg, Mississippi. Al "Fish" Herring played keyboards, co-arranged and produced the record. The title track is autobiographical, taking its inspiration from the Nick Gravenites-penned and Paul Butterfield-performed "Born in Chicago," with heavy gumbo overtones. I won't try to review the other twelve excellent cuts on the CD in this article except to say it is a 'must buy' for all Louisiana and harmonica music fans. George said, "I played my harps through a Leslie cabinet to get a sound like an organ."
What brought George from Louisiana to Kentucky? He said, "I got tired of hurricanes and wanted to settle in a central location." He first moved to Louisville in January, 2006, and then settled in Frankfort in May, 2007. His back up band, The New Heard, is different than the Heard on his recent CD. The musicians include guitarist Lindsay Olive and drummer Eric Shields, both from Lexington. Bassist Charley Bock has played with El Roostars and lives in Louisville. The band members have day jobs that allow them to go out on the road with George. Their summer and fall itinerary has taken them from Florida to the West Coast. Road Dawg Touring Co. used to do the bookings, but George now does it himself with a little help from Blues Boys and Divas for the southern gigs. George is a serious technician when it comes to his equipment. He uses Fender amps and a AKG wireless remote pick up that is attached to the back of his belt where there are ten holsters for his harps. The traditional bullet-shaped mike doesn't work with his small hands, so he uses a cigar-shaped AKG-D-190 microphone. His floor pedals are used as a loop with volume control on his belt.
George's climatic showstopper is the song, "Honda Wanda" (the transvestite queen of New Orleans), which he performed very effectively at Stevie Ray's with a little bar walking. George said, "She is a real person with the name changed to protect the innocent. She was last seen in Little Rock, Arkansas."
George started playing at the blues jams at Longshot's Tavern in early 2006 through the recommendation of house band drummer Andy Brown. Andy knew about George and that he was trying to move to Kentucky after Katrina. Mike Lynch, the bassist, had also heard Jim Rosen talk about George when he had seen him playing with Big Al. So George was hired before he even played. He is hoping to get booked into the recently revived Tuesday jams at Stevie Ray's with the same house band. When he is not on the road, he gives harmonica lessons and is jamming on Thursday nights at Longshot's, starting at 9:30 PM.
George 'Harmonica Red" Heard is a real trooper who just celebrated his 51st birthday. He has trimmed down, beaten an alcohol problem and limits himself to four cigarettes a day. His doctor says he has the lungs of a thirty-year-old. He needs a strong constitution to make the road trips to support a wife and band. If he gets sick, no money comes in. George said, "Music is like a living, breathing organism and the guys in my band inspire me to play better. Every night I go to war with my instrument. The sky is the limit."