American Idols LIVE! Tour 2007 Kentucky State Fair , Freedom Hall, August 17, 2007
By Michael W. Stout
Over the last six years, the American Idol televised singing competition has become a guilty pleasure that has sucked in people from all ages and all walks of life and has become a hot topic around the office water cooler. When it comes down to it, this reality show showcasing the best of the best singers and the worst of the worst boils down to little more than a glammed-up karaoke competition. Critics have discounted the genuineness, originality, and credibility of this show derived from Britain's Pop Idol since its American inception hit the television airwaves back in 2001. When the top 10 finalists of the show's sixth season took to the stage at the Ky. State Fair last month, the production leaned more toward a Las Vegas revue than a major arena concert tour offering hip knock-offs of legendary performers such as Aretha Franklin, The Supremes, Natalie Cole, and Marvin Gaye, as well as more contemporary artists like Maroon 5, Rascal Flatts, Christina Aguilera, and Martina McBride.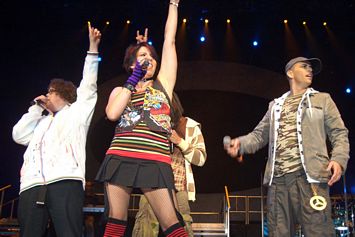 Idols. Photo by Michael W. Stout
Although generally entertaining, this show included some bizarre and excruciating performances, namely the hair-rific Sanjaya Malakar's pathetic attempt to channel Michael Jackson by screeching "Thriller" and "The Way You Make Me Feel." He definitely should have been voted off the tour! Chock full of awkward combinations of singers and song choices (Phil Stacey, Chris Sligh, and Sanjaya Malakar on The Backstreet Boys' "I Want It That Way" and Chris Richardson, Sanjaya Malakar, and Haley Scarnato on "Life Is a Highway"), the show was over the top with its abundance of outrageously tacky costumes.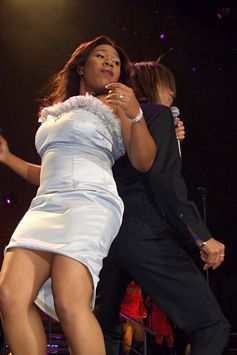 Melinda and Sanjaya. Photo by Michael W. Stout
Stagnant ticket sales for "American Idols LIVE! Tour 2007" further proved that AI season six had no breakout artists as remotely talented as last season's bald rocker Chris Daughtry or season four's country sweetheart Carrie Underwood. Sure Melinda Doolittle (who soulfully shined on "Proud Mary" and "(You Make Me Feel Like) A Natural Woman") was favored to win this season's competition and LaKisha Jones gave the most stunning performance of the evening with her rendition of Whitney Houston's remake of Dolly Parton's "I Will Always Love You," but 17-year-old Jordin Sparks and beat-boxer Blake Lewis were voted into the top two spots respectively. At such a young age, or any age for that matter, Sparks has phenomenal vocal control and range and she proved it on power ballads like "A Broken Wing," "I (Who Have Nothing)," and her crowning anthem "This Is My Now." Lewis slickly and effortlessly sang and beat-boxed his way through crowd favorites like "You Give Love a Bad Name" and "She Will Be Loved." And the crown for the true rocker in the group hands-down goes to Gina Glocksen who was in her element performing Pink's "Who Knew."
With an embarrassingly small crowd ranging in age from four to 84, this show catered to the audience members under the legal driving age. Instead of merely offering a greatest hits concert featuring tunes contestants belted out week after week during the competition, why not let the aspiring stars shine with new and original material? Maybe a good idea but not likely to happen as the entire American Idol franchise is a well-oiled money-making machine even subjecting concert-goers to a painfully long and unnecessary intermission simply to sell more merchandise.