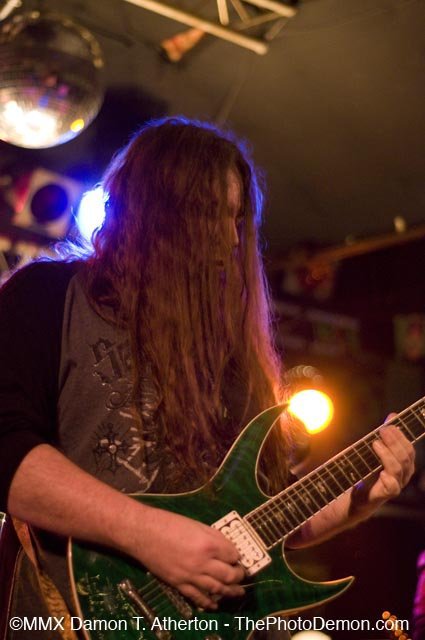 News From the Pit
The Metal Grapevine
LRSfest 2007: On Saturday, September 29 on the Great Lawn at Waterfront Park, The Budweiser LRSfest 2007 will be rockin.' So far, they've got national artists Drowning Pool, Sum 41, Puddle Of Mudd plus the winner of the Louisville fan battle! As of now, Kinsey, Caldera and Sacred Sorrow will be on the local stage. Get your $20 tickets at ear X-tacy; College Book Warehouse; Phoenix Hill; Ultimate Styles Salon or Mom's Music (Mellwood or Jeffersonville).
WLRS News: I just recently learned that WLRS local music DJ Nubbins has been let go. No reason was specified.
WLRS asked me to come and interview for the local music DJ job. It was a shocker! I was flattered, really. The station is going through ownership changes, so we'll have to see how all that works out. Look for news by end of September.
A Tantric Interchange: I finally got to see Todd Whitener's (formerly of Tantric) new band, Interchange. They were playing with Ugly at Headliners, so I thought I'd check 'em out. First up were some friends of Ugly, The Brian Schram Band from Detroit. Think the Ramones meet the Sex Pistols, on crack. Vocalist/guitarist Brian Schram wailed on his custom-made axe and the twelve-year-old drummer was a bad mofo on the skins. If you like grunge-ish, punky, sludge metal with a Cheap Trick type vibe, then you need to see The Brian Schram Band.
Then Interchange took the stage. Whitener, sick of all the drama with Tantric, started his own project. Gone were his dreads as well as the huge stadiums that they played. I was interested to hear the new stuff but found it rather boring. I heard some very talented musicianship, but there was no fire, no excitement, no memorable hooks in Interchange. Bruce Lafrance played great bass as always and Todd's guitar playing and tone was killer, but some of this music sounded like Island music. It was elevator music: jazzy, bluesy, almost cruise ship cover band-ish, VERY light rock. Hardly what I expected from someone with Todd's musical past. However, just as I was about to write them off as a band I could get into, they played their last song, a weird little ditty with fast, metal riffs that reminded me of Iron Maiden a little but played with a clean tone. Todd's vocals on this song were great. I was instantly rockin' and impressed. So yeah, the last song saved the day for Interchange.
After Interchange's set, Kimmet and Doug played an acoustic set that had me asleep in the corner. Sure they sounded good, putting an acoustic band before Ugly was a bad decision. Unfortunately, the acoustic jams ran me off before I could get a dose of some sleazy, Ugly rock n roll.
Type O Negative Coming: Yup, the vampire Goth squad is coming on Friday, October 26 at Headliners. Right before Halloween, too! If you haven't seen them before, make sure you do, because they put on an excellent show. It's been a while since I saw them at the Thunderdome. They don/t play this neck of the woods that often, so take advantage of it.
Nova Red Beeyotches: You've got to get the new Nova Red CD, if you are into alternative metal with melody. I've been wearing out the disc. It's top-quality stuff and "Kiss Goodbye" is the chit! Now if we can keep Rahul from diving off the stage and landing on things other than his feet, all would be cool. Myspace.com/novared
All That Remains: All you hardcore metalhead thrashers should definitely go see this incredible band from Massachusetts at Headliners on September 18. Melodic, heavy, hardcore, with great vocals, emotion and the guitarist is really good. Go to their site and you'll see how wicked this band is! Myspace.com/allthatremains
St Andrews Pub Renewed: After some drama and just plain bad luck, the St Andrews Pub is having original rock shows again, and Chanel, a woman I've known for over ten years, is doing the booking. They just had a big band battle that I heard was doing well. In a few weeks, they'll will start booking regular show dates for late September. Give Chanel a shout at 502-403-5797. Tell her Mr. Metal sent you!
Talent Showcase at Wicks: Wick's Pizza on Dixie is going to team up with WLRS and Villifed Entertainment to have original rock shows once a month there. This could be a VERY cool monthly thing for regional talent. The first one is on September 8 and will feature I Will Defy, 13th Age, Ugly and Dogwater. Be there!
Two Kosair Benefit shows: The 502 Music Fest, with all proceeds going to Kosair, happens on Sunday, September 2 at Coyote's. Scheduled are Never The Man, Halfway Hollow, 7Daysun, Kinsey, Dogwater, Sacred Sorrow, Secondhandgrenade and Shindig. Tickets are $10; show time is 2 p.m.
Then on November 16, the Third Annual Rock 4 Kosair show at Phoenix Hill Tavern will involve the whole club. Both Kosair shows will have prizes and such and are for an excellent cause! So be a saint, help out the kids at Kosair, and tell everyone you know to attend these two shows!
Introducing War Within: From Nashville, Tennessee comes a devilish dervish called War Within. Imagine Pantera meeting Biohazard, plus a dash of Tool. Heaviness and intelligence all combined in one entity. They seem to have their stuff in order, too, because they are touring considerably. Although metal, it's not your ordinary metal band: clean and heavy. They pack a lot of musical variety into five-minute songs that are a mixture of thrash, power metal and progressive metal.
The vocals are pretty cool, the lead guitar smokin', with memorable riffs. If you dig Louisville bands like Incursion, False and Antikythera, then you have to see this band at the Phoenix Hill on September 21 at Bizkit's showcase. Until then, Myspace.com/warwithinband
Boom Orangutan Seeks Bassist: They are auditioning bass players since Mike Anthony and Boom Orangutan parted ways. Todd Coffey, the vocalist, is picking up the bass responsibilities until they can find a permanent replacement. If, message BO at their MySpace account at www.myspace.com/boomorangutan or email them at boom_orangutan@hotmail.com
Uncle P's: Get Your Act Together: I booked shows at Uncle Ps for a while, but quit, due to one too many double-booking episodes. Imagine having a show booked for months, promoting the heck out of it and on the day of show, the owner tells you there are three extra bands on the bill. Great venue, but very poor managing/scheduling. I recently heard from another promoter who is now going through the same stuff I did. He thought I should mention the bullchit he's been put through regarding this nonsense, so here it is. I mean, how hard is it to look at a calendar?
Bassist Needed: The band Remain Tame needs a bassist. They are a light rock/grunge band with some good ballads a la like Staind. Contact then at myspace.com/remaintame or 502-494-5596.
Upcoming Shows
The Boondocks in Sheperdsville.
Saturday, September 22 I Will Defy and Dogwater. 9 p.m.
The Bulldog Cafe
Saturday, September 1: Autism Awareness Benefit Concert with Flaw, Amendment, Hyndsite, Anna Lies, A.D.D, Maude Flanders, Holbrook, Anvil Grey, Thomas Medicine, Morning Augment, Ashes Eve and At One With Nothing. 12 p.m. $7 ADV, $10 DOS.
Coyote's
Sunday, September 2: "Coyote's 502 Music Fest for Kosair Charities" Never The Man, Halfway Hollow, 7Daysun, Kinsey, Dogwater, Sacred Sorrow, Secondhandgrenade and Shindig. All proceeds go to Kosair Charities. 2 p.m.-10 p.m.
Headliners Music Hall
Saturday, September 1: Antikythera, Surviving Thalia, Arazi (MI), Descention and Halfway Hollow. 8 p.m. All ages.
Tuesday, September 18: All That Remains, Protest The Hero, The Acacia Strain and The End. $12 ADV $14 DOS
Friday, October 26 Type O Negative. $20 7 p.m.
Friday, October 19: Rocktoberfest 2007 with Subrosa, Nova Red CD Release, Kinsey, Sighlo and Broken Vault.
HighlandsTaproom
Saturday, September 1: Matthew Fogle.
KingpinLanesinJ-Town
Sunday, September 8: Real Time.
O'Malley's
Friday, September 28: Never The Man.
The Phoenix Hill Tavern
Friday, September 7: The Original Rock Showcase Series: E-Flat, Caldera, 16 Bones, Second Hand Grenade and Broken Vault. 9 p.m. $ 5
Thursday, September 13: Real Time.
Friday, September 14: Hot Action Cop with guests Ligion. 8:30 p.m. $10
Friday, September 21: "The Gathering," a Wasted Days Reunion show, with Noise Auction, War Within, Wish, Sweet Wild Oranges , Embertide and 13th Age. 9 p.m. $10
Wednesday, October 3: Louisville Rocks Showcase: Caldera. 10 p. Sharp.
Friday, October 5: The Original Rock Showcase Series: "New Blood Edition" Poetry Of The Dead, One Day, Away, Once Fed Lies, Embalmanation, Sulfate, Sever This Illusion. 8 p.m.
Friday, November 2: The Original Rock Showcase Series: Chamberflow and The Aqua Jones Reunion. (unconfirmed)
Friday, November 16: "Rock 4 Kosair 3" Over 15 original bands in the whole club!
All proceeds go to buy toys for Kosair Charities for the sick kids at Christmas. Several guitar and tattoo giveaways as well. More info next month.
Rustic Frog
Sunday, September 8: Poetry Of The Dead, Throwing Stones and Once Fed Lies. 8 p.m.
Saturday, September 15: The Big Rock Showdown, featuring High Voltage, Sever This Illusion, Boozer, Redstone, Kindred, Throwing Stones, Knub Dust, Dark Horizon, Doomsayers Prophecy, Slumber Party Monster, Edge Or Reason and Bashhamer. Call Rustic Frog for show info.
Uncle Pleasants
Sunday, September 2: Chthonic with Sever This Illusion, The Revenants, Godamage, Cost Of Sin and A Few Choice Words. 7 p.m. $10
Thursday, September 20: Mungus, The Underwater, Amherst and Nowhere Fast.
WaterfrontPark
Saturday, September 29: LRSfest, featuring Drowning Pool, Puddle Of Mudd, Sum 41 and Louisville acts Kinsey, Caldera and Sacred Sorrow. $20
Wick's on Baxter
Thursday, September 27: Anna Lies and Mungus. Free.
WicksonDixie
Saturday, September 1: Crash Planet.
Sunday, September 8: I Will Defy, Dogwater, 13th Age and Ugly. 8 p.m.
Props Of the Month
Go out o ALL who made the Waverly show possible, in spite of the complaints. Promoter, Sound Crew, The Bands, 93.1 the Fox's Attitude Network and of course, YOU the Metal fans!