I've Got A Mind To Ramble
Garvin Gate Blues Fest Is Back!
Over the years, we have all lamented the demise of the Garvin Gate Blues Festival. It was multi-racial, intergenerational and free, in a cozy neighborhood setting at the intersection of Garvin Place and Oak St. Now the "Gate" has been resurrected thanks to several key people and organizations. Howard Rosenberg, the previous mover and shaker for the festival, is back in Louisville and living on 6th Street. Howard always wanted to revive the festival when he returned to Louisville from South Carolina. There were several attempts at starting up the event in previous years, but they didn't have the money and support that there is this year. Metro councilman George Unseld has given a generous sum of money from his discretionary funds for the music and sound system. Scott Roussell with Bluegrass Brewing Company (BBC) has offered their beer with the proceeds made from the sales to go for the festival. Several other sponsors have stepped up, including Chris Bryan with Associated Enterprise, Don Driskell with Semonin and Ken Pyle, the owner of the Rudyard Kipling.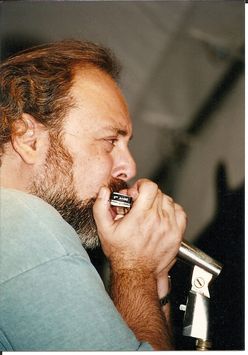 Jim Rosen. Photo By Keith Clements
Mike Suttles will book the acts again. What a line up he has put together, maximizing his limited budget! The music will start at the Gate on Friday, October 12 at 7 p.m. with the 10th Street Blues Band, led by Pen Bogert playing acoustic guitar, Sonny Sitgraves on drums and Billy Bird doing vocals and blowing harp. Lamont Gillispie and 100 Proof Blues will follow. This silver-haired maestro of the harp backed by Dave Witherspoon, Byron Davies and Dr. Boom should pull out all the stops.
Friday's headliner will be Lurrie Bell, one of Chicago's finest blues guitarists. Bell has chased his mental demons away and is coping with the recent loss of his wife, Susan Greenberg. He is playing some of the most focused and intense blues today, as I witnessed at this year's Chicago Blues Festival. During the Festival, he was to have performed with his dad, Carey, but unfortunately the master harp man died in May. The set became a tribute to his father, with his brother, Steve Bell, and Matthew Skoller jamming on their harps. Later that evening, Lurrie was featured in Billy Branch's 30th Reunion of the SOB's (Sons of the Blues). The CD/DVD Getting Up Live released this year on Delmark, pairs father and son for Carey's last recording and highlights Lurrie's exuberant fretwork. Lurrie has just received the Living Blues Critics Award for the most outstanding guitarist. If you have not seen him perform recently, Lurrie is a must-see.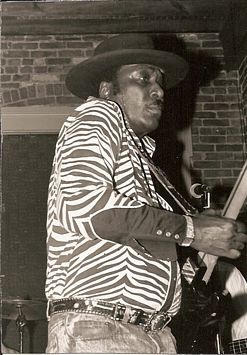 Eddy Clearwater. Photo By Keith Clements
Saturday opens at 3 p.m. with River City Blues and then the Walnut Street Blues Band. Walnut Street was the headliner at the Water Tower Blues Festival on July 15, carrying on the tradition of Foree Wells. Nick Stump and Friends (which will likely include Rodney Hatfield) will perform at 5:30 p.m.. They should rekindle some fond memories of the Metropolitan Blues All Stars. A tribute to Jim Rosen that will reunite Sue O'Neil with da Mudcats will follow. At 8 p.m., Cole Stevens & The People of Interest will take the stage. One of those people will be the talented harpist, Steve Boros.
Another respected Chicago guitarist, Jimmy Burns, will headline at 9:30 p.m. Burns is not as well-known as some of today's blues superstars, but his guitar work and vocals for the past fifty years has made him an elder statesman of the North Side blues clubs. Jimmy left a cotton plantation in Dublin, Mississippi along with his large family in the mid-50s and settled on Chicago's North Side.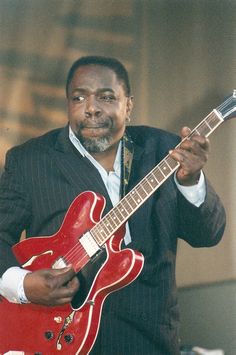 Lurrie Bell. Photo By Keith Clements
After absorbing the various local styles of blues, gospel and doo-wop, he began to sing with The Medallionaires in 1959. They performed at record hops and nightclubs and recorded with bluesman Jimmie Lee Robinson. Because Burns lived near the Old Town folk scene during the early 60s, he started playing guitar at the Fickle Pickle and the Gate of Horn, where he met Big Joe Williams. During the late 60s and early 70s, he recorded several soul-oriented singles for small labels. These were lean years for the blues performer, as he was raising a family. The music became a struggle. When Jimmy saw a show with Lurrie Bell and Billy Branch, he decided to pursue the blues more seriously and formed a trio, which included his brother Willie and nephew Larry Taylor. They gigged around the West Side and his reputation grew as a "newly discovered bluesman." In the mid-80s, Burns played with Glen Davis and later with Rockin' Johnny Burgin. When Bob Koester, the owner of Delmark records, heard Jimmy play at one of his regular gigs at Smokedaddy in 1995, he arranged to record the band. Jimmy's first solo album, Leaving Here Walkin,g was issued in 1996. Three other records on Delmark have followed, with his most recent Live At B.L.U.E.S., released this year. Jimmy has perfected his melodic and vocally influenced guitar style, which complements the 'Mississippi picking' he learned as a boy. Jimmy is quoted in a Living Blues feature story about him and his blues brother Eddie as saying "My playin' is, more or less, an extension of my vocals." Jimmy "Uncle Mickey" Burns will be a pleasant surprise when he closes out the festival.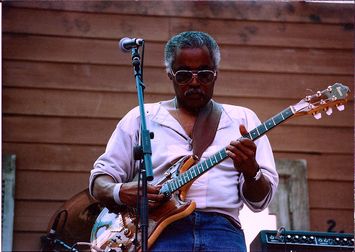 Jimmy Burns. Photo By Keith Clements
For the benefit of those of you who don't know about the Garvin Gate Blues Festival and its impact on the local blues scene, a little background is in order. It all started in 1988 with an idea to have a blues jam in the parking lot of the Rudyard Kipling. At that time the Garvin Place Association was expanding its boundaries to become the Garvin Place Neighborhood Association and they wanted to initiate an annual event. Because the parking lot was so limited, it was decided to have it on Garvin Place by the Gate. The chair of the Association was enthusiastic about the location and got a good response from the neighbors. Within a few weeks, it all came together, including sponsorship by the County Judge Executive's Jefferson Discovery Program. The performers were all Louisville bands. Then it rained that Sunday in October and only five hundred people came. In 1989, the festival expanded to two days (with beautiful weather) and ten thousand people attended. Henry Woodruff received the first Sylvester Weaver Award from the KBS. H-Bomb Ferguson and Eddy Clearwater were the headliners. I still have vivid memories of Clearwater jamming in the Rud following the festival. Because the large crowd was hard to contain on Garvin Place, Oak Street was closed between Fourth and Sixth and the stage was set up in the intersection for 1990. Scott Mullins, host of the WFPK "Saturday Night Blues Party," was the music coordinator. He pulled some strings and we had several exceptional acts, including Fenton Robinson; James 'Thunderbird' Davis; Roosevelt 'Booba' Barnes; Phil Guy; Lefty Dizz; Paul Black & the Flip Kings, plus the Jelly Roll Kings. I can still see the hot sweat and steam rising off of Barnes' head in the cold night air. Twenty thousand people came and the festival had officially arrived.
The 4th Annual Garvin Gate Festival brought Professor's Blues Review (Eddie Lusk) and Maurice John Vaughn from Chicago as headliners on Saturday. The KBS hosted a blues jam that night at the Rud with Rocky Amaretto and Winston Hardy. The festival expanded to three days in 1992, with Willie Little as the music coordinator. There were a few blues miscues with a diverse assortment of Louisville talent. The eighty-three-year-old James "Yank" Rachel delighted the audience with his mandolin; Lamont Gillispie and the Home Wreckers featured Sam Myers. The lineup for the 1993 festival was a little weak, with only the Louisiana guitarist Kent Duchaine headlining two nights. The 1994 festival featured Junior Kimbrough on Friday and Willie Kent & The Gents with Bonnie Lee on Saturday. There was a benefit for local bluesman Henry Woodruff in the Rud with the Dennis Ervin Band. In 1995 the festival was in its 8th year and had become Louisville's 11th largest event drawing 30,000 to 40,000 people over three days. Three headliners were recruited from Chicago, including Magic Slim & The Teardrops, Mississippi Heat with Dietra Farr and Byther Smith. The 1996 festival had a second Gazebo Stage near Ormsby and there was another fund-raiser following the festival in the Rud for Lorene Wells, wife of Foree Wells, with music provided by the Metropolitan Blues All Stars. The main attractions were Deborah Coleman, Chubby Carrier & The Bayou Swamp Band and Jimmy Dawkins. Dawkins brought Eddie Shaw's band as his backup, so there was a stage full of stars. It was a moving moment when an ailing Jim Rosen sat in to blow his harp with Dawkins. Mary Ann Fisher was honored with the Sylvester Weaver Award. In 1997, Howard Rosenburg had left town and the Garvin Gate Neighborhood Association volunteers had run out of steam. It is significant to note that da Mudcats performed every year at the Gate and Foree Wells played at all but two festivals.
The event was briefly revived as the Louisville Blues Festival and moved downtown to Theater Square for three years from 1997 to 1999. Even though the talent was great, it just wasn't the same - they put a fence around it and charged admission.
Howard Rosenberg recently said, "Maybe it was good that the Garvin Gate Blues Festival took a break to regenerate itself." Now it seems everyone wants to get back on board and make it a permanent event. Alleluia!