Scuttlebutt
Anthony Kiedis, lead vocalist for The Red Hot Chili Peppers once said, "Chemistry is beautiful and important to any musical endeavor and it's also impossible to figure out or force to happen."
One of Louisville's newest bands, 13th Age, illustrated Kiedis' theory during a recent visit. Rob White, lead vocalist for 13th Age, described their songwriting process as being "spontaneous" and most of their songs come together "very quickly." Not all bands have the ability to write songs in a spontaneous and quick manner, but 13th Age seems able to. White and guitarist Brett Beckman both have many years of experience playing together from their former band Phearus, which split over a year ago. Soon thereafter, White and Beckman, vowing to stay together, teamed up with former Lifetap members Jon Black, guitar, Joe Blanford, bass and Mark Whobrey, drums. They almost instantaneously bonded musically and began writing songs together and calling themselves 13th Age.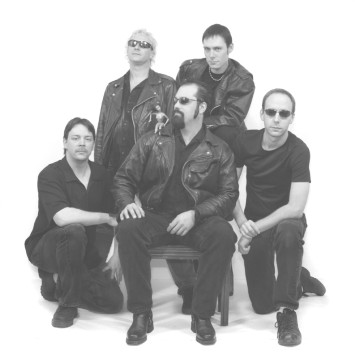 13th Age
Probably one of the most interesting aspects about 13th Age is the way they rehearse. Whereas most bands set up a typical backline of amps, monitors and cabinets, then proceed to play as if they were performing a live gig, 13th Age uses no type of amplification or cabinets. They actually plug their instruments into a center console and listen to themselves play through a set of headphones. This rehearsal style enables them to hear each other's instruments more clearly, thus giving them a greater ability to tighten their sound and timing with one another versus traditional rehearsing methods. Their rehearsal seemed more like pre-production leading up to the recording of a studio album than anything else. That is their main focus, according to the band members; a recording, which is to be done sometime soon.
So what's it going to sound like? Think Rob Zombie singing for a mix of The Red Hot Chili Peppers and Alice In Chains with Jimmy Page injecting some hit-and-miss guitar solos and you will have the basis for 13th Age's musical style. If there is such a thing as Dark Metal Jam Rock, then 13th Age's music would be iconic for this genre. However you classify 13th Age's music, their style is definitely eclectic, due to each band members diverse musical influences, which include The Beatles, Rush, Alice Cooper, Tool, Metallica, Slipknot and Pink Floyd.
Wanna seem them play live? They play almost every weekend around Louisville and sometimes in Cincinnati and other surrounding cities. The guys in 13th Age believe in playing out as much as possible. Their next gigs include September 8th at Wick's on Dixie and September 21st at Phoenix Hill Tavern. Make sure you visit their website at www.myspace.com/13thage for more upcoming shows or to listen to some of their songs.