In case you haven't heard, the Casting Crowns show scheduled for last month was postponed due to the weather. The new date is May 4th at Freedom Hall. All tickets for the March 8th show will be honored. And tickets are still on sale at Ticketmaster.com.
Major concert announcement: Newsboys will be here in August for a concert at the Kentucky State Fair. It's free with gate admission.
According to the band's label, Inpop Records, Newsboys continues its 2007 success, topping radio and tour charts, into 2008 with a non-stop tour schedule that kicked off in February.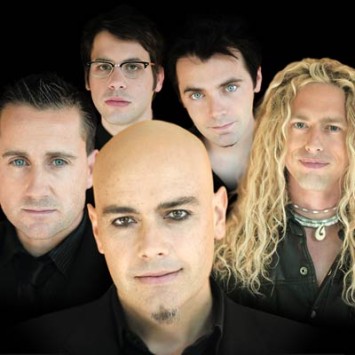 Newsboys
Australia's national Christian music chart The Rock Across Australia (TRAA) named Newsboys 2007 Artist of the Year and recipient of Song of the Year for "Something Beautiful." The band spent 13 weeks atop TRAA in 2007 with "Something Beautiful," a song written by lead singer Peter Furler and guitarist Paul Colman. This is first time Newsboys has earned TRAA honors.
On the 2007 Year End Top 200 Tours Chart from Pollstar, which tracks total gross ticket sales throughout the year, Newsboys finished No.168, making them the top CCM grossing act of 2007. Starting 2008 in similar fashion, newsboys kicked off the year with three sold-out performances in Minneapolis on January 25-26. Promoted by 98.5 KTIS, the shows grossed in excess of $170,000.
Shortly after returning home, Newsboys headed out on the third leg of the "GO" tour. It will visit nearly 40 cities, including Houston, San Antonio, Seattle and Chicago. Joining the tour will be Midas Records artist Rush of Fools, as well as Inpop Records' Newworldson and Article One.
With five gold albums, sales exceeding six million units, more than 20 No.1 radio hits and a mantle of Dove Awards as well as Grammy nominations, Newsboys have been together nearly two decades. Known for its live performances and groundbreaking tours (at least within Christian music), the band continues to sellout festivals and concerts worldwide. Newsboys fourteenth record, Go, debuted at No. 51 on the Billboard Top 200 chart.
Recently, lead singer Peter Furler and his bandmates found themselves in a far off place, countless miles away from all they knew and the comforts of home. They were in Israel, near the Sea of Galilee, just miles from the spot where bombs would be falling only months later. The Newsboys were making their very first visit to play their very first show there, for five thousand people who had never heard of them. The crowd was a mixture of cultures, races and creeds, from Buddhists to Muslims to Jews - anything but the typical Newsboys audience
"The Israeli festival changed us, to say the least. It was one of the most powerful moments I have ever experienced," says frontman Peter Furler. "Not only was it a mixture of many different backgrounds, but a mixture of beliefs as well. I didn't preach or even share, but I began quoting a passage from memory-more in a spoken word style than anything else-during the middle section of one song. This 'jam' went on for a while and as it did, I knew something was happening. The crowd's entire countenance shifted from skepticism to sort of a biblical worship dance and this wave-I don't know what else to call it-swept over the crowd."
As Furler speaks of the event, you can't help but believe that something behind this story. Beyond Grammys, gold records or merchandise sales. On Go, the band has committed to continuing outward on this journey, completing the circle they began etching across the nations two decades ago.
"We played a show in Morocco not long ago for about 15,000 Muslims and it was like something out of Indiana Jones," recalls Furler. "Snake charmers, people eating eyeballs, etc. This is a place where the name of Jesus will get you killed! Nevertheless, His name went out subtly through our songs and when it did it was probably the loudest His name had been spoken there in ages. It's a dark place, for certain. But we were able to love these people by just living with them for a few days. That's what it's about."
For inspiration when writing Go, Furler didn't turn to his record collection, the radio or MTV. Instead, he just wrote music, alone, in his own headspace. And if you ask him about this unique approach, he will tell you that his biggest influence after fourteen albums is himself: his experiences, the journey he has traveled. According to Furler, there can be nothing more stimulating than this. The aforementioned stories have provided backdrop.
"If you aren't making music from the right place, then it won't be authentic, people will not connect with it and your record will be sitting on a shelf. On the other hand, if you write from that place of true passion, without trying to make something commercial or forced, then the result will be natural. People will be drawn to it," Furler explains.
Go, though pop in structure and sensibility, is a very rhythmic approach to the newsboys sound. Beat, bass and melody drive these songs. There are subtleties of urban influence, with the choruses fans have come to expect from this quintet.
On "Something Beautiful," a song that got a lot of play on Christian radio in Louisville, Furler makes this mantra clear: "I wanna start it overTil the work is done, I wanna send you....From the break of the dawn, to the age's end. Somebody's needing a friend. I wanna send you."
According to Inpop, you might catch the Newsboys opening for a "mainstream" artist these days just you might find them at a Christian market event. They have even shared the stage with Styx since releasing their previous effort. With willing hearts, there seem to be more open doors on the near horizon. Though they are Christian music staples-and will most likely continue to be-their focus will remain in branching out as far as this music takes them.
"It seems to me there are three types of believers in this world," Furler concludes. "There is the judgmental guy who spends most of his energy pointing out what is wrong around him and doing very little about it. There is the backslidden guy, who wallows in his own failures. Then there is the real guy, who just tries to love other people and be about the kingdom more than anything else. I want to be the third guy. I want to be known for loving others of different backgrounds and different beliefs no matter the cost."