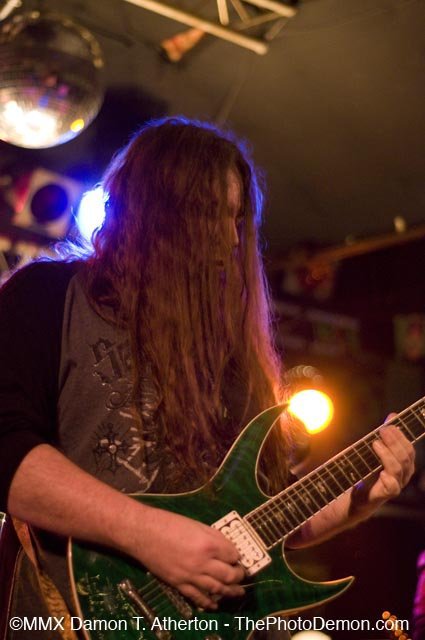 News From the Pit
It was 4a.m. The busty brunette beside me and I were sleeping soooo good, when I was jarred awake by a sound like a dump truck dropped off the Empire State building! CRUNCH!!! I jumped up, bug-eyed and naked, threw on some shorts and ran outside to see if my vehicle was destroyed. Again.
Four years ago, a drunk sideswiped my Explorer. What had happened this time was this: the police were chasing a stolen car at high speed down an alley that is eight feet from my house and the suspect was either too drunk or crazed to care that the alley ends at my house.
He drove high speed into my neighbor's yard, jumped a hill in their front yard, then airborne, slammed into their concrete porch, half caving it in.
He missed my house and vehicle by eight feet. So, injured, the driver got out of the car and limped off, trailing blood. The way the van looked, I was surprised he was moving at all. The officer jumped out, chased and caught up him. A short fight ensured - the car thief was not going to give up without a fight - then the policeman power-slammed the man on the street and cuffed him.
By this time, I had brought out a lawn chair, sodas and a bowl of popcorn.
Seriously though, I was gonna help the cop restrain the guy, but seeing how I only had on Spiderman boxers, it was freezing and I heard the word "Gun" being yelled, I decided against interference. I was feeling lucky my property wasn't hit. Why push it?
Then, the kicker! Two days later at 3 a.m., some young dude dropped his cigarette in his lap and ran his car into my Explorer in the same spot in front of my house, totaling it.
I wasn't so lucky after all. Fortunately, the kid had insurance, so I'm getting a new vehicle!
It's been fargin' wild around here lately. Then a few weeks ago my neighbor and I were outside working in my front lawn on a project and smoking when a cop pulls up really fast (which freaked me out) and he rolls down the window and yells "have you guys seen a guy out here taking a sh*t in front of some kids?"
Yeah, My neighborhood is not boring, I live two blocks from Churchill Downs and it's almost that time of the year for my neighborhood to get really insanely wild with all the Derby folk partying, gambling, booze, horses, the infield and the legendary 4:20 bush at the infield and topless young hotties baring all (a treasured Kentucky Derby tradition).
I think I will go to the Derby again.
Musically, I've been getting out a little more. I caught Dark Side Of The Wall, the Pink Floyd cover band (see review below) and I went to the Louisville Music Showcase to schmooze with peeps in the scene and music business people in attendance. I also heard The Spyderz at the Hill, which was definitely a blast.
Next month, I'll have Megadeth, Nile and Devildriver reviews for you hardcore freaks, so be on the lookout.
I'll be getting all the info to you as best as I can, so play it cool. Be a good little party animal. Use designated drivers. Get a cab if you are too farged up. Most importantly, don't end up in jail or slammed in the street by the cops while an idiot in Spiderman boxer shorts looks on.
The Metal Grapevine
Megadeth, A Must See Concert:
Saturday, April 19 at Louisville Gardens, Megadeth will be taking over. In tow will be a very formidable lineup of underground hard hitters, In Flames, Children Of Bodom, Job For A Cowboy and High On Fire. This Megadeth Gigan-Tour tour is the first one that's been to Louisville and we need for this to do well if we want other big metal tours to follow suit. If you show the same kind of support for this show as you did for Sounds Of The Undergound, when several thousands showed up, then I see great things possibly happening in Louevil's metal future, like maybe another big metal festival! Better metal tours will start coming here, instead of bypassing the Ville. So do not pass this time, on this show, because it may hurt the Louevil metal scene more than you know and your chances of seeing more shows such as this. I have the inside know, so trust Mr. Metal on this.
Cram all your drunken buddies in your clunker of a car and drive your butts 100 miles if you have to. Get a motel room. Stay the night! Bring your Grandma! Trick your country-loving uncle into believing he would like the lovely vocal harmonies of Job For A Cowboy, a country band from Arizona. Wouldn't he be surprised?
Free Megadeth Tickets and Eddy's Balls: Yup, me being the cool bastage I am, always thinking about you, my loyal readers, secured some Megadeth Tickets to give out, courtesy of us here at LMN and the promoter.
For a chance to get the tickets, you got to come to my Phoenix Hill "All Out War" metal underground concert on Friday April 4. It's only $5 and you'll get to see six great metal bands. Sonic Epitaph, Nailgun Strategy, Arafel, Blade Of The Ripper, Chaotic Vengeance and Holbrook. This show will be a VERY nice metal appetizer leading up to Megadeth.
We'll be giving away a few tattoos and piercings, too. It starts at 8 p.m. The giveaways will be around midnight or so. I'm going to throw out some numbered ping-pong balls or something.
Whoever comes up to the stage with my balls in their hands wins the tickets! Ha.
Sevendust Playing Outdoor Derby Show:
On Friday May 2 at Phoenix Hill Tavern it should be rockin', because Sevendust will be playing outdoors there, in support of their new CD, Chapter VII:Hope and Sorrow. Special guests that night will be Saliva!
This promises to be an off-the-hook show for us Louevil hard rockers, so I'd look into getting tickets before they are all gone. The gates open at 5 p.m. and the rockin' starts at 7 p.m. It's $20 to see this killer show.
Devildriver is Here:
On Tuesday, April 1, a sonic entity from LA is invading. A fargin' thrash-metal plague! At Headliners, Devildriver, featuring former Coal Chamber vocalist Dez, will be tearing it up. Trust me, you got to see this band live! That chit was sooo pounding, I swear I thought my head was going to explode they were so powerful and tight as a unit. I saw them once before and I'm not going to miss it when they return! I'll see you freaks there. Hopefully, it won't be a sausage-fest.
The Spyderz (Evan Seinfeld) Show:
Well, at first I wasn't expecting too much , but it ended up being a pretty cool concert indeed. Not really my cup of tea, but fun nonetheless. Evan's new band is all about having fun and rock n roll.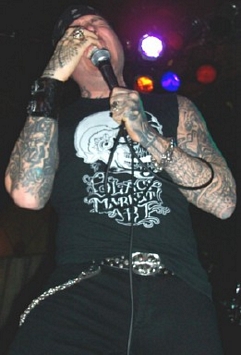 Evan Seinfeld of the Spyderz
Gone are the Biohazard hardcore days of looking like a tough gang member from the Bronx, replaced by punkish rock n roll bluesy madness that is The Spyderz. This was one cool rock show.
In last issue, I was kind of dogging Evan's vocals, but I was wrong. While he is not great at singing, he does have other qualities that somewhat make up for lack of an excellent voice: 1.) the guy has got great stage presence and can put on a good show and 2.) his rock show is all about energy and just letting go with what makes you happy. but seriously, he is not a bad singer. I talked to Evan and his wife a few times that night and he said he was much happier playing this kind of music and just being himself and rocking out.
You have to see The Spyderz live. He's got to be happier rockin' out this way than doing the HBO series OZ, which I watched once for about five minutes I'll pass.
DarkSide Of The Wall:
Sunofabeeyotch. I had a whole page of notes from the concert and now I can't find the farger. Oh well, I'll have to do my best on memory. Uh, yeah. Me?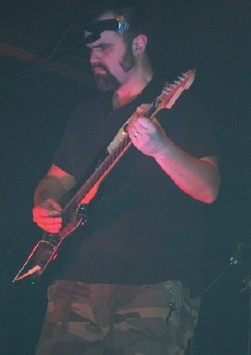 Kirk Whitehouse of Darkside of the Wall
I got to be honest with my loyal readers, I was never really into Pink Floyd. Call me weird, but I always thought it boring music. It was okay, just not my style I reckon. But there are a few songs that are pretty cool.
And I had been hearing about how good this new Pink Floyd cover band was and how kickass their lightshow was, so I decided I should take my big rump out to see these guys. I'm glad I went. I had a fun time!
Coyote's was crowded as the Pink Floyd cover band Darkside Of The Wall started up. The set included most of the popular Pink Floyd songs: "Run like Hell," "Comfortably Numb," "Money," "Welcome to the Machine," "Wish You Were Here," "Another Brick In The Wall" and many others, including some I didn't know.
The musicianship of this Louisville-based cover band was great. Vocalist/guitarist Kirk Whitehouse did a great job, sounding just like Roger Waters and the guitar work of Allen Needham was pretty darn close as well. The tone of his amp might have been off a hair (seriously though, who could get that tone?) , but his playing was right on. Drummer Mark Whobrey and bassist Tony Z were great as always, as I had seen them both play in several bands and I consider them exceptional musicians. Their highly touted lightshow was good, but not as great as I expected. They had lasers, lights, movie screens, the works! And a tight-knit team of seven to ten people working the board and lights. Trippy pictures of typical weird Pink Floyd stuff popped up on the movies screens coinciding with each song. Keyboards, background singers, they had it all.
The crowd was definitely there in support and was ready to take that trip into the dark side. The band performed masterfully, but something in the sound system wasn't quite right. Also, the main backup singer did not hit the right notes in her solo on "Mother" and that left a sour look on a few people's faces. There was no doubt that this woman had a set of lungs on her, but when you cover a song of this magnitude, every note should be in place and not experimented with.
Other than that, everything sounded pretty good to me. I could have experienced the Floyd thing the old fashioned way, but I don't do LSD anymore. One older fella sitting near my date and me commented that he had seen Pink Floyd several times and he thought this band was about 50% of the real deal.
If you like Pink Floyd, then you have to see these guys, but be ready for a visual experience, not just guys onstage playing music. You get the whole shebang with these guys. Darksideofthewall.com
Frazier's New Boys, Saving Abel:
Fellow Louisvillian and Virgin Records music scout Scott Frazier has managed several bands, including Flaw, Boba Flex and Outspoken, but according to the very excited Scott Frazier, his new project, Saving Abel, from Corinth, Mississippi, is going to be his biggest yet. They have one of the hottest-selling CDs in the nation, available nationwide.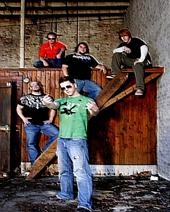 Saving Able
Scott discovered this five-piece rock band in November, 2007 and has put considerable work into getting these guys going. Apparently, it has paid off: their self-titled debut CD was released March 11 and clocked in at number 22 on Billboard's New Artist charts.
As of March 22, their single, "Addicted," a little ditty about oral sex, rests at number 16 on the Rock charts. Scott predicts that by Derby, it will be number one in the country or pretty darn close.
"I'm so addicted to all the things you do / when you go down on me / in between the sheets / oh the sounds you make / with every breath you take / it's unlike anything...when you are lovin me / oh girl let's take it slow, so as for you, you know where to go."
Vocalist Jared Weeks' voice is radio-perfect and very soulful, with broad-ranging technique rarely heard from a guy in his early twenties. His influences are very evidently Southern.
The music is radio rock a la Hinder meets 3 Doors Down: sweet acoustic bits plus Velcro melodies that even have an old Iron Maiden loving metalhead like me getting into it.
I'm really digging "Drowning (Face Down)," set to be the band's second single. The silky-smooth vocals are addicting. Track number 8, "Beautiful Day," is the crossover ballad that is truly their "Lips Of An Angel," the song women will croon over. But there are much heavier moments on the CD. too. It's a good mix.
Right now, they're on tour with Sick Puppies and later with the Theory Of A Deadman tour. The band is currently in serious talks with 3 Doors Down about going out on the road this summer. Myspace.com/savingabel
Wildliferadio.com:
Fender, of Wildliferadio.com, has teamed up with me to help each other out supporting the regions original music. He will be at every Original Rock Showcase, on the first Friday of every month at the Phoenix Hill Tavern, to film the bands live. Ultimately, people from all over the world will be able to see the great talent that Louisville has.
If you are in a band and would like to be featured on Fender's popular Internet radio show, give him a holler at 526-5901, or look him up on wildliferadio.com.. He really has gone out of his way to help out this city's music scene.
The Willing, Live:
Well, I finally got to see The Willing and I must say that I am impressed. The demo from this acoustic rock band a didn't do too much for me, but after I saw them live, I had a much better idea of what The Willing is about. They reminded me of Alice In chains "Dirt Unplugged" meets Guns-N-Roses "Lies." Dirty, bluesy, acoustic sleaze rock! Jonathon Streander has a voice that fits the music perfectly; he attacks each song with a rawness that is rare in an era of cookie-cutter cookie monster, death metal vocals. His range, power and melody equally complement his nasal vocal style. He can actually sing well.
Guitarist Chase Dabney plays an acoustic guitar like it's his bitch, beating on all sides, slapping it, plucking it. I wouldn't be surprised if he pulled out his peter and slapped the strings with it.
Besides, the songwriting is very good, too. I got a lot more than I expected, seeing them live.
They will be playing the May 9 show at Phoenix Hill with Subrosa. Myspace.com/willingband2
Mayhem In May:
On May 17 and 18 at Uncle Pleasants, there will be a death metal gathering of monstrous proportion. Each day will feature 16 or 17 brutal, non-conformist bands from all over the country tearing it out and ripping it up. If you love the really heavy stuff, then this show is a 'must' for you to see. The lineup is below, in Upcoming Uncle Pleasants shows.
Hail, Morning Augment:
When I received the Hail, Morning Augment CD, I was like, "Cool." I'd heard about them but never had heard them. Straight to the player.
Hmmmnnn, sounds like Massachusetts hardcore demons All That Remains. What we have is hardcore metal with melody. The music isn't overly brutal and has a groove-oriented feel that I am enjoying. Most metal bands today concentrate on speed and technical difficulty rather than the feel of the song. Morning Augment has both those covered.
The memorable chorus on "My Mid-Life Crisis," shows off Matt Robear's vocals. I especially like it when he actually sings. These days, there are way too many bands with a simple hardcore barking technique for vocals and no other variety.
I'm going to have to book these mofos! The CD has good sound quality and the packaging looks damn good. This is a professional outing if I ever heard one. The musicianship is good, too.
Complaints? I'd like to hear more of Robear's melodic vocals; they make the music stand out so much more than is typical. Some ripping guitar leads would work well with the hooky, metal rhythm guitar work that is in abundance with Mourning Augment.
The title track, "Destroying What Was Once Beautiful," is a pretty and punishing tune, a sweet-ass mixture of emotion. The bottom line: serious metal chops means you should take these guys very seriously.
I look forward to seeing them live. If you like heavy music with balls, but melodic enough so that can still enjoy it when you are getting laid, then check out Morning Augment. myspace.com/mourningaugment
Caldera's Singer Search:
Caldera has parted ways, unpleasantly, with singer Todd Tripton. Things are ugly but I hope that all concerned will chill, forgive and forget and not fuel the negativity that seems to be " a never-ending cycle" common to many web forums.
Tripton has been jamming with for another band and they should be ready to play out soon.
Meanwhile, Caldera is still together and looking for a new singer who is melodic and clean, but is capable of brutal screams when called for. This band has had some great shows over the last year or so, so some lucky singer could be thrown right in the mix of things, fast. The vocalist they are looking for must be reliable, dedicated and able to practice two or three times a week. Contact Caldera_music@hotmail.com or myspace.com/calderamusik
Louisville Music Showcase:
This was one of the best shows in the Roof Garden to see Louisville talent recently. "Record Company Execs" were touted, though the only one I saw was Scott Frazier. Otherwise, I didn't notice anything out of the ordinary. Everybody sounded great, so I'd like to say "good job" to all. If there was a label rep there, then you did a good job representing Louisville.
Never the Man impressed me the most, I think. I really like Never The Man. Kevin Hart's excellent guitar work with Jholene's beautiful voice. That's tough to beat. Rock on.
Boozer's New CD:
Hard drinkin,' rock 'n' roll outlaws Boozer are back from winter hibernation and set to record at Headfirst Studios shortly. Be on the lookout for some new party music and check Boozer out at Louie the Local Guy's (from 93.1 the Fox) Rock Showcase at Shooter's bar on Sunday, April 20.
Institution Ready 2 Rock:
After a short break, Institution has completed their live lineup and is now playing out once again. Look for them at Thunder-Fest at Headliners on April 11.
Introducing Pig Vocals:
You've heard of death metal vocals, 80's metal vocals, hardcore vocals but pig vocals? No, I'm serious. My old friend and former bassist Marcus Goldsmith told me about it. It sounds like part pig squeal and part pig rooting. He had me cracking up.
Amazingly, however, it does fit in pretty good with super-heavy death metal riffage. If you would like to hear an example of pig vocals yourself, look on myspace.com/circleofdeadchildren for the song "Destiny of the Slug." There are several bands that squeal, root and grunt. This is only one of them.
Krystal Onyx In-The-House:
Krystal Onyx, a funky jazz/rock/fusion band with horns, sent me 'live' CD, recorded at Mom's Music. Their cover of "House Of The Rising Sun" sounds pretty good with horns.
I've never really been a fan of mixing rock with a horn section, but Krystal Onyx seems to pull it off. The dry vocals in this recording are hard to listen to. The singer has a decent voice, but a slight delay or some reverb would have improved it considerably..
If you like jazz in the slightest, then you might want to seek out Krystal Onyx.
Blood Harvest:
Northern Kentucky's Blood Harvest is thrash/black metal with a Six Feet Under vocal style. The guitar riffs memorably cross thrash and black metal. Apparently, these metalheads got it together because they have a boatload of shows coming up all over Ohio, Indiana and Wisconsin. I'm impressed with the power of the playing, the recording, the musicianship, the creativity, the low guttural vocals that almost sound like an effect ha been added to make it sound more evil, but it could be just a good metal singer with great vocal and diaphragm control. I hear a lot of bands like this, but most don't have the chops these guys do. Some of these riffs sound pretty hard to play, sometimes they don't. This band sits somewhere in between. I do like this music though. I don't see how a true metalhead couldn't.
Check them out at Myspace.com/bloodharvestmaim
Upcoming Shows
Bulldog Cafe
Sunday, April 6 - A Skylit Drive w/Oh Sleeper, Four Letter Lie, Before Their Eyes, Memphis May Fire and The Hottness.
Saturday, April 12 - Chaotic Vengeance, Anvil Grey, Adaptize and This Means You (from Va).
Wednesday, April 16 - We The Kings w/ Valencia, Charlotte Sometimes, The Cab and Sing It Loud.
Headliners Music Hall
Tuesday, April 1 - Devildriver w/ Napalm Death, Walls Of Jericho, 36 Crazyfists and Invitro. 7 p.m. $17
Friday, April 4 - Framing Hanley w/ The Perfect Collision, Red On Tap, Abstract Anthem, Revenge Of The Awesome and Down -N-Out. All ages. $10 7 p.m.
Sunday, April 6 - Unearth w/ Bury Your Dead, As Blood Runs Black and My Children My Bride.
Friday, April 11 - Thunder-Fest w/ Evil Engine # 9, Serene, 7Daysun, Surviving Thalia and Institution. 6:30 p.m.
Wednesday, April 16 - Rockstar energy drink presents the AP tour featuring All Time Low, The Rocket Summer, The Matches and Forever The Sickest Kids. 7 p.m. All ages. $15
Friday, April 18 - Amherst, Sugar Spell It out, Everyman and Wax Melodic. 7 p.m. All ages. $10
Friday, April 25 - Cartel, Secondhand Serenade and Hark The Herald. 7 p.m. $15 All ages.
Louisville Gardens
Saturday, April 19 - The Gigan-Tour Featuring Megadeth, In Flames, Job For A Cowboy and High On Fire. 7 p.m.
Phoenix Hill Tavern
Friday, April 4 - The Original Rock Showcase Series: "All-Out War!" A metal experience. With Nailgun Strategy, Sonic Epitaph, Holbrook, Blade Of The Ripper, Arafel and Chaotic Vengeance. 8 p.m. Early show! $5 Megadeth ticket and tattoo/piercing giveaways at midnight.
Friday, April 18 - Bizkit's 4:20 Bash featuring IntheClear, Asleep, Halfway Hollow, Slokill, XFactor1, Sever This Illusion, Witness The Reckoning and 88 Sins. $10 9 p.m.
Wednesday, April 30 - 93.1 Louisville Rocks showcase with Nova Red. 9 p.m.
Friday, May 2 - Derby Eve Bash with Sevendust and special guests Saliva. 6 p.m. $20
Friday, May 9 - The Original Rock Showcase Series: Subrosa, The Willing, Lithium (from Lexington) and Serene. 9 p.m. $5
Shooters
Sunday, April 20 Boozer, Screwface and Chaotic Vengeance. 9 p.m.
Uncle Pleasants
Thursday, April 3 - Beneath The Massacre w/ See You Next Tuesday, Born Of Osiris, The Tony Danza Tap Dance Extravaganza, Beaten To Death and Invitation To A Gunfight.
Saturday, April 5 - Kris Roe of the Atari's performs "Blue skies, broken hearts" w/ Nowhere Fast, Anvil's Away and Shindig.
Monday, April 7 - Between The Buried and Me, Giant and The Primal Love Made Me. 7 p.m. All ages. $15
Tuesday, April 15 - Modern Life Is War w/ Coliseum, Young Widows and Paralyzer. All ages. $10
Friday, April 18 - Hate Eternal w/ Soilent Green, SkeletonWitch, Toxic Holocaust and At One With Nothing. 7 p.m. All ages.
Monday, April 21 - Heaven Shall Burn w/ Embrace The End, The Ghost Inside, Casting Ashes, Nirvine and Exmortalis. All ages. $12
Friday, April 25- Brian Omer's birthday, bash featuring Stronecutters, Sowing Discord and Blackdamp (West Va.) 9 P.M
Wednesday, April 23 - Divine Heresy w/ Sworn Enemy, From A Second Story Window, With Blood Comes Cleansing and Dance Club Massacre. 7 p.m. All ages. $12
Friday, May 17 - Mayhem In May Day, 1: Incantation, Diabolic, Mortal Decay, Waco Jesus, Human Artifacts, Atrocious Abnormality, Goreaphobia, Exterminance, Solidification, Bloodsoaked, Cardiac Arrest, Kataplexy, Abominant, Created To Kill, Scars Of suffering, Rotting Rebirth and At One With Nothing.
Saturday, May 18 - Mayhem In May Day, 2: Vital Remains, Malevolant Creation, Demiricous, Estuary, Whorrid, Antikythera, Parousia, Skew, Aeons Of Eclipse, Ebonmortis, Coathanger Abortion, Sowing Discord, Nirvine, Colossi, Beaten To Death, Succumb To Demise, Killhouse Deluxe, Exmortalis.
Wick's (on Dixie)
Monday, April 14 - The Acoustipimps.
Saturday, April 19 - Nova Red, Thomas Medicine, Anna Lies and Intheclear.
Outtatownerz and Otherz
Saturday, April 5 - Cancer Benefit Show at the Miller Community Center in Leitchfield, Ky., featuring Prey For Maria, Red On Tap, Remain Tame and Black Sunday. Rock memorabilia auction after the show. 6 p.m.
Props Of The Month
I really don't have too much to say with props of the month this time around, but I would like to say I think it's great that the promoters (Nederlander Promotions) of the Gigan-Tour featuring Megadeth, should receive a big thanks for making this April 19 metal show possible.
'Thumbs up' to the Phoenix Hill Tavern and Kim Donze for putting on the big Derby eve outdoor bash featuring Sevendust and Saliva. It's gonna rock.