Scuttlebutt
Framing Hanley's Second Coming
Nashville's Framing Hanley made a tour stop on July 3 at Louisville's Club Oasis. Playing to a somewhat small audience, Framing Hanley introduced a new member of their band, guitarist Ryan Belcher, currently a Louisville resident. Belcher is native to Nashville, Framing Hanley's hometown and replaces original guitarist Tim Huskinson, who recently left the band (on good terms) due to family obligations. The rest of the band consists of founding members, Nixon, vocals, Brandon Wooten, guitars, Luke McDuffee, bass and Chris Vest drums.
Framing Hanley is a latecomer from that other mini-musical revolution that transpired right after true grunge began to fade - that being the screamo/emo genre of rock.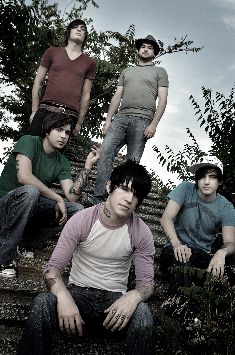 Framing Hanley.Photo by Tiffany Presley
Framing Hanley's sound, at times, is similar to bands like Thursday, Incubus, Story Of The Year, or 30 Seconds To Mars. If any of these artists hold any significance in your own musical dialect, then your estimation on Framing Hanley will probably follow suit.
When they claimed Club Oasis's stage, it was as if it were their own garage and what followed was an intense live set that seemed to pay no attention to the small crowd. Framing Hanley still, nonetheless, demonstrated an eagerness to get on stage and play leading up to going on. That was exemplified with all of them kind of pushing their way around on stage as soon as they opened their set. They remained at all times seemingly inspired to play their music. The majority of the crowd too seemed a bit inspired, something that was noted by many prying eyes on Nixon's every move for the entire set.
Framing Hanley brings a real sense of passion to their music, which is characteristic of the emo genre, but still is something that is undeniably perceptible in Framing Hanley's performance. They seem to understand that you really have to treat a live performance in the same manner as you do recording processes.
Speaking of recording, Framing Hanley is continuing to build on the success of their first major album, The Moment, released by the Silent Majority Group (Tantric, Candlebox) in late 2007.
Framing Hanley's first musical trait demonstrated on The Moment is that they write about the events that have shaped their lives and not necessarily to live up to any commercial obligations. As Nixon describes what inspires them to write he stated, "Every song on that record (The Moment) is about something that one of us, or all of us had been going through. Every song has a story behind it."
The album's first single, "Hear Me Now," is Framing Hanley's most inauspicious song is complete with shrieking backing vocals to Nixon's predominantly melodic chorus, both of which are laid over metalish guitars, making it a pretty remarkable emo anthem. "Hear Me Now" has been notably successful, most impressively being Sirius 20 Octane's most requested song for 2007.
One other song off their album, "Built For Sin," although not yet as popular as "Hear Me Now," may be the better song of the two. This song could possibly lead Framing Hanley's final effort for a push on The Moment before they head back to the studio to start recording their sophomore effort. Framing Hanley has already stated they have enough new material to write another record but that's still pending a final push on The Moment.
Make sure you check out Framing Hanley's website at www.FramingHanley.com where you can find out when they will be heading back to Louisville, something they plan to do in the not so distant future.