Cowboy Corner
Kentucky State Fair Heating Up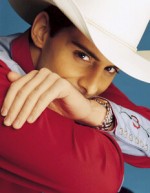 The temperatures are scorching and the calendar says it's August, therefore that can mean only one thing - it's Kentucky State Fair time! This year's fair, which will run August 14-24 at the Kentucky Fair and Exposition Center, is jam-packed full of great country music. "The Cowboy Town Tour" featuring Brooks and Dunn with ZZ Top and special guest Rodney Atkins will kick the fair off in style on Thursday, August 14. "The Paisley Party Tour 2008" featuring Brad Paisley, Jewel, Chuck Wicks and two-time "Dancing with the Stars"champ turned country singer Julianne Hough will kick things into high gear on Saturday, August 16. Saving the best for last, Trace Adkins will close out the fair on Sunday, August 24, with his "American Man Tour" featuring special guests Miranda Lambert and Keith Anderson. Tickets for each of these shows are on sale now, setting fans back $46 for Brooks and Dunn and Trace Adkins and $49 for Brad Paisley. These ticket prices all include fair gate admission.
If your wallet fares better with free concerts, then you continue to be in luck, as there are several free country concerts at this year's fair as well. The Oak Ridge Boys will make their annual appearance in the old Cardinal Stadium on Sunday, August 17. Josh Turner and Candy Coburn will perform on Tuesday, August 19. The "Country Gold Tour 2008" featuring Leroy Van Dyke and The Auctioneers, Jim Ed Brown, Helen Cornelius, Bobby Bare, Steve and Rudy Gatlin, and T.G. Sheppard will come to the fair on Thursday, August 21. And wrapping up the free concerts this year will be Travis Tritt on Saturday, August 23.
Rascal Flatts Heading Back to Louisville
As if the country shows at this month's state fair weren't enough, fans are being offered another treat as Rascal Flatts is bringing its "Bob That Head Tour" to Freedom Hall on Thursday, September 18. Trio members Gary LeVox, Joe Don Rooney, and Jay DeMarcus are bringing along a relatively unheard of newcomer by the name of Taylor Swift. Yes, THAT Taylor Swift - the most popular new country artist to hit the planet in the last couple years. Tickets for this must-see show went on sale July 26 and cost $67 and $49.75. Tickets can be purchased online at www.livenation.com or www.ticketmaster.com, at the Freedom Hall box office, or by calling (502) 361-3100.
Keith Urban Adopts New Name
Keith Urban has officially changed his name to "Daddy." That's right, Urban and his movie star wife Nicole Kidman welcomed their first child into the world last month. Daughter Sunday Rose Kidman Urban was born in Nashville on July 7, weighing in at 6 lbs., 7 ozs. According to Kidman's father, Dr. Anthony Kidman, his granddaughter's first name was inspired by Sunday Reed, a famed Australian artist around the turn of the century, while her middle name is in honor of Kidman's late grandmother, Rose.
Sunday Rose is the first child for Urban and the first biological child for Kidman. Kidman has two adopted children with her ex-husband, fellow actor Tom Cruise. Upon their daughter's birth, Urban stated, "We want to thank everybody that has kept us in their thoughts and prayers. We feel very blessed and grateful that we can share this joy with all of you today."
And following the birth of his precious daughter, Urban is changing the title of his latest CD from Greatest Hits: 18 Kids to Greatest Hits: 19 Kids. Well, he's not exactly changing the title in honor of Sunday Rose. Urban's current smash hit, a new recording of his previously unreleased "You Look Good in My Shirt," is being added to the new version of his greatest hits CD and will be available in stores on August 19.
Congratulations, Keith and Nicole on your new bundle of joy!
WRKA Goes Country!
Louisville fans of golden oldies music are a little upset these days, but one man's misfortune is another man's fortune. Louisville radio station WRKA 103.1-FM switched its format to country music on July 18 with no warning to listeners. WRKA 103.1 converted to New Country Q103.1, simulcasting the former 103.9-FM country station. Cox Radio in Atlanta made the switch because 103.1 is a stronger signal than 103.9, and they are trying to compete directly with country powerhouse WAMZ 97.5-FM. Q103.1 is touting that they are playing considerably fewer commercials than their giant rival, running a mere seven commercials per hour compared to WAMZ's twenty-something ads. Corporate "promises to play more music with fewer commercials, charge less for its ads than other country outlets, and eventually add live personalities."
At the time of this writing, it was still uncertain what would eventually come of 103.9 FM. It had been predicted that the station would introduce a new format before the beginning of August Oldies fans were hoping their favorite genre would return to airwaves, but that question remains unanswered.
Tim McGraw Ejects Fan from Concert
At his June 24 concert in Auburn, Wash., country superstar Tim McGraw was attempting to sing his smash debut single, "Indian Outlaw," but was distracted by an overly aggressive man who rushed to the front of the stage and attacked a female fan. McGraw called for security by yelling, "Get rid of this guy! Security!," but when security wasn't coming quickly enough for McGraw's liking, he took matters into his own hands and knelt down and began pulling 30-year-old Marcus Nirschl onto the stage. Crew members jumped in and helped McGraw and turned the obviously drunk fan over to local authorities.
Contrary to fellow concert-goers' reports, Nirschl told CMT that as he was making his way up to his seat during "Indian Outlaw," "I was getting shoved up against some empty seats, and I may have pushed some people when I was trying to get my balance, but I didn't grab nobody's hair, and I didn't hit nobody. I'm the nicest guy you'll every meet." Despite all of the negative publicity surrounding this incident, Nirschl claims he remains a Tim McGraw fan.
Hot New Country Albums
Record stores are busting at the seams with some hot new country music. Nicholasville, Kentucky's favorite duo, Montgomery Gentry, recently hit store shelves with their critically acclaimed disc titled Back When I Knew It All. The title cut, which just so happens to be the album's first single, recently hit the top of the Billboard country charts. The album also includes a duet with their current touring partner, Toby Keith, aptly titled "I Pick My Parties," a tune co-written by Terri Clark. Eddie Montgomery co-wrote two of the album's tracks himself.
Late last month the wildly popular duo Sugarland released what promises to be its best album yet when a 17-cut deluxe fan edition of Love on the Inside was released one week prior to a standard 12-cut version of the CD. Both versions of the disc are sure to blow the socks off fans and the deluxe fan edition also gives fans the chance to win the ultimate Sugarland fan pack. Platinum tickets are included in five copies of the deluxe edition, awarding the winners a round-trip ticket for two to Nashville, two tickets to the CMA Awards on November 12, tour merchandise, a meet-and-greet with duo members Jennifer Nettles and Kristian Bush, and a private performance. Both versions include the smash first single, "All I Wanna Do," as well as some very acoustic hard-core country, pop country, straight-up 80's pop, and much more. The deluxe edition offers fans five additional songs (two of which are live recordings) and access to Sugarland photos and exclusive video.
"The Possum," the legendary George Jones, will release a brand-new 'duets' album on August 19. Titled Burn Your Playhouse Down, the disc includes Rolling Stones member Keith Richards on the title track, Dolly Parton on "Rockin' Years," Mark Knopfler on "I Always Get Lucky With You," Leon Russell on "The Window Up Above," daughter Georgette Jones on "You and Me Time," and a previously unreleased duet with former wife Tammy Wynette recorded in 1977, titled "Lovin' You, Lovin' Me." Other artists appearing on the album include Mark Chesnutt, Vince Gill, Jim Lauderdale, Shelby Lynne, Ricky Skaggs, and Marty Stuart.
Fans haven't heard much out of Louisville's Patty Loveless in a while, but the long wait reportedly has been worth it. On Sept. 9, Loveless will release Sleepless Nights, which includes 14 classic country tunes from Loveless' childhood. Her vocals are reportedly hauntingly stunning on classics like Porter Wagoner and Dolly Parton's "The Pain of Loving You," Ray Price's "Crazy Arms," George Jones' "He Thinks I Still Care," Carl and Pearl Butler's "Don't Let Me Cross Over," Jack Greene's "There Goes My Everything," Webb Pierce's "There Stands the Glass" and "Why Baby Why," and Hank Locklin's "Please Help Me I'm Falling."
Kenny Chesney's XM Channel
Kenny Chesney is on top of the world these days and seems to have everything. Well, he might just have everything now that he has his very own radio station on XM Satellite Radio. "No Shoes Radio" premiered on XM on July 26 and will air through October 25 for subscribers. The station will play music from each of Chesney's albums, live concert broadcasts, recordings that have never been heard before, and interviews with some of Chesney's friends and fans, as well as some of Chesney's favorite music from fellow artists.
Tom T. Hall and Statler Brothers Join Hall of Fame
In a ceremony held in the Ford Theater at Nashville's Country Music Hall of Fame and Museum on June 29, Olive Hill, Kentucky's own Tom T. Hall and the Staunton, Virginia quartet The Statler Brothers were officially inducted into the Country Music Hall of Fame. Hall, known for hits such as "(Old Dogs, Children and ) Watermelon Wine" and "Harper Valley P.T.A.," was honored with performances by the likes of Bobby Bare, Michelle Nixon, Tony Mabe and Heather Berry. Hall was formally inducted and presented his Hall of Fame medallion by TV and radio personality and fellow Hall-of-Famer Ralph Emery. The Statler Brothers, known for hits like "Flowers on the Wall," "Elizabeth," "I'll Go To My Grave Loving You," and "Whatever Happened to Randolph Scott," were honored with performances by Reba McEntire, Daily and Vincent, and Grandstaff, a duo made up of second generation Statlers Wil and Langdon Reid. Country Music and Rock and Roll Hall-of-Famer Brenda Lee officially inducted Statlers Harold and Don Reid, Phil Balsley, Jimmy Fortune, and the late Lew DeWitt (whom Fortune replaced following his retirement due to illness).
Congratulations to Tom T. and The Statlers!
Well, that's it for this month. Here's hoping I cross your path at one of the many country concerts at this month's state fair. Always remember, "Keep your boots shined up and your hat on straight, 'cause country music is comin' your way."