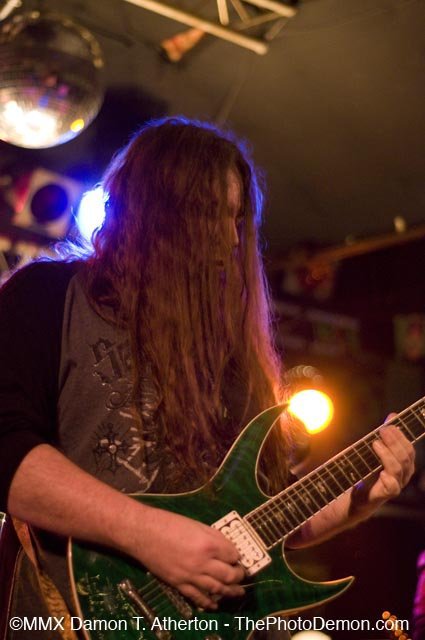 News From the Pit
I've been a busy bee lately, what with our new Free-Ride concert ticket giveaway system gaining serious momentum, trying to get my band going again (still needing a bassist; anybody?), planning my Florida Keys vacation (by the time you are reading this I'll be partying in the Keys, yes!), laughing at the drag queens who live across the street now (You'd crack up if my boss would let me tell you the stuff they do.) and checking out some national and regional shows as well. I got a bunch of good pics. You can see them online at Louisvillemusicnews.net
I got to see some guitar demons in action recently and it was awesome. Rob Arnold of Chimaira, Tracii Guns of LA Guns, CJ Pierce of Drowning Pool and Todd Evans of Mobile Deathcamp were all unreal on the six-string.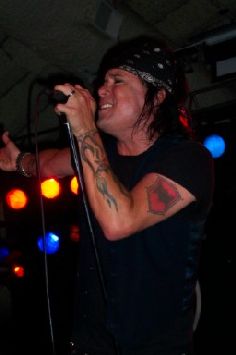 Bang Tango vocalist Joe LeSte. Photo by Eddy Burke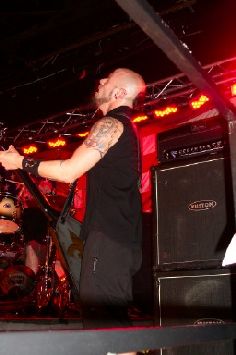 CJ Pierce of Drowning Pool. Photo by Eddy Burke
I went to see Filter, 10 years and a band called Opiate For The Masses. It was a decent show, though a bit too commercial for me, but LA's Opiate For The Masses made it all worthwhile. They were wicked and totally stole the show. It was kind of like Motley Crue meets Billy Idol meets Depeche Mode meets Powerman5000 or Rob Zombie. The drummer was sick on the drums and was quite the showman! The bassist was a hot chick in sexy attire that rocked. The sound at Coyote's that night was excellent, too. Make sure you check out some Opiate!
I saw a few Eighties hair-band national shows that were as different as night and day. One was excellent and one was pure torture. (Read my back-to-back reviews below) I got a chance to see both Chimaira and Drowning Pool at The Oasis Club and both were good shows.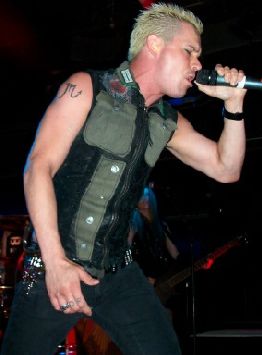 Opiate for the Masses vocalist Ron Underwood Photo by Eddy Burke
I went to get a good look at the new version of The Brewery Thunderdome so I could let you folks know what's up with that. (See Review)
There are some cool concerts coming up. For the metalheads, Bullet For My Valentine and Lacuna Coil at Coyote's on September 12. I've got free tickets to giveaway (read below). For the radio-rock lovers, you don't want to miss The Stone Temple Pilots live at Horseshoe Casino (formerly Caesar's) on Friday. August 16.
Eighties rockers Skid Row and The Bulletboys will be at Expo 5 on September 12; I'll have free tickets next month. Great White will at Expo 5 sometime in September (I'll have Free tickets to that, too). And trust me, you don't want to miss Mark Kendall on guitar, he's phenomenal.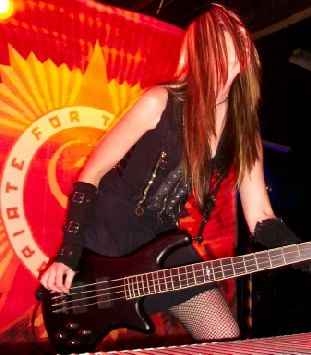 Opiate for the Masses bassist Anna K. Photo by Eddy Burke
LRSFest happens in September with Brett Michaels of Eighties glam rockers Poison headlining and believe it or not, he puts on a great show, even for a total metalhead like me.
Nine Inch Nails is coming to Rupp Arena in Lexington on August 31 and they rock live.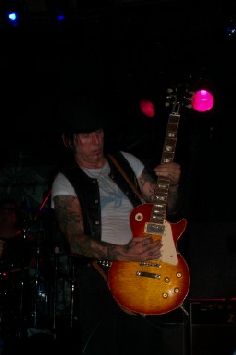 LA Guns guitarist Tracii Guns. Photo by Eddy Burke
As far as louevil rock goes, it's been kind of dead. There are a few good new bands out, including Blackroom, Lexington's Society's Plague, Kavehill and A Lesson Before Dying. Indiana's Shatterstone blew me away recently with their show at Phoenix Hill. However, it seems every neophyte in the scene wants to promote original music these days. It's cool to have options on what to do though, with so many regional concerts happening.
Well that's it for me this month folks.
Stay sleazy and be sure to send all your news and showdates to Eddymetal1@aol.com by the 19th of every month, because I can't print what I don't know.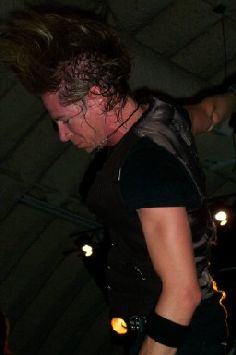 LA Guns singers Marty Casey. Photo by Eddy Burke
The Metal Grapevine
Free Concert Tix From LMN:
Turns out my concert ticket giveaways idea is a winner, because word is getting out. To win tickets, you have to email me at my MySpace account at the time specified for that individual event and I mean exactly on time.
These are some very cool shows we are giving tickets away to, so be sure to link up with me on my MySpace page for a chance to win tickets. The closest one after exactly 6 p.m. WINS. Myspace.com/eddymetalrocks
Free Tix To Stone Temple Pilots:
(FREE-RIDE) The Stone Temple Pilots will in concert at Horseshoe Casino on August 16. I've never seen these guys live and I'm the concert-going-est dude you ever saw. I'm really looking forward to this show; look for a review.
I have got 5 pairs of tickets to give out, so email me on Monday, August 11 at 6 p.m. sharp! Put "STP" in the subject line. Closest one to exactly 6 p.m. wins! Myspace.com/eddymetalrocks
P.S I would like to thank Horsehoe Casino for teaming up with us to do these awesome giveaways!
Bullet For My Valentine/Lacuna Coil Coming:
(FREE-RIDE) On September 12 at Coyote's, British metalheads Bullet For My Valentine will be pillaging through our town with Italy's Goth rockers Lacuna Coil opening. I can't wait for this show. I'll have a few pair of tickets to give out courtesy of Coyote's and LMN. More news on that in the September issue!
LRSFest, No Band Battle?
(FREE-RIDE) On Sunday, September 14 at Waterfront Park's Great Lawn, Brett Michaels, formerly of Poison, will be headlining LRSFest 10. In tow will be Trappt, Saving Able, Theory Of A Deadman, Foundation, Bobaflex and one Louisville band, determined by online voting. I'm disappointed that there will be no real band battle this year; that was the backbone of previous LRSFests. Having played LRSFest, I can tell you that the extended band battles were half the fun and brought attention to the whole event. It was a great time for original music bands and fans and now it's to be determined by online polling?
As for Brett Michaels, a lot of you will think that's lame and to be honest I always thought Brett Michaels was lame, too. I'm a fan of Eighties cheese metal, but never of Poison but after seeing him in concert a year ago, where they put on a great show, I'm looking forward to seeing them again. Even the younger crowd should appreciate the energy and effort that he brings to his performance.
Tickets are $25 and we will be giving away some free tickets to LRSFest, so be on the lookout for more information about that next month.
Skid Row/Bulletboys -Great White Coming:
(FREE-RIDE) On September 12 at Expo 5 Skid Row will be headlining with The Bulletboys opening. More ticket giveaway info next month.
Great White will be at Expo 5 in September, too. Expo 5 hasn't nailed down a date yet, so check out Expo5.com for updated info.
LA Guns/ Faster Pussycat/Bang Tango Review:
On Sunday, July 20 I tripped back in time to the mid-Eighties when life was easier and carefree and the cool bands were raunchy sleaze rockers like LA Guns, Faster Pussycat, Guns 'N' Roses and Motley Crue. While I was mostly a big fan of heavier bands like Maiden and Priest, I also loved the sleaze rock. Yours truly was a shining example of an Eighties rocker dude, my blonde hair five inches high, wearing black eyeliner! However lame that sounds, it was one of the best times in my life.
Back to the show (Sorry, I got worked up there quite a bit). Since I liked all three bands, I was excited about seeing them again, even though I had doubts that it would be anything like the original line-ups. I am very glad to report that these bands are still kicking ass live.
LA Guns' guitarist Tracii Guns was impeccable, Bang Tango's Joe LeSte's vocals were a work of rock 'n' roll art and the sleazy groove of Faster Pussycat's "Where There's A Whip There A Way" was all good. It was just what the doctor ordered for a 38-year-old rocker.
Bang Tango totally ripped it up with classics like "Attack Of Life," "Wrap My Wings" and their semi-hit, "Someone Just Like You" and even an AC/DC cover. Bang Tango's original guitarist was stile with them and he jammed! Joe LeSte reproduced almost every note from the old days. The crowd was going nuts and the band loved it.
The new singer of LA Guns is Marty Casey and he does a decent job. The vocals on "The Ballad Of Jane" were weak and not sustained nearly enough to duplicate the recording, but it wasn't horrible. The coolest thing was founding member and former Guns 'N' Roses guitarist Tracii Guns' guitar riffage. He's much improved and his sound was sweet. They played "Never Enough," "Sex Action," "One More Reason" and even a Pink Floyd cover "Comfortably Numb." Guns' bluesy riffage ruled as he proved to be the best guitarist of the night. (The Guns' second guitarist was his Tracii's son."
Next up was Faster Pussycat. Their bluesy melodies and Aerosmith influences had lured me in as a fan. They weren't like other glam bands of the Eighties, so I was stoked to see them. The first bummer was there was no Brent Muscat on guitar. He was the main songwriter and wrote one of their coolest tunes, "No Room For Emotion." Vocalist Taime Downe had gotten fat and was still wearing the weirdest clothes you ever saw. He looked like a cross-dressing ex-member of Marilyn Manson. Not matter how fat or how silly dude dresses, I still love his voice and his contribution to Eighties rock. He sounded pretty good, but it seemed like he was slackin' on some parts that required breath. They played "Bathroom Wall," "Babylon," 'House of Pain" and "Cathouse." Taime was the only original member, but the new guys were okay musicians.
This Eighties show was a blast and I can't wait to see more shows like this at Expo 5.
NIN Coming to Rupp:
A few years ago, I got to see Nine Inch Nails in concert for the first time and it was a cool show. On August 31 at Rupp Arena, Nine Inch Nails will return to Kentucky. I suggest you take a little road trip to check them out.
Chimaira Rocked:
When Club Oasis opened, the sound wasn't great, but they've corrected the problem and it sounded phat for the Chimaira show. There was a good crowd that came out to see a metal show from hell and that's exactly what they got.
I got there as Lexington's Society's Plague was going on. They looked very young but delivered a solid performance, featuring vocals with both actual singing and screams mixed well, decent leads and memorable rhythms. It was heavy but had a melodic edge that rocked and they had a female keyboardist who jams. The demo they gave me is good, too, with good sound quality and nice songwriting.. Be sure to check out Society's Plague. I'm going to book them if I can get in touch with them.
Then Mobile Deathcamp came on and shredded bigtime. Guitarist Todd Evans played for GWAR, but that is doody compared to what he does for this band. A huge biker-looking dude with tats everywhere, what Evans does do is wail on his guitar, old-school style, sort of like Overkill, leads and all. His guitar tone and lead sound were commanding. The vocals were adequate.
Then came Louisiana's Soilent Green, a solid band, but one that didn't do anything for me, musically. Definitely good musicians and cool riffs, but Ben Falgaust's vocals killed it for me. I'm listening to them now and dawg is making my buzz go away with his cookie monster schtick. Next?
Then came the band I had been waiting months for: Chimaira. If you have never seen this Cleveland, Ohio metal band before, imagine getting hit in the face with a sledgehammer, but in a good way! That would be Chimaira. I saw them last year at sounds Of The Underground and they were unreal. Rarely does a band come across with such a tight performance. It seemed like an unstoppable freight train of thrash metal with groove and killer guitarwork from two excellent players who have recently have gotten their own signature ESP guitars. Rob Arnold, the main lead player for Chimaira, has his own guitar instructional video out, called "Metal Guitar; Songwriting, Riffing and Soloing."
Make no mistake, guitarist Matt Devries is also a bad boy on the axe. Mark Hunter's vocals go perfectly with the music and that makes it all that much better. Sometimes hardcore, sometime thrashy, sometimes high screeches, sometimes extended notes, dude can do it all. The drums and bass are great, too, to keep up with these maniacs.
The band played a average length set, with "Resurrection" and "Worthless" as the highlights. Only true metal fans like Chimaira, so if you are a wuss, you probably won't like them.
Dizzy Reed Sucked, Bad:
Words cannot describe how bad Guns 'N' Roses keyboardist Dizzy Reed's cover band was when I caught them at Expo 5 a few weeks back. I had researched his cover band Hookerz 'N' Blow and I heard they rocked, so I had great expectations. Louevil cover band XS opened the show with a terrific set (coulda done without the Bon Jovi though!) of Eighties rock that had the crowd jamming. Then Dizzy and his so-called All-Star band - none of whom I recognized - came onstage and began to slaughter classic tunes. It wasn't that the music was bad - the band was actually decent - it was Dizzy's voice that sent mofos running for 7th Street Road.. Dizzy Reed plays great piano/keys, but he is simply NOT a singer. Dawg sounded like a wounded, whiny Bassett hound missing his mama. I tried to watch but I had to go halfway through the set. I was not the only one who thought Dizzy sucked either, as there were several genuine Kentucky rednecks yelling at Dizzy. It was crude and uncalled for. If you don't like the music at a show, LEAVE. Insulting a band to their face is just plain being a d**k.
They played classic Guns 'N' Roses tunes and a few other classic rock tunes, including a The Rolling Stones tune. Dizzy could not hit the high notes required in G N' R songs. And G 'N' R without Axel's high screeches is like Rasta music without weed.
Despite Dizzy's hideous voice, I'd still like to thank the venue and promoter for trying to help this scene out by booking something different and taking that risk that promoters take. I'm ready to see more headlining bands at Expo 5, but please, "Death Before Dizzy."
The Brewery Thunderdome:
Ok, here's the dealio. The creation of this venue has been much heralded and lots of money has gone into getting the place up and going. A less than desirable review was printed in Smell-Ah-Sity, but what do they know? I went down there myself to see if it resembled the legendary Thunderdome of 11 years ago.
There's good news and there's bad news. The good news is that the place is pretty cool. It's about half the size of the old place, but it does still have a cool stage that is pretty high up, and they still have a balcony where you can look down and see the show from above. The outdoor wooden deck is as it always was, cool. You can see two bands at once, one inside and one outside on the Moondeck. They plan to open the rest of the premises in due time.
The security and management were very nice to me and went out of their way to show me around and let me know what's up with the venue. The security and bouncers there are cool as long as you don't act stupid.
The bad news is that, while the stage was great, the sound needed a bit of work. It wasn't horrible, but there was a little bit of distortion in the vocals, which is not good, especially if your singer has clean melodic vocals. I thought maybe a horn in the PA was busted or something. Concrete blocks surround the room, so that could be a factor, like Jillian's. Even with a monster PA, the sound was often bad. It was because of the concrete walls! The management said they were going to put more money into the PA soon.
The bottom line is: It is not the huge Thunderdome of old where Megadeth, Korn, Judas Priest, Soulfly, Limp Bizkit played yet, but they're working their way up to that again, so cut these guys some slack. It's is a cool place for original talent to be showcased.
Original bands should be happy with another venue to play at, so contact the Brewery Thunderdome and see about playing there. However, the club is new and struggling to get going, so don't expect to make a lot of money playing there till they get established a bit more. So you bands who need a guarantee to play, you might want to find the payment details out first before you commit.
No Mo' Metal at Wicks:
I heard that the GM at Wicks on Dixie doesn't like metal music, so they probably wont be having metal shows anymore. Since when does personal musical preference have anything to do with successful booking? So does that mean if he likes Garth Brooks, then that's the music they'll book? Look at the Phoenix Hill for example, which is not a metal bar, but they have successfully booked metal bands over the years. Hearing this brings back memories of when Tailgaters banned metal music a few years back. From what I hear, the metal crowd has embraced Wick's on Dixie as a supporter of ALL regional music. Incursion, Caldera and Antikythera said their shows were always packed there, so it can't be attendance. It feels like a kick in the face to the fans, most of whom are not happy about this. I've given Wick's much props in my column for being fair, but if this news is true, then I will be forced to change my opinion.
To you Mr. GM, it's not about what you like, dude, it's about being fair and supporting all genres of Louevil music. If there is a problem, maybe it can be worked out, instead of blacklisting a certain type of popular music. It would be wrong to stab the metalheads in the back, as they have supported Wick's since original music began to be booked. Peace.
Nathan McDaniel Endorsed By Rico JR Guitars:
Foundation guitarist Nathan McDaniel has been endorsed by Bernie Rico Jr. Guitars and is coming out with his own signature model. The guy who invented BC Rich is Rico Jr.'s father. Rico Jr. guitars are rare but are wicked. They are evil looking or classy looking and are high-quality instruments. They have the wickedest-looking "V" guitar I've ever seen. I want one bad. Check out the crazy guitar shapes. Ricojrguitars.com
Prey For Maria:
I just got to see Leitchfield Kentucky's Prey For Maria again recently and they sound really good. They're very nice people and as appreciative musicians as you can find. They have come into their own and are sounding better than ever, maybe taking the place formerly held by the band Never The Man for top female-fronted band. Jessica Clemons' vocals were very powerful and focused the night I saw them. The only thing they need to work on is publicity.. If you like Lacuna coil and Flyleaf, do yourself a favor and listen to Prey For Maria.
New Band Alert, Snapped:
I'm checking out a new heavy metal band called Snapped and they sound pretty decent, though I'm not digging the guitar tone at all. Sounds like a Crate amp. Aside from that, I like everything else: the songwriting and vocals are okay, the riffs are cool. No hardcore, just straight up metal. I'd like to see this band live.
Vocalist Damien Thorn has a weird vocal effect that's different. The quality of the recording is sub par but at least you can hear everything. The guitar riffs are not the most technical stuff but there is a groove happening here and that's what's important. Check out these evil guys, I think you'd dig them. Myspace.com/snappedsnapped
New Band Alert, A Lesson Before Dying:
A Lesson Before Dying is former members of Slokill. I saw them recently for the first time and I dug it. Usually rap metal isn't my thing, but this stuff sounded pretty good. Todd, one of two Slokill singers does a good job. Unfortunately the Taproom at the Hill doesn't have a sufficient sound system for a full band, so I didn't get to hear them full force. I could hardly hear the vocals at all, but the band sounded very promising. I can't wait to hear them on a good sound system. They'll be in the Roof Garden on Friday, September 5, so be there to check out this new band.
LMN Writer Jason Ashcraft:
Jason has picked up a gig as a contributing writer for Performer Magazine. His first story will be reviewing the Forecastle Festival and it will be in the October issue. I congratulate and all of you be sure to check that October issue out. www.performermag.com
Upcoming Shows
Bulldog Cafe
Wednesday, August 6 - Gwen Stacy and Red On Tap.
Saturday, August 9 - Arafel, Intent To Kill, For The Fallen Dreams, American Me, The White Lotus, Maude Flanders, Everyman and others T.B.A. $10 All ages. 4 p.m.
Coyote's
September 12 - (FREE-RIDE) Bullet For My Valentine and Lacuna Coil. 7 p.m. See next month for free ticket info.
Expo 5
Friday, August 15 - David Allen Coe. 7:30 p.m. $20 21 and over.
Friday, September 12 - (FREE-RIDE ) Skid Row and The Bulletboys. More info next month)
Headliners
Tuesday, August 5 - Thrash And Burn Tour 2008: Darkest Hour, Misery Signals, Parkway Drive, Stick To Your Guns, Winds Of Plague, Arsisi, Light This City, Arsonists Get All the Girls and After The Burial. 6 p.m.
Thursday, August 7 - Kingdom Of Sorrow (members of Down, Hatebreed and Crowbar)with Scum Of The Earth, Oblige, Descention and Morning Augment. $15 All ages. $17 DOS.
Tuesday, September 2 - Necrophagist with Dying Fetus, Beneath The Massacre, Veil Of Maya, We Speak Texan and Pig Vomit. 7 p.m. $15 All ages. $18 DOS.
Horseshoe Casino of Southern Indiana (formerly Caesars)
Saturday, August 16 - (FREE-RIDE) Stone Temple Pilots. (Warning: get tickets now!) 7 p.m. Ticket giveaway is on Monday, August 11 at 6 p.m. sharp. Email me at Myspace.com/eddymetalrocks.
Club Oasis
Sunday, August 31 - 32 Leaves and Hanover. $10 All ages.
The Phoenix Hill Tavern
Friday, August 1 - "Simply Wicked" featuring 5 heavy as hell bands. Arafel, Sever This Illusion, Deliver Us From Evil, Grinstead and Consume Consumer. 8 p.m. $5
Friday, August 15 - Wasted Music Fest with Boom Orangutan, Siren Falls, E-Flat, Pillhouse, Hanover, Velvet Saints and A Lesson Before Dying. 10 p.m.
Friday, September 5 - Shatterstone, Blackroom, Kavehill, Descention and A Lesson Before Dying. 8 p.m. $5
Shooter's
Saturday, August 23 - Snake Eyed Savior, Screwface, Thomas Medicine and Cristine (TN).
Uncle Pleasants
Friday, August 1 - Emmure, A Life Once Lost, Tony Danza Tapdance Extravaganza, Veil Of Maya, The White Lotus and Rainboots. 7 p.m.
Monday, August 11 - 36 Crazyfists and Walls Of Jericho, Chuck Norris Wont Die and Nothing Wrong. 8 p.m.
Wicks on Dixie
Saturday, August 9 - After Elvis (TN), Anton Mink and Tri Tones.
Saturday, August 16 - Prey For Maria, Siren Falls, The Layzees and Ashes Eve. 9 p.m.
Saturday, August 23 - Facedown and Stone The Crow.
Saturday, August 30 - Porno Fishtank, Orange Sky and 13th Sunday
Props of the Month
This month's props go out to the people over at the Club Oasis, for working hard to try to get that club going for us Louevil rockers. The Oasis really is a nice venue and so far the people there have been real cool to us here at LMN. They have been booking national acts as well as regional acts, so that's a good thing.
At the first show I caught, the sound coming from their PA system was iffy, but now they have things under control and it sounds a lot better. They were nice enough to do some ticket giveaways too. Good club. Good people!
So thanks for putting forth the extra effort to provide this city with another cool place to see national shows and for giving original musicians a place to play. If you haven't been to The Oasis Club, get your rumps out there!
It's all ages too! Exactly what you young rockers needed. The outside deck is sweet too.