I've Got A Mind To Ramble
Sweet Home Chicago: Part 2
Last month I covered the first two days of the 2008 Chicago Blues Festival, which took us only to the midpoint of the largest free blues festival in the world. For this four-day event, you have to get in training, especially at my age. You learn to be a survivor living on the streets (Jackson and Columbus), going from one of the six stages to another, hoping to be at the right place at the right time. You soon realize it is impossible to see all ninety performances, so you check the daily schedule and select what you want to hear the most. You learn how to cope with elements like the hot sun, the sudden shower, the gusts of wind and the hundreds of thousands of people who are there with you. When the backdrop of the Chicago skyline lights up in the evening and the sounds of the blues reverberate out from the Petrillo Music Shell, you know it is all worth it.
Day Three, June 7. Today was a chance to hear some refreshingly new and unknown talent. The Ealey Brothers had a family reunion with Theodis, the youngest at 61, sharing the Mississippi Juke Joint Stage with "YZ," 71 years and David, 81 years. Theodis told a story and then he said "I wrote a song about it, you want to hear it?" We all said "yes." Then he sang, "If You Leave Me Baby, I'm Going With You." Each of the older brothers had a chance to solo. This performance marked an historic moment. It had been many years since this trio performed together as YZ Ealey and the Merrymakers in Mississippi.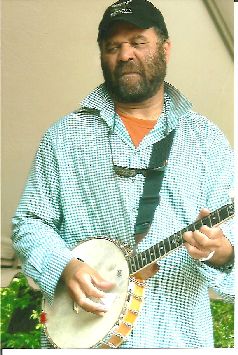 Otis Taylor. Photo by Keith Clements
Charles Hayes and the Hayes Family Band came down from Racine, Wisconsin to show they can play Chicago blues as well as any of the local bands. The Hayes' are heavy on guitars and Ms. El, a cousin of the brothers, sang "Hound Dog" like Big Mama Thornton. The steady romping beat of North Mississippi blues is some of the most inspiring music played today.
The Juke Joint Duo of Lightnin' Malcolm on guitar and Cedric Burnside on drums continues to keep the hill country sound alive. Their set paid tribute to R.L. Burnside and Junior Kimbrough plus featured several of their own originals. The powerful sound that came from these two energetic musicians was magnetic with the crowd.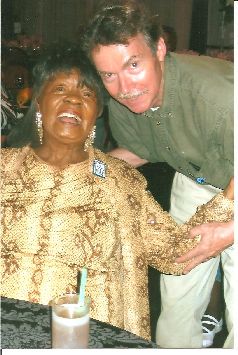 Koko Taylor and Keith Clements.
I took a break from the evening show to visit the Navy Pier, which is like a permanent carnival that juts majestically out into Lake Michigan. But it was soon back to Columbus Drive to get on the bus for KoKo Taylor's Blues Cruise. Everyone was primed for a good time with the "Queen of the Blues" sitting in the front seat. The first stop was Captain Hard Times, a classy club on the south side where we loaded up on a buffet dinner and were entertained by the Columbia College Blues Ensemble under the tutelage of Chicago guitarist and harpist Fernando Jones. Deloris Scott, who reminded me of a young Mary Ann Fisher, serenaded us and KoKo danced. The next stop was The Rockin' Horse that is owned by KoKo and her husband. The club has all the trappings of a blues joint, with gold tinsel hanging around the bar and an alcove in the back where Joe Barr and The Soul Purpose Band was playing. The walls that surround the band were covered with wanted posters of all the patrons and KoKo's name was painted in a blue star on the ceiling above the band. Joe drives his band with his Yamaha keyboards and a powerful gospel-laden voice. At one point, he roamed the room singing a cappella to all the ladies "I've changed, I'm not the same person I used to be." He may not have won over any hearts but he did get several dollar bills stuffed in his shirt. Our final stop was Lee's Unleaded Blues at 74th and South Chicago. The place was packed when our bus arrived well after midnight, as Lee's is one of Chicago's most popular South Side clubs. Johnny Drummer and the Starlighters has been the house band for years. Johnny is a showman alternating between his harp and keyboards. Deloris Scott showed up again to sing "I Got To Sleep With One Eye Open." KoKo closed out the late night set singing several choruses of "Wang Dang Doodle" with the crowd answering ""All Night Long." When we returned to our hotel, it was 3:30 a.m. and there was one more day to go just a few hours away.
Day 4, June 8. Late Sunday morning the heavens opened up with a torrent of rain. When it had passed, I returned with dry clothes just in time to hear Marie Knight sing "Didn't It Rain," a song she recorded with Sister Rosetta Tharpe fifty five years ago. Otis Taylor pushes the blues to its deep inner limits with his haunting, moody lyrics of social injustice conveyed with a variety of string instruments including playing the banjo played with a slide. He was assisted by his daughter Cassie on bass, John Richardson on guitar and a spritely young lady on violin. Their set culminated in a swinging string jam.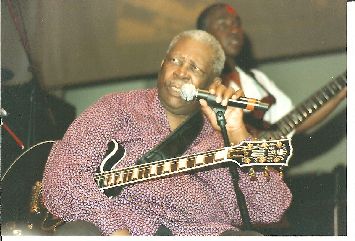 B.B. King June 8, 2008. Photo by Keith Clements.
It was soul blues time at the Crossroads Stage with Charles Wilson. He continues that southern blues circuit tradition like his uncle, Little Milton. There was a panel discussion going on at the Route 66 Roadhouse tent between blues gurus Jim O'Neal, Larry Hoffman, Bill Gilmore and Nate Lawrence about the future of the blues, with several musicians including Eddie Shaw chiming in. The spirited debate got down to who has the ownership of the blues, blacks or whites?
The Petrillo Music Shell was quickly filling up in anticipation of Riley B. King, who had not performed at the Chicago Blues Festival in twenty years. The King of the Blues is eighty-two and still continues to tour the world. There were lots of accolades before his show, including an award from Mayor Richard Daley and a brief introduction from Buddy Guy. Lonnie and Ronnie Baker Brooks plus KoKo Taylor were seated at the side of the stage. B. B. has had to perform sitting down for several years due to his diabetes, but he sometimes stands up to impress the ladies. James "Boogaloo" Bolin has been his band manager for twenty-nine years. You can't miss him. He is the trumpet player who rocks his head to the rhythms. After a lot of jiving with the appreciative crowd, B.B. closed the festival with "Three O'Clock Blues." Buddy Guy invited B.B. to come by his club, Legends, following the show for some smothered catfish.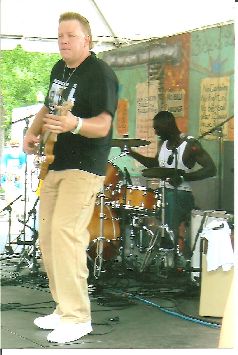 Lightnin' Malcom and Cedric Burnside. Photo by Keith Clements.
The 2008 Chicago Blues Festival will go down as one of the best and I will have to stay in training for the next one.
Harry and Huddie
It was sad to learn of the passing of Harry Lewman on July 8. He was only fifty-eight. He had been suffering from a rare blood disease that very few knew about. Harry was not one to complain.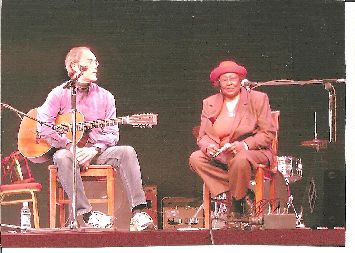 Harry Lewman and Tiny Robinson, Port Townsend, WA Blues Festival 2002
I got to know Harry when he was on the Board of Directors of the Kentuckiana Blues Society from April 1994 to February 1997. He was the authority on Huddie Ledbetter (Leadbelly). Harry could play Leadbelly's songs impeccably, note for note, on his twelve-string guitar. Harry didn't have Leadbelly's deep, resonant voice but he did his best in his own way. Harry's mother, Cordelia, told me the story of when the lyrics and transcriptions of thirty-one of Leadbelly's songs were going to be published. Harry read and played the notes and found them wrong. He contacted the publisher and the publisher asked Harry to come to New York and work with them to make it right. Hence the book "Lead Belly, no stranger to the blues" was published with Harry's important contribution.
Harry became acquainted with members of Leadbelly's family, including Tiny Robinson, the niece of Leadbelly's wife Martha. Tiny had looked after her uncle's business interests and funeral service in 1949. In August 2002 Harry and Tiny appeared together at the Port Townsend Blues Festival in Washington, with Harry performing and Tiny sharing her memories. Harry's only CD, Gonna Be The Death of You, was released in 1998. He paid tribute to Leadbelly and other twelve-string pioneers like Barbecue Bob and Blind Willie McTell plus a brief interview with Tiny.
After Linda Cushing passed away in February 2001, Harry and Dan Colon resurrected the Wednesday open stage jams at Air Devil's Inn. Harry and his then wife, Claire, opened their home to a House Concert in December 2001. They hosted a memorable evening of traditional Piedmont and Delta blues by Paul Geremia.
During the visitation at Pearson's Funeral Home, Jimmy Brown and I exchanged some memories of Harry. Jimmy, who plays bass with Bodeco, said that lead guitarist Ricky Feathers wanted to have some sitar music to open their show at the Pour Haus on May 31. Jimmy remembered that Harry was getting interested in the music of Ravi Shankar and had started playing the sitar. On short notice, Harry agreed to open, provided he had a young lady go through the motions dancing to the ethereal string music. Jimmy said it was quite an eye opener for the crowd who came for just some raw rock and roll.
I will always remember Harry as a kind, gentle soul who was devoted to his particular niche in the blues. He can be proud of his son, Curtis, who carries on the tradition of playing guitar in several jazz and fusion groups.
So long Harry, "Good Night Irene."