Scuttlebutt
The Louisville Rock Venue Review: Thunderdome
The reopening of the Thunderdome on June 28th aroused quite a curiosity amongst many Louisville concertgoers, musicians and probably even other neighboring live music venue owners.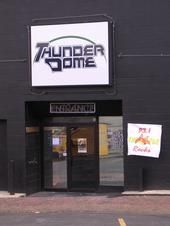 Thunderdome
During the mid to late 1990's - the Thunderdome's glory days - almost every national tour that frequented Louisville made a tour stop at the Thunderdome. During that time, this was the place to see a concert. For those of you too young to remember the original Thunderdome, poor you, but secondly, beware. The new Thunderdome does not even come close to living up to the mystique that the original Thunderdome established during the late Nineties. For all the veteran concertgoers and musicians, well, it's like waking up from a one big wet dream. Neighboring live music venue owners, rest peacefully; your livelihood is not threatened.
Unfortunately, I was asked to leave before I could complete my assessment of the Thunderdome. Nonetheless, here is a rundown of the essentials:
Entertainment
One of the things they did right was book such prominent Louisville artists as Heaven Hill, Bryan Fox, Kevin McCreary, Dead City Rejects, Primer 55 and MSD, along with quite a few other notable acts.
According to several artists who have played the Thunderdome, however, getting paid has turned out to be a bit of a hassle, even after receiving a guarantee from the Thunderdome's management. If this trend continues, don't expect to see any artists play there twice, or possibly, at all.
The sound, however, is another matter. The best way to describe it is that it sounds like a bunch of echoed gargle in a metal garage or pole barn. Seriously. Some bands are capable of producing better sound quality in the basements they rehearse in.
The soundman is a competent pro, but the room is a problem. Having a crowd of people will usually help prevent some of the sound waves from bouncing around so much and producing the excessive echoing effect - feedback - if there are no other sound proofing elements in place, which there are not. Regrettably, the current sound setup just drowns out some artists' better qualities of musicianship.
Prices
Simple stated, it's expensive. You'll first pay anywhere from $7 - $10 to walk through the door. And make sure you only bring cash, because they do not accept credit cards.
It's $6 for a well drink, served in an eight-ounce plastic cup. Of course, if that mixed drink is served a little stronger than you like, be prepared to shell out another $2 for more Coke and to upgrade to a twelve-ounce plastic cup. Cans of beer run $3 each and are also served with a plastic cup.
A margarita will set you back $8. It, too, was served in a plastic eight-ounce cup, garnished with a slice of, um, aged lime.
Whatever you order, just be sure you pay them promptly and with little resistance, - I asked for more Coke in the bourbon and Coke I ordered - otherwise the bartender may opt to call security, which is what happened to me. Time to leave.
Hope you have better luck then I did!