BÉLA FLECK & THE FLECKTONES AT THE BROWN THEATRE
By Martin Z. Kasdan Jr.
Béla Fleck & the Flecktones return to Louisville on Saturday, December 6, at the Brown Theatre. The lineup has remained stable since 1997, when saxophonist Jeff Coffin joined Fleck, bassist Victor Wooten, and drummer Roy "Future Man" Wooten. They are touring in support of their new release, and first holiday recording, Jingle All the Way (Rounder Records CDROUN0616). The opening act for this concert is the Alash Ensemble, who are Tuvan Throat Singers. [Disclaimer: I wrote a preview for the Kentucky Center's BackStage Pass magazine, which did not include the interview segments nor comments on the releases by Coffin and Wooten, below.]
In an e-mail interview, Fleck responded to the following questions:
1) After touring with such diverse artists as Chick Corea and the Sparrow Quartet this past year, how does it feel to get back with the Flecktones? What do you feel you bring back to the Flecktones after such wide-ranging experiences?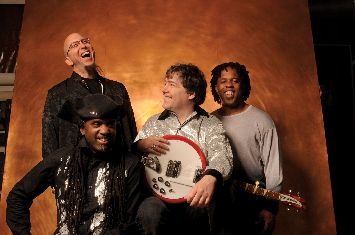 Béla Fleck & the Flecktones
"It is really fun to be back with the 'tones. We have known each other so long that there is a comfort and a 'coming home' feeling to getting back together. It also feels like a special occasion since we have been apart so much of late. Everybody brings the sum of their experiences back to their group, hopefully new ideas from each of us inspire..."
2) How did you get started in your collaboration with Alash?
"Alash got in touch with us because they knew of our collaboration with Congar'ol Ondar, the foremost Tuvan throat singer. They were in the States and wanted to meet us, I thought it was great opportunity and we invited them to record with us on Jingle All The Way . It went great, so we decided to ask them to do some shows with us."
3) Will the holiday show be exclusively holiday music?
"We will do a good bit of the new Jingle material but also plenty of our older stuff and some collaborative stuff with Alash as well."
4) Are there plans for a non-holiday Flecktones CD in the near future?
"Nothing is set in stone, but we are talking about it."
The Flecktones are far more than a backup band for the exploratory Fleck. Jeff Coffin recently released Mutopia (Compass 974473), featuring "Futureman" on drum set (rather than the Synth-Axe Drumitar percussion synthesizer he customarily plays in the Flecktones), Felix Pastorius on electric bass and Kofi Burbridge (from the Derek Trucks Band) on keys and flute. They are joined by many gusts on individual tracks, including Fleck. However, the musical vision is clearly Coffin's. He comfortably straddles the worlds of post-bop and funk. Standouts include the bluesy ballad "Turiya," for the late Alice Coltrane, "L'Esperance," which moves from a kalimba and flute introduction to a section of African-sounding modal jazz, and "Sweet Magnolias," whose Gospel roots are so deep the listener almost expects to have a collection plate passed.
Victor Wooten released the intriguing Palmystery (Heads Up HUCD-3135) earlier this year. The personnel varies throughout, as does the music. Nonetheless, there is a unity of vision here, which incorporates influences ranging from Return to Forever (on "Flex") to Earth, Wind & Fire ("Miss U"). It goes without saying that Wooten's playing is virtuosic throughout. He also makes up one-third of S.M.V. , which stands for Stanley Clarke, Marcus Miller and Victor Wooten. Their debut release is Thunder (Heads Up HUCD-3163). What could have turned into a showdown or an overly busy outing turns out to be a showcase for the prodigious talents of these three bassists.
In short, the upcoming Flecktones concert should be a treat for music lovers.