Jazzin'
PRELUDE:
Happy Hanukkah, Swingin' Solstice, Merry Christmas, Contemplative Kwanzaa to all.
RIP, Jimmy Carl Black and Mitch Mitchell
The past few weeks have brought the sad news that two of the rock world's more jazz-influenced drummers have passed away. Jimmy Carl Black played with the original lineup of the Mothers of Invention, which I was fortunate enough to have seen here at Changes Unlimited circa 1968. Thanks to local progressive band Ut Gret, I was again able to see original Mothers drummer Jimmy Carl Black last year at Uncle Pleasant's. He will fondly be remembered by many for his tagline on an early Mothers album: "Hi boys and girls, I'm Jimmy Carl Black, and I'm the Indian of the group." For a taste of his jazz side, listen to "King Kong" from the Mothers' Uncle Meat album.
Only a week before his passing, a 2-CD set by guitarist Jon Larsen entitled The Jimmy Carl Black Story (ZEN 2003/2004, distributed by Qualiton Imports, www.qualiton.com), arrived. The first CD of this two-disc set features a mix of jazz, rock, and a somewhat surreal story line, with typically tongue-in-cheek dialogue by Black interspersed. The second disc is entitled The Rockumentary . Although I rarely listen to spoken word CDs, this one is special. For almost 71 minutes, Black reminisces about his life and work. While much of it involves Black's early days through his stint with Zappa, it continues through his recent life and work. He is amiable and has a seemingly photographic memory, with comments on artists from the '60s, including Jefferson Airplane, Janis Joplin, and others. This release may have a relatively limited built-in audience, but for fans of Black and Zappa, this is essential and serves as a final tribute to Black.
Mitch Mitchell , of course, was best known as the drummer for the Jimi Hendrix Experience, as well as many subsequent lineups led by Hendrix. His brushwork on "Up from the Skies" was as jazzy as it gets, and his explosive work on "Manic Depression" seems inspired by the work of Elvin Jones. As Hendrix fans know, toward the end of his life he was expressing an interest in jazz, and Mitchell would certainly have been the drummer to have helped Hendrix fulfill his vision.
RECENT CONCERTS
EQ TRIO and JACOB DUNCAN/CHUCK MAHRONIC AT THE COMEDY CARAVAN
With little advance notice, two excellent local jazz ensembles played to an attentive and appreciative audience at the Comedy Caravan on Tuesday, October 28. Opening was the EQ Trio, led by saxophonist Drew Miller, with keyboards by Wade Honey, bass by Brian Vinson and drums by Mike Hyman. When I caught part of their performance at the Kentucky Center's 25th Birthday Party on October 12, the EQ Trio was, in fact a trio (sans Honey). Regardless of the quantity of musicians onstage, it was the quality that mattered, and EQT's quality was high indeed. The repertoire ranged from jazz classics such as Billy Strayhorn's "Upper Manhattan Medical Group" and Horace Silver's "Peace" to originals, such as the funky "Spun Out," during which Hyman's drumming reminded me of Mike Clark. Joe Lovano's "New York Fascination" sounded like "Ornette meets Monk," and featured a virtuoso solo by Vinson. Miller's a cappella solo led to Monk's "Ask Me Now." The band closed with another funky original, "Millstone." This is a group that bears watching.
Saxophonist Jacob Duncan, the driving force behind Liberation Prophecy, and veteran keyboard artist Chuck Mahronic took a chamber jazz approach. On some songs they were joined by Craig Wagner on acoustic guitar, and Amber Estes provided vocals (sometimes soaring wordless singing, sometimes singing lyrics) for portions of the set as well. With the exception of Jimmy Rowles' "The Peacocks" (performed as a beautiful sax and piano duet) and the closing song by the Beatles, "Mother Nature's Son," all the music was original. I was particularly intrigued by a song Duncan wrote for his son, "Child of All Nations," which featured intricate interplay by Duncan, Wagner and Mahronic. Duncan mentioned during the set that he and Mahronic perform as a duo, and the empathy between them was clear. By switching format from duo to trio to quartet, this lineup of musicians presented a delicate tapestry of jazz.
HARRY PICKENS BENEFIT CONCERT
On Saturday, November 8, pianist Harry Pickens presented a concert at the University of Louisville's Comstock Hall to benefit the orphans of Maria Ndimuzigo. Ms. Ndimuzigo was a refugee from Burundi, who was killed by a hit-and-run driver in October. Pickens was accompanied by bassist Chris Fitzgerald, guitarist Craig Wagner and drummer Daniel Falter, with a guest appearance by harmonica wizard Rodney Hatfield (a/k/a "Art Snake"). There was also a performance by the Burundi Community of Louisville Singers. Pickens, as always, played superbly and hearing him get down with Hatfield on two blues numbers was a special treat. The Burundi Singers segment of the concert flowed into an improvised pair of gospel-influenced numbers by Pickens, before he closed with an audience singalong to his original "We Are All America." Pickens must be commended for not only his artistry, but for his commitment to sharing his gift in the service to others.
JENNIFER LAULETTA CD RELEASE PARTY
Singer Jennifer Lauletta has just released The Mind of Love: Jennifer Lauletta Sings the Songs of k.d. lang. It is self-released, available at her concerts, and through her website, www.jenniferlauletta.com, and also available for download at Rhapsody and Amazon.com. In celebration of this recording, she gave an especially moving performance at the Comedy Caravan on Sunday, November 16. As on the album, she was accompanied by Steve Crews on piano. Sonny Stephens was her bassist, and she was joined for some pieces by her husband, Joe Lauletta on drums and Greg Walker on guitar. I had to leave before the end, but Todd Hildreth added his accordion before the night was over. The musicians were all wearing tuxedos, which added to the special feeling of the night.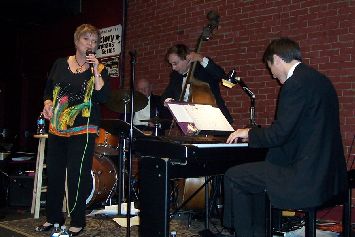 Jennifer Lauletta and band. Photo by Martin Z. Kasdan Jr.
She opened not with a song from the new CD, but one from what she called "my first jazz CD," the classic "Fascinating Rhythm." This served to warm up both the band and the audience. "Shadowland," from the new disc, was next, and could have been a torch song from an earlier era. Lauletta remarked that the next piece, "Summerfling," was a calypso as performed by lang, but she slowed it down to beautiful effect, with Crews' piano flowing gently into Walker's guitar. "The Things We Said Today" was an affectionate, uptempo nod to the Beatles, and was followed by three more from the new release: "Simple," 'Miss Chatelaine," and "So It Shall Be." Lauletta seemed transformed by the opportunity to share her interpretations of these songs from lang's oeuvre. Her husband used his hands (rather than sticks, brushes or mallets) effectively on her rendition of the early Joni Mitchell song "I Don't Know Where I Stand." Crews performed a solo original, included as a "bonus cut" on the CD, entitled "Absinthe of Reason." "When Morning Comes" and "Hallelujah I Just Love Him So" led to lang's incredible "Sexuality," which Lauletta described as "a song like a climax." Indeed, the evening was like a prelude to a climax, and regrettably I did have to leave before it was over. The CD is spare and moving, and highly recommended.
ON THE HORIZON
BÉLA FLECK & THE FLECKTONES AT THE BROWN THEATRE
Béla Fleck & the Flecktones return to Louisville on Saturday, December 6, at the Brown Theatre. The lineup has remained stable since 1997, when saxophonist Jeff Coffin joined Fleck, with bassist Victor Wooten, and drummer Roy "Future Man" Wooten. They are touring in support of their new release, and first holiday recording, Jingle All the Way (Rounder Records CDROUN0616). See separate preview and interview elsewhere in this issue.
SELECTED CLUB LISTINGS
The Comedy Caravan , 1250 Bardstown Road, Louisville, KY 40204, 502-459-0022 www.comedycaravan.com, has long been a venue for quality musical acts. Following the demise of the Jazz Factory, the Comedy Caravan entered into an agreement with Ken Shapero to use the Jazz Factory name and logo as it becomes home to the "Jazz Factory Orphan Series." The Don Krekel Orchestra performs the second Monday of each month, which falls on December 8.
Other jazz bookings as of deadline time are: 12/1 - Bellarmine student jazz show; 12/15 - Squeeze-bot & Bobby Falk Group, followed by an open jam; and 12/22-23 - Harry Pickens Holiday show. Please contact the club for any post-deadline dates.
As noted in the Courier-Journal , the Speakeasy , in New Albany, has closed. RIP.
The Seelbach Jazz Bar , (500 S. Fourth Street, 502-585-3200), features vibraphonist and occasional pianist Dick Sisto , who always provides excellent mainstream jazz, frequently with guest artists joining him.
The West Market Street Stompers continue their weekly gig through the summer at Bearno's By The Bridge , 131 W. Main St., on Fridays, from 5:30 – 7:00 PM. An added enticement, per their Newsletter, is a dance floor.
The Jazz Kitchen (5377 N College Ave., Indianapolis, IN 46220; phone: 317-253-4900; www.thejazzkitchen.com), presents nightly offerings of local and regional jazz; check the website for the full schedule and updates. December shows you may find worthy of a road trip include: Friday-Saturday December 5-6, and 12-13: UNITY featuring Everett Greene, Cynthia Layne, Steve Allee , Rob Dixon and more.
The schedule for The Blue Wisp Jazz Club in Cincinnati, 318 East Eighth St. (513-241-WISP), includes: Afro-Semitic Experience ; while I have not heard of them before, the description from the club's website sounds intriguing: "quintet of African and Jewish musicians blending their talents into a style of music . . . with a strong rhythmic background [which] supports ethnic melodies and harmonies." Wednesdays remain the province of the Blue Wisp Big Band . The website is: www.thebluewisp.com.
Important Note, Part 2 , Slight Return : "The Jazz E-News" service has been discontinued. The Louisville Jazz Society has revamped its website (www.louisvillejazz.org), and now offers a new means to disseminate news of live performances locally: be sure to sign up for the e-mail "Louisville Jazz Society's Jazz Insider." In any event, it is both impossible for me to try to provide complete listings here, and it would be duplicative of the weekly listings in the Courier-Journal and LEO and the Louisville Music News' monthly music listings, in both the print and online editions (www.louisvillemusicnews.net).
Also, Jacob Duncan has initiated a series of local jazz updates. You may contact him at jacobduncan@me.com to be added to his e-mail list.
EIGHTH NOTES
This is an occasional feature to survey new releases with more than just "So and so has a new release," but with less detail than a track-by-track detailed analysis. Without further ado, here is the latest installment.
Garaj Mahal: Woot (Owl 00125) Garaj Mahal is, to use shorthand, a fusion band which features guitarist Fareed Haque, bassist Kai Eckhardt, drummer Alan Hertz, and keyboards player Eric Levy. While they are regular visitors to Indianapolis' Jazz Kitchen, they have only played Louisville a few times, more's the pity. On Woot , the band opens with "Senos," mixing funk with spacey approach. "Hotel" and "7 Cows Jumping Over the Moon" also bear traces of the Headhunters, with the latter mixing in some John McLaughlin-style guitar and Indian drum talk. The Indian influence is more prominent on "Corner Peace," while "Ishmael and Isaac" is a rarity: fusion meets klezmer. The New Orleans groove is apparent on "Uptown Tippitina's [ sic , should be 'Tipitina's']." The closing "Jamie's Jam" is 11 minutes of fast and intricate interplay. This CD is highly recommended to fans of eclectic and electric jazz. The band's website is www.garajmahal.net, and the Indianapolis-based label (which has also released discs by Steve Allee and Bill Moring, among others) is www.owlstudios.com.
CODA
I am always interested in your comments. Contact me at mzkjr@yahoo.com.