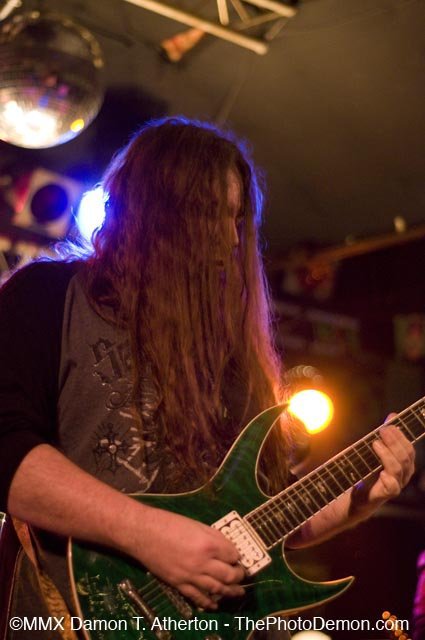 News From the Pit
2008...A Year In Review
Two thousand-eight was a very fast year for me, and somewhat of an uneventful year, except for my 4th trip to Miami and the Keys. The crowds at Louevils original rock venues have not been as good as they used to be. Blame the declining economy and people just plain being lazy and not getting out to shows. However, there were some great shows this year, which we will review in this yearly wrap-up issue.
National concert of the year goes to the Megadeth Gigantour back in spring, which included some great bands like Children Of Bodom, Job For a Cowboy and In Flames. I hope we get more big-time metal shows like this in the future. Tour-wise, Louisville gets passed up a lot, but in 2008, we were lucky enough to get this brutal Megadeth tour.
No Ozzfest was lame, that's for sure. I had grown accustomed to and had looked forward to my yearly trek up to Indianapolis to party like a madman for one day. I don't know about you peeps, but missing out on a yearly concert of that caliber and the hot boobies that accompany such events is a kick in the teeth to any loyal Ozzfest supporter. Let us pray that Ozzy decides to continue on with the Fest even if he retires from performing.
Coyote's had some really good concerts as well. The Seether show there was a poon-fest beyond all others. They also had other great rock bands like Bullet For My Valentine, HedPE, Tesla, Filter and Opiate For The Masses (who rocked), Shinedown, and also metal freaks such as The Misfits.
Expo 5 did really well booking some old-school shows that I had a really good time attending. Seeing Eighties acts such as LA Guns, Faster Pussycat; Bang Tango; Skid Row; Bulletboys; Great White; White Lion and Jackyl was a special treat for me because I love the cheesy Eighties rock almost as much as I do old-school thrash. Not only that but the bands absolutely kicked butt. I was very surprised by the level of enthusiasm and straight-up talent displayed by bands that were in their heyday 20 years ago. The crowds were pretty good, too. The David Allen Coe concert was phat, too. It used to you couldn't hardly get a crowd to Expo 5 because of the location, but in 2008 that changed. Good job!
The New Club Oasis had some pretty cool shows. Chimaira played a great show, the #1 band in the nation: Saving Able, 10 Years, Foundation, Drowning Pool all rocked, and the Gwar/Kingdom Of Sorrow show was off the hook.
Headliners had a few good shows, but "the lack of a parking lot" fiasco hurt them this year. They did have Five Finger Death Punch twice, All That Remains, Trivium, Kingdom Of Sorrow and others. I love Headliners, so hopefully they will fix the parking issue very soon so they can resume having good shows all the time. Having to park in that that mud-caked field across the street sucked bigtime.
Horseshoe Casino (formerly Caesars) had a few good concerts: Black Crowes, Boston, Foreigner, George Thoroughgood and especially the Stone Temple Pilots, which was almost like an acid flashback for me with all those psychedelic effects they had going. It was so trippy, I felt as if I had eaten some 'shrooms. Excellent show, though. And the venue was impeccable, too. I'm going to try encourage them to book more rock/metal next year. That place is phat.
Phoenix Hill had a few memorable shows this year, including Sevendust on Derby Eve and Saint Patrick's with Unknown Hinson. SevenMaryThree always does well at the Hill, and the Halloween show was awesome as always. Drowning Pool/Tantric drew a great crowd and did Eve 6 back in January. The chili cook-off was a blast too, with a record crowd, and you cannot forget the slew of original bands that Bizkit and I have booked there over the last year.
The Rock For Kosair Benefit was the best Louevil music showcase all year long.
All around Louevil - As far as Louevil rock goes, it has pretty much been the same, only less attendance than usual. Wick's Pizza has done well with their original music project this year, until they decided to not do any more metal shows, which I think is a discriminating blow against metal music. I have been into this scene a long time, and I tell you, we are a peaceful group of people, only interested in good music and a good time. We are not troublemakers.
Cahoots has been having some cool metal shows that are fun in an underground, Bardstown Road sorta way.
The Bulldog Cafe has been a putting on shows continuously for awhile now, providing plenty of shows for the underage kids. At least someone cares about booking shows for the younger crowd of rockers!
We cannot overlook "the Godfather" Terry Harper for his hard work at bringing in metal bands for our entertainment. I'd be here for days if I tried to list every show he made happen this year.
Bandwise - Who kicked butt? Who's new? Who's a butthole? Well. Let's start by listing bands who did well for themselves.
Heaven Hill, Nova Red, Inner Blue, Chamberflow, Foundation and Hanover have topped the list. New bands that make the butt-kicking list are: Sonic Epitaph; And The Armed; Blackroom; A lesson B4 Dying; a brand new band Bolt Action Thrill; Kavehill; Morning Augment; Arafel; Adaptize; Hyndsite and Deliver Us From Evil.
Radiowise - 93.1 the Fox did well this year. Mudd and Louie – as always – have the Louevil rock/metal bands backs and has done a fine job helping the scene. WLRS did well, too, although I hate to see all the DJ's let go, but really, what can be done about it? Nothing. Unfortunately, the annual LRSfest event was a disaster this year only because mother nature was on the rag.
Musician-wise, who rocked? Well, there are a ton of musicians who deserve credit, but I don't have that much space so I will narrow it down quite a bit.
Vocalists - Justin Flaherty of And The Armed has impressed me big-time; Chuck from Heaven Hill has improved so much it's ridiculous; Christina and Amy from Sonic Epitaph are awesome; Savy from Hanover kicks butt. too; Ricky Payne from Shatterstone rocks; Brent Vaughn from Deliver Us From Evil is demented and can sing; Drew from Inner Blue has mucho talent; and we cannot forget Rahul's emotional vocals from Nova Red.
Guitarwise - Chris from Caldera has transformed into a guitar monster; Ricky and Brian from Shatterstone wail; Jeff Toy of Snake Eyed Savior smokes; Chris Leffler from Assisting Sorrow is a full-fledged guitar demon; Andy and Lance from Nailgun Strategy are phenomenal; and John Matheis from Deliver Us From Evil is a mean mofo on the axe.
Bass - Brothers Joey and Marc Goldsmith (Inner Blue and Caldera)l Ron Ping from the Villebillies is a funk master on bass; Bruce Lafrance of Nova Red is fargin unreal; Todd Conn of Snake Eyed Savior is a under-appreciated kickass bassist and David Bond, the 17-year-old bassist of Adaptize deserves some credit for being so good at such a young age.
Drums - Josh from Antikythera is wicked, and Terry Harper has matured into a great drummer. Jason from Caldera is formidable, Sean Rued of Nailgun Strategy and Nothing In Return is one sick mofo, and Donnie from Sonic Epitaph is rockin.
That's it for me until next year. Sorry I don't have any free tickets this month, but it's been dead, show-wise.
Thank you so much for the support, and for making me # 1 rock journalist in the region.
I hope all of you have a killer new year, and remember, don't drink and drive!
See you freaks Friday, January 2 at the 10 Year Anniversary of my Phoenix Hill shows!
The Metal Grapevine
King's X at The Hill: Thursday, December 4 at the Phoenix Hill Tavern, old school funk metal rockers King's X will be performing. If you are a guitar freak, you might want to check out this show. Guitarist Ty Tabor is excellent.
This band is very different and very talented. Soulful. I am looking forward to seeing them again. I saw them at the Toy Tiger years back and it was a great show. The Doug Pinnick's vocals are outstanding as well.
Jackyl Me Off: I never really liked this band (maybe one song), and I thought singer Jesse James Dupree was a no-talent idiot with a chainsaw, but I had never seen them live and heard they draw hot chicks, so I went to see them. I still don't t like them very much, but I have learned that Dupree isn't a no-talent fool.
First off, the guy is pretty cool. He treated the fans like gold. Secondly, I had no idea he played guitar so well. Slick, bluesy leads and hard rock rhythms were easy play as Dupree caroused around the stage, singing and playing. It was a shock. They played "Down on Me", "Lumberjack Song" "I Stand Alone" and the song that is the most tolerable to me, "When Will It Rain" which sounded pretty good.
Unfortunately, the women were so ugly that Freddy Krueger would have nightmares!
I had a good time hanging out with friends regardless. Thanks to Expo 5 for all the great shows this year, and for doing the giveaways.
Rock For Kosair Results : Kim from Phoenix Hill just called me up to tell me the good news: the bands ended up earning a grand total of $4,790, making this show is biggest Rock for Kosair yet. Yay.
That raises the total amount made in four Kosair Benefit shows to about $14,800.
If giving almost fifteen grand to a local charity isn't news enough for local TV, then they can suck my chestnuts and yule log. I expected a little bit of a bigger crowd this year, but I'm very happy we broke the record.
It was a fun night of partying with the Who's Who of the louevil rock scene.
Heaven Hill stole the show and even busted out some Kenny Loggins "Danger Zone," which had people laughing their arses off. Nova Red did really well and broke out a new cover song that was awesome. They did A Flock Of Seagulls early Eighties hit " I Ran." It had everyone snickering and about the cheesy Eighties.
Snake Eyed Savior sounded thunderous (soundman Brian had it rockin!) and Vic seemed to be back on top with full confidence. All the bands did great, and the guitar winners were extremely happy.
I'd like to thank all of the following 16 generous and classy bands for the donating a great performance to such an unselfish and noble cause: Heaven Hill; Chamberflow; Caldera; Nova Red; Hanover; Inner Blue; Snake Eyed Savior; Slinky Jenkins; Broken Vault; Dogwater; Boozer; And The Armed; Sonic Epitaph; Arafel; A Lesson B4 Dying and 16 Bones.
I would like to thank 93.1 the Fox, Charlie Steele, and all of the DJ's for the incredible job they did sponsoring this event. They plugged the heck out of this benefit. This Fox has heart.
In about a week, The Fox Crew and myself will more than likely get drunk, then take our butts up to Toys R Us and spend every cent on buying Toys for Kosair. I'll be in the Star Wars, comic character, G.I Joe toy department.
Thanks to Phoenix Hill Tavern, and whole staff, for giving us 100% of the door that night and every stage.
Thanks go to the companies who did giveaways: Uncle Sam's Jamms; First Quality Music; Mom's Music and Jolly Rogers Tattoos. Thanks to my friends who helped me run the show; Brendan; Lee Lanham; Mike Rivette; Big Al from Boozer; fellow LMN columnist Jason Ashcraft; and the hot Kosair Collection Girlz; Tammy TV; Amy and Jessica; Nani Hall and friend , and Suzanne for doing the donation collections. And last but not least, thanks to all of you, the fans who helped promote Rock For Kosair, making flyers, posting bulletins, and getting the word around. You've been awesome.
All of us coming together for Rock For Kosair was a very cool thing. We will make a lot of sick kids happy.
Former Flaw Guitarists New Stuff: Former Flaw axeman Lance Arny's new project, Nothing In Return, is a change of pace for these experienced Louisville musicians. Rounding out the lineup is fellow ex-Flaw bassist Ryan Juhrs, guitarist Andy Russ and drummer Sean Rued, plus vocalist D.C., formerly of the band Submersed.
The music is a departure from what these guys usually do; it's a lot more mellow, even radio-friendly commercial. It's a group of very talented musicians who have been rocking the scene for a long time.
Some of it sounds darn good even, if considerably lighter. Their influences include Soundgarden, Alice In Chains, Chris Cornell and Sevendust. Check out the new stuff at Myspace.com othinginreturnmusic
New Band Alert - Bolt Action Thrill: This brand-new Louevil band is like Appetite for Destruction- era Guns N' Roses, only without the heroin and drooling. I saw them open for Jackyl at Expo 5 and I was so impressed that I immediately booked them for my January Phoenix Hill showcase. The band is so tight, it's scary and the vocals are decent as well. If you like old G N' R, then you have to see these guys play. The Appetite for Destruction tour was the worst concert I've ever seen. Axel sounded like a dying cat, and the band was so coked up they couldn't play. Bolt Action Thrill takes off from where that disappointing night ended, only it's 20 years later. You want attitude and raunchy rock 'n' roll madness? Then take a sleazy ride with Bolt Action Thrill. Trust Mr Metal on this! Myspace.com/boltactionthrill
Saint Andrews Pub to Have Metal again? Apparently, the Saint Andrews Pub noise ordinance/police issues has been worked out and metal can once again happen at this laid-back pub of Southend rockers. You bands might want to give them a holler and see about booking some shows. I went a few times and had a good time. So will you!
Inner Blue's New CD and Stuff: A couple of years back, one of the guys from the band Inner Blue got into it with me and a big war started that got pretty nasty and lasted a while, with both of us saying and doing stuff we shouldn't have. I am glad to announce that that crap is now over: we have decided to be friends again and perhaps work together. Inner Blue is a great band of talented musicians and they have a CD coming out pretty soon that should be amazing. The CD should be ready in a month or so, so I'll keep you informed of the bands upcoming CD release show. Myspace.com/innerblue
Dogwater's Ferment : I heard Louevil hard rockers Dogwater's CD release show sold about 250 tickets, plus the new CD sounds amazing. No one has sent me a copy to review, so I'm just going by what I heard.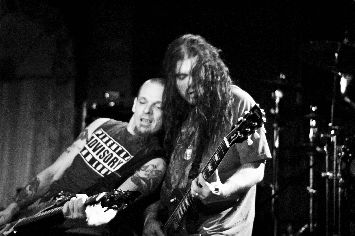 Damian Thornhill and Jeff Grimm of Dogwater. Photo by Damon Atherton
Dogwater was always a bit different from the run-of-the-mill Louevil music. Perhaps next month I'll have a review for you freaks. In the meantime check out some of Dogwaters music at Myspace.com/dogwaterrocks
Sons Of The Bluegrass: I'm so old, I don't even know what crunk is. It sounds like punk, metal, hardcore plus some bluesy riffs, all mixed together. Musical craziness. Anyways, Sons of the Bluegrass is kind of wild, a mixture of Gwar, Butthole Surfers, local weird rockers Dump Gang and some other crazy music with that certain goofy, outrageous fun sound. There's some promise here. It should be interesting to see live and you can on January 2 at my Phoenix Hill show. Check out the insanity yourselves. Myspace.com/sonsofthebluegrass
Upcoming Shows
Brewery Thunderdome
Saturday, December 6 – Forever The Sickest Kids w/ The Morning Light, Anvils Away, Jovian and Aim For The Skies. 8 p.m.
Bulldog Cafe
Saturday, December 6 – Evergreen Terrace w/ Four Letter Lie, This Is Hell and Casey Jones. 8 p.m.
Club Oasis
Friday, December 12 – Taking Back sunday, w/ Envy On The Coast, The Frontiers. 7 p.m.
Headliners
Saturday, December 20 – Project Born. 8 p.m.
Longhead's Sports Bar
Friday, December 19 – Alice Blue Gown.
Phoenix Hill Tavern
Friday, December 5 – Eddy Metal's Original Rock Showcase Series: And The Armed, Overthrone, A Lesson B4 Dying, E-Flat and Snapped. 8 P.M $5
Friday, December 19 – Bizkit's Showcase w/ Mr Hyde, Hanover, Inner Blue and 4 Storie Failure. 9 p.m.
Friday, January 2 – Eddy Metal's Original Rock Showcase Series "10 Year Anniversary Bash" w/ Bolt Action Thrill, Snake Eyed Savior, Sonic Epitaph, Shatterstone, Hyndsite and Sons Of The Bluegrass. 8 P.M sharp! $5
Saint Andrews Pub
Saturday, December 13 – Screwface, Snake Eyed Savior and Grinstead.
Uncle Pleasants
Thursday, December 4 – Mae w/ Amherst, Wake The day, and Well Said. 8 p.m.
Friday, December 5 – Kill Whitney Dead, The Demonstration, Salt The Wound, Antikythera and Pig Vomit. 8 P.M $10
Sunday, December 7 – Snot w/ Bobaflex, MSD, Warhorse and Chainfire.
Wednesday, December 17 – Born Of Osiris w/ Shai Halud, After The Burial, Burning The masses, Iron Wolves and Beyond The Shore.
Wednesday, January 14 – Rotting Christ w/ Novembers Doom, Epicurian, Anagnorisis, The Revenants and Apochryphal Revelation. 8 p.m.