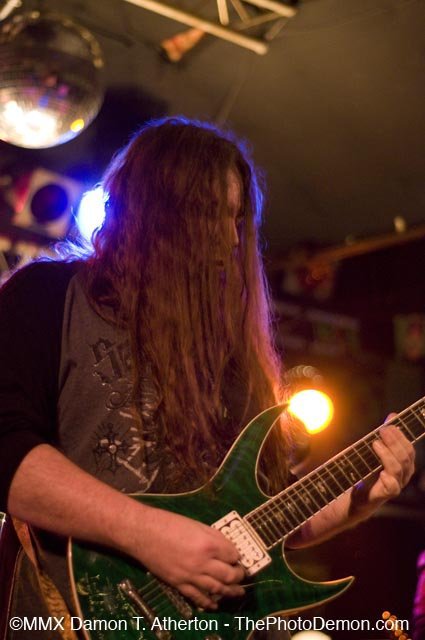 News From the Pit
"Attack of the Zombie Promoters!"
I've been in this rock scene for a long time, and I've never seen a stampede of original music promoters like this before. I can't keep up with it anymore. I keep having a dream where I'm running down a long hallway in slow motion, being chased by a pack of zombie promoters with calculators in hand, mumbling equations and hrruuumph's.
To top that all off, the venues are letting anybody off the street promote shows.
Seriously, I don't mind the friendly competition. The good thing is, most of these people are decent folk who realize that there isn't a lot of money in promoting regional original music and it's basically for the love of music and to have a good time and help out the scene as much as possible. I've met some cool new friends this way.
To those promoters, I applaud you and wish you the best of luck. To the money-inspired music promoters, a word of advice: You want big money? Become a lawyer!
Remember, Louisville is a small city - there aren't six degrees of separation, it's more like one-and-a-half! Piss people off, word gets around in a hurry and pretty soon, your promotion business is in the dumper. Forever. Because people don't forget how you treat them.
And what's up with bands canceling shows so much these days? I have had so much trouble with cancellations the last six months, it's ridiculous. It's to the point where I'm going to to have to talk to the club I book at about some kind of agreement, with teeth.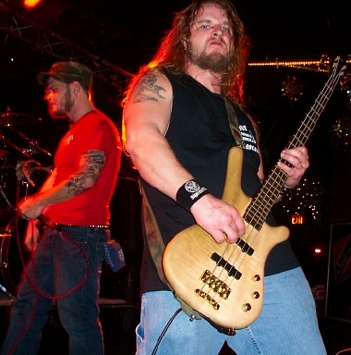 From left, Todd Tripton and Marcus Goldsmith of Caldera. Photo by Eddy Burke
I can totally understand a death in the family or a hospital visit or even band member lineup changes. But damn, it seems that bands nowadays just get lazy, or don't give a crap if they inconvenience the club, promoter, radio stations that support them! Or the money spent on radio commercials advertising the shows.
I've been in three bands and I have never missed a show in all those years.
Even when I was sick as a dog with bronchitis (when I was singer for Inhuman), my butt showed up hacking green cheese onto the audience! Not a pretty sight, but hey, the show must always go on! These clubs are the backbone of this small town's music scene and shouldn't be treated as if it's totally okay to bail at the last fargin minute after months of planning/advertising. I have gotten into it with bands that have done this type of inconsiderate thing one too many times and now we don't talk or do business. It sucks, because I liked some of the bands quite a bit. Unreliability has always gotten on my nerves!
So there it is. If you book a show with any club, play the gig, unless your arm gets hacked off in an accident, or something bad like that happens. If the one-armed guy from Def Leppard can hang, then so should you.
The morning of a show, don't come off with cheesy excuses such as: "I have a bingo game I must attend. My vagina is ill. I stubbed my toe. I have to go to Iowa for a cheese-grating event. My aunt Bertha has a butt ailment. A UFO abducted me and gave me an anal probe. My girlfriend left me for a quadriplegic cockeyed midget."
Ok, I'm whining a bit. So what! Everything I said was true. You all know me and that I like to be honest with you peeps regarding stuff in the scene. I've done battle with the best and exposed many a weasel in the scene! And I wouldn't take any of it back, either.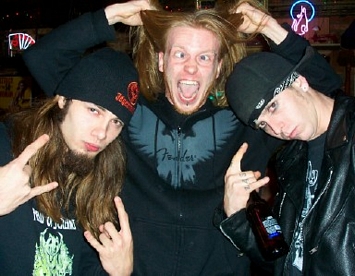 The crazy guys in Sever This Illusion. Photo by Eddy Burke
That's what makes me what I am. A rocker dude you can trust who will tell the truth and won't give a farg!
Send all news, showdates and information you want printed to Eddymetal1@aol.com. And definitely link up with me on Myspace.com/Eddymetalrocks. My myspace page is cool.
And remember, I can't print what I don't know! Thanks for reading Louisville Music News!
The Metal Grapevine
Megadeth is Coming: It's been a while since Megadeth came to Louisville. If I'm not mistaken, it was at the Brewery in either ''97 or '98. I remember that concert well, because Black Frank and I (I was a DJ on the Fox then) brought Megadeth onstage to a packed house! That was a fargin rush from hell! Anyways, Megadeth has decided to grace us with an appearance in our fair city once again! Megadeth's Gigantour is coming through and we lucked out this year because Louisville is on the list! The date is Saturday, April 19 at Louisville Gardens. Sweet.
It's going to be awesome to see Mustaine wail on guitar once again. With this year's tour will be European bands In Flames and Children Of Bodom as well as Arizona's Job For A Cowboy and California's High On Fire.
Sounds like a weird metal show that will kick some fargin arse! And a show not to miss! We don't get many killer European metal bands coming through here, so put down the Limp Bizkit and Lincoln Park CDs and take advantage of this opportunity to see the dark Euro-metal of In Flames and Children Of Bodom.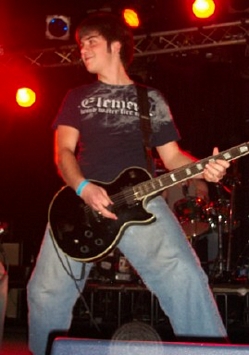 Todd Angus, 17-year-old guitarist for Holbrook. Photo by Eddy Burke
Exodus Invades: Come Tuesday. February 12, a dark cloud will descend over Louisville. This dark ominous cloud is Eighties thrash metal monsters Exodus. In tow with them will be modern day demons Goatwhore, Arsis, Warbringer and At One With Nothing. This is a evil heavy metal show of gargantuan proportions!
Only the hardiest of metal lovers should attend this concert at Uncle Pleasants. Thank you. I'll see you ruffians there! Oh yeah, get your tickets now, this will sell out!!! (Am I thoughtful or what?)
Ill Nino Coming: Melodic Latina metal merchants Ill Nino will be coming back to Louisville on Thursday, February 21 at Headliners. With them will be West Virginia's Bobaflex, Inner Blue, Halfway Hollow, Droid and Ekotren.
Ill Nino kicks some serious butt and if you still haven't seen Bobaflex, you should. They put on a very energetic rockin' show.
Tesla at Bogarts: If you haven't seen Eighties rockers Tesla before, you might want to. They are excellent. I saw them for the first time a year or two ago and was very impressed. Never been a big fan, in fact, I used to make fun of them a little bit. But "Live," they kicked butt! The show is on Saturday March 2 at Bogarts in Cincinnati. If you haven't been to Bogart's, you should go. It's a great venue in a cool area of town kinda like Bardstown Road, but be wary of the bums begging for crack money who assault you while you try to get to the club from the parking lots!
Van Halen in Cincinnati: Wednesday, March 5 at the US Bank arena in Cincinnati. Man, do I wanna see Van Halen again, bad. With David Lee Roth, not the horrible way-too-happy Sammy Hagar version of Van Halen (which is sacrilegious to even call VH)! I want to see the old Van Halen that I saw on the 1984 tour when I was 14. Truly awesome and loud as hell, too.
Please god of concerts, let me get free tickets to this show!
El, Ville, The New Deal: Jillian's in Louisville is history, but in it's place is a new establishment, El, Ville.
I don't know much about it, but I will find out. I do know that they are having some metal shows there and that that's a good start! I've seen some great shows at that venue in the past. Queensryche, Ministry, Staind, Damageplan, Tesla, Lacuna Coil, Sevendust. Hopefully in 2008 that tradition can continue in excellent form by the new owners! I'll keep you peeps informed when I find out more.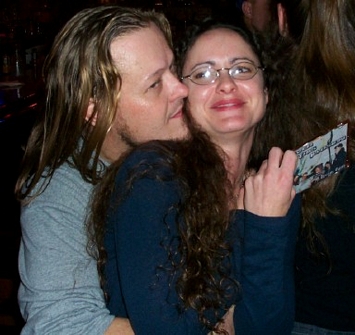 Louie The Local Guy and Brandy enjoying themselves at the Hill. Photo by Eddy Burke
Job For A Cowboy Cancels: Their February 8 Headliners show has been canceled, darn it! That blows arse, but I'm glad we will at least be seeing them on the April 19 Gigantour with Megadeth at Louisville Gardens. The band was offered a slot on Megadeth's tour, so they did what any rational semi-sane band would do. They accepted!
Record Label Showcase: The band Heaven Hill and the Phoenix Hill Tavern are putting together a huge show at the Hill on February 29 that will feature some of the area's top original bands playing a real showcase to record label people, national and regional media and people in the business. Bands on the bill are Heaven Hill, Ugly, Chamberflow, Subrosa, Never The Man (Jholeen isn't leaving town until summer it turned out) and In The Clear. This should be one great show. It takes place at the Hill's Roof Garden. I would see about getting my tickets now, because this will likely sell out. Let's show these Louisville bands some love and make it a night to remember for the label people.
A New Showcase: The guys at 93.1 the Fox, Louie and Mudd, plus newcomer promoter Nick Sexton have started a new original music showcase at Shooter's Bar (7092 Distribution Drive in Riverport) every Sunday night. I hear it's doing pretty well. Any new club that welcomes original music is a good club to me! I'm going to have to take my big arse out there and see what's up wit it!
Hey Bands, Need A Gig? My friend Jack and another new promoter, Just 4 Fun Entertainment, have started promoting original music at Coconut Beach Club on 424 Baxter Ave. This place is supposed to be very nice and it's 18 and over!
It's exactly what this town needed in that area: a place where younger bands/people can rock out. Good thinking, Jack! His first show is "The Black Hearts Ball," featuring Holbrook, Vindiction, Hanover and 4 story Failure on Friday, February 15 8 p.m. $6
Support this great idea and I bet there could be all kinds of kickass shows going on there before long.
For gig/show info, contact myspace.com/justin_lightning
Second Hand Grenade is Back: The band Second Hand Grenade is back in action once again after a short breakup.
This is a very good, rockin' band that I liked a lot. I'm glad they reunited. Look for them to be playing out in a month or so. I think they are recording some new material.
Caldera Studio Report: The new CD from Louisville death metallers Caldera is almost done. Things are going great in Canyon Studios and they are currently finishing work on their second release. So look for the new Caldera to be out in a month or so. Songs are: "4 X A Day," "Lividity," "Slow Release For Certain Death," "Bloodbath Relapse," "A Goodbye To Remember" and "Not For Sale."
HolBrook Review: I had seen the name many times and yet had never seen them live because they used to play a lot of all-ages shows. I finally got to see them and I really enjoyed seeing this very young metal band rock out. One of the guitarists is seventeen. The double guitar attack is formidable and the amps the guitarists use are the same and have great metal tone. I fargin hate it when one guitarist has such a different tone than the other!
But here, it wasn't the case. It was fat. The vocals were typical metal but done well, with good stage presence. The drums were very good, too, as a metal drummer must be! Blast beats and all-out thrash metal madness. All in all, I have to say that if this is the true beginning of this band (as they are starting to get much better shows now), then we could be looking at another young band that is the future of Louisville original metal. Check out the viciousness that is Holbrook.
Devildriver and Nile: Two cool metal shows are coming in the next few months, so I thought I'd give you diehard metal fans a heads up. 'Egyptian metal'-sounding South Carolina death metallers Nile will be at Headliners on Thursday, March 27, and L.A thrashers Devildriver will be back to rule on Tuesday, April 1 at Headliners! If you haven't seen Devildriver, you must! They're amazingly powerful. Crushing, really.
Thanks to Headliners and Terry Harper for these shows.
Adaptize Invades: I saw this young rock/metal/alternative band for the first time recently and was very impressed with their music. Great songs, talent, vocals and stage presence.
They live a bit on the outskirts of Louisville, but I don't think that will stop them from making some noise here in the scene, once people find out about them. The band reminds me of Breaking Benjamin or a similar radio rock band. Maybe a little like Tool, too. The vocals of Ryan (no last name given) are soulful and have got some grit. Their studio work sounds killer. Nice melodies and creative songwriting, with memorable hooks and good lyrics. They were very tight and professional in performance. I recommend that you see this new band. I just wish I wasn't so drunk when I saw them play. However, I remember them enough to know they wail.
Check them out yourself at Myspace.com/adaptize
Slander = "High Energy Rock and Roll": Every now and then, I like to help out a good band from somewhere within a hundred miles from Louisville or so. The band Slander is from Glasgow in southern Kentucky. Old friends of mine, a doom metal band called Luther, came from Glasgow and Luther totally rocked, so these guys got some big shoes to fill, but by the way this band sounds, they are off to a very nice start. It's rock and roll with good, fat guitar that has a bluesy, groovin' edge to it and some punch in it as well. They claim to be rock and roll, but it could almost be metal, if you were really stoned.
The frantic but melodic vocals are in your face, big time. Not bad at all. The singer has skills, switching things up nicely. Slander is kind of like sleazy party rock, whiskey-drinking music. Kinda reminds me of Black Stone Cherry a little.
Check out this music from the hills of southern Kentucky. Myspace.com/xtremeslander
Blade Of The Ripper: I just listened to 4 tracks the Louisville band Blade Of The Ripper's myspace page, actually enjoyed the whole thing and wanted to hear more! No nu-metal doody, here. Sounds a bit like Slayer, thrashy and old school as you can get. Makes you feel as if you were in a time warp back to 1985, at a thrash concert, with a bit of punk plus doom. The vocals have a Tom Araya feel to them, minus the high notes. Nice combo. The chunk-laden riffage coming forth from the guitars is lovely.
I'm getting into this band. They are raw and no-nonsense metal without the pretty, effects-laden vocals and pretty boy looks. They are evil metal through and through. The musicianship sounds decent. At times the singer sounds a bit too gruffly and monotone though, but it's not too bad, I reckon. The guitar is creative, jammin' and I'm liking the fast, muted picking on the songs. Sometimes the lead guitar sounds a bit sloppy, though. This band fargin slams, which makes those two things forgivable! Here is yet another great addition to Louisville's great metal scene. Myspace.com/bladeoftheripper
Roommate Needed Soon: My roommate is moving into a house with his band members, so I'm going to need a new roommate by the first of March. It's a two-bedroom house off Southern Parkway, with a black marble bathroom, jungle motif living room, security system, central air conditioning, DirecTV (many movie channels), washer/dryer, basement, close to U of L and the Watterson X-way. I'm a rocker who parties every now an then, so if you don't like rock/metal or guitar playing, this isn't for you!
If you do like rock music, concerts and guitars, then this is right up your alley. It's a bachelor pad from hell. Must be reliable and have steady job. $375 a month. Includes everything. Utilities too! Eddy 502-367-2080
Upcoming Shows
The Bulldog Cafe
Wednesday, February 13 - Four Letter Lie, Blinded Black, Driver Side Impact and School Boy Humor.
Wednesday, February 27 - Tub Ring, Karate High School and Peachcake.
Monday, March 3 - Gwen Stacy, Inhale / Exhale, A Girl A Gun A Ghost and Here I Come Falling.
Saturday, March 8 - "The South By South-End Music and Art Festival."
Coconut Beach Club
426 Baxter Ave.
Friday, February 15 - "The Black Hearts Ball" featuring Vindiction, Holbrook, 4 Storie Failure and Hanover. 8 P.M 18+ $6 $1.50 drinks.
El, Ville (formerly Jillian's)
Friday, February 1 - Nailgun Strategy, Holbrook and Embalmanation. All ages. 8 p.m. $5
Headliners
Friday, February 8 - Caldera, Adaptize, Sonic Epitaph, Anvil Grey and more TBA. $10 All ages.
Thursday, February 21 - Ill Nino w/ Bobaflex, Droid, Ekotren, Inner Blue and Halfway Hollow.
Thursday, March 27 - Nile.
Phoenix Hill Tavern
Friday, February 1 - The Original Rock Showcase Series: "Mardi Gras Bash" with Nova Red, Broken Vault, Sonic Epitaph and Poetry Of The Dead. 9 p.m. $5 Valentine Guitar and Tattoo giveaways!
Friday, March 7 - The Original Rock Showcase Series: Seedus, The Willing, Lithium (from Lexington), Dogwater and Once Fed Lies. 9 p.m. $5
Thursday, March 14 - The Spyderz (featuring Evan Seinfeld from Biohazard and HBO series Oz).
Friday, March 15 - Bizkit's showcase: Asleep, Embertide, Sever This Illusion, Ashes Eve, Sewfly and Dead Nettle. Tattoo giveaway. 10 P.M $10
Shooters
Sunday, March 2 - Boom Orangutan.
Uncle Pleasants
Friday, February 1 - Tiger Army, The Dear and Departed, Revolution Mother.
Tuesday, February 12 - Exodus, Goatwhore, Arsis, Warbringer and at One With Nothing. 7 p.m.
Wednesday, February 13 - Rotting Christ w/ Immolation, Belphegor, Averse Sefira, Abominant, Blade Of The Ripper and Created To Kill. 7 p.m.
Thursday, February 14 - Antikythera, Parousia, Belay My Last, Impending Doom, Dead To Fall and Winds Of Plague.
Saturday, February 16 - High On Fire w/ A Life Once Lost, Saviours and Intronaut.
Friday, February 22 Vast w/ Mungus and The Willing.
Tuesday, March 4 - Parousia w/ Black Caterpillar, Acclaim The Advocate, The Armistice and Rainboots.
Saturday, March 8 - Aiden w/ Madina Lake, My American Heart and Farewell To Freeway.
Wick's on Dixie
Saturday, February 2 - Mardi Gras Party with Spanky Nyne, 31W and Porno Fishtank.
Saturday, February 9 - "LRS showcase" with Serene, Of Echoes, Prey For Maria and Hanover.
Saturday, February 16 - Grindstone, Bodine Adams and the best heart shaped booty contest.
Saturday, February 23 - Antikythera, 4 Story Failure, Caldera and Nailgun Strategy. 21+ $5
Props of the month
This month's props go out to Black Frank of 93.1 The Fox, the heavy metal pioneer of Louisville metal radio, who is celebrating his fifteenth year on the air here in Louisville, playing the heaviest most nonconformist metal he can find.
Frank hosts The "Attitude Network Metal Show" on Saturday nights at midnight. Before that the show was called "The Metal Pit." Being my former boss at the radio station, I've bumped heads with Frank many a time, but I tell ya, without him, metalheads would be out in the cold, radio-wise.
Dude has been getting us the latest music and news in metal for many years now and that deserves a little notice. He gave me my job as local music DJ way back when and I had a great time helping out the scene like I did for those years.
I couldn't have done it without Frank giving me the chance.
For years now, Louie the local guy has taken over the local stuff and is doing a great job at that. Without Frank's "ahead of his time" ambitions years ago, Louie, Mudd or I would have probably never done the cool local stuff that we've done for this city!
So thanks, Frank, for fifteen years of heavy metal and for playing Louisville talent on your show all these years.
You are "The Metal Godfather Of Louisville Radio."