Name: William Byerly
Age: 26
Instrument: Guitar
Band/Former Bands: Abscise, Cast From Eden, and a brief tenure in Anagnorisis
How long on instrument: About 13 years now.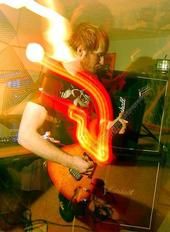 William Byerly
Equipment: Marshall full stack (1960A+B with Celestion Greenbacks), Genz Benz El Diablo100, Rack Mount with Sonic Exciter and Korg tuner, Line 6 "Green Box" delay modeler, Fernandez Vertigo guitar with EMG 81 and 85's.
Influences: Beer, Sweden, and Depeche Mode.
My first gig: I think my first show was at the now defunct Tekworld on Preston Highway with Martyr AD. I was in Abscise at the time. At least I think that was it..
Hobbies: I read a lot. Other than that I'm into art and action movies.
Favorite movies: Anything starring Arnold Schwarzenegger from the 80's to mid 90's. Especially Conan the Barbarian, Total Recall, and Predator. Everyone always loves the Terminator series, but Conan blows them all out of the water.
Favorite food: Beer.
Favorite place: Liquor Barn. PT's.
Bad habits: I'm not aware that I have any "good" habits.
What I'm listening to nowadays: I've had a pretty heavy fixation with Depeche Mode and similar minded "darker" electronic bands of the mid 90's. That and a lot of Morissey.
Coolest thing I've done: I'm really kind of just a big dork.
Most embarrassing moment: I pissed my pants in the 6th grade. Nobody even knew I did it. But I guess they do now.
Who do you love: Myself.
When/where did you first get some: I wish it was a better story, but I lost my virginity to a girl I dated for three years. She was a virgin, too, so it was just real awkward, and really not even that cool. And it was on a couch so it was real uncomfortable as well.