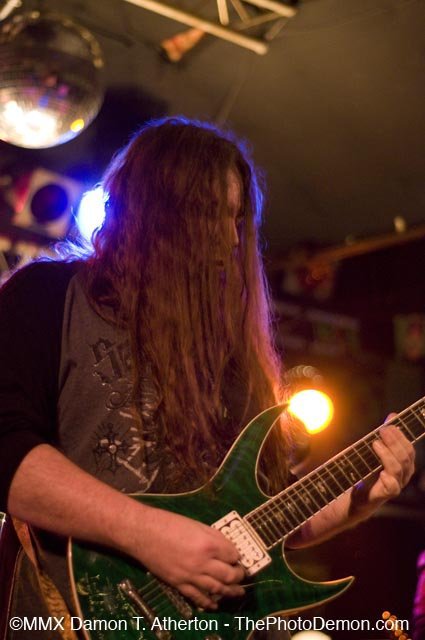 News From the Pit
It's summer and in a month or so, I'll be heading out on one o' my infamous vacations. White sandy beaches, guitars, frosty island beverages, 4:20 and sand in your buttcrack from sex on the beach. I can't wait. I might go to the Florida Keys again, who knows. Vegas does sound enticing though. Hmmm. I'll be eating ramen noodles (cheap, but good) for a month to go, but at least I'll get to go!
In the meantime, as far as Louevil shows go, there should be a slew of killer national shows coming but it seems rather dead so far for summertime. And no Ozzfest this year? What's up with that?
I love Ozzfest and have gone to many of them and had an excellent time every trip, with memories you can't buy. I believe they were a great thing for metal music, so I hope they don't quit doing it. They are having one in Texas, though, with Metallica on the bill, but who wants to drive that far to a cowboy dustbowl?
I did get to see a very cool gothic/European concert that, to my astonishment, was sold out. Yeah, the concert featuring Sweden's Nightwish and Finland's Sonic Syndicate was very cool and a good break from the normal humdrum American music we are cranking out these days. The review is below.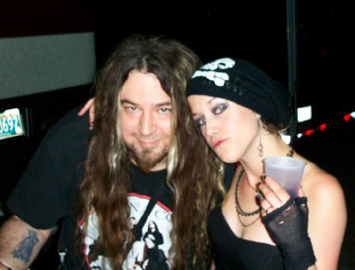 Eddy with Karin Axelsson
Then I got to see Shinedown at Coyote's (also reviewed below) and, boy, was I wrong about them. I had never seen them live and was pretty much expecting commercial cheesiness, but I was pleasantly surprised at the show these guys put on. They sounded great and so did the openers, Louisville's own Foundation.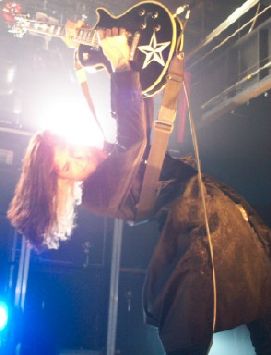 Shinedown Guitarist Nick Perri
We've got two new venues to see shows at and it's important that you rockers come out to these shows to keep the metal/rock train rolling. Be sure to check out the re-opening of The Brewery Thunderdome and the very classy Oasis club.
There is a stampede of new bands coming out of the woodwork, which is awesome, because a lot of them are talented bands eager to get their music out. Here is a short list of great new bands to see: Adaptize, Blackroom, Arafel, Morning Augment, Sonic Epitaph, The Burial, Hyndsite, Serene, Seedus, One Day Away, Snake Eyed Savior, Sever This Illusion, Mungus, Sulfate, Chaotic Vengeance. If you get the time, check out these great new Louevil original acts.
After dealing with such cool new additions to the scene, I think that some of the older, more experienced musicians/bands in this town have become too arrogant and greedy, demandinga monetary guarantee before they'll play a show, while barely drawing 30 or 40 people.
This is original rock, people! You want a guarantee? Form a cover band playing Rage Against The Machine and Godsmack all night. Then you'll get to go to Denny's after the show, instead of White Castle!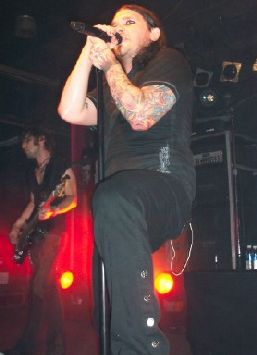 Shinedown's Brent Smith
I'm not trying to say being a good business person is bad, but to adopt an ego and act like you are all that, demanding s**t when you haven't done much of anything beyond Louisville, is ridiculous. Do you know that in a lot of cities (L.A. for instance) original music is done on a Pay-To-Play basis? Yup, it's true. The bands pay!
So shut up, play your music and be happy you have a good crowd/venue to play your own music to.
Moving on to more pleasant things. I've got a present for you people, my loyal readers. You are gonna love this!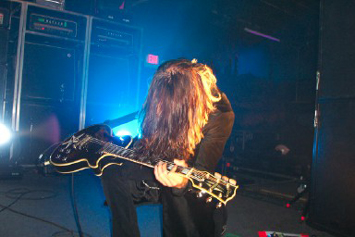 Shinedown Guitarist Nick Perri
Well, that's it for me this month you Louevil freaks and rockerz. As always, thanks a million for the support of this here "real" Louevil music report. We ALL know the other papers are watered down commercial cheeseballs.
Don't forget to link up with me on Myspace.com/eddymetalrocks and to look up LMN online at Louisvillemusicnews.net.
The Metal Grapevine
FREE Tickets from LMN: Never ever let it be said that Eddy Metal doesn't care for this scene and it's fans. To show my appreciation for making me the region's #1 rock writer, I announce Eddy Metal's FREE-RIDE. I have set it up where the newspaper and I will be giving away free tickets to national concerts as well as some regional music. What you do is link up with me on myspace.com/eddymetalrocks. That is where you will contact me to put your bid in for the free tickets. For each show, I will give you a date and time to email me on myspace. Folks who email me first at the appointed time wins the tickets!
It's easy. So link up with me on myspace and keep an eye out for FREE-RIDE ticket mentions in the paper and on our website, Louisvillemusicnews.net.
Black Crowes and Styx Ticket Giveaways: (FREE-RIDE) On July 26 The Black Crowes will be at Horseshoe Southern Indiana (formerly Caesar's) and the next day Boston and Styx will there! I have five pairs of free tickets to each show.
For a chance to win, email me (www.myspace.com/eddymetalrocks) on July 15th at 6 p.m. sharp. On the subject line put either the Crowes or Styx. Whoever is closest to 6 p.m. wins! So set that calendar and be ready to send that email. Winners will be emailed back!
Stone Temple Pilots Coming:
On August 16, the Stone Temple Pilots will be at Horseshoe Southern Indiana (formerly known as Caesars Casino). From what I hear the venue is amazing. I'm fixin' to take my rump out there to get the grand tour so I can let you rockers know what's up with the place. Stay tuned, because next month, I'm going to try to get some FREE-RIDE tickets to giveaway to a few of you lucky readers. I've never seen STP before so I am stoked about it. Alert: Get your tickets now, this will sell out!
Shinedown Review:
(Pictures on website) Wow. Another great show at Coyotes. Dayum, this place is racking up lately on getting the good chick-drawing concerts. And I've been to them all.
It turned out that Shinedown wasn't a cheesy, radio wannabe attraction, but a Eighties-looking, raw and ready rock 'n' roll machine from Hades. Opening act Foundation did a very good job warming up the crowd. Chris Volz's voice was sounding great this evening and may have been even better than Shinedown's singer.
The second band, 12 Stones, was okay, but the singer sucked for the first three songs or so. Then he got into the groove a bit better. I recognized some of the tunes but none really stood out. Good band, good songwriting, but a debatable singer who sounded good one minute and the next sounded like a large dying toad.
Then came Jacksonville Florida's Shinedown and they let loose with some good fargin music! I was happy because I was hanging with good friends and listening to good music in a good venue. Vocalist Brent Smith kicks much butt. He really tries and isn't a lazy singer. He has a gritty, down-home and loveable voice that is hard to beat.
The guitarists are two rockers who look cool, dressed all semi-Eighties. Guitarist Nick Perri had all the girls swooning over him as he wailed on his Gibson Les Paul while rolling around on the floor and striking every pose known to rockdom. His Pinhead style trench coat was cool. Guitarist Zach Meyers looked like Billy Idol with his short Eighties flyback hairstyle. Eighties or not, these guys were jamming and their guitar tone was awesome. The sound system was excellent. I learned later that the band brought their own PA system. They played songs like the soulful "Heroes," "Burning Bright," "Save Me" and their huge hit, "45." The club was 80% full and stoked about seeing such a good band. At times ,Brent was a bit long-winded in getting the music going, but that is understandable, considering the way the man sings. He had to catch his breath.
The drummer looked just like Lance Arny of Flaw. The same darn hair and everything. Chris Ballinger and I were rolling at that. There was much energy in this band's performance and that made it all the better for the fans and myself. It's clear they mean to give the fans their money's worth. I totally respect that.
Total props to Coyotes and the promoters for another great show! Keep it up.
Nightwish/Sonic Syndicate review:
(Pictures of both band's on website) A friend suggested I should go see this Finnish band and was she right. I had never heard of Nightwish before, but I found out in Europe, they're big, even winning several awards for "Best Album Of The Year," "Metal Album Of The Year," "Band Of The Year" And "Best Selling Album 2007."
LMN has a new ticket giveaway that I hooked up for you. If you want to win some free national act concert tickets, read about it below in the Metal Grapevine.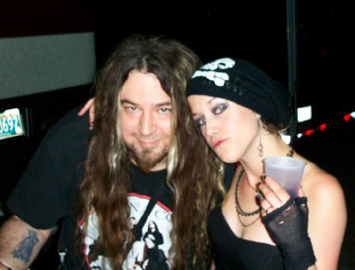 Sonic Syndicate's Karin Axelsson
Hearing that they were like one of my favorite bands, Lacuna Coil, I decided to go. I thought it was weird to only have two bands on a bill and that there wouldn't be many people there, because keyboard-driven, Goth metal with women singers hasn't really caught on in the U.S. To my surprise, the show was sold out, with quite the young Goth crowd in attendance. Sweden's Sonic Syndicate came on first and proceeded to kick butt. Their style was more American sounding than other European bands, kind of hardcore and trendy like Avenged Sevenfold, with some extra double bass drum thrown in for good measure. The vocals? Roland Johansson was impressive. He sang well and screamed at appropriate times. The guy had lungs from hell. At one point, his face was so red I thought his head was going to explode, he held a note so long!
The guitarists were okay, but what interested me was their bassist, a super-hot woman named Karin Axelsson, who was recently voted "One Of Metal's Hottest Chicks" and even appeared on metal magazine covers. While she isn't a bass god or anything, she held her own quite well and had much stage presence and charisma, and to top it off, she was a totally sweet person.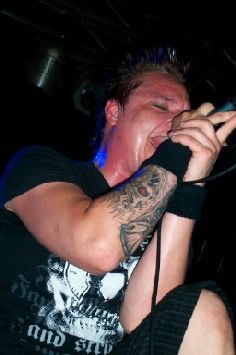 Sonic Syndicate's Roland Johanson
The band reminded me of All That Remains a bit, except the singing was better but the guitar riffs were not as good (a fair trade). Conclusion? Sonic Syndicate jams!
Nightwish came onstage to a packed house of screaming fans, as if Nightwish were a mega-superstar band. I was baffled.
Singer Anette Olzon was very good and reminded me of Jholeen Meeks from the now-defunct Never The Man. I think the former singer of Nightwish, the super hot Tarja Turunen, is the better singer, much more operatic and memorable. Olzon was kind of a b**ch for real. Coming from Finland, I was expecting much darker music, but Nightwish was kind of Gothic pop. The keyboards were eerie and Tuomas Holopainen was a dead-on look-alike for Captain Jack Sparrow, but there's no denying the cat has great talent. Emppu Vuorinen, who looked like Legolas in "Lord Of The Rings," played nice guitar that was nothing special. using chugging rhythms but not very much lead playing. But it was tight, with great tone.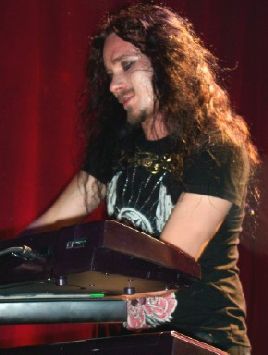 Nightwish keys Tuomas Holopainen
The Viking-esque bassist Marco Hietala was obviously the backbone of the band. Sporting a Nordic goatee, extra-long blond hair and a mean Warwick bass, dude was rockin'. Not only was he a killer bassist, but he also had stage charisma and back up vocals that were amazing. with a high-pitched metal voice that was as off the hook as his funky Viking beard. The keyboard-based Goth rock was meant to woo those with love for darker, melodic tunes. Orchestral parts, played on keyboard, were added in to the rock parts for emphasis. A few songs had acoustic elements. The highlight had to be their hit song "Amaranth," which they also have a video for.
The sold-out crowd loved every minute of this enchanting, ethereal show. At one point, they brought an American Indian with a flute onstage to jam.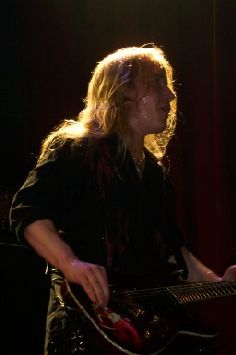 Nightwish's Emppu Vuorinen
The music was a far cry from American metal, yet the beauty of the vocals, keyboards and catchy rock guitar riffs was unmistakably addicting. I loved the weirdness and originality. Check out Nightwish's video "Amaranth" at Myspace.com/nightwish
Heaven Hill's New CD
I am hearing good stuff about Heaven Hill's new Somewhat Civil" CD that is about to be released nationwide on August 26. I heard a lot of money went into the recording of this Southern-rock band and as I sit here listening to the result on their myspace site, I have to admit I am blown away. I've never heard Chuck and the boys sound so good. Excellent sound quality and musicianship.
These guys have come a long way and things are about to get very serious I'm thinking. Their Louevil CD release is on August 22 at Headliners, so don't miss it. Check out the new music at Myspace.com/heavenhill. Check out LMN's Jason Ashcraft's review in the Reviews section on Page 17.
Velvet Saints:
Velvet Saints is an electronica/alternative/rock band from Louevil. Two well-known musicians, guitarist Kevin Mcreery and drummer Ryan Murphy are the backbone of this band. Both have been in many bands and are excellent musicians. This music is quite a bit different for them, though. The vocals of Kevin Manning and Jill Edds are very good. I'm listening to the track "Devil" and it's very "Duran Duran meets Depeche Mode" in a twisted orgy of Eighties alternative jams. Keyboardist Jeff Epperson, who was in Big Head back in the day, has some really cools sounds and programming going on. Jill Edds has a killer voice. With Ryan and Kevin's playing talents, I expected a great singer and they delivered TWO.
If you like techno, Eighties alternative, soul and electronica, you MUST look up the Velvet Saints at myspace.com/velvetsaints
Chimaira Invades
Thrash metal demons Chimaira will be at Headliners on July 10. This is a metal show not to miss, as Chimaira fargin wails. I thought they stole the show at the Sounds of the Underground last year at Waverly Hills, but to see them at a smaller venue like Headliners? Sign me up for that one! You might want to get your tickets now; I'm pretty sure this will sell-out.
HedPE is Coming
On July 2 at Headliners, there will be yet another concert not to miss! Rock / Blues / Soul / Rap / Metal, heck I don't what to call it, but it's good. I saw HedPE a year or two ago at Coyote's and did they tear it up. The singer Jahred has a very soulful voice and commanding presence. If you are thinking of seeing this show, trust Mr. Metal on this. They truly rock and it's not even my style of music, so that should tell you something. Opening for them will be OPM, Potluck, Dirtball, E-Flat and Institution. 7 p.m.
Dizzy of G'N'R Coming: (FREE-RIDE):
Dizzy Reed, the keyboardist of Guns N' Roses, will be in town with his all-star band Hookers and Blow on July 13 at Expo 5. When he is not touring or recording with Guns N' Roses, Reed frequently tours with his hard rock cover band Hookers N' Blow, in which he plays keyboard and guitar and occasionally sings lead vocals. For his work with Hookers N' Blow, Reed was named Outstanding Keyboardist of the Year at the 2007 Rock City Awards. Hookers N' Blow was also named Best Cover Band. Members include musicians from Quiet Riot, Beautiful Creatures, The Jani Lane (of Warrant) Band and Puddle Of Mudd. They even play some Guns N' Roses songs! Sounds pretty cool I must say. I think I will have to review this one! Tickets are $10 Adv/ $15 DoS. I have five pairs of tickets to give out, so email me on July 11 at 6 p.m. for a chance to win free tickets.
Arafel Rips:
Arafel has played my showcase a few times and they just keep getting better and better. Thrash, hardcore, screamo metal with some nice heavy guitar that's heavy, but there with an emotional element that stays with the riffage even though it slams. I love metal AND emotion combined.
Guitarist Will Byerly comes up with good music and singer Nathan Sizemore certainly doesn't lack for confidence as he rips through screams, low growls and shrieks. I'm checking out their new seven-song CD Selective Amnesia and I'm into the darkness and foreboding that is the signature of an Arafel CD.
This metal music is well written and has more hooks than a redneck fishing competition. Check out Arafel at Phoenix Hill Tavern on Friday, August 1 with Deliver Us From Evil, Sever This Illusion, Grinstead and Consume Consumer. 8 p.m. $5
Bizkit's Candyland: (FREE-RIDE)
On Saturday July 5 Bizkit Promotions will be having an outdoor shindig at The Drunken Monkey (formerly the Rustic Frog) in New Albany, Indiana, with female Jello-Wrestling and a slew of killer bands to entertain your butts. Bands playing are Ugly, Sever This Illusion, Adaptize, Slokill, War Within, Pillhouse and Kavehill. 9 p.m. Contact Bizkit for tickets. 812-664-6027.
I have ten pairs of tickets to give away, so email me (myspace.com/eddymetalrocks) on Thursday July 3 at 6 p.m. for a chance to win free tickets.
Dogwater News:
The band is finishing their new CD and says it's sounding very good. I'll have a review out to you folks as soon as I get a finished copy. Look for Dogwater to be playing out again around September.
Of Echoes, Southern Charm:
Nashville's Of Echos is pretty good, although it's kind of difficult figuring out what kind of music it is. Some of it is gothic, some of it is basic rock, and some of it is metal. Whatever it is, there's good stuff going on. Their myspace site is professional and they play out a lot. Vocalist Jen is a good singer and seems to be the leader when it comes to stage presence, maybe because the other members have no stage presence or so it seemed when they played the Phoenix Hill last month.
It kind of throws things off with a Goth female singer and the guys dressed like a country act. Lead guitarist Mike is the main songwriter and he does play well, even though his primary guitar looks like a Slim Pickens twang guitar. I'm listening to some songs off their site and I'm not very impressed with the sound quality of the recording, except for the vocals in the song "Never Call." They sounded much better live. They had the people digging it at the Phoenix show. I hear they go through a lot of member changes and that isn't good. Proof of that was a foul-up during the last song, when the fed-up and angry guitarist walked offstage because wrong lyrics were sung. I do like them live though and recommend you check them out and tell me what you think. Myspace.com/ofechoes
New Band Alert, Blackroom:
Impressive is the word that comes to mind seeing this Louisville band in action for the first time. Young, talented, professional and possessing a good sound, this new band has the goods to secure a good future. Vocalist Roland is good and he has feeling in his vocals. The music is not too heavy but more of a rock-metal ballad-based style that focuses on feeling and groove. Blackroom will be getting good shows in the future. Death metal/hardcore bands usually get to play dives much more than bigger shows, but Blackroom won't have this problem. I could see them doing well in the LRSfest competition coming up later this year. For a new band, they have a decent following and a good little buzz about them. Do yourself a favor and check them out Saturday, July 5 at The Brewery Thunderdome. Myspace.com/blackroommusic
Introducing Human:
Human is a five-piece punk/thrash/metal band from Louevil. I'm listening to their recorded stuff for the first time and I like it. It's fun raw a**-kicking metal with a punkish edge that calls for you to bash your skull into a plate glass window. Imagine Iron Maiden meets Motorhead meets The Sex Pistols meets Charlie Manson. That's Human.
I think I saw them a few months ago at Cahoots but I cannot be sure because I was hammered. If it was, they were pretty darn good. Punk has never been my thing, but there is more metal and thrash here than punk, although the vocals lean more towards punk. The musicianship is good and I'm digging the riffage they produce. It's music to kick someone's a** to. If you feel the need to let loose with some fist-flying punk metal, then look up some Human, they have the goods. Myspace.com/humanky
Upcoming Shows
The Bulldog Cafe
Thursday, July 3 - Our Last Night, Versa Emerge, Jovian and Tuesday, Falling. 7 p.m.
Tuesday, July 8 - Cenematic Sunrise (featuring Craig Owens of Chiodos) w/ Forever In A Day, The Arrival, The Perfect Collision and Talk Of Spring. 7 p.m.
Monday, July 14 - Wednesday, 13w/ Empyrean Asunder, Left With Scars and Blacksuit Joker.
Monday, July 21 - The Banner, Dr Acula, The Hottness and David Costa. 8 p.m.
Expo 5
Sunday, July 13 - Dizzy Reed of Guns N' Roses. Hookers and Blow. 7 p.m. $10ADV/$15DOS.
Headliners Music Hall
Thursday, July 3 - The "Intheclear" Welcome Home show w/ Intheclear and Evil Engine # 9. 8 p.m.
Sunday, July 6 - Boys Like Girls, Metro Station and The Maine. 8 p.m.
Thursday, July 10 - Chimaira w/ Soilent Green, Mobile Deathcamp, Societys Plague and Buried Beneath Me. 7 p.m.
Tuesday, July 15 - Scream the prayer tour 2008: Featuring Sleeping giant, Impending Doom, My Children My Bride, War Of ages, Before Their Eyes, Blessed By A Broken Heart, Soul Embraced, With Blood Comes Cleansing and Agraceful.
Sunday, July 20 - Battle of the bands. 4 p.m. to 10:30 p.m. $8 Adv/$10 DoS.
Tuesday, August 5 - Thrash and Burn Tour 2008: Darkest Hour, Misery Signals, Parkway Drive, Stick To Your Guns, Winds Of Plague, Arsisi, Light This City, Arsonists Get All the Girls and After The Burial. 6 p.m.
Horseshoe Southern Indiana (formerly Caesars)
Saturday, July 26 - The Black Crowes. 7 p.m.
Sunday, July 27 - Boston and Styx. 7 p.m.
Saturday, August 16 - Stone Temple Pilots. (Warning: get tickets now people!) 7 p.m.
The Phoenix Hill Tavern
Friday, July 4 - The Original Rock Showcase Series w/ Broken Vault, Sonic Epitaph, E-Flat, Sacred Sorrow and Shatterstone. 9 p.m. $5
Friday, August 1 - The Original Rock Showcase Series "Simply Wicked" w/ Arafel, Deliver Us From Evil, Sever This Illusion, Consume Consumer and Grinstead. 9 p.m. $5
Drunken Monkey (formerly The Rustic Frog)
Saturday, July 5 - Bizkit Promotions present "Candyland Outdoor Bash" : featuring Female Jello Wrestling plus Ugly, Slokill, War Within, Sever This Illusion, Pillhouse and Kavehill. 9 p.m. $10
The Thunderdome
Friday, July 11 - The Burial, Human and Dead City Rejects. 7 p.m.
Uncle Pleasants
Thursday, July 3 - Me Without You, Maps and Atlases, and Wake The Day, 8 P.M
Thursday, July 17 - Killwhitneydead, Carnifex, Dance Club Massacre, The Demonstration and With Faith Or Flames. 7 p.m.
Monday, July 21 - Suffocation, Anagnorisis, Exmortalis, Scaphated and Colossi. 7 p.m.
Wednesday, July 23 - Dance Gavin Dance, A Strange Lullaby, Four Letter lie, Secret and Whisper and Lower Definition. 7 p.m.
Sunday, July 27 - A Day, To Remember, Taken By The Sea and Anvils Away. 8 p.m.
Friday, August 1 - Emmure, A Life Once Lost, Tony Danza Tapdance Extravaganza, Veil Of Maya, The White Lotus and Rainboots. 7 p.m.
Monday, August 11 - 36 Crazyfists and Walls Of Jericho. 8 p.m.
Wicks on Dixie
Saturday, July 5 - All The Above, Tri Tones, Sta-Kill and Screwface. 9 p.m. 18 +