I've Got A Mind To Ramble
Sweet Home Chicago
Silver is the gift for twenty-fifth anniversaries and the 2008 Chicago Blues Festival was served on a silver platter. Thanks to Barry Dolins with the Mayor's Office of Special Events, this year's festival ranks as one of the best. When I attended the first festival in 1984, it was just three days with shows from 5:30 p.m. to 10:30 p.m. in the Petrillo Music Shell. During the last twenty-five years, it has expanded to four days with six stages at the north end of Grant Park. The music started at 11 a.m. and went nonstop until 9:30 p.m. Many of the headliners who performed at the first festival were back, including James Cotton, Johnny Winter, KoKo Taylor, Magic Slim, Jimmy Johnson, Big Time Sarah and what were then the younger generation of the blues, Billy Branch, J.W. Williams, Carl Weathersby, Lurrie Bell and Lil' Ed Williams. They have all matured well. This year there were several musicians who were unknown to me, which made for some pleasant surprises.
Day One, June 5. Armed with my digital camera and note pad, I got to the Louisiana Bayou Station and Social Club Stage just as Louisiana Red was ready to go on. Red divides his time between Germany and the U.S., but his poignant lyrics are strictly Deep South. In "Red's Dream" he sang, "I dreamed I went to the UN and set the nation right." "Dead Stray Dog" was the saddest song I heard during the whole festival. Red played his white Telecaster a little raggedly with a romping beat. His facial expressions conveyed the intense emotions of this personal music.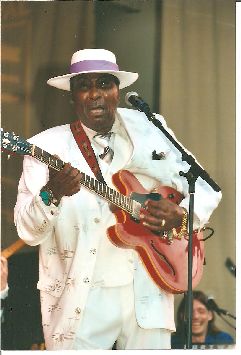 Eddie 'The Chief' Clearwater
Jimmy Burns, who was a headliner at last year's Garvin Gate Blues Festival, hosted a Chicago Blues Round Robin on the Mississippi Juke Joint Stage. His round robin included John Primer, Carl Weathersby plus Willie and Kenny Smith. They passed the blues torch around, singing Chicago standards like "Long Distance Call" and "Fattening Frogs for Snakes."
The Maxwell Street Corner Stage was a new venue this year near the Buckingham Fountain. I used to see Piano C. Red singing and playing his keyboards on Maxwell Street before the University of Illinois swallowed it up. This sprawling open-air market with blues buskers in each block is now just a memory perpetuated by the Maxwell Street Foundation. The old pale blue Blues Bus, decorated with names of famous blues artists, was parked near the stage. This colorful school bus was part of the market scene where you could hear and buy blues recordings from Rev. and Mrs. John Johnson. Red looked very frail sitting in a wheelchair, having survived a recent stroke and a gunshot wound two years ago. He still showed his spunk when he said, "I'm going back to Maxwell Street where you could sell rusty nails and make a living." He played his signature song, "Flat Foot Boogie" and when Ramblin' Rose sat in to sing "I'm a Dirty Old Woman," it got a little raunchy.
L.C. Ulmer was an unknown who turned out to be a real treat. This obscure seventy-nine-year- old guitarist caught the crowd around the Juke Joint Stage by surprise with his engaging solo performance. He used to perform in Chicago clubs as a one-man band but his sound, mostly in the key of E, is distinctly country, echoing the textured rhythms of Lightnin' Hopkins and Frankie Lee Sims.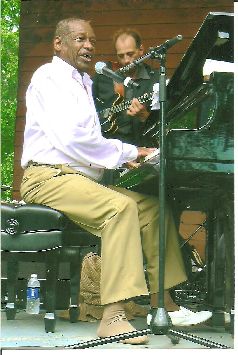 Little Willie Littlefield
Over at the Front Porch Stage, Pinetop Perkins was playing with some of his friends, including Bob Margolin, Bob Stroger and Willie Smith. Willie has turned over the drumming duties to his son Kenny while Willie concentrates on the harp, the instrument he first played. Perkins is a national treasure. still playing the piano and looking sprightly after performing for six decades. He started out playing with Robert Nighthawk, then he had a long stretch backing Sonny Boy Williamson on the King Biscuit radio show over KFFA in Helena, Arkansas. During the Fifties, he rambled with Earl Hooker. When Otis Spann left Muddy Waters' band, Perkins took over the 88s for over ten years. In 1980 Perkins went with most of Muddy's band as the anchor of the Legendary Blues Band. Since 1988 he has been recording prolifically on his own. Perkins will be ninety-five this month. Pinetop Perkins and Friends CD has just been released on Telarc to honor this legend.
The highlight of the evening shows in the Petrillo Music Shell that evening was Duke Robillard's tribute to Louis Jordan. Jordan was born one hundred years ago and Mayor Richard Daly proclaimed June 5 Louis Jordan Day. Robillard brought along a full horn section, including Red Holloway and Plas Johnson on saxes. Sugar Ray Norcia was a surprise addition, singing "Reet Petite" and "Early In The Morning" with Robillard's band. The night closed out with Johnny Winter mesmerizing the huge crowd with his blues-rock-guitar licks. Winter has been gradually recuperating from some serious health problems. After he sat down, he just closed his eyes and let his fingers fly across the fret board. His long blond hair flowed down his back and his white pale skin highlighted with blue tattoos was a sharp contrast to his black clothes and hat. Winter's frail condition made him look so gentle, but the intensity is still there when he played "Johnny Guitar" and "MoJo Boogie." James Cotton joined Winter briefly to rekindle the spirit of their 1977 tour with Muddy Waters. Bob Margolin was watching Winter's every move from the side of the stage.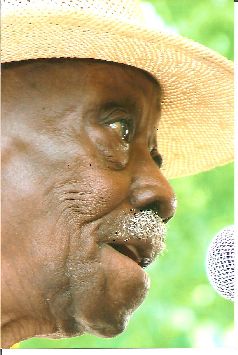 Pinetop Perkins
Day Two, June 6. Otha Turner and his Rising Fife and Drum Band used to open the festivals, parading in front of the stage as they originally did for country picnics in northern Mississippi. Sharde Thomas, Otha's granddaughter, carries on the fife tradition with the Thomas Family, playing a variety of drums from bass to snare. These simple repetitive rhythms and delicate, pure tones recall African musical roots and are one of the foundations for the blues.
Little Willie Littlefield's blues, ballads and boogie-woogie recalled the urbane California sound of the 50s. Littlefield plays with one shoe on and with the soul of other West Coast pianists of his era like Charles Brown, Floyd Dixon and Amos Milburn. His boogie-woogie style is tempered with RandB and plenty of showmanship. He has been living in Holland, but following his rare appearance at the festival, I hope he will spend more time in the States.
The Maxwell Street Corner Stage was a great location on a hot windy day, for the mist from the fountain drifts over and cools you off. Harmonica Hines blew his harp and stamped his feet while Larry Taylor backed him on guitar for a set of solid Chicago blues. Jimmy Johnson followed, playing both guitar and keyboards. When Johnson sang "I Got A Cold Feeling," it sent chills down my back.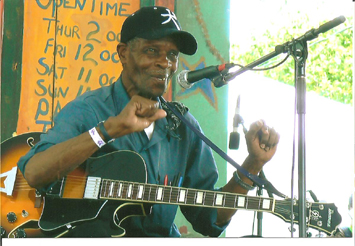 L. C. Ulmer
The music at the Crossroads Stage is always turned up a notch. Chicago singer, Larry Taylor, fronted several sets that featured West Side blues and soul. He paid tribute to the late Jumpin' Willie Cobbs. The West Side of Chicago is alive and well with the soulful songs of Z.Z. Hill, Jr. and the Taylor and Harrington extended families. "Blasts from the Past" was the theme of the evening's opening set with Ruby Andrews singing her seductive hit "Casanova" and Cicero Blake doing "Love Is Like A Boomerang." Sugar Pie DeSanto was the sassy little lady who stole the show with her stage antics. Wearing a sequined hat and low-cut blouse, she kicked off her shoes and reached out for someone to lift her off the stage and into the photo pit to sing to the crowd. This 72-year-old Californian RandB songstress sang "In The Basement" as if she were still touring with the Johnny Otis Revue.
It has been confirmed that Eddy 'The Chief' Clearwater will be the headliner for the Garvin Gate Blues Festival on October 11 and I got a preview of what to expect from the flamboyant southpaw guitarist. Because Clearwater's grandmother has Cherokee ancestry, he briefly wore his trademark full Indian headdress when he sang "They Call Me The Chief." West Side Strut has just been released on Alligator and is a wonderful collaboration with Ronnie Baker Brooks sharing their songwriting and guitar skills. The other special guests who were on the stage as well as on the CD were Lonnie Brooks, Jimmy Johnson, Billy Branch and Otis Clay. Clearwater was definitely energized with all this talent together, strutting and strumming his stuff. This powerful set closed with everyone joining together to sing the spiritually moving "Do Unto Others."
SugarPie DeSanto
Finally, it was time for The Queen of the Blues. KoKo Taylor's shows have become predictable but remain wonderful They open with a work out by her Blues Machine, which includes Vino Louden, who has been her lead guitarist for fifteen years. Shun Kikuta got several opportunities for some stinging guitar solos and even sang a song. When KoKo comes out to sing her tried, true and blues songs like "Let The Good Times Roll," "Ernestine," "It's Been A Long Time," "Come to Mama," "I'm A Woman" and the climactic closer "Wang Dang Doodle," the crowd loves it.
I'm running out of space and have only covered the first two days of the four-day festival. Next month I will take you home.