Bluegrass Beat
In the good old summertime - when the sun shines bright - and all the rest - Well there's more than one bright side. Outdoor festivals have already gotten into full swing and, with some planning, you may find a way to offset some of the gas prices, which have been going up like weeds in a flower bed. I hope we can all work something out on that score. Sure hate to see the festivals suffer, as we all will if we can't go. Kind of hard to imagine a summer without our yearly "fix" of bluegrass in person.
There's more to this than meets the eye when we consider all of us have many bluegrass friends/brothers/sisters that we see, visit and catch up with. And there are many favorite artists who we can never know whether this will be our last contact. So let's go when we can. Maybe car pool?
ForestFest
On the festival subject, Forest Fest was considered quite a success. The 17th of last month in Jefferson Memorial Forest, Louisville brought together local groups Stone Hollow, Dozens of Dollars, Bluegrass 101, Kentucky Sassafras and the icing on an already great bluegrass cake, Dr. Ralph Stanley and the Clinch Mountain Boys - without taking into consideration the whole shebang was FREE! First Rate Enthusiastic Entertainment.
The attending crowd was estimated at 4,600. Not surprising, considering what was offered. It was a little muddy, so most everybody noticed and nobody really cared. How is such an event like this pulled off? With a lot of work and cooperation.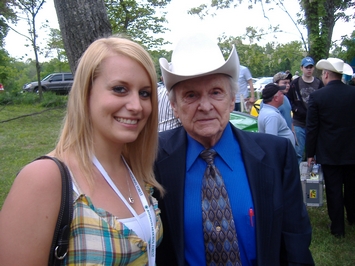 Chloe Blyane and Ralph Stanley. Photo by Berk Bryant
Councilwoman Vicki Welch, District 13, is the anchor in this chain that gives this dream event life. There are many links in this chain, including Bennett Knox, Tonya Swan, Jim Collings and other council members and volunteers. Another very important link is the sponsors and they are recognized, appreciated and much thanked. There are others - the ones I have mentioned are the ones that I know.
I would like to add that I appreciate these good folks and friends for allowing me to be a part of this wonderful event.
There were a couple of individual and personal pluses to go along with the festival. One was the few minutes I had to sit and visit with Ralph. Another plus for me was to introduce Chloe to him. I was hoping that Ralph would arrive in time to hear Sassafras play, but they were on when he arrived and that didn't happen. One thing that was accomplished is I did get a good picture of Chloe and Ralph.
This past month I received an email from my very longtime friend in England, Chris Clark. Chris is an avid fan of American country music - the real country and bluegrass. For the interested and those who really haven't tried it, Chris sent me a site he found as he searches the Internet. It is hillbillyclassics.com and he thinks it is located in Washington state. I have checked it out and it sounds good to me. They play traditional country, the kind that you can recognize the singer because no two sounded alike, 24/7. One thing unusual about it is the stream gives you a choice of type of connection you use. In my case I have dial-up and l know you know what that means - sloooow download. But not with these guys. You click on dial-up and you are off and running. Continuous just the way it should be. Try it, you might like it.
Wade'sBirthdayParty
A word about our friend Wade Mainer. I chatted with Mr. Mainer by phone a few weeks back about his big birthday party. There was a huge turnout for his 101st birthday. He and wife Julia performed a bit with their instruments - banjo and guitar. Wade developed the two-finger style of playing banjo. Generally Wade says he feels pretty good and still has a desire to record a new CD - one, of course, of the old songs done the way they used to do them. This is a gift both to Wade and to all of us who appreciate the legends.
CruisingBluegrass
The Belle of Louisville folks were so satisfied with the bluegrass cruises last year they are at it again and have extended the schedule this year to October 26. Boarding begins at 1 o'clock, cruise starts at 2 and it's back by 4. You have a choice between the buffet cruise or no buffet. I've got to say the buffet is excellent and by the same folks who provided it last year, Hall's Catering in Louisville. Great food and service. A fun time for all. If you have been on the Belle recently, you may notice something missing in the big room. The stage has been removed. Will have to ask about that.
Upcoming
A good thing, bluegrass jams are springing up like spring grass after a fresh rain.
• The Vine Grove jam is back in the Optimist Park (weather permitting) every Monday night. Friends, folks and pickers begin gathering about 6 p.m. and stay as long as they like. There is jamming Tuesday and Friday nights, 6:30 till?
• Bluegrass jamming Sundays at 3 p.m. at the New Silver Heights Bingo Hall, 9206 Blue Lick Road, in Louisville.
• 101's Bardstown Bluegrass Festival: June 6 and 7, White Acres Campground, Bardstown, Ky.: June 6, Bluegrass 101, Kentucky Sassafras, Tommy Brown and County Line Grass, Vince Combs and Shadetree Grass. June 7, 101, Sassafras, David Davis and Warrior River Boys, Tommy Brown, Kentucky Wind.
• June 19-21, Vince Combs 20th Annual Bluegrass Festival at Hindman, Ky. June 19, East Kentucky Grass, Mountain Melody, New Cut Grass, Ramblin' Grass, Mountain Drive. June 20, Bluegrass Brothers, Vince Combs, Tommy Webb, Bo Issacs, Bluegrass 101, Johnny Browning. June 21, Joe Isaacs, Vince Combs, Kody Norris Band, Glen Ritchie Band, Dean Osborne Band, Bluegrass 101.
• Festival Of The Bluegrass June 12-15: IIIrd Tyme Out (Friday), Dry Branch Fire Squad (Saturday and Sunday), Seldom Scene (Saturday), J. D. Crowe (Friday), Mountain Heart (Saturday), Lonesome River Band (Thurs.), The Grascals (Saturday), Anita Fisher Band (Thurs.), Kentucky Sassafras (Thurs.), Lewis Family (Friday), Don Rigsby (Friday), Wilson Family, Kentucky Blue, Moron Bros.
End of spring, start of summer and let the good times roll now that you know where to go. And if you don't go, just tune in to Sunday Bluegrass each Sunday night, WFPK 91.9 FM. See you there, take your choice. Play it safe and come back.
Take care with prayer.