Scuttlebutt
Goo Goo Dolls @ 4th Street Live
The Goo Goo Dolls are going down as one of the greatest sappy arena rock balladeers of all time. The "sappy" comment is no insult: that's what these guys have made their way on. It's just another one of those "it is what it is" concepts. Goo Goo Dolls invested their musical creativity (or possibly genius) into the 'having the blues' industry and came out rock stars by literally winning over the hearts and tears of millions of people worldwide, most of whom have had a case of the blues at some point in their lives.
It often happens at concerts that there are a few groups who aren't really paying attention to the musicians. Not at the Goo Goo Dolls show at 4th Street Live, though! Everyone was totally engaged with vocalist John Rzeznik's every move. I asked someone standing next to me how many songs they had played upon arriving and they told me to "shut-up" until the song was over. Now that's engagement. I didn't even get offended. They were right. You don't get to see this level of talent every day around Louisville.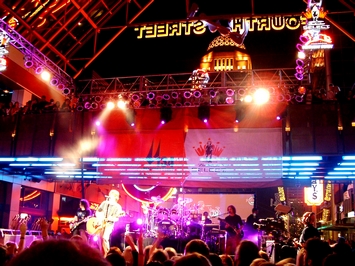 Goo Goo Dolls at 4th St. Photo by Jason Ashcraft
The most vivid songs I remember were "Better Days," "Name" and "Before It's Too Late." Apparently, they played these after I was told to "shut-up and just listen," which I should have been doing anyway. It was amazing to hear the Goo Goo Dolls perform these songs 'live' since I've listened to on albums for years.
The Goo Goo Dolls have a CD on the shelf of almost everyone's collection, especially if that collection dates back to the mid 90s, when the band launched itself into the musical mainstream. One such album, "A Boy Named Goo," was released in 1995 and initially only sold 4,500 copies out of the gate. But, it would eventually surpass 1.6 million in sales, once the hit single "Name" aired on MTV. The album didn't even occupy space in Wal-Mart or Target, due to its slightly controversial album artwork, but it launched the band into the national spotlight, after they had already released four albums on Metal Blade and Celluloid Records.
In 1998 the Goo Goo Dolls signed a deal with Warner Brothers Records and released "Dizzy Up The Girl" featuring the hit song "Iris." It almost instantly went platinum and everything after that is history.
Johnny Rzeznik, Robby Takac, and Mike Malinin became America's rock ballad hit-makers in a very short period of time. They have something about them that I can't quite figure out, but over the years, the Goo Goo Dolls have kept their music and image from being cheesy, even while mining the 'sappiness' vein. Other 'ballad rockers' have eventually fallen victim to whininess, but not the Goo Goo Dolls
They played most, if not all, of their hit singles under the roof on a rainy night at 4th Street and those who were there were totally conquered by the Goo Goo Dolls' stage presence. Few musicians achieve this kind of longevity in their musical careers.