Cowboy Corner
Country Music Set to Heat Up the Derby
The 134th running of the legendary Kentucky Derby is just around the corner and a couple of country music's hottest acts are headed to town to help Derby fans get in the mood. American Idol alum and "Red High Heels" singer Kellie Pickler will heat things up when she headlines the Crown Royal Festival in the Field in the infield at Churchill Downs on Thursday, May 1. Admission is free with a $3 entry fee into the track.
Later that same evening, Craig Morgan is guaranteed to be a crowd-pleaser at the Chow Wagon at Waterfront Park when he tears into his latest smash hit, "International Harvester." Admission to this show is also free with a $3 2008 Pegasus Pin. Morgan should keep the crowd on its feet with hits like "Redneck Yacht Club" and "What I Love About Sundays."
In other concert news, country fans are going to be in hog heaven all summer as a heaping helping of country concerts are slated to roll into the Derby city. Fourth Street Live! will once again be hosting several country concerts on Wednesday nights this summer. Artists currently scheduled to appear at the free shows include: Tracy Lawrence on June 4, Jake Owens on June 25, Jason Michael Carroll on July 16, and Lonestar on October 24.
Gary Allan will help fans celebrate Independence Day a day early when he performs a free concert at downtown's Waterfront Park on July 3. The "Redheaded Stranger" himself, Willie Nelson, will bring one of his Farm Aid compadres, Dave Matthews and his band, to Louisville Slugger Field on August 1, combining two of America's favorite past-times: baseball and country music.
Some of the hottest shows of the year will be during this year's Kentucky State Fair, scheduled for August 14-24. One of country music's most successful duos, Brooks & Dunn, will be kicking off this year's fair on Thursday, August 14, bringing along southern rockers ZZ Top and one of country's hottest new acts, Rodney Atkins. Brad Paisley will make a return visit to the fair on Saturday, August 16, bringing along "Stealing Cinderella" singer Chuck Wicks, popster-turned-country singer Jewel, and two-time Dancing with the Stars champion-turned-country singer Julianne Hough. Several free country shows are already lined up, including the Oak Ridge Boys on August 17, T.G. Sheppard on August 21, and Travis Tritt on August 23. And the fair board and Triangle Talent are saving the best for last as Trace Adkins will close out the fair on Sun, August 24. Please keep reading in the upcoming months as I'll have more details on fair concerts as the time draws closer.
Montgomery Gentry Busy These Days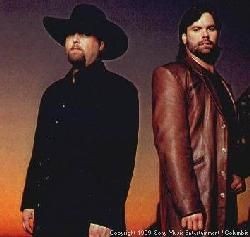 Montgomery Gentry. File Photo
Nicholasville, Kentucky duo Montgomery Gentry has been quite busy these days. Eddie Montgomery and Troy Gentry recently put the finishing touches on their next album at Ardent Studios in Memphis, Tennessee. Titled Back When I Knew It All, the album includes guest appearances by Toby Keith and John Ondrasik of Five for Fighting and is scheduled to be released on June 10. A week later, the boys will hit the road with Keith for the summer on his "Biggest & Baddest Tour," kicking off June 19 in Pelham, Alabama. Also joining the tour will be two new artists from Keith's Show Dog Records label, Mica Roberts and Trailer Choir.
In addition to his music career, Eddie Montgomery has been busy with a venture on the side as of late. Last month, Montgomery broke ground on a restaurant and 40-acre commercial development in Harrodsburg, Kentucky. Eddie Montgomery's Steakhouse is planned to be a log restaurant featuring seating for 265 guests, along with a music stage (and we can only imagine who might pop in from time-to-time to perform). The development has been dubbed Skyler's Landing after Montgomery's granddaughter and is slated to be complete this fall.
Catching Up with Dolly Parton
Sixty-two-year-old international country music superstar Dolly Parton has been one busy lady lately. She released her first mainstream country album in nearly two decades, Backwoods Barbie, on her very own newly formed label Dolly Records. Back in February, she mentored the American Idol contestants and performed on the results show. Last month, she kicked off the 23rd season of her Dollywood theme park (located in her hometown of Pigeon Forge, Tennessee). She is embarking on a world tour in support of Backwoods Barbie, and her musical adaptation of her 1980 box office smash acting debut, 9 to 5, will hit the stage in California in September, followed by a Broadway debut in 2009.
Louisville Music News was on hand for Dollywood's season opener last month, when she introduced the new $5 million water ride, River Battle. Throughout the "homecoming weekend," Parton honored her late mentor and duet partner, Grand Ole Opry legend Porter Wagoner. She and Wagoner's three children participated in a rose ceremony, introducing a beautiful rose which will be planted in Wagoner's honor in a memorial garden on the Dollywood grounds. Parton and Wagoner's original Wagonmaster band, including Parton's longtime road manager/advisor Don Warden, decked out in full rhinestone-encrusted Wagoner-wear, performed a tribute concert of some of Wagoner's biggest hits, closing the show with a poignant rendition of Parton's signature tune (which she wrote for Wagoner as she left his show to embark on her solo career), "I Will Always Love You." In addition, Parton revealed a permanent display of Wagoner costumes and artifacts - which she personally assembled - in her Chasing Rainbows museum within the park.
During the opening weekend festivities, LMN had a chance to talk with Parton about her recent American Idol performance. When asked what compelled her to participate in the show, she said, "I was very honored to be a part of that show. They've been asking me to be on ever since they started and I never really wanted to go on 'cause I didn't want to have to judge people, 'cause I know I'm not like Simon [Cowell] - I can't hurt somebody's feelings - I know somebody's got to do that particular job. But I just never had gone on because I just thought, 'Well, I couldn't say anything but nice things about the kids,' 'cause I know even if you're not a great talent, you think you are-you're taking it serious yourself."
"My songwriting is my number one thing," she continued, "so [the AI producers] said, 'Why don't you come on and we'll have the contestants just sing your songs and that was a wonderful day that I spent with the young talent singing my songs. They were so nervous and so intimidated, and I said, 'It's just me, and I'm honored that you're singing my songs. You don't have to sing them any way but your way.'" When asked if the contestants made her proud, Parton said, "I thought they did a good job and I thought the show turned out pretty good and we had a good time doing it." During the results show, contestant Ramiele Malubay, who performed Parton's "Do I Ever Cross Your Mind," was eliminated and Parton performed her new single, "Jesus and Gravity."
Trace Adkins is Country's Apprentice
As country crooner Trace Adkins went head-to-head with tabloid editor and America's Got Talent judge Piers Morgan on The Celebrity Apprentice, Donald Trump might have crowned Morgan the winner, but Adkins is most certainly country music's Apprentice. Country fans could not be more proud of the way Adkins maintained his composure throughout the competition, playing the game with integrity and grace, portraying himself and country music in such a positive manner. Morgan's hefty Rolodex definitely gave him an advantage over Adkins when it came to raising money, but Adkins is pleased with the outcome, having achieved his goal in participating in the competition. Adkins says, "I raised a lot of awareness for the Food Allergy & Anaphylaxis Network (FAAN). A lot more people are aware of it now. I've had a lot of people contact me wanting to make donations, so it's wonderful." Adkins was competing on behalf of FAAN because his daughter Brianna suffers from severe food allergies.
Adkins has been busier than ever since his appearance on The Celebrity Apprentice. He has continued his work with FAAN and is featured on a poster promoting food allergy education geared toward teenagers because they are the most at-risk age group for fatal food allergic reactions. Fans can download the free poster at www.foodallergy.org. His efforts are in conjunction with Food Allergy Awareness Week, which is May 11-17. For additional FAAN fundraising, following Apprentice, a special live version of Adkins' "You're Gonna Miss This," which topped the country charts for three weeks, was available for download on iTunes with all proceeds going to FAAN.
This has been a year of "firsts" for Adkins: his first (and he promises his ONLY) reality show appearance, his first multiple-week #1 single, and now his first movie. Adkins is slated to play the Spirit of Christmas Future in David Zucker's comedic take on the classic A Christmas Carol, titled American Carol. Adkins' character will use "his special musical abilities to bring insight to Scrooge (played by Kelsey Grammer) in an effort to help him avoid an inevitable and tragic end."
Congratulations to Trace on a record year! We look forward to seeing him this year at the state fair!
The Young Ladies Sweep the CMT Music Awards
Walking into the 2008 CMT Music Awards last month, Brad Paisley's "Online" and Sugarland's "Stay" topped the list of nominees with four nods each, along with video director Shaun Silva. Following closely behind with three nominations each were Trace Adkins, Kenny Chesney, Kellie Pickler, Rascal Flatts, LeAnn Rimes, Taylor Swift, and Carrie Underwood. Well, the young ladies, Kellie Pickler and Taylor Swift, were the biggest winners of the evening! Pickler's "I Wonder" was crowned Performance of the Year, Tearjerker Video of the Year, and USA Weekend Breakthrough Video of the Year while Swift's "Our Song" garnered the teenager the Video of the Year and Female Video of the Year honors. Paisley and Sugarland each went home with a single trophy: Comedy Video of the Year for Paisley's "Online" and Duo Video of the Year for Sugarland's "Stay."
And the winners are: Video of the Year: Taylor Swift's "Our Song"; Female Video of the Year: Taylor Swift's "Our Song"; Male Video of the Year: Trace Adkins' "I Got My Game On"; Duo Video of the Year: Sugarland's "Stay"; Group Video of the Year: Rascal Flatts' "Take Me There"; Collaborative Video of the Year: Bon Jovi & LeAnn Rimes' "Till We Ain't Strangers Anymore"; and Wide Open Country Video of the Year: Alison Krauss & Robert Plant's "Gone, Gone, Gone (Done Moved On)."
USA Weekend Breakthrough Video of the Year: Kellie Pickler's "I Wonder"; Performance of the Year: Kellie Pickler's "I Wonder"; Comedy Video of the Year: Brad Paisley's "Online"; Tearjerker Video of the Year: Kellie Pickler's "I Wonder"; Supporting Character of the Year: Rodney Carrington in Trace Adkins' "I Got My Game On"; and Video Director of the Year: Michael Salomon for Toby Keith's "High Maintenance Woman" and "Love Me If You Can" and Trace Adkins' "I Got My Game On."
Congratulations to all the winners!
Reminder: ACM Awards
Be sure to mark your calendar and set the DVR for the 43rd Annual Academy of Country Music Awards to be handed out in Las Vegas on May 18. Reba McEntire will host the awards program for the 10th consecutive year and fans can catch the live telecast on CBS-Television. Kenny Chesney will compete for eight awards in seven categories: Entertainer of the Year, Top Male Vocalist, Album, Single, Song, and Video of the Year, as well as Vocal Event of the Year along with Tracy Lawrence and Tim McGraw for "Find Out Who Your Friends Are" and with George Strait on "Shiftwork." Trailing Chesney with four nods each are Rodney Atkins, Big & Rich, Brad Paisley, and Sugarland. Miranda Lambert, George Strait, and Taylor Swift each received three nominations.
In addition to the traditional awards, Gary LeVox, Jay DeMarcus, and Joe Don Rooney, who make up the trio Rascal Flatts, will be honored with the Home Depot Humanitarian Award during the ceremony. The trio has been very active throughout their career raising money for numerous charitable organizations and they truly deserve to be recognized for their efforts. Rooney recently stated, "We have been blessed with some incredible successes in our career the past couple of years. The most rewarding thing for us is the opportunity to give back to our communities. We'd like to thank the Home Depot and the Academy [of Country Music] for recognizing us in such a humbling way."
As the big night approaches, more and more artists are being scheduled to perform and/or present an award on the show. Currently scheduled performers include Rodney Atkins, Big & Rich, Emerson Drive, Miranda Lambert, Brad Paisley, Dolly Parton, Rascal Flatts, LeAnn Rimes, Sugarland, Taylor Swift, Carrie Underwood, and Keith Urban.
Country Tidbits
Songstress Sara Evans has had a rough couple of years as her very nasty divorce from Craig Schelske has played out on the television and in newspapers, sparking her withdrawal from the Dancing with the Stars competition back in 2006. With the divorce finalization last Sept, Evans has moved on with her life and recently announced her engagement to Birmingham, Alabama's WJOX-FM morning radio host Jay Barker. No wedding date for the songbird and the former University of Alabama quarterback has been announced. Best wishes to Evans and Barker!
Tejano singer Emilio Navaira, who enjoyed country chart success back in 1995 with "It's Not the End of the World," nearly reached his end when he was critically injured in a bus crash on March 23. He sustained severe brain damage and was in a coma after his tour bus, which he was apparently driving at the time, collided with traffic barrels on I-610 in Houston, Texas, following a performance at a Houston club. Navaira has since awaken from the coma and is able to walk again, but his music career remains uncertain due to the severity of his brain damage. Six members of his band Rio also sustained much less severe injuries in the crash. Our thoughts and prayers are with Navaira and his band at this time!
Country supergroup Alabama front-man Randy Owen will be honored this month for his selfless charitable work on behalf of St. Jude Children's Research Hospital located in Memphis, Tenn. On May 13, Owen will receive the Paul G. Rogers Public Service Award from the Friends of the National Library of Medicine in Washington, D.C. for creating the Country Cares for St. Jude Kids program back in 1989 after meeting St. Jude founder Danny Thomas. The country music radiothon has raised more then $315 million for the hospital which treats victims of childhood cancer. On behalf of my 15-year-old friend Kelsey Harris, who is currently being treated at St. Jude, congratulations Randy and THANK YOU!
Well, that's it for this month. Here's wishing each and every one of you a safe Derby. Always remember: "Keep your boots shined up and your hat on straight, 'cause country music is comin' your way."