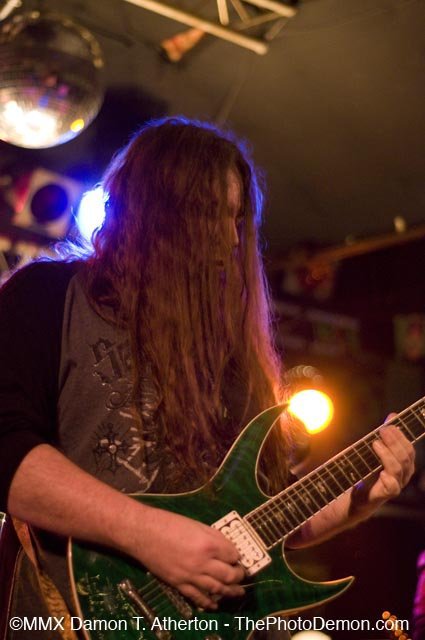 News From the Pit
It was 5:36 AM and I once again was sleeping like a rock when the house shaking jarred me awake.
I was thinking "now what?" More idiots crashing into my cars? Now possibly my house? But noooo, it wasn't clowns in the neighborhood at all, it was an earthquake!
I'm 38 years old and never felt an earthquake. It was a trip. As usual, I jumped up naked and threw on some shorts (not Spiderman boxers) and ran outside. My neighbors were filing out of their houses too. Turns out that this very rare earthquake was a 5.2 on the Richter scale! It was so strong I'm surprised my house wasn't damaged. I think god is messing with me! This getting a big surprise in the middle of the night is starting to get retarded! First stolen vehicles, then a young moron crashes into my car, now a earthquake? What next? An asteroid hits my crib at 4 a.m.? Sheesh.
It's the day after Megadeth's Gigantour, um 4/20. Ohhhhhhh my poor sour innards. Such a great concert. Such excess! My lungs are collapsed. The only part that sucked for me was my head in the toilet bowl about 4 a.m.
Lesson learned? Never go to Arby's drunk and starving! Other than that, I had a blast, hanging with good friends and watching great music. The concert was a success. We metalheads needed a metal show just like this to get other big metal tours to come to Louisville. People came out in droves to see a good, old-fashioned heavy metal concert. And it was awesome! I had V.I.P and was able to get some very sweet pictures, so be sure to check them out on our website Louisvillemusicnews.net. (See full concert review below).
The Devildriver concert was off the hook, too! I'm so glad I went to the show.
Devildriver is unbelievable. I love watching this band play! It's a band that really, really comes through live like no other I've seen in a long time. (See review below). If you haven't heard Devildriver by some odd chance, then you need to. Unfortunately I didn't make it to see Nile, but I heard that it was very good.
We've been getting a ton of heavier bands coming to town and that's a really good thing. It was packed at Devildriver and Megadeth was pretty darn crowded.
As I sit here writing the column, putting up show dates, I've noticed that there aren't too many metal concerts coming up this summer so far, which is lame. I guess the local metal scene will have to take up some slack for national metal shows in the next few months.
One of the possible places to attend is Shooter's. My friend Louie the local guy from 93.1 the Fox has been trying for a while to get me to come out to Shooter's, 7092 Distribution Dr. in Riverport, to see some of the shows he puts on, so I took my big butt up there for one of his Sunday shows and I had fun. The place is pretty nice. The PA system was nice, too. Much better than some of the smaller venues I've seen. The stage was pretty darn big! The people there were very friendly, especially the cute door girl. I heard the food there is good, but I didn't eat any.
The only bummer is the location. It's a little far out, but not too far!
So for all you bands out there looking for gigs. I think it's a cool place to play! Contact Louie or the club for some info.
Shooter's has the Eddy Metal seal of approval but bands will have to do some serious promoting, flyer making, yakking on the Internet, to get some rumps in the seats out there.
Another place I went to recently is Cahoots (the long-ago site of Tewligans) on Bardstown Road. A female friend invited me and it was different from what I expected. Surprisingly, it was underground metal night or something, because some punk-ish metal bands were playing.
It was some pretty heavy music though. The mood at Cahoots was definitely metal/underground/gothic, much to my surprise and liking. The people who worked there were very pleasant and to top that off, one was a fan of my column, so that made it even more cool. Cahoots does need to build a stage and get a little bit better PA, but the place has got a prime location and things can only get better. I liked the place: the Goth chicks were hot and their jalapeno poppers are sweet.
You want to check out some new places? Visit Shooter's and Cahoots.
Good food, hot chicks, original music, booze. Who could ask for more?
The Metal Grapevine
Megadeth Delivers: Wow. What an amazing show! The first time Megadeth's Gigan-tour came to Louisville was a success.
Seeing shows at Louisville Gardens has always been a favorite experience of mine. I've seen many shows there; seeing Megadeth come back after 10 years and in such fine form was a show to remember.
I vowed to get a bunch of pictures and I did. Check louisvillemusicnews.net.
First up was Oakland, California's High On Fire, who sounded to me like a cross between Motorhead, Celtic Frost and Kreator. They were only a three-piece, but they had a full, grungy, raw metal sound that got the crowd going good.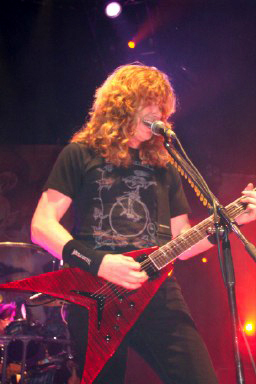 Dave Mustaine. Photo by Eddy Burke
What was freaking me out was the fact that the guitarist/vocalist Matt Pike was playing a weird guitar with 8 strings! I was like "What in the world?!" But the guitar sound was kind of wild sounding. High On Fire was good and raw, but not really my cup of tea. I think it was the Lemmy-esque vocals that killed me.
Then Arizona's Job For A Cowboy hit the stage and ruled as usual. I saw them at last year at Sounds Of The Underground and they were awesome. There's just something about their guitar riffs that attracts metalheads like crack to a crackhead! They will hook you. The vocals aren't so special, but they do fit in and work with the music. JFAC is a band of excellent musicians. I was really looking forward to seeing them again and they did not let me down.
What was weird was that there really wasn't too much of a pit going on. With JFAC, I thought it would have been insane. The crowd loved the music, but was mostly laid back.
Sweden's Children Of Bodom came on next and I was most anxious to see them live. I love the gothic keyboard-classical metal style that so many European metal bands have adopted. Some people I was with didn't like it very much, but I was liking the music just fine. Guitarist/vocalist Alexi Laiho is a bad mofo on guitar and the guy has become somewhat of a star here of late, appearing on metal magazine covers and everything. He's got stage presence, too. The band has developed quite a underground following worldwide. A few songs into their set, I was up front taking pictures (one foot from the stage) when the barricade broke behind me and an avalanche of metalheads burst through. Had I been back three feet or so, I would have been buried under bodies like in "300" when the Spartans pushed a human wall of corpses onto the enemy. Security rushed in and the show was stopped while they tried to fix the problem. Being a guy into construction a bit, I figured it would take a few minutes to rebolt the mofo, but it was at least 15 minutes or more before the show restarted.
People were starting to get mad and had they been much longer, a riot might have happened, but thank god, no drama ensued. The metal crowd behaved.
Then the band started rocking again and all was good. I enjoyed COB's set, but the vocals could have been a bit better. But I guess singing excellent and playing highly technical riffs all at once is a bit much to ask, even for Alexi. Still, I'd go see them again in a second.
Then came In Flames, another band from Sweden I'd heard about a lot, but haven't really heard. Another very impressive metal import, if I say so myself.
That is one of the reasons I wanted to see this show: I'm into a lot of European heavy metal. European metal bands don't tour the US much and Children Of Bodom and In Flames are two of those bands that are reputed to kick much butt.
In Flames stomped arse and was much more than I expected. Singer Anders Friden did a lot more than cookie monster stuff. Friden was quite the front man, singing, screaming, and growling with much stage presence and confidence. That confidence really paid off, as this Gothenburg, Sweden band showed what Euro-metal was all about. Their riffs were very rhythmic and hooky, although metal. And guitar melodies abounded! The crowd was into the music, bigtime. I love metal with melody. And that seems to be a big deal to In Flames as well.
Then it was time for the triumphant return of Megadeth, a band that hadn't played Louevil for ten years! I had been pumping this show for three months to try to get my readers interested in the show and here it was. Time to rock!
The band came onstage and I was surprised to not see Marty Friedman, Megadeth's longtime guitarist. Instead, they had some muscular dude on guitar and a blonde , longhaired guy on bass I did not recognize, either.
Then I found out who they were and boy was I shocked! Turns out that the guitarist is Chris Broderick, who was recently playing with one of my favorite bands, Nevermore, until lured into Megadeth. Who can blame the guy, though?
Playing with Mustaine is a huge step forward for any metal musician. Broderick is an amazing guitarist, but I heard people complaining that he made a few small mistakes during the set. But give the guy a break, he was just recently added to the Megadeth lineup! And Mustaine's riffs aren't exactly easy.
You would never guess who was on bass guitar. James Lomenzo, formerly of Eighties hair band White Lion and most recently with Black Label Society. It's a trip seeing this guy, who was in White Lion's classic hair band "Wait" video (I admit it, I like the song. lol) play songs like "Wake up Dead" and "Peace Sells." This was a very talented lineup we got to see, of very experienced players, not newcomers.
The band started out with "Sleepwalker" from their new CD United Abominations, then lit into monsters like "Wake Up Dead," which features one of the fattest solos in Megadeth's repertoire. "Skin O' My Teeth" off of Countdown To Extinction was wicked as well. They played "Washington Is Next" and "A Tout Le Monde" from the new CD; they were pretty cool, but it did not quite have the intensity of classic Megadeth.
Then they let out "Darkest Hour," off of an album I love, but that not many other Megageth fans seem to like all that much, So Far, so Good...So What. It sounded excellent and Dave's voice sounded as good as the CD! Very impressive live. Then they threw down with some "Hangar 18" and "Tornado of Souls" off of Rust In Peace, which was slammin'. All this time the crowd was building up, getting louder, more active and more crowded.
As the show progressed, they played another new tune, then their big radio hit off of Extinction, "Symphony of Destruction."
Then saying it was the last song, they ripped into "Peace Sells" and I was in heavy metal heaven.
One encore followed, with "Holy Wars" off of Rust In Peace the final song. Dave Mustaine had nothing but good things to say about the crowd here in Louisville, Kentucky and he politely apologized for the time delay earlier during Children Of Bodom. I could tell he was very happy with the turnout. Next year, when Megadeth's Gigan-tour is planning their schedule, you can bet your Derby tickets that good old Louevil with be on that list of cities.
And thanks to all of you who attended this show (I'm guessing attendance was at 85% or more), we really needed this and YOU wild rockers delivered.
Sevendust/Saliva on Derby Eve:
Here is going to be one huge party to be reckoned with! Derby Eve at the Phoenix Hill Tavern will have its parking lot packed to the max with a huge stage for Sevendust and Saliva. It's the second stage from the OZZfest tour!
I don't know how that monster will fit in the Hill's parking lot, but I'm thinking all the rockers will show up for this one. I'll be there to cover the event, so be sure to say 'hi.' You might want to see about getting your tickets ahead of schedule.
Flyleaf and Seether:
Save some partying for after the Derby, because Seether and Flyleaf will be coming to Coyote's on Tuesday, May 6. I've never seen Flyleaf before, so I'm looking forward to that. Seeing shows at Coyotes is always fun and you can bet that this show will be a babe-fest! So fellas, you should go just to check out the chick-factor. This is another show not to wait to purchase tickets, as it will sell out.
The New Tantric Is Coming:
On Thursday, May 16 at Phoenix Hill, bigtime radio rockers Tantric will be returning to "the Ville" in high style. I interviewed vocalist Hugo Ferreira a few months back and his new version of Tantric is sounding excellent. They're doing very well on their own tour across the country. I'm very impressed with the new music. Get your tickets now!
Stuck Mojo at The Hill:
I got contacted by the Stuck Mojo people about putting on a show at the Hill. I was thinking I could bring in three Louevil bands to open, possibly Incursion, Antikythera and Foundation. Things are looking VERY good on having Stuck Mojo play on Saturday, June 14, but nothing is confirmed 100% just yet for any of the bands, so keep those fingers crossed. But yes, these are my plans. Hopefully that is what will happen, because that lineup will be one monster of a show. I will be giving out free passes for this show through the newspaper if it all goes through. Stay tuned for more info!
WLRS Makes Big Change:
I'll admit it, I couldn't stand the old music WLRS played. It was too trendy and whiny. Now they have a new format: "105.1 WLRS Everything That Rocks" is the new handle and it's right on target. No comparison! I actually heard Ozzy and Randy Rhodes on there the other day. Sweet. They play a lot of different music styles, newer rock, older classic rock, metal, older cheese metal, etc, etc. They mix it up well. But I have to admit, everything they played lately was rocking! So they aren't lying.
I've gotten to know Big Joe and Skinny J a little better here lately and I like those guys. They are cool dudes. Big Joe helped me give out my balls (ping pong balls!) at my last show. It was funny and the crowd was into Big Joe's personality.
So those of you who disliked the old WLRS will more than likely like the rockin' new WLRS. Check it out.
A Five Finger Death Punch Derby:
On Saturday, May 3 at Headliners, L.A's Five Finger Death Punch will be making some serious noise. I haven't heard much of this band's music, but as I sit here listening to them, I am digging it. And they actually have a good singer. I'm so sick of the retarded, one-dimensional cookie monster technique that is so evident these days. Don't miss this excellent thrash metal band! I didn't plan on seeing this show, but I think I have to now. It's right up my alley. Hopefully I won't be too trashed from the Infield. Opening the show is Behind The Beheaded, Remain Tame, Ashes Eve and The Balance Theory. 7 p.m. All ages. $12ADV/$15DOS.
Devildriver Rules:
Invitro started the night with a set of weird punkrock metal. The guys were wearing aluminum foil wrapped around their heads. They weren't bad, but it wasn't my type o' jams. Too darned weird.
I really liked openers 36 Crazyfists from Alaska. I don't think I've ever heard of metal bands from Alaska before. Anyways, they are really good. Heavy, but with ample amounts of melody and groove too. Vocalist Brock Lindow is quite a singer/screamer, with serious range and able to do whatever vocals are need for any song. The guitar tones were punchy and heavy. This band is destined to do well if they keep this up. 36 Crazyfists rock!
Then Napalm Death came on and played some old-school death metal/thrash. They sounded ok, but something about Napalm's guitar tone wasn't doing it for me. After seeing Devildriver totally dominate, it left a sour taste in my mouth towards Napalm Death. Napalm got smoked.
I've already said that Devildriver rules (several times) live in action, the burning lead guitars, the chunky rhythms, the killer vocals of Dez, the jackhammer drumming. Man, this band is tough to top live and I've seen a lot of bands.
Dez genuinely seemed like a very cool guy as he let the fans stage-dive from the stage half the show. The pit was brutal. More energetic and crazy than Megadeth's! Bodies were flying everywhere.
My female accomplice and I saw some drunken idiot get punched in the face because he was being annoying. Dez was very nice to the crowd, thanking the fans bigtime for their support. Such appreciation/gratitude is almost unheard of. It seems like these guys are as classy as much as they are talented.
Thanks to Terry Harper for another great show. Headliners was packed!
Introducing Foundation:
This new Louisville-based original band has a killer lineup. On vocals is the ultra-melodic Chris Volz (formerly of Flaw and FiveBoltMain); on guitar is Nathan McDaniel (formerly with Antikythera) and Jay Daunt (formerly of Flaw); on bass is Van Avery (also vocalist of Incursion) and on drums is the young and experienced drumming demon Terry Harper (formerly with Of Sound Mind and Sen). As I said, a very strong lineup! The music is supposed to be not as heavy as the former projects, so I'm interested to hear what the buzz is about this band that hasn't even played a show yet. With that lineup it's got to be good though. You can see Foundation debut at Headliners on May 9.
Subrosa to Audio@War:
Subrosa has officially changed their name to Audio@War. When they were on the cover of LMN last year, they were unhappy that there were quite a few Subrosas out there in the world, so recently the guys picked another name.
You can see Audio@War at Phoenix Hill Tavern on Friday, May 9 with Serene, Lithium (from Lexington), The Willing and newcomers Mercury Falling. 9 p.m. $5
Hot Topic's "Summer Slaughter Tour":
Sunday, June 22 at Headliners, Hot Topic will be having their big "Summer Slaughter Tour!" It sounds pretty wicked. Here's the lineup: The Black Dahlia Murder, Kataklysm, Born Of Osiris, Aborted, Cryptopsy, Despised Icon, Psycroptic, Vader, The Faceless and Whitechapel.
Mayhem In May:
Yup, two days of brutal music from all over the eastern half of our great country, enough metal to make even the most loyal rivet heads bleed from the ears.
Uncle Pleasants will be throwing this 48-hour "Mayhem-fest" on Friday and Saturday, May 17 and 18. It starts at noon and goes all day long so be ready to camp out. This show promises to be madness. 17 bands in one day? Ow.
See lineup in show dates below.
New Band Alert - Blackroom:
Alternative/rock is Blackroom's style and there's some witty stuff going on here. I'm digging Blackroom. It's not very heavy, but there is something that lures you into the Blackroom, never to let go.
Rolen's vocals are sweet. Sorta bluesy, grungy and very soulful and done with style and grit. Melodic and rockin' is what it is. Kind of reminds me of C.O.C and maybe a little bit of Black Stone Cherry.
The musicianship sounds good, as does the songwriting. Overall a very impressive first recording. I liked the music so much I've booked them at my June 6 Phoenix Hill Original Rock Showcase. If you don't want to wait, you can see them at Shooter's Derby Eve Bash on Friday, May 2. Myspace.com/blackroommusic
Blade Of The Ripper:
The old-school Metallica shirt that has "Metal up your a** " printed on it, along with an electric chair, makes me think of this new band somehow. Part punk, part metal, part thrash, well, it's just Blade Of The Ripper.
Underground, ready and willing to play any sh*thole in order to get their brutal music out to the masses, this band is amassing a buzz (not stoned) about them. They are very entertaining live, as I've just recently learned. Nice guys, too, and the singer is a big dude who looks like he could kick some a**.
This may not be one of Louevil's most polished metal acts, but they got the underground metal goods up their sleeve and for the right price, they'll do a little tune on your forehead, Blade Of The Ripper style!
Myspace.com/bladeoftheripper
Arafel:
Wow. These guys rock live! I booked this band without ever seeing them live and I'm glad I did. They are sick! Energy unbridled, raw musical power but they have very weak pants. Ha. The singer for Arafel is wild, running around like a madman, screaming like a banshee. At one point dude was rockin' so violently that he misjudged a step and fell off the stage, hard. I thought he was hurt bad, but the guy jumped up like nothing happened and continued to wail. Unfortunately, his pants did not survive the brutal fall and his crotch ripped out of his tight bloomers.
If you freaks like hardcore metal/thrash, then check out some Arafel. They are tight. I've booked them again on Friday, June 6 at Phoenix Hill. Be there.
Sonic Epitaph to Record Soon:
Sonic Epitaph is getting ready to record some new material this summer and will be taking a break until late June or July for preparation. Great musicians, great people. A credit to this music scene. Big things are in Sonic Epitaph's future, change is coming, as well as some cool new merchandise when they return.
Caldera's Singer Search:
The band Caldera is currently on a search for a gifted vocalist who can both scream and sing when called for, something they've always wanted. This band has had some great shows over the last year or so, so some lucky singer could be thrown right in the mix of things, fast. The vocalist they are looking for must be reliable, dedicated and able to practice 2 or 3 times a week. Contact Chris at 502-489-4096.
Satan's Circle, KY:
The rock/metal/gothic band Kemper hails from Satan's Circle, Kentucky, but really calls the Boone County/northern KY/Cincinnati area home. This old-school band cites influences like Black Sabbath, Danzig, Samhain, Black Flag, Alice Cooper and The Misfits. Once you get a earful of vocalist and founder John Kemper, a big boy with a serious love for Glen Danzig's vocal style - he even kinda looks like him- you'll understand.
This recording quality isn't too awful bad, but I imagine he could really do great in a top studio with good backup singers. Some of the backups on this CD are doody and don't do the lead vocals justice. Instrumentally, they're fine, though Check out the darkness that is Kemper at Myspace.com/kemperunion
Eddy's Myspace:
Ok, I'm almost up to a thousand friends on my MySpace site, but I want a lot more, so I want all of you to hook up with me on my MySpace site, even if you only read my column once! Lots of cool pics (even one of me as a Can-Can dancer out west) and info on yours truly. You can see the cheesiness that is me! And I do a lot of my networking on there, so contact a mofo, or just say "wasssuuuuupp." Myspace.com/eddymetalrocks
Upcoming Shows
Bulldogs Cafe
Tuesday, May 13 - Bobaflex. All ages. $10
Headliners Music Hall
Saturday, May 3 - Five Finger Death Punch w/ Behind The Beheaded, Remain Tame, Ashes Eve and The Balance Theory. 7 p.m. All ages. $12ADV/$15DOS.
Friday, May 9 - Heaven Hill, Foundation, Thomas Medicine, Portrait Of A Suicide and Anna Lies. 7 p.m. All ages. $10
Monday, May 12 - Tech N9ne w/ Paul Wall, Ill Bill, Marz, Mobstyle Music, Coconscious and Wish and Underworld Assassins. 7 p.m. 18 and over.
Thursday, May 22 - Clutch w/ Dub Trio. 7:30 p.m. $17ADV/$20DOS. 18 and over.
Friday, May 30 - Nightwish w/ Sonic Syndicate. 7 p.m. All ages. $20ADV/$25DOS.
Sunday, June 22 - Hot Topic's "Summer Slaughter Tour" w/The Black Dahlia Murder, Kataklysm, Born Of Osiris, Aborted, Cryptopsy, Despised Icon, Psycroptic, Vader, The Faceless and Whitechapel. All ages.
Thursday, July 3 - Hot Action Cop, In The Clear, Evil Engine # 9 and T.B.A. 7 p.m.
Phoenix Hill Tavern
Friday, May 2 - Sevendust and Saliva Outdoor Derby Eve Bash.
Friday, May 9 - (The second Friday, in May, Not the first!) The Original Rock Showcase Series: Audio At War (formerly Subrosa), Serene, Lithium (from Lexington), The Willing and newcomers Mercury Falling. 9 p.m. $5
Thursday, May 16 - Tantric w/ Framing Hanley and Fosterchild. 7:30 p.m.
Friday, June 6 - The Original Rock Showcase Series: Of Echoes, Blackroom, Arafel, Adaptize, Seedus and Morning Augment. 8 p.m. $5
Friday, June 20 - Bizkit's Showcase: Look What I Did, Powerglove, Psychostick, War Within, Slokill, Hyndsite, Dead Nettle, Vindiction and Sever This Illusion. 8 p.m. $10ADV/$12DOS.
Shooter's
Thursday, May 1 - Antikythera, In the Clear, Incursion and Thomas Medicine.
Friday, May 2 - Surviving Thalia, Hardlein, Deliver Us From Evil, Morning Augment, Poetry Of The Dead and Dogwater.
Sunday, May 11 - Blackroom.
Sunday, May 27 - Caustic, Overthrone and Sonic Epitaph.
Uncle Pleasants
Thursday, May 1 - The Casualties w/ Krum Bums, Dead City Rejects, Bloody Knuckles Crew and The Fallen. 7 p.m. All ages.
Friday, May 2 - Bless The Fall w/ A Skylit Drive, The Blackout, Greeley Estates and Jeny. 7 p.m. All ages. $12 DOS.
Sunday, May 4 - The Burial, Mensera and Antikythera.
Tuesday, May 5 - Alesana w/ The Chariot, SkyEatsAirplane, LoveHateHero and Our Last Night. 7 p.m. All ages.
Sunday, May 11 - Breathe Carolina, The White Tie affair, Damiera, Shindig and Talk Of Spring. 7 p.m. All ages.
Tuesday, May 13 - 3 Inches Of Blood + T.B.A. 7 p.m. $10ADV/$12DOS. All ages.
Friday, May 17 - Mayhem In May Day, 1: Incantation, Diabolic, Mortal Decay, Waco Jesus, Human Artifacts, Atrocious Abnormality, Goreaphobia, Exterminance, Solidification, Bloodsoaked, Cardiac Arrest, Kataplexy, Abominant, Created To Kill, Scars Of suffering, Rotting Rebirth and At One With Nothing.
Saturday, May 18 - Mayhem In May Day, 2: Vital Remains, Malevolant Creation, Demiricous, Estuary, Whorrid, Antikythera, Parousia, Skew, Aeons Of Eclipse, Ebonmortis, Coathanger Abortion, Sowing Discord, Nirvine, Colossi, Beaten To Death, Succumb To Demise, Killhouse Deluxe, Exmortalis.
Monday, May 19 - Strung Out and Nowhere Fast. 7 p.m. $13ADV/$15DOS. All ages.
Wicks on Dixie
Friday, May 2 - Zach Longoria, The Layzees, 31W Band, Topher and Dave, DJ Prhyme.
Saturday, May 10 - Dogwater, After Elvis (Nashville), Porno Fishtank and Somatica.
Saturday, May 17 - Hot Action Cop w/ Nova Red, Audio @ War and Thomas Medicine.
Saturday, May 24 - Incursion, Antikythera, Steel Mist and Chaotic Vengeance. 9 p.m. $5
Saturday, May 31 - Evil Engine # 9, 7 Day, Sun, 4 Storie Failure and Institution.
Props Of The Month
This month's props goes out to a cat who works his butt off for the scene and doesn't expect anything in return. James Vize, also known as Fender, a DJ on Wildliferadio.com, has tirelessly worked at numerous shows covering the city's original talent. It seems every show I go, there is Fender recording the shows on the internet for anyone in the whole world to see! It has to cost this guy money to drive to all these shows and spend his time hauling equipment and recording stuff, but I never hear the guy complain or anything.
He does it because he loves what he is doing. Helping people and bands get their music out to people. And to top it all off, the guy is a cool dude.
After his split with his former Internet radio company I thought he might disappear or fade away as so many people in the scene do year after year. But not Fender. He has redoubled his efforts to make his new company Wildliferadio even better!
His former company messed up bad when they started giving him sh*t over practically nothing, because now he's kicking some butt and is getting more and more of our regional talent heard by people all over the world.
So to you Fender, keep up the good work bro. We appreciate the sh*t outta what you do.