Guns 'n' Leather: Shooter Jennings and the .357s
By Jason Ashcraft
Leather-clad: my summary of Shooter Jennings' show at Headliners, Thursday, April 3. The aura that Shooter brought and maintained to the stage was that music is his life, and his life is recorded in the songs he sings. If you're listening like I did, it's easy to see how they are bound into his heart and sewn shut with leather.
The inside of his left forearm is adorned with a tattoo of a .357 long-barrel. His eyes remained hidden behind sunglasses all night, apparently to minimize your contemplation of whether or not he is under the influence of one or more substances. Road-worn, he looks like he needs a bath by most standards, except his. Shooter is Waylon Jr. at heart, carrying on his father's road-hardened, whiskey-bent legacy, mixed with just as much country and western as you can tolerate.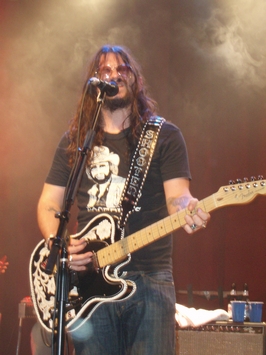 Shnooter Jennings. Photo by Meredith Hunder
Jennings started the night out somewhat mellow, as though he had just awakened on the tour bus a few minutes earlier and run out to stage. But right after I had my 'mellow' thought, he amplified his performance, erupting into a melee of interesting acoustic twang sounds and country licks. The intensity of the crowd also escalated his performance, as they wanted to hear him rock it out.
He responded with was "This Ole' Wheel," about his adolescence, when he listened to his father's and Johnny Cash's music. Occasionally, he almost sounded like he was rapping the lyrics, only with a redneck twang. The song eventually migrated to some good ole' redneck yelling about his army of friends, and how they came from where he's been, and how they picked the dark house and they're going to ride to the end. His 'old wheel' is still turning stronger than ever, carrying out his family's history of music, booze, and a ridiculous amount of miles logged on the road.