Name: Bobby Lee Stamper
Age : 34
Instrument: Lead Vocalist
Band/Former Bands: Hardlein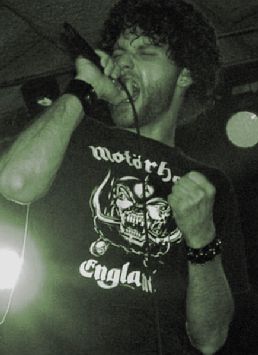 Bobby Lee Stamper
How long on instrument: Twelve years
Equipment: Shure PGX2 Wireless Mic
Influences: AC/DC, Krokus, Great White, Sammy Hagar, Def Leppard
My first gig: It was a small bar called 'Bulls Eye' back in 1996 in my AC/DC Tribute band 'Ballbreaker', where I played the drums and sang all the vocals.
Hobbies: I like to play drums a bit, and write short Horror stories.
Favorite movies: TheShining, Dawn Of The Dead, Halloween(1978)
Favorite food: Chinese, Italian... I LOVE pizza.
Favorite place: I would say the Overlook Hotel from 'The Shining' but it's not really an actual location. so I'll have to go with the MonroevilleMall, in Pittsburgh, the home of George Romero's zombie movies.
Bad habits: Too much Cuervo mixed with beer.
What I'm listening to nowadays: Airbourne, Dirty Looks, AC/DC, and the new Great White CD ROCKS!!!
Coolest thing I've done: Meeting Marc Storace, the lead singer of Krokus in 2005 and we had a great time; I reminded him of classic Krokus songs HE forgot he wrote!
Most embarrassing moment : When I got a D.U.I. after falling asleep at the White Castle drive-thru at 3:15 in the morning. I drove great all the way from Phoenix Hill to Fern Creek, but I just had to stop for some food and delivered myself to the cops after falling asleep in the longline of cars! I did manage to keep my foot on the brake with the car in drive for 45 minutes (that's what the Police report said)... I guess 'The Force' was with me that time!
Who do you love: ALL of those about to rock!
When/where did you first get some: Late 80's... in the backseat of my first car, a 1976 Dodge Aspen. Out in the middle of nowhere! The perfect setting forany good horror story... But this one turned out to be a loss of virginity, nothing more.