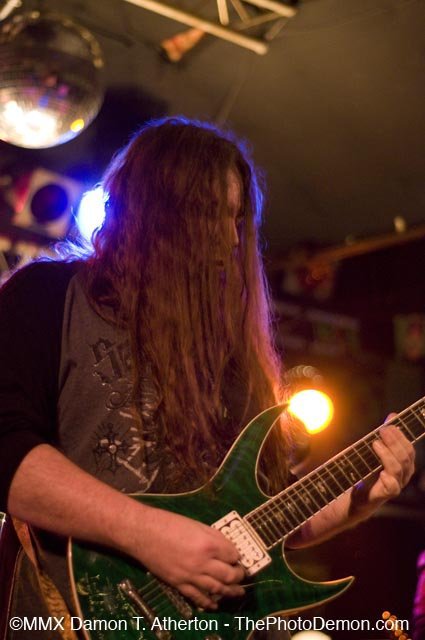 News From the Pit
The 2008 Chili Cookoff at Phoenix Hill was a blast, and the exceptional weather drew a record crowd of around 6,000. This year, they should've named it the 2008 Breast-O-Rama festival: there were big ones, little perksters, droopy flapjacks and even 1950's missile type! I got pretty darn lucky, I must admit.
This year I was well-prepared for my chili-judging duties, with Rolaids, Zantac and Pepto Bismol, which kept me from having an evil butt trumpet like last year. Even with stomach remedies, eating 50 varieties of chili had my innards feeling like hot coals were in my belly.
It's time for Rock For Kosair IV. Time to help out the kids on Friday, November 21 at Phoenix Hill Tavern. This year I've got 93.1 The Fox as official sponsors, plus we will be giving away several guitars, courtesy of Uncle Sam's Jamms, First Quality Music and Mom's Music, so don't miss your chance to win an electric axe, see killer bands, and help needy children. I wanna see every mofo in the scene at this show. So far, we've got Heaven Hill, Chamberflow, Caldera, Nova Red, Hanover, Inner Blue, Slinky Jenkins, Broken Vault, Dogwater, Boozer, And The Armed, Sonic Epitaph, Adaptize, E-Flat and 16 Bones.
I've been on a show-going binge lately. I saw Five Finger Death Punch (review/pictures below) at Headliners, which was a great show. I almost dragged some a-hole out of his truck in the temporary parking lot after the show because he was spinning his tires, throwing rocks and mud on peoples cars. I was so mad I was going to throw a mud pie in his face.
I had the pleasure of seeing Great White (Review below) live in concert at Expo 5 and. of course. that was excellent. I got to see Tesla again for the second time (Review below) and pop rock openers Pop Evil for the first time. The GWAR/Kingdom Of Sorrow concert was one evil show and ended up being a blast (Review below).
There's hardly anything at all in terms of national acts. We've been getting all kinds of good shows this year, but it looks like a dry spell is here as far as big concerts go.
The Metal Grapevine
Free Tix to Extreme Challenge MMA 2008: (Free-Ride) If you love fighting sports like boxing, UFC and karate as much as I do (I'm an MMA freak), then you should get a kick out of winning free tickets to Horseshoe Casino (formerly Caesars) on Friday, November 21 for the Mixed Martial Arts event "Extreme Challenge 2008." This will feature some brutal scraps. For a chance to win tickets to this potential bloodfest, email me at Myspace.com/eddymetalrocks on Saturday, November 15 at 6 p.m. sharp! In subject line put "MMA Bloodbath." Mark those calendars. You must be 21 to win. Oh yeah, check out their phat buffet at the casino. It's the shiz-nit.
Free King's X Tix: (Free-Ride) On Thursday, December 4 at Phoenix Hill Tavern, hard rock funk-meisters King's X will be playing. If you haven't heard of King's X, you should check them out. They were big back in the late Eighties. The guitarist is unreal and so are Doug Pinnick's vocals. I have five pairs of free tickets for you peeps, so email me at Myspace.com/eddymetalrocks at exactly 6 p.m. on Sunday, November 23 for a chance to win. In subject line put "X."
Five Finger Death Punch Review: What an awesome show. An old-school, Iron Maiden-ish but thrashy band called Another Black Day from Fort Lauderdale opened the show with some fine original metal. Great vocals and guitar solos. This was the second-best band of the night to me.
The third band, In This Moment, was cool, too. Vocalist Maria Brink is wild and her vocals were insane and commanding. She was togged out in a "Mary had a little lamb" dress, but her voice was that of a demon. Killer screams with some decent actual singing made this a good listening experience. The band has gone in a different direction on their new CD, The Dream,moving away from their older, rawer, metal-core style.
Five Finger Death Punch, which makes so much noise nationally and gets fans all excited at the mere mention of returning for another show, came on next. Formed in LA in 2005 by guitarist Zoltan Bathory, the clear aim of FFDP is to play heavy melodic metal with terrific vocals and I'd say the band has succeeded. It's great music by dudes with a cool image, and a very memorable name certainly doesn't hurt. The thick-toned, double guitars were very heavy when needed, the rhythms mostly quickly muted pull-offs as well as thrash and speed metal riffing, plus very emotional lead guitar work. There were pretty, clean guitar parts meshed in with the chunky rhythms that sound amazing together, even if a bit commercial.
Guitarist Darrel Roberts has the sickest, slickest BC Rich guitar I've seen (see picture in this issue.) Ivan Moody's vocals are very good and remind me of the singer of All That Remains, only Ivan is a better singer with much more range. He has the low growls and has great singing ability overall. Then again, think Tool, Slipknot and even some Flaw.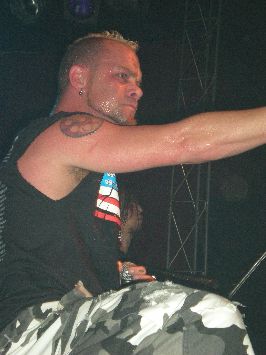 Five Finger Death Punch vocalist Ivan Moody.. Photo by Eddy Metal
Overall, FFDP's performance was as good as the CD. They delivered a knockout punch to a packed house of very appreciative fans. They played "Ashes," "White Knuckles," "Salvation," "The Way Of The Fist," a bruising rendition of "The Devil's Own," their latest single, "Never Enough" and for the last song, they played the tune that I had hit replay on countless times, "The Bleeding." FFDP saved the best for last, and the crowd went nuts.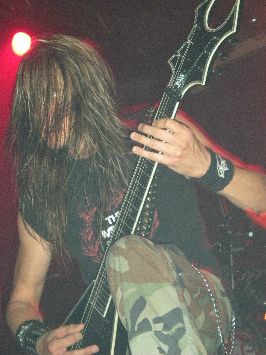 Five Finger Death Punch guitarist Darrell Roberts. Photo by Eddy Metal
GWAR, A Presidential Review:This show was a blast, with a crowd of off-the-hook, psycho fans there. Toxic Holocaust from Portland, Oregon played a too-short set of very good old-school grooves like some old Celtic Frost, Motorhead and Overkill. Kingdom Of Sorrow, a new Frankensteinian super-band of well-known musicians absolutely killed. Fronted by Jamey Jasta, vocalist for Hatebreed and the host of MTV's "Headbangers Ball," the band has members from Type O Negative, Crowbar, Down playing down-home Southern, stoner, sludge, doom metal at its finest. Like Superjoint Ritual without the heroin and drooling.
Jamey Jasta so wants to be Phil Anselmo vocally in this band that it's ridiculous, but I give him credit: he keeps improving. He's a pro and wouldn't let fans down over something stupid like hard drugs.
The guitar riffs were super heavy, down-tuned chaos with massive groove and a 'molten lava' tone. I loved it and will probably buy the CD now. The performance was wicked and tight, although the leads were a little low in the mix. I give two thumbs up to KOS.
GWAR did not disappoint. They had a nice crowd that night. It was a hot, sweaty, dirty, stinky, goo-soaked good time and I'm glad I went. GWAR's new stage show was "Intergalactic Wrestling" mixed with Presidential Campaign innuendo. The first fight was John McCain vs a hideous green monster, with McCain getting his head hacked off and the monster lapping blood from his neck stump like a water fountain. Then the Democratic D**ks**king Duo, Obama vs Hillary, squared off in a grudge match that left Hilliary with her knockers torn off and pumping streams off blood into the masses. "President" jokes were plentiful and hilariously crude.
The music was awesome, with GWAR's players showing much improvement. The solos were sweet. It was probably the best I've ever seen them.
Of course ,the Goo-Cannons were in full swing, and there were new props, including a giant chainsaw shooting blood and a huge, cartoonish medieval hammer they used to cave in their monster heads. The stage was too small for a real GWAR show, but the band worked what they had and the crowd was very happy.
Total props to Terry Harper, Club Oasis, 93.1 The Fox, GWAR, and all you sick freaks who attended. BTW, I didn't get goo-ed this time.
Tesla/Pop Evil Review:This is a cool band that still kicks major butt. I've dealt with some a-hole national bands recently and I gotta tell you how refreshing it is to cover a band of cool people, who are not only excellent musicians, but care about their fans and supporters. Opener Pop Evil, from Grand Rapids, Michigan, was a refreshing addition to today's rock scene, though hard to describe. The music combines pop, metal, grunge, and blues, with an Eighties influence. I heard Guns N Roses, Dokken, and about three other Eighties influences, plus a lot of early Nineties grunge. Frontman Leigh Kakaty has a good stage presence and sang pretty well, which I liked. He handled the bluesy, emotional stuff much better than the heavy rock, but he's versatile. The stage look echoed the Eighties big time: long hair, headbands, guitar solos, wrist bands, hair flinging.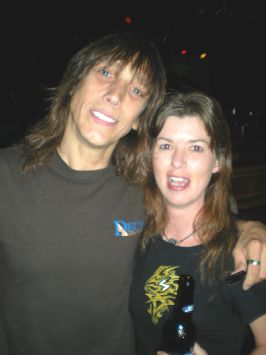 Tesla singer Jeff Keith with LMN Free-Ride ticket winner Nina Snow. Photo by Eddy Metal
The music wasn't bad; a little cheesed out and weak at times for moshers in the mood, but there was no denying their were tight. I liked the song "Someone Like You." A newer song, "100 in a 55," is a radio song to the max, a laSaving Able. Likewise "Stepping Stone."
This was not heavy metal, but if you have a taste for poppy radio ballads (chicks will dig this!) and old-fashioned rock 'n' roll sleaze, then you might want to give Pop Evil a listen. The audience seemed to really like it, especially the girls.
However, Tesla was what I wanted to see, and I wasn't disappointed at all. Tesla rocked hard, opening the set with two songs I had never heard, likely from the new album. Not bad stuff.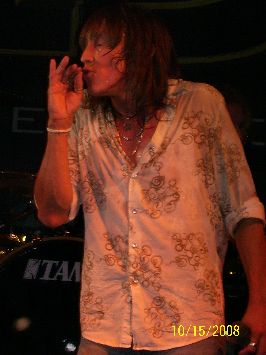 Tesla singer Jeff Keith. Photo by Jeff Moss
Then they played my favorite song of theirs, "Modern Day Cowboy," and it was nearly perfect. Guitarist Frank Hannon broke out a slide and commenced wailing on his axe before breaking into the anthemic tune "Heavens Trail (No Way Out)," which was bad-ass and one of the heavier songs. "The Way It Is" followed and was outstanding. Vocalist Jeff Keith was at 90% on vocals and tried very hard the whole night.
A new song, "Dear Private Ledbetter," sounded Seventies-ish, but ended up rocking. Guitar lovers would have been in heaven, as their were plenty of solos throughout the set, from both guitarists. The newer guitarist, Dave Rude, did a decent job, but he's no Frank Hannon by a long shot. Hannon is one bad mutha on guitar, 12-string, slide, acoustic, finger-tapping, mean wah-wah, electric, lead and more. He takes you to a guitar school!
Dave Rude did a classical intro to the 1990 hit "Love Song" that, again, was outstanding. They played "Signs," of course, along with the rockin' "Little Suzy" and another new tune, "I Wanna Live" with a heavy, sleazy blues groove to it. All in all, this show was a hard rockin' roller coaster ride that I'm glad I took. Long live Tesla
Thanks to Mary and James at Coyote's, Janie Hoffman, and Nederlander Promotions for the giveaways.
The Villebillies New CD: This popular Louisville funky rap/rock band's new CD, From The Belly of The Beast, starts off with a chipmunk sound-alike of "Death" from "O Brother Where Art Thou." Then the magic starts with a funky, acoustic tune, "Whales," that jams. The vocals and lyrics are great. "One Shot" is more of a rock song and gets down, with some smooth, bluesy riffage. Very cool. Plenty of guitar scratching, silky smooth strumming, cool effects, wah-wah, and funky, fun acoustics make this a pleasant listening experience even for a metalhead like me. "Stranger" is more of a rap song and the song they picked for a single. It has a very catchy, low chorus of layered vocals that infect you with bump. The sound quality of the recording here is great.
"No Seeds" had a serious Humpty Hump sound going with it, which is fun, but it leads quickly into "Picture Frame," an acoustic rock ballad. I don't know chit about rap, but this isn't what I expected at all. There is a great deal of musicianship and experimentation here. I'm very impressed with the clever lyrics and level of songwriting involved. No wonder these Louevil natives have made such a racket in the music scene. Villebillies rock. Their music flows like the vibrant colors one sees while on LSD (not that I would know, ha.). The new "Stranger" video is cool, too. You have to check out the video on Myspace.com/villebillies. That fargin "Stranger" is in my head! "Don't Make Sense" has a R&B, reggae, pop feel to it, with stoner rap vocals mixed over soulful choruses .
I talked to Vocalist Demi Demaree at the GWAR concert and he said "We have been through a lot with producers, record labels, managers, member changes, and egos, but this time around we did it exactly how WE wanted it. We are back to having fun and that is what is important. There is less country and pop, and the music is much more raw this time around. And instead of ten members, we have seven now and that seems to be the lucky number for us. The pressure is off of us, and we hope to land a tour soon to support the CD. The bottom line is that we can stand on our own and this CD proves that without a doubt."
At first I was reluctant to do a review on something other than heavier rock, but I'm glad I did. Now I think I'll go to a Villebillies show and see what's up with that. I bet there will be a lot of cracker hoochies there.
Great White Review:This show was rockin' as only Great White can do. In a time of Eighties cheese metal, this band was different. Why? Because they had a good bluesy feel to their music, almost to the point of it not being metal. This band has a certain chemistry that is hard to find. Jack Russell's multiple-octave, smooth-as-silk vocals and Mark Kendall's top-notch lead guitar playing were as good as when I first saw them in 1984. I was 14 and became a fan instantly.
Russell looked and sounded great. He's lost a lot of weight and no longer looked bloated and bummed out about the Station Inn fire tragedy. They seem to have moved beyond that horrendous incident and are doing what they do best. The P.A. that night was sounded pretty good, and there was a phat crowd of older rockers in attendance, as well as some cute babes. They played favorites like "Rock Me" which sounded sweet; the blues-influenced "House of Broken Love"; "The Old Rose Motel"; "Call It Rock 'n' Roll"; an old song off their debut album, "On Your Knees"; their big hit "Save All Your Love" (which started off a little bit shaky but ended up good) and for their finale, of course they played the only song I hate, "Once Bitten, Twice Shy." I waited two month's to see this show and it was totally worth it. Everyone who was there had fun. Props to Expo 5 for booking them and other great bands recently. And also thanks for providing free tickets to giveaway through LMN.
Saving Able at # 1:Congratulations are in order to Manager/Label Rep and Louisville resident Scott Frazier for finally having one of his bands score a #1 hit nationally. Saving Able's "Addicted" is a full-blown hit, and the sky is the limit for these young Corinth, Mississippi, guys that Scott found toiling in Southern dives. Frazier has been trying to achieve this for years and now he has done it. Rock on, bro! And to all you upcoming bands out there, we now have a serious record company representative right here in town, so if you think your band has got the right sound to make millions, you might want to give Scott Frazier a shout. Just look at Saving Able as an example!
The Death of LRS?I just got an email from my friend Skinny J over at WLRS and it seems the executive bigwigs at Mainline sacked the whole darn LRS team. I don't get it, this team was the best that LRS has ever had. I couldn't stand the old team, but then they got Big Joe, Skinny J, Diesel and Rocky, and things were way better. The guys were cool and fun to hang with. They did a great job radio-wise, and at supporting Louevil music.
As of now LRS has no jocks, no shows, no appearances, nothing. It is currently running an automated feed. So what happens now to "Everything that rocks?" Will they hire illegal immigrants to work for three dollars an hour? Or will they change formatagain? I can't say, but I do know that many folks are upset at this decision.
Flaw Hits The West Coast:From October 31 to January 1, Louevil rockers Flaw will hit the West Coast club circuit. This is their first big tour in a while, and I wish them the best. I wish they'd have played a farewell show around here, though. I'd like to hear some older Flaw stuff. It's been awhile.
New Band Alert: Overthrone:I have been hearing good things about this new band, and I know why. This is what I like: old-school European-sounding metal, influenced by Helloween, Judas Priest, Iron Maiden and others. The demo sound quality is pretty good. "Shadows" is a cool tune, with moderately heavy riffs that sound sweet, with rippin' leads, plus vocals both high and growly low. We need more bands like this in Louevil. Ryan Preston's vocals are impressive, his vibrato technique reminding me of Ripper Owens, Rob Halford and Half Scheeper. That is a serious compliment. Dawg on lead guitar is vicious. After hearing just two songs, I cannot wait to see this new band live.
If you love Priest, Maiden, Helloween and Overkill, you will love Louevil's new addition, Overthrone.
You can see them at my Phoenix Hill showcase on Friday December 5. Until then, check this out: Myspace.com/metaloverthrone
Evil Engine's LA Trip:Louevil rock veterans Evil Engine # 9 entered a nationwide contest of unsigned bands and finished in the top 30 out of 8,000 bands. The event's sponsors, Guitar Center, flew them out to LA to showcase for a chance to open for Motley Crue at a major gig. Love Said No, featuring Louevil and former Flaw drummer Chris Ballinger also made top 30. Unfortunately Evil Engine didn't make the semi-finals, but they did have a blast jammin out on the West Coast.
Incursion 2Returns:After October, Incursion hits the instruments again and will be working on writing a whole new album. Incursion screamer Van Avery said the break was needed but that the time for rest is over and it's time to destroy once again. A few changes with the band have been made, and the band will do no shows until the new CD comes out. Van says the wait will be a little longer for Incursion fans but he promises that the wait will be worth it, as the new CD will be the vilest, sickest, heaviest Incursion ever.
Drummer Needed:Louevil thrashers Anvil Grey needs a demon drummer who is manly, straight, and heavy metal schooled on the skins. Contact Nick at 812-725-9404, or Myspace.com/anvilgrey
Upcoming shows
Bulldog Cafe
Friday, November 14: I Set My Friends On Fire, Karate High School and You, Me and Everyone We Know.
Friday, November 21: Before Their Eyes w/ Lovehatehero, Eyes Set To Kill, Akissfromjersy, Oceana and Ice Nine Kills.
Saturday, December 6: Evergreen Terrace w/ Four Letter Lie, This Is Hell and Casey Jones.
Club Oasis
Wednesday, November 26: Alesana w/ A Static Lullaby, Greeley Estates, Jamies Elsewhere and Motionless In White.
Coyote's/Cityblock
Monday, November 3: Devon Allman's Honeytribe. Free show.
Thursday, November 6: Zapp.
Saturday, November 22: Dropkick Murphys.
Expo 5
Friday, November 7: Jimmie Van Zant.
Headliners Music Hall
Thursday, November 13: MC Chris w/ Totally Michael and Prizzy Prizzy Please.
Friday, November 14: Nathan's Night III w/ Silent Lyle Auburn, The Armistice, Creatures, I The Champion, Pig Vomit and J and J Dizzale.
Saturday, November 22: Escape The Fate, A Skylit Drive, The Cover Up and Morning Augment.
Horseshoe Casino
Friday, November 21: Extreme Challenge MMA "08": the fastest growing sport in all of America is coming to Southern Indiana. Don't miss out seeing this explosive fight card in a classy venue like Horseshoe Casino.Tickets are available at all Ticketmaster outlets, Horseshoe Casuals, and by calling 502-361-3100.
(See Ticket Giveaways in Metal Grapevine)
Phoenix Hill Tavern
Saturday, November 1: The Dogwater CD release show with guests, Hardlein and 2 Pump Chump. 8-11 p.m.
Friday, November 7: The Original Rock Showcase Series: "Bury the Hatchet" featuring Inner Blue, Caldera, (Evansville Indiana's) Deliver Us From Evil, Blackroom and Morning Augment. 8 p.m. $5. Free before 9 p.m.
Friday, November 21: The 4th Annual Rock For Kosair Children's Hospital Benefit: All proceeds go to buying toys for the kids at Kosair. Fourteen killer bands, three guitar giveaways, tattoo giveaways. Bands confirmed so far are Heaven Hill, Chamberflow, Hanover, Caldera, Inner Blue, Slinky Jenkins, Broken Vault, Dogwater, And The Armed, 16 Bones, Sonic Epitaph, Boozer, Adaptize and E-Flat. Starts at 8 p.m. sharp. We give away free numbered tickets for the Guitar/Tattoo giveaways starting at 7:30 p.m. with paid admission, while they last! So get there early. 93.1 the Fox is a sponsor for this event, so they'll probably be giving out cool stuff too! $7 8 p.m.
Friday, November 28: Bizkit's Black Friday metal fest: Sever This Illusion, Witness The Reckoning, Behind The Beheaded, Chainfire, Fall Of Dusk, Casting Ashes, Descention and Nailgun Strategy. 9 p.m.
Friday, December 5: The Original Rock Showcase Series: And The Armed, Overthrone, Lesson B4 Dying, E-Flat and Snapped. 8 p.m. $5. Free before 9 p.m.
Shooters
Saturday, November 11: The Glasspack, Snake Eyed Savior and Sons Of The Bluegrass. 18+
Uncle Pleasants
Tuesday, November 4: Murder By Death, William Elliot Whitmore, J-Roddy Walston and The Business.
Thursday, November 13: Brother Ali, Bk One and Toby Wright.
Tuesday, November 18: Pelican, Kayo Dot and Steve Brodsky.
Sunday, December 7: Snot w/ Bobaflex, MSD, Warhorse and Chainfire.
Wicks on Dixie
Saturday, November 15: Thomas Medicine, Born Empty, Look What I Did and The Instruction. 21+
Props of the month
I think I'm gonna have to start calling Louevil heavy metal promoter Terry Harper "The Godfather." He has given us some exceptional metal shows over the last few years, and I'd hate to see Louisville without a promoter who dares to book the killer METAL shows he does. He's had GWAR, Kingdom Of Sorrow, Trivium, Obituary, All That Remains, Suicide Silence, 36 Crazyfists, Five Finger Death Punch and many others just in the past few months.
He really does a lot for this city's metal scene and you all should know that without the godfather, we'd be up chit creek without a paddle, metal show-wise! Extra props for also doing some ticket giveaways through this newspaper.