I've Got A Mind To Ramble
Rockin' At The Gate in '08
There was excitement in the cool fall clear air as I approached the intersection of Oak Street and Garvin Place on Friday evening, October 10. The Garvin Gate Blues Festival was just getting started for its second year since its resurrection in 2007.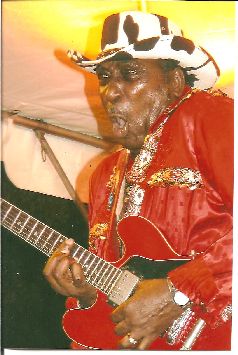 Eddy 'The Chief' Clearwater at Garvin Gate 2008. Photo by Keith Clements
Pure Gravel opened with Mary Wright at the front of the stage, working the gradually growing crowd with her growling voice and pounding keyboards. Their front man, Joe DeBow, arrived late from another gig, but quickly settled in, blowing his harp, stroking his guitar and singing. At the end of their set, the Kentuckiana Blues Society surprised DeBow by presenting him with the 2009 Sylvester Weaver Award. This was the twentieth time the KBS has honored someone, beginning with the 1989 Garvin Gate Festival, when the Weaver Award was given to Henry Woodruff.
Joe is a multitalented musician who, besides singing, playing guitar and harmonica, also plays the keyboard — sometimes all at the same time. He comes from a musical family. His father, Joe Sr., played trombone in Tommy Walker's band. Joe's mother Ruby was a pianist and sang gospel with the DeBow and Winston Sisters in the Greater Southern Baptist Church.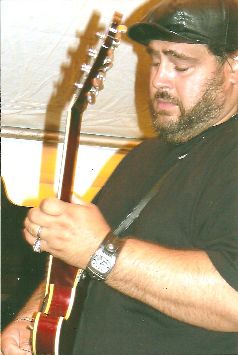 Nick Moss at Garvin Gate 2008. Photo by Keith Clements
Joe remembered singing in the hallways of Central High School with an informal group called the Mellow Fellows. He later became lead vocalist with the VeeJays and the Aristocrats. In his late forties, he had a brief stint playing keyboards and conga drums with a reggae band called Identity, before picking up the guitar again. Joe teamed up with his equally talented brother Rick and the Gant brothers to form Family, the house band at Mr. D's Inferno in the early 70s. This band eventually became the group DeBow, built around the nucleus of Joe, Rick, Donny Bridges and Bran Manley. One of the highlights for the DeBow bad was winning the Budweiser Showcase in 1986, where Joe sang his song, "Genuine."
The DeBow brothers recorded at Allen-Martin Studios as the Mind Liberators and on Cliff Butler's Lu Sounds label with John Preacher Stevens. When DeBow disbanded in the 90s, Joe went solo and started a weekly program on Insight Cable Channel 98. He has recorded two locally produced CDs, The Mellow Moods of Joe DeBow with pianist Ray Johnson and Jammin' with Joe. Joe still performs acoustically as a soloist and has recently played with Revanue and currently with Pure Gravel. Joe was at a loss for words when he accepted the award, but he definitely deserves the honor for someone who has preserved, promoted and perpetuated the soulful side of the blues.
Robbie Bartlett was a guaranteed crowd pleaser as the growing audience crowded around the stage. Mr. 'Steady Guitar,' John Burgard, was by her side. Robbie's brother Rick took a moment off from his regular Friday night gig at Bucks to see his sister. He looked very dignified in his formal attire, standing head and shoulders above every one else. Robbie said she recently had a chance to meet KoKo Taylor and sang "Wang Dang Doodle" in her honor. Her set climaxed with "At Last."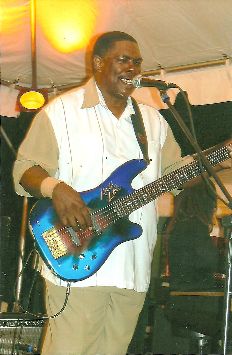 Keith Little at Garvin Gate 2008. Photo by Keith Clements
When Friday's headliner, Nick Moss and The Fliptops, came on, the intersection was packed with the highly diverse crowd that has been typical at Garvin Gate. Moss, who is very fluent in the blues, held true to the post-war Chicago ensemble blues tradition, translating the classic "Cut You Loose" with maturity, playing with self-control without getting complicated. His multitalented band switched their musical roles, playing different instruments and with each taking a vocal lead. Nick switched easily from guitar to harp. Willie Oshawny won the hearts of the fans with his spirited keyboards, infectious smile and retro haircut. He later switched to bass when the band's utility man, Gerry Hundt, swapped his bass for mandolin and rhythm guitar. Drummer Bob Carter got a nice 'call and response' from the crowd during his vocal.
Near the end of the set, Moss had a message about journalist Daniel Pearl, who was beheaded in Pakistan in 2002. Pearl appreciated music and a foundation has been set up in his name. During October, many musicians are paying tribute to Pearl and Nick Moss dedicated a song in his memory. It was deep and serious blues about a young soldier sent to try to keep the peace in the Middle East. The brave man grew up much too fast and was sent over again. "Trying to build a better future using the mistakes of the past" was a sad tale but true. Nick's intense guitar wailed and so did my heart.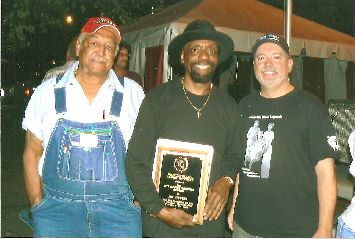 Sonny Sitgraves, Joe DeBow and Gary Sampson at Garvin Gate. Photo by Keith Clements
The recently formed Leisure Thieves got good exposure by opening the second day on October 11 to perfect weather. Jimmy G. (Gaetano) and the Side Winders from New Albany's Jimmy's Music Center filled in between the early sets (rather than have recorded music) and generated some musical excitement. Da Mudcats, Sue O'Neil and Blue Seville and The Walnut Street Blues Band were all repeats from last year, playing their solid standards that people have come to expect. There have been some band changes, with Larry Ferguson playing lead guitar with Sue O'Neil and Kevin Cole as the new bassist for The Walnut Street Blues Band. Walnut Street had appeared on WFPK's "Live Lunch" the previous week, promoting the festival.
As dusk turned to dark, Mr. Keith Little, "The Cincinnati Blues Man," took the stage with his deeply resonate voice and bass guitar. Little has been a bedrock of Cincinnati's blues heritage, having served as president of the Greater Cincinnati Blues Society, hosting his local TV show, "Mr. Little's Hangout," and producing a video documenting Cincinnati's blues and jazz called "Thanks for the Flowers." It has been thirteen years since Keith last played Garvin Gate, so his return was long overdue and welcome. His son, Keith, Jr., played drums and Calvin Berman did some stinging guitar solos. A pleasant surprise was seeing Cheryl Renee playing keyboards. It was Cheryl and her band Them Bones that recently won the KBS Band Contest. She showed her rousing vocal talents on "Watch Yourself." Little's set closed with an encore of the ubiquitous "Mustang Sally."
When it was time for headliner Eddy Clearwater, the area around the Gate was as packed as I've ever seen it. 'The Chief' cut an imposing figure, standing over six feet tall and dressed to kill. wearing bright red pants and a jacket that matched the body of his Gibson guitar. His spotted black-and-white hat also matched his shoes. He devastated the crowd for the next ninety minutes.
Clearwater plays with the intensity of Chicago's past West Side guitarists like Luther Allison and Magic Sam, exuding high-power energy as he struts and grimaces on the stage. Not bad for a seventy-three-year old blues man who sang "Too Old To Get Married (Too Young To Be Buried)" with authority. Near the end of his set, he sang "Good Times Are Coming (Don't Let The Bad Times Get You Down)," which was most appropriate for our current economic situation. He closed with "West Side Strut," the title tune of his latest CD on Alligator Records, hitting a groove that got the whole crowd in sync. After the festival ended, many people lingered soaking up the good vibes. Festival promoter Howard Rosenberg and stage manager Mike Suttles considered the event to be such a success they were talking about expanding it to three days next year.
Happy Birthday KBS
Do you remember how you celebrated your twentieth birthday? The KBS is planning to make its twentieth a memorable event, with a major Wang Dang Doodle at the Vernon Club on Saturday, November 15. The Vernon Club is a spacious venue located below The Vernon Lanes bowling alley in a 122-year-old building at 1575 Story Ave. The place will be transformed into a juke joint with Christmas lights and blues posters. Miss Lissa and Company will start the entertainment at 7 p.m. The band is from Dayton, Ohio and came in second the past two years at the Cincinnati Blues Challenge. Melissa Young, the fiery red head who fronts the band, will sing your socks off. The Beat Daddys have recently regrouped and are based in Nashville. They are led by the founding members Larry Gresham on harp and vocals and Tommy Stillwell on guitar. If you like your blues with a twist of Southern rock, then this fearsome foursome will make it more fun than partying at Chuck E. Cheese's. Jeanne Doak will bake a birthday cake and Chef J. T. of 'Smokin' Spice Bar-B-Que' will feed our hungry souls. The twenty year history of the KBS will be shown in a power point presentation that will run continuously all evening. If you are a KBS member, you can get in free, and if you haven't joined yet the admission is only $5. This party is a way for the KBS to say thank you to all the members and musicians who have supported us since 1988.