Scuttlebutt
The Irish Are Coming!
he Dropkick Murphys at Coyote's, Saturday, November 22
Celebrate St Patrick's Day 115 days early this year. Yep, that's right, on November 22,Celtic punk rock band Dropkick Murphys will make a tour stop in Coyote's at City Block. The Murphys are a small hardcore punk rock Celtic orchestra with more than ten types of Irish instrumentation, including uilleann pipes>or Irish bagpipes.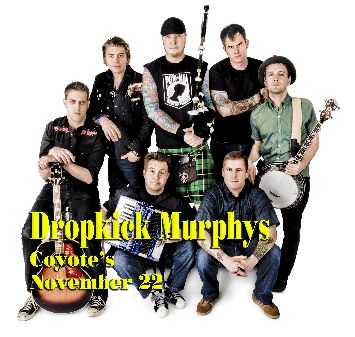 Dropkick Murphys
Dropkick Murphys formed in 1996 in Quincy, Massachusetts, which is just a few miles outside of Boston. They started as a four-piece punk rock act, changing a few members during their early years. They eventually started adding members with new types of instrumentation, which brought more of a Celtic flair to their punk rock sound. Today, the Murphys have grown to seven members playing up to ten types of instruments from one song to the next.
Dropkick Murphys started to make their way onto the national scene when they were added to the Vans Warped Tour in 2003. The following year, their remake of the Boston Red Sox's anthem, "Tessie," went on to become the Boston Red Sox's official song when they won the World Series later that year.
Also in 2004 the Murphys landed a song on the Rock Against Bush, Vol. 2CD compilation, which included the Foo Fighters, Green Day, Bad Religion, and Rancid. Rick Rubin was one of the producers of this album.
In 2005, they released their fifthalbum, The Warriors Code,on Epitaph Records. Their hit song "I'm Shipping Up To Boston," with lyrics is based on a Woody Guthrie poem, was used in Martin Scorsese's Oscar winning film "The Departed," which gained the Murphys considerable fame. Yep, you remember that song, don't you?
So you already know this is one show you shouldn't miss. This is one awesome showcase musicianship, so long as you can stand the good ol' punk rock drinking crowd that will keep the environment quite "live" offstage too. Dropkick Murphys will probably feel right at home here in Louisville. As for everyone here at home, you'll like this band because they are just as patriotic to their homeland as many of us Louisville / Kentucky musicians and fans are. And bagpipes in perfect unison with traditional punk-based instrumentation just effinrocks, too.
Opening the show is The Loved Ones and The Mahones. Ticket prices are $25, which seems a little on the high end for Coyote's, but, I think the average person will get way more for their entertainment dollar on this $25 ticket price versus most other $25 ticket price shows at a bar.
Bottom line, go see it. Gas is down to $2.50 a gallon temporarily, and on top of that St. Patrick's Day is one of the coolest holidays of the year, even this ad hoc one on November 22.