Jazzin'
PRELUDE I:
Happy 10th Birthday to my daughters! You're the best!
PRELUDE II:
RIP, Rick Wright and Earl Palmer. Neither were jazz artists, but both were influential musicians. Wright helped forge the early, spacey, often improvisational sound of Pink Floyd with his keyboard work. Palmer was the drummer on many of the early Fats Domino and Little Richard recordings, and after relocating to Los Angeles, was the drummer for countless pop, rock and R&B sessions.
RECENT CONCERT
RACHEL ZAT THE COMEDY CARAVAN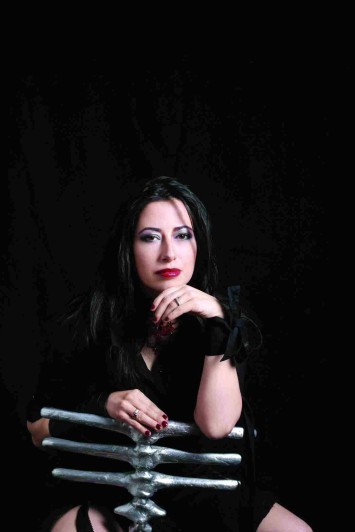 Rachel Z
Pianist extraordinaire Rachel Z had the misfortune to perform on the night of Monday, September 15, with much of the city paralyzed by downed power lines. Nonetheless, the show went on, albeit to a smaller audience than was deserved or expected. >Rachel Z and her trio, the Department of Good and Evil, featured bassist Maeve Royce and drummer Bobby Rae. They opened with a fast-paced take on Deathcab for Cutie's "Soul Meets Body," which provided Royce the first of several opportunities to devastate the audience with her bass prowess. Further material from the contemporary pop canon followed, including the Church's "Under the Milky Way," and Sting's "King of Pain" before the trio turned to "ESP," a song by Ms. Z's former collaborator and employer Wayne Shorter. The first set ended with a vocal by Ms. Z on her original "Protect this Child," from her Grace CD, a version of Joy Division's "Love Will Tear Us Apart," and an intriguing arrangement of Pink Floyd's "Comfortably Numb." Ironically, the sad news had just broken that Rick Wright, Pink Floyd's keyboard player, had just passed away, although the band did not seem to know this. Bobby Rae's mallet introduction to this song seemed to be inspired by another Pink Floyd song, "Set the Controls for the Heart of the Sun." Once Ms. Z and Royce joined, they turned the song into a lengthy, jazzy extrapolation. With the exception of "Protect this Child"and "Comfortably Numb," all the pieces in this set were from the 2007 Savoy album, Department of Good and Evil.
After a break, the second set opened with the timely "Stormy," followed by a cover of Alice in Chains' "Angry Chair," which featured Royce and Rae. Neil Young's "Heart of Gold" was reinterpreted as an up-tempo piece. The title track to Grace again featured singing by Ms. Z. Joe Henderson's "Inner Urge," another piece from the Department of Good and Evil, opened with a moving bass solo, after which Ms. Z again showed her prowess in interpreting a tune from the jazz canon. The band closed with a moving performance of the original mini-suite "Saint of New Orleans," also found on the recent CD. The small but enthusiastic audience demanded an encore, and was treated to a fun run-through of "Ain't No Sunshine."
Rachel Z stressed the importance of maintaining the same band, a point I have mentioned many times over the years regarding other artists. The musical tightness and personal camaraderie enabled the trio to overcome the difficulties of having stayed in town the prior night in a condo without power, and of playing to a smaller audience than was anticipated. I recommend her website, www.rachelz.com, for more information about her musical projects.
ON THE HORIZON BIG ROCK JAZZ FESTIVAL
The 9th annual Big Rock Jazz Festival is upon us! This great, free, outdoor event will take place on Sunday, October 5. The time and format have changed a bit from years past. It will begin later and run later, from 2:00 p.m to 7:00
p.m. Opening will be Indianapolis pianist Steve Allee and his Quintet, followed by the Juggernaut Jug Band, and closing with The Stray Cat Blues Band Reunion. Steve Ferguson and the Midwest Creole Ensemble were to have been the closing act, but Ferguson is very ill and I have been told that the Stray Cat Blues Band is donating its fee to help with his medical expenses.
Allee will be performing with Rob Dixon on tenor sax; Kevin Kaiser, percussion; Frank Smith, bass; and Kenny Phelps, drums. To quote from a recent e-mail from Allee, "We're certainly looking forward to it!!!"
Allee recently released Dragonfly(Owl 0017), primarily a trio recording featuring bassist Bill Moring and drummer Tim Horner. Allee is also featured on a new release by Moring, Spaces in Time(Owl 00122), with an all-star lineup which also includes saxophonist Tim Armacost, trumpeter Jack Walrath, and drummer Steve Johns. Allee was a regular performer at the Jazz Factory; in fact, a piece from his earlier CD,New York in The Fifties, was used on the club's website.
Given the variety of the acts, the high quality of the musicianship, the gorgeous park setting and the great price (free), this is a can't-miss event. The Big Rock Jazz festival is part of the Week in the Highlands; more information is available at www.neighborhoodlink.com/org/highlandsweek. Allee's website is www.steveallee.com.
ENCORES
Two of the artists who came to town for the Jamey Aebersold Summer Jazz Workshops have released new recordings, James Moody and Dave Stryker. Moody's sets with a straight-ahead ensemble and an organ combo were reviewed here in August; I was out of town for Stryker's sets.
Our Delight (IPO 1013) is credited to the James Moody-Hank Jones Quartet and features bassist Todd Coolman and drummer Adam Nussbaum. For many jazz lovers, just the idea of veterans Moody and Jones performing together will be all they need to seek out this album. The music lives up to its promise, as these elder statesmen swing their way through classic pieces such as Tadd Dameron's "Good Bait" and Dizzy Gillespie's "Con Alma" (both performed by Moody here in Louisville). A duet by the leaders on "Body and Soul" is a special treat. More information is available at www.iporecordings.com.
Guitarist Dave Stryker and his longtime associate saxophonist Steve Slagle have performed together as the Stryker/Slagle Band for many years now. Their new release, The Scene(Zoho 200810), finds them in the groove for a program of original compositions accompanied by bassist Jay Anderson and drummer Victor Lewis, with guest appearances on four tracks by Joe Lovano. The offerings range from the insistent opening number "Skee" to the fast-paced and fun closing "Strikology." As powerful as Joe Lovano is, he complements rather than overshadows the leaders. The one cover song here is a lovely duet featuring Slagle on flute and Stryker on acoustic guitar on Rahsaan Roland Kirk's "Fingers in the Wind." You can find out more at www.zohomusic.com.
The Pat Metheny Trio, with Christian McBride on bass and Antonio Sanchéz on drums, gave an amazing concert last year in November, in support of their release Day Trip. Now a live "EP" (not quite 41 minutes) is available, which offers highlights of the trio's virtuosity and interplay in a live setting. Tokyo Day Trip (Nonesuch 467580) features five Metheny compositions. It opens with the brooding ballad "Tromsø," then gallops forward on "Traveling Fast," which has the feel of a stripped-down Pat Metheny Group performance. "Inori" is reminiscent of Metheny's 2003 solo album, One Quiet Night, albeit with bass and drums. "Back Arm & Blackcharge" sounds like it could have been an unreleased track from Metheny's furious high energy 1994 release Zero Tolerance for Silence. Metheny, McBride and Sanchéz return to calmer territory for the closing "The Night Becomes You." While a full-length concert recording from this trio would be welcome, this EP has enough variety and incredible playing to tide us over. Additional detais maybe found at www.nonesuch.com.
SELECTED CLUB LISTINGS
The Comedy Caravan, 1250 Bardstown Road, Louisville, KY 40204, 502-459-0022 www.comedycaravan.com, has long been a venue for quality musical acts. Prior to the opening of the Jazz Factory, jazz performers such as James Williams and Karin Allyson performed there. The Don Krekel Orchestra performs the second Monday of each month, which falls on October 13. In the words of owner Tom Sobel, it seeks to become a "home for other Jazz Factory orphans." In a recent e-mail, Sobel announced that "the Comedy Caravan has officially entered into an agreement with Ken Shapero to use the Jazz Factory name & logo." Contact the club for any post-deadline updates. Also in October, Jerry Tolson brings his quintet with Dave Clark Monday, October 6. A review of their great set for the Louisville Jazz Society's Wine and Jazz Appreciation Party at Felice Vineyards in June may be found in my July column.
Special Note: There will be a memorial concert for the recently deceased John Albrecht, a master trombonist, on Tuesday, September 30. Unfortunately, news of this event did not come in time to be listed here in September, but since the print edition is usually out a few days before the end of the month, so here's hoping you can make it out to this. According to an e-mail announcement, trombonist Herb Bruce, (a student of Albrecht himself, now of Sarasota), will lead a quartet with Ray Von Rotz (Boots Randolph's drummer) and bassist Bobby Durham coming in from Nashville, with open jamming with the group offered for the second set.
The Speakeasy, in New Albany, opened last summer, and prior bookings have included Jamey Aebersold, David Hazeltine, Chuck Marohnic, Craig Wagner, Tim Whalen, Dick Sisto, and more. Monthly listings were unavailable by deadline time, you can obtain more information: SPEAKEASY JAZZ, 225 State Street, New Albany, IN 47150; 812-981-0981, 1-866-498-JAZZ; or surf to its website: www.speakeasyjazz.us
The Seelbach Jazz Bar, (500 S. Fourth Street, 502-585-3200), features vibraphonist and occasional pianist Dick Sisto, who always provides excellent mainstream jazz, frequently with guest artists joining him.
The West Market Street Stompers continue their weekly gig through the summer at Bearno's By The Bridge, 131 W. Main St., on Fridays, from 5:30 – 7:00
p.m. An added enticement, per their Newsletter, is a dance floor.
The Jazz Kitchen (5377 N College Ave., Indianapolis, IN 46220; phone: 317-253-4900; www.thejazzkitchen.com), presents nightly offerings of local and regional jazz; check the website for the full schedule and updates. A late addition to the September calendar (in case the print edition is out by the date) is Friday, September 26 - Robert Walter with Astral Project's Johnny Vidacovich & James Singleton; Friday-Saturday, October 3-4, Pharez Whitted Featuring Bobby Broom; Friday, October 10 - The Clayton Brothers Quintet: Brothers John (bass) and Jeff (sax & flute) with John's son Gerald on piano, Obed Calvaire on drums and trumpeter Terell Stafford; Saturday, October 11 - Steve Smith's Jazz Legacy with an all-star lineup of Andy Fusco (alto sax), Walt Weiskopf (tenor and soprano saxes), Mark Soskin (piano), and Baron Browne (bass).
The schedule for The Blue Wisp Jazz Club in Cincinnati, 318 East Eighth St. (513-241-WISP), includes: Saturday, October 4: David Ornette Cherry Quintet (trumpeter Don Cherry's son); Sunday, October 12: Winard Harper Quintet. Wednesdays remain the province of the Blue Wisp Big Band. The website is: www.thebluewisp.com.
Important Note, Part 2, Slight Return: "The Jazz E-News" service has been discontinued. The Louisville Jazz Society has revamped its website (www.louisvillejazz.org), and now offers a new means to disseminate news of live performances locally: be sure to sign up for the e-mail "Louisville Jazz Society's Jazz Insider." In any event, it is both impossible for me to try to provide complete listings here, and it would be duplicative of the weekly listings in the Courier-Journal and LEO and the Louisville Music News' monthly music listings, in both the print and online editions (www.louisvillemusicnews.net).
LOCAL JAZZ CONTACTS
With two just-turning-ten-year-olds, it's hard to get out as much as I would like to hear music. As a result, picking and choosing which performances to catch sometimes require that I postpone seeing some of the local musicians and singers in order to not miss the one-night-stands from out-of-town artists. Invariably, I feel guilty, so in an effort to assuage my guilt and, more positively, to provide more exposure to our community of great local jazz performers, I am initiating this feature containing website and e-mail contact information. I am only including those artists who have given their permission to me; some have indicated a preference for website listing only; others have only e-mail addresses. If you wish to be included, drop a line to me with your permission and preferences, at mzkjr@yahoo.com. I reserve the right to edit and to exclude those whose connection to jazz is, in my opinion, tenuous; and this feature may end up online if it begins to take up too much space in print.
BOBBY FALK: www.myspace/bobbyfalk.com, drummer and composer Bobby Falk;
WALKER & KAYS: www.walkerandkays.com, singer Jeanette Kays and guitarist Greg Walker;
JENNIFER LAULETTA: www.jenniferlauletta.com, singer Jennifer Lauletta;
JEFF SHERMAN: jeff.sherman@insightbb.com, guitarist Jeff Sherman;
RON JONES: www.ronjonesquartet.com, rjmusic@ronjonesquartet.com, saxophonist Ron Jones;
STEVE CREWS: www.jazzcrews.com, jazzcat@iglou.com, pianist Steve Crews.
CODA
I am always interested in your comments. Contact me at mzkjr@yahoo.com.