I've Got A Mind To Ramble
Fergie Shakes His Booty
Benefits bring out the best of our local fans and musicians. Their donated time and talent combine to create a camaraderie for a worthy cause of uniting the community and the music business. So it was for MERF's Booty Shakin' Blues Benefit at Stevie Ray's Blues Bar on Sunday, September 7. Several items were raffled off, including a guitar-inspired toilet seat created by Marvin Maxwell and an electric guitar won by trombonist Donn Adams.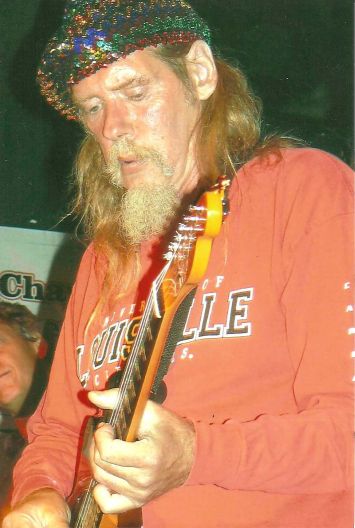 Steve Ferguson at Stevie Ray's. Photo by Keith Clements
Hambone (Nick Hamstra), The Travelin' Mojo's and The King Bees were the special guests, but the extra special guest was Steve Ferguson and his Midwest Creole Ensemble. Steve's recent appearances have been rare, so this event was significant. He will be needing some of MERF's emergency resources, as he has been diagnosed with lung cancer. Steve will begin radiation treatments on September 15. His five-piece ensemble included Bob Ramsey on keyboards, Pat Lentz on guitar and drummer David Marasco. Bassist Robert 'Monk' Mackey has been playing with Steve for over twenty-five years.
There are only a few guitarists who have such a recognizable sound that you immediately know who it is when you hear them play that first note. Steve's deep guttural cords are like no other. There is a staccato burst of screaming notes that suddenly drop down into a deep bass moan. Steve's funky backbeat is so full of Creole, it's like Professor Longhair is channeling through his strings. Steve rose to the challenge, singing several of his signature songs in his Midwest nasal twang. They were long, with several extended instrumental solos and they were sweet with many memories. "Shake and Bake," with its syncopated rumba beat, got people on the dance floor. "Monk" helped out on vocals with "Caldonia" and "Hoodoo Man Blues." "I Stand Accused," the first blues that Steve wrote, has the mournful lyrics, "I was guilty when I was born and I'm guilty when they lay my body down." It doesn't get any bluer than that. The mood perked up with "Don't Cha' Know" and "When You Snooze You Lose." The inspired set reached a climax with some good old, hard-driving rock and roll on "Can You Stand It." What would a Fergie show be without "Hi Di Ho" to close out the evening.
There were several other guitarists, including Wayne Young, Tim Krekel and Mark Stein, who didn't play but were there to honor one of their own and support MERF. It was nearly six years ago that five benefits were held at various venues to defray the costs for Steve's heart surgery. Let's hope that Steve can pull through again for some more Mo Ho Criollo.
Garvin Gate Preview
Those of you who attended last year's Garvin Gate know it is back on track after being derailed for eleven years. On October 10 and 11, the intersection of Oak St. and Garvin Place will be closed to traffic but open to anyone who likes the blues. Thanks again to Louisville Metro Councilman George Unseld for giving a more generous gift this year to make this event even better. Mike Suttles, who has been booking the bands, is now able to pay the musicians what they deserve. Road Rage and MOR from the Louisville School of Rock will open with brief sets on both days. The director, Leigh Ann Yost, said, "LSOR provides the latest technology, equipment and programs to make anyone a star in their own right." These kids will be stars when they play on Friday at 6:30 p.m. and Saturday at 2:30 p.m. at the Gate. Jimmy's Music Center will also perform on both days between sets.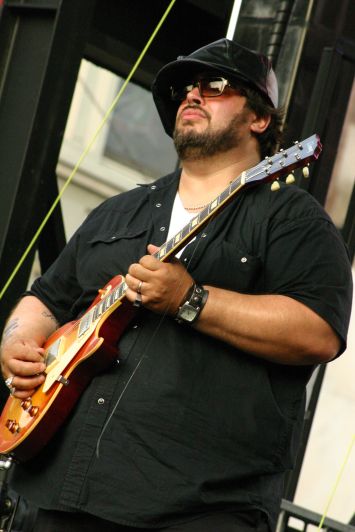 Nick Moss. Photo by Keith Clements
Pure Gravel Blues Band will start the adult blues on Friday. They have been getting gigs all over town from the Smyrna Inn to Fender's Den of Sin and Syl's Lounge. Joe DeBow fronts this gritty band with his versatile vocals, guitar and harp. When you add Mary Wright on keyboards, it will put the blues into overdrive at 7 p.m. Robbie Bartlett will follow with her soulful renditions that reach out to her loyal fans.
Chicago is being tapped again this year for the headliners. Nick Moss and The Flip Tops will hit the stage at 9:30 p.m. Moss represents the new dedicated generation of Chicago guitarists. He has played with Jimmy Dawkins, The Legendary Blues Band, Willie 'Big Eyes' Smith and Jimmy Rogers. He formed the Flip Tops in the late 90s and records on his own label, Blue Bella. Moss performs true to the classic Chicago ensemble style of blues. Lately, Moss has been adding an acoustical set of stripped down traditional blues just as he recorded on his second disk from his recent CD "Play It 'Til Tomorrow."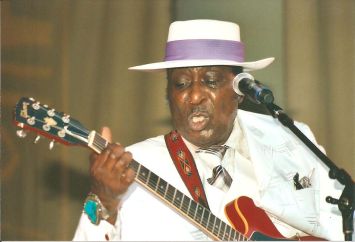 Eddy Clearwater, June 6, 2008. Photo by Keith Clements
After the kids do their warm up act on Saturday, The Leisure Thieves will come on at 3 p.m. This recently formed group has played at Lisa's Oak St. Lounge and Mike Suttles likes their sound. The rest of the afternoon will feature two of Louisville's bedrock blues bands, da Mudcats and Sue O'Neil and Blue Seville. Together they will rekindle the spirit of Jim Rosen.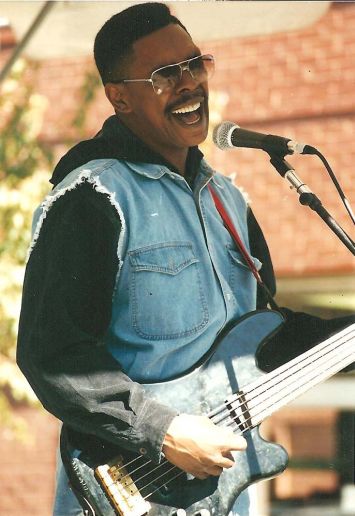 Keith Little, 1995 Garvin Gate Festival. Photo by Keith Clements
Garvin Gate would not be complete without The Walnut Street Blues Band. The band has submitted a demo tape to be considered for next year's Chicago Blues Festival. I can visualize them playing on the Crossroads Stage with Artie Wells working the crowd. Keith Little, The Cincinnati Blues Man, will bring his Blues Body band from the Queen City at 8 p.m. He performed at the 1995 Garvin Gate and his deep voice and steady bass will be a welcome encore.
If there is any act I would recommend as a must see this year, it would unequivocally be Eddy "The Chief" Clearwater. Eddy was at the 1989 Garvin Gate Festival jamming in the Rudyard Kipling after the shows. He has made a few more recent appearances at Carrollton and Louisville. The seventy-three-year-old southpaw rocked the Petrillo Bandshell during this year's Chicago Blues Festival with the help of a cast of all-star musicians, including Ronnie Baker Brooks. They all supported Eddy on his most recent CD, West Side Strut. His exciting live performances, complete with him donning a colorful Indian headdress, have made him a masterful showman. If you like the raucous style of Chicago's West Side guitar spiked with a little Chuck Berry, "The Chief" will deliver.