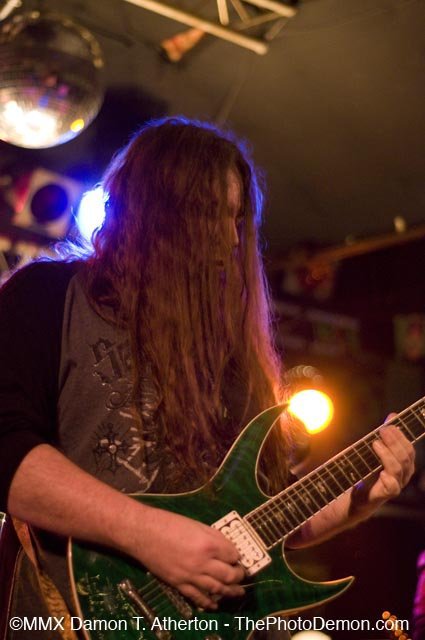 News From the Pit
I'm a procrastinating slug. I always wait till the last minute to write my column. To lift my spirits, energy and motivation, I occasionally indulge myself with some 100% pure Colombian stimulant to give me that special boost on weary days. And yes, it's COFFEE you cheeseballs. Ha.
Seriously, I don't drink much coffee so when I do I'm like a Chihuahua on meth. It's been pretty nuts around here lately.
Imagine going through this: my house is between two houses whose occupants were in a racial war. We had no power. The full moon was out, and so were the crazies. My neighbors on the left are Portland rednecks who are so goofy that they wore a full-body, yellow mustard bottle costume, tormenting passing cars MTV Jackass-style, and the other warring faction to my right is a house/gang of African-American teenagers who are out of control.
Well. I was in my crib, chillin', when I heard screams and gunfire. Ten of the gang members jumped three of my redneck neighbors, then war broke out with guns, bricks, pipes and such.
The rednecks called their buddies, so it was redneck-o-rama. I was worried to death that stray gunfire would hit my crib and my lady friend and me. It was pretty funny, though. One of the teenagers said to the rednecks 'I'm a West End goon, you cracker!' Hmm, what the heck is a goon? A new gang term? I dunno but it was funny.
I didn't get involved, I just burned one and watched the twenty cop cars try to break up the mess in front of my house.
The good ol' Southend, never a dull moment.
I ended up going five days without power, thanks to the remnants of hurricane Ike.
No TV, no brutal heavy metal electric guitar, no Internet (oh the agony of it all), it was horrible.
Boy, do I take power for granted. I was like a Neanderthal Eddy Metal, sitting in the dark playing acoustic guitar by candlelight, while dodging bullets.
LRSfest was a mess because of the storm. I went down there early and the gate told me it was canceled, so I left. The radio was down that day, so I heard nothing about it. I heard the next day that the show went on, partially.
To those who feel disappointed about the event, don't blame LRS. They had a great lineup planned for you peeps, but Mother Nature wasn't having it. Trust me, I had a VIP pass, so I was bummed too. LRS did everything they could to salvage the day, so don't be po'ed at them. Blame Ike!
I would like to congratulate the band Adaptize for winning the band competition to open LRSfest. I didn't think they could beat Nova Red's crowd, but they did and I'm happily eating my words.
Kudos to LRS for being so fair. Relative newcomers Adaptize beating an established popular band like Nova Red proves without a doubt that WLRS was a fair contest, and a very classy and honest decision by WLRS. Props!
I did get to see Skid Row and The Bulletboys at Expo 5 (see review below) and I had a blast hanging with friends I hadn't seen in 17 years. This was a surprisingly great show. What a flashback.
I was going to attend Bullet For My Valentine, but their tour manager and whole team were a-holes, to me and others here in town, so farg those dudes who act like they're the world's top band. You would think after two months of free exposure, the band would be somewhat appreciative. Courtesy isn't a priority in Britain, it seems. Thanks to Coyote's, though, for being cool as always. There's some cool stuff coming up in October: Trivium/All That Remains will be sick (Free-Ride), Five Finger Death Punch (Free-Ride) is coming again and hopefully I won't be ill this time, Tesla will be at Coyote's and you don't want to miss this excellent band, which absolutely rocked last time they were here. The Misfits (Free-Ride) will be at Coyote's, and last but not least Eighties metal monsters Obituary will be at Uncle P's.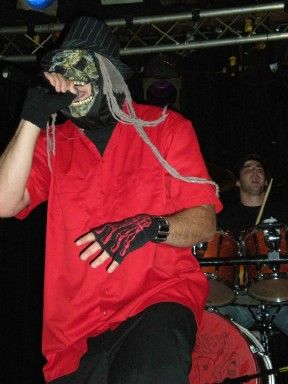 Todd P. from Lesson B4 Dying. Photo by Eddy Burke
I've never seen them, so I'll probably go check out the Florida death metal legends. Promoter Terry Harper has generously provided some free tickets for three of his killer metal shows, so look below for a chance to win some tickets courtesy of Terry and us here at LMN. Thanks, Terry! And I'm starting to get the lineup together for Rock For Kosair 4 at Phoenix Hill on November 21 (read below).
As always, I thank you for taking the time to read my goofy, 100% true stories and metal news. I really do pride myself for supporting this city's underground, and I have always rooted for the underdog, whether it be boxing, UFC, or Louevil original music. Other publications and writers in this town might only be concerned with covering the ultra-popular, commercial pretty boy bands, and I say, knock yourself out. I'd much rather be covering the real Louevil music scene as opposed to what's the trend of the month. I think that is what sets News From The Pit apart from the competition. We give everyone a chance! From death metal pig vocals to downhome bluegrass, we got it all baby.
The Metal Grapevine
Mark Your Calendars For FREE Tix: In case you don't know, Louisville Music News has been giving away tickets for some time now. It's a new giveaway system I developed that benefits you mofos, our loyal readers! We appreciate the support for LMN that you have given since 1989 and we mean to prove it. First, though, you must link up with me on Myspace.com/eddymetalrocks. Then look in my blog , or the newspaper/website for ticket giveaway information. It's fargin easy, all you got to do is email me at a certain time. Tell your friends. I have seen many a happy winner, and the next giveaway could be you, if you mark that calendar.
Free Five Finger Death Punch Tix: (FREE-RIDE) On Wednesday, October 8, Five Finger Death Punch will be at Headliners. For a chance to win a pair of tickets, email me on Sunday, October 5 at 6 p.m. sharp at myspace.com/eddymetalrocks. Closest to exactly 6 p.m. wins! In subject line, put 'Stinkfinger.'
Free Trivium/All That Remains Tix: (FREE-RIDE) On Tuesday, October 14, two major metal bands will be in town for a slaughter at Headliners. For a chance to win a pair of tickets email me on Thursday October 10 at 6 p.m. sharp at Myspace.com/eddymetalrocks. Closest to exactly 6 p.m. win!In subject line, put 'Hardkore.'
Free Gwar Tix: (FREE-RIDE) Gwar is coming to Club Oasis on Monday, October 20, and I've got some tickets for you mofo's who want to get splattered with their infamous goo cannons (slime, fake blood and sometimes water .) Hint: Do not wear good clothes to this show.
The last time I saw Gwar, a guy in a hideous Jesus costume sprayed water in my face from across the room with his goo cannon. Being Krispy Kremed by Jesus was NOT a highlight of my night, I assure you.
For a chance to win a pair of tickets, email me on Thursday, October 16 at 6 p.m. sharp at Myspace.com/eddymetalrocks.
Closest to 6 p.m. wins! In subject line, put 'Goo Cannons.' Ha ha.
Free Misfits Tix: (FREE-RIDE) Those wild punk rockers from hell will be at Coyote's on October 19 with The Revenants and Adaptize. I have some free tickets for you fargers too, so for a chance to win a pair of tickets, email me on Saturday, October 18 at 6 p.m. sharp at Myspace.com/eddymetalrocks. Closest to 6 p.m. wins! In subject line, put 'Evil n Sikk.'
Tesla is Coming:If you've never seen this Eighties rock band, then you really need to. They are excellent live. I'm not even a big Tesla fan but I was shocked that they sounded so good when I saw them at Jillian's a few years ago.
That show was a blast, and an excellent diversion to the stress of everyday life. Great music and a great time, so much that I can't wait to see this show at Coyote's on October 14. In a time of Spandex and Aquanet, Tesla stood out.
Tesla played a kind of laid-back, blues-based, old-time ballad rock mixed with great vocals, instead of the pretty-boy glam bands with half the talent that was so abundant in those days. I really like the song 'Modern day Cowboy.'
Great acoustics, emotional guitar solos, plus singer Jeff Keith has still got a superb voice. So trust Mr Metal on this. Do Not Miss out. There will be a lot of cute women, too, so get those tickets now, because I predict a sellout crowd.
I am currently working on getting tickets from the promoter to giveaway, so look on my myspace blog for last-minute additions!
Skid Row with Bulletboys Review: I got there right before The Bulletboys went on, and I'm glad, because they rocked.
These Eighties bands keep amazing me. Vocalist Marq Torien (former singer for Ratt) is a bad boy on vocals and guitar. I didn't even know the cat played guitar, but he was rockin' out, playing fat solos that were astonishing. I had no idea he was so good.
Marq's voice has always been impeccable and this night, so many years after his heyday, was no different.
He might be a little more gravelly, but it works for him. He has always been compared to David Lee Roth, but I believe Marq to be the better singer by far. It was disappointing that Mick Sweda wasn't with the band. He is a bad ass on guitar and was clearly missed by the true BB fans. Danny Watts replaced Mick and did a decent job of it, although Torien was playing many of the solos.
The hired gun drummer did well. The Bulletboys had a lot more talent and groove than did most Eighties band, and that is why I like them. They played 'Hard As A Rock', 'THC Groove', and their cover of the O'Jay's classic 'For The Love Of Money.' And yes, of course, they played their infamous sex anthem , 'Smooth Up In Ya.' It bummed me out they didn't play 'Hang on Saint Christopher' though.
I thought to myself 'If this was the opener, then this is going to be one killer show', and sure enough it was, because Skid Row put on a great show as well. A lot of Skid Row fans opted to miss it because of no Sebastian Bach, but I tell you you missed out on a rockin' show. The new singer, Johnny Solinger, did the songs justice, except for 'I Remember you' and that was the only song he had trouble matching. Skid Row played classics like 'Big Guns', 'Sweet Little Sister', 'Monkey Business', 'Piece Of Me', 'Psychotherapy' and '18 and Life.'
The band was tight, and it was great to finally see Scotti Hill play some of his cool – and weird – guitar solos. I always thought he was underrated guitarist. Snake and Rachael were there, kicking butt, too, Rachael grabbed a mic and ripped through his punk rock-style 'Psychotherapy.' I hate that song. Stick to only bass, dude!
There was a good-sized crowd there that night, with quite a few hotties. The sound system at Expo 5 was kickin'. Props to Tom Kent for that. Thanks to Expo 5 for giving LMN tickets to give away, and for making this show happen.
I had a blast. Look for Great White's review next month.
Caldera/Snake-Eyed-Savior/Descention: I ventured out to The Thunderdome to see the new Caldera in action with new singer David 'Sailor' Bryant, and I wasn't disappointed.
First up, though, was Descention, who kicked butt. My only complaint was the guitar amps they use. Not a very good tone at all for the type of music they play, and it hurts their sound overall. Engl, Bogner or Mesa Boogie would work very nicely with their heavy sound.
[Quality equipment is a must if you want to be taken seriously. Many times I've seen bands make themselves look bad with sub-par equipment. I know many of you don't have extra cash, but there are places that rent to own, or that will finance equipment.]
Caldera bassist Marcus Goldsmith. Photo by Eddy Burke
Then it was time for Caldera. It has been a trying time for the band after letting their former singer go and going through a long and difficult search for a replacement. Finally, they hooked up with Sailor and things took off at record pace.
The first song of the night was iffy, and I didn't care for it much, but after that, it was all good. I think Sailor is one of the best metal singers in this region, and he proved it by showing what he can do with the right band. It was a masterful performance by the whole band. Guitarist Chris Marple wailed bigtime and whammied his way to ecstacy and beyond. I'm hearing a lot of Dimebag and Wyle influence in his playing these days.
At one point, Sailor called former Caldera singer Todd onstage to rock out with them in a very polite and respectful manner, even apologizing, but Todd was apparently still upset about being let go and wasn't having any.
If this is only a month into the new Caldera, then I can't wait to hear what awaits in the future. With this perfect addition, I see Caldera becoming one of Louevil's top metal acts.
Snake-Eyed Savior hit the stage next and sounded really good. Jeff Toy's band is, as always, tight. The club had emptied considerably but there were still 40 people or so there to witness the return of the musical partnership between Jeff Toy and Vic Hillerich. I liked Toy's last two vocalists better. Pat Michaels and Sailor are hard to beat, but Vic still has some butt to kick and it is good to see him still in there getting brutal. Dude's got more experience than any two metal singers in town combined.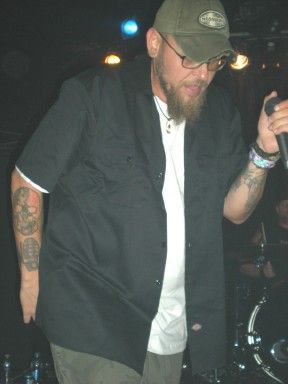 Snake Eyed Savior vocalist and Louisville hardcore veteran Vic Hillerich returns. Photo by Eddy Burke
The sound at The Thunderdome was considerably improved and I had the best time there, so far. Caldera clearly stole the show, and Sailor did very well, for only being in the band a month. Finally, there was an old-school feel about the place that I found most enjoyable. It reminded me of the Toy Tiger.
Thanks to Nick and Louie for being so kind to us here at LMN.
Toy Tiger Reunion: You rockers old enough to remember Louisville's most notorious rock/metal club should come out to Coyote's on Sunday, October 12, for a reunion to remember. Louevil legends Fire Department, Spanky Lee, Crazy Train, Wayne Young, The Boyz and Caribou (I saw them at Champs Rollerdrome when I was 13) will be playing, and they have male dancers coming in, so that should bring in some ladies. A very good lineup indeed, but I would like to have another sort of Toy Tiger Reunion, one of my monthly Unsigned Xtreme shows there were huge for Louevil original metal. I'd like to arrange a Toy Tiger HardKore Reunion, for the Metalheads who loved the Toy Tiger. Perhaps some of the old-school Louevil bands could reunite for one show: Flaw, Shapeless Matrix, Dump Gang, Factor 9, Inhuman, Faceplant, Incursion, Shattered Reality. Think this is a good idea? Let me know.
In the meantime, be sure to go see Louevil legends Fire Dept!!! Those guys are out of control, and beyond raunchy. Let's just hope Steve doesn't break out his fake John Holmes penis.
Rock For Kosair 4:On November 21 at Phoenix Hill Tavern, I'll be putting together another benefit for Kosair Children's Hospital. This time, 93.1 the Fox will be sponsoring the event and will be lending a huge helping hand to this very noble cause. So far, the benefits have raised close to ten thousand dollars to help sick and needy children have a better Christmas. I ask all of you to help in this critical time of year when the Kosair people need it badly. Jo Barrett, the lady in charge at Kosair, said that right before Christmas is the time when they are in the most need. Well, the bands, 93.1 The Fox, Phoenix Hill, LMN, Uncle Samm's Jams and myself are here to kick some rump and give the little tykes something to take their mind off of their illnesses. I need your help, too. Tell everyone about this. We will be having 15 original bands in the whole club that night. We are giving away some guitars. All proceeds go to buy toys for the kids. The Fox crew (Mudd, Charlie, Chris, Louie, etc, etc...) and I will take the Fox vans to the toy store and buy all we can, and then take it all down to Kosair. I hope you all join me in helping the sick children. Look for the band lineup in November Issue! And yes, it will be a sweet show!!!
Flaw or Foundation?Is the newly formed band Foundation going to take back the name Flaw because guitarist Jay Daunt and vocalist Chris Vols are the founding members of Flaw and have a legal right to? From what I hear the decision is not final yet, but there is heavy talk of it. Former Flaw members guitarist Lance Arny and drummer Chris Ballinger aren't too happy about it because they contributed to the writing of a lot of Flaw's music, but the fact is that Flaw was around long before they joined the band. Flaw opened for my band back in the summer of '97. So I'd say yeah, you've been around long enough, take back the name and go from there with a new fresh beginning. An album is in the works and will be titled Foundation.
I'll keep you posted.
The Layzees, 4:20 Rock:I had never seen the Layzees before, but they were opening up for The Shinerunners one night, so I got to check them out. I liked them quite a bit. They play laidback, fun tunes that a stoner/hippie could really relate to. (I would guess that these guys are fond of herb.). It's kind of like a weed roller coaster with these fellas. It's very easy listening music and features some decent talent from right here in Louevil.
It's not the most technical stuff in the world, but it has its own feeling and emotion that makes up for any lack of showmanship/showing off. I've only seen them once live for a few minutes but I liked it and can't wait to see them play again, which I will on my October 3 Phoenix Hill Showcase! Ha. I'm checking out their music on myspace and right when I think I got The Layzees figured out, they bust some rap out and completely took me off guard. These dudes are a trip!
Some of their influences are Johnny Cash, The Black Keys, Yoko Ono, Hendrix, Sublime, Ottis Redding and The Beatles. Vocalist Ben Layzee has a nice singing voice and has a skilled vocal range as he tries many different things. The songwriting is simple but has more hooks than a pirate convention. The acoustic stuff reminds me of The Beatles bigtime. It's poppy, fun, groovy, and goofy, it's Louevil stoner pop rock, it's The Layzees.
Check them out at myspace.com/thelayzeesoflouisvile, but smoke before you do! Ha ha.
Ballinger to Join Love Said No?Former Flaw drummer Chris Ballinger is most likely to accept an offer to play with Atlanta rock band Love Said No. Frontman Erik Roger's (formerly of Stereomud) has a wicked melodic voice that is commanding, so I think its a wise choice by Chris. I saw them open for Primer 55 at the Hill, and they smoked Primer that night. Check out the song 'Broken' at myspace.com/lovesaidnorocks.
The Balance Theory's New Jams:These guys look very young but they play darn good. The Balance Theory is a five-piece rock/alternative band from Louevil that just put some new music up on their myspace site. It's not bad stuff. I see a lot of potential here. Nice melodic riffs, clean singing that is in key. Check them out for yourself at myspace.com/thebalancetheoryband.
Created To Kill:'I love the smell of napalm in the morning' is the opening line of their new 9 song CD, and also a classic line from the Vietnam war movie
Louevil "Apocalypse Now." Hailing from Lawrenceburg Ky, Created To Kill is just plain brutal, in-your-face chaos metal personified. Fans of Nile, Six Feet Under, Job and For a Cowboy should dig these redneck thrashers. I'm not into the sound quality of this new demo, though and the guitar amp sounds like doody. What is that, a Crate amp? Yuck. And the drums sound electronic, too. I liked the music, the very creative riffing and the crazy mixture of vocals from Abe Simmerman (who also plays bass), but this recording is ruining my Created To Kill experience. With song titles such as 'NecroF**k', WarMaggot' and 'Porno Pope' you can clearly see that they don't give a farg.
I want to hear these demons with amps that melt faces and on a recording that doesn't suck. I guarantee then these dudes would sound ten times better. Still, I have to give credit where it's due: there are some right fine pig vocals on here to enjoy. The music is fast and technical. I just listened to the whole CD and it kept me entertained.
Thats saying a lot. Myspace.com/createdtokill.
Upcoming Shows
Brewery Thunderdome
Saturday, October 11 - Bobaflex
Saturday, November 1 - Button Masher, Poetry Of The Dead, Adaptize, Blackroom and The Layzees.
Bulldog Cafe
Monday, October 13 - Hark The Herald with Kirkland, The Balance Theory, On Parallels, Sacred Sorrow and Dude Plays Saxophone.
Tuesday, October 21- Warbringer with Blade Of The Ripper, Factory Damage, Red Eyed Lies and Snapped.
Club Oasis
Sunday, October 12 - 10 Years with Earshot, Meriwether, 7 day, Sun and Sixth Day Mistake.
Monday, October 20 - GWAR with Kingdom Of Sorrow and Toxic Holocaust.
Friday, October 31 - Norma Jean with Haste The Day, The Showdown, Oh Sleeper and Mychildrenmybride.
Coyote's
Tuesday, October 14 - Tesla. $30 Adv./$33 DoS..
Sunday, October 12 - The Toy Tiger Reunion with all proceeds going to MERF: Spanky Lee, Fire Department, Crazy Train, Caribou and Male Dancers for the ladies. $8 Adv./$10 DoS..
Friday, October 17 - Dark Side of The Wall (The Pink Floyd Experience).
Sunday, October 19 - The Misfits with The Revenants and Adaptize.
Wednesday, October 29 The Villebillies and Rehab.
Expo 5
Friday, November 7 - Jimmie Van Zant.
Headliners
Tuesday, October 7 - Suicide Silence with Emmure, Beneath The Massacre, After The Burial and Architects.
Wednesday, October 8 - Five Finger Death Punch with In This Moment, Bury Your Dead and Another Black Day.
Tuesday, October 14 - Trivium, All That Remains, 36 Crazyfists and The Human Abstract.
Phoenix Hill Tavern
Friday, October 3 - And The Armed, Adaptize, The Layzees, The Willing and 8 p.m. $5
Sunday, October 12 - The Great Chili Cook-Off. I'll be judging, c'mon out and see me! 11 a.m. Free. All ages.
Friday, November 7 - 'The Bury The Hatchet Tour' Inner Blue, Caldera, Morning Augment, Deliver Us From Evil (Evansville IN) and Blackroom. 8 p.m. $5
Friday, November 21 - Rock For Kosair 4: 15 original bands in the whole club. Guitar Giveaways.
All proceeds go to Kosairs Children's Hospital. $7
Shooter's
Saturday, October 11 - Boozer and Bash Hammer.
Saturday, October 25 - Bone Jinn and Rough Patches.
Uncle Pleasants
Saturday, October 4 - The Queers with The Independents, Human Parlor Tricks and The Bloody Knuckles Crew.
Monday, October 6 - The Acacia Stain with WhiteChapel, Intent To Kill and Serrated.
Sunday, October 12 - Obituary with Unleashed, Carnifex, Stonecutters and Misery Rising. 7 p.m.
Tuesday, October 21 - Kataklysm and Arsis.
Thursday, October 23 - Nachtmystium with Wolves In The Throne Room, Anagnorisis, Plainwords and Wurmkraut.
Thursday, October 30 - As Blood Runs Black with Terror, Impending Doom, The Ghost Inside, Blood Stands Still and Pig Vomit.
Friday, October 31 - 'Halloween Party' with Assisting Sorrow, Master, Estuary and Created To Kill. 8 p.m.
Tuesday, November 4 - Murder By Death with William Elliot Whitmore, J-Roddy Walston and The Business.
Props of the Month
Expo 5 has gotten their act together and have been doing much much better. They buy radio ads for their shows. They even made a commercial for TV. They give away tickets to you rockers through the radio stations and us here at Louisville Music News. They book Louevil talent, both original and cover bands.
They have been really great people to work with.
I've known Dennis Gray for years (we both played the Toy Tiger a lot) and ever since he started working there, it's been getting better by the show. Good job to all of the people there! LA Guns, Hell Yeah, Killswitch Engage, The Misfits, David Allen Coe, Great White, Skid Row, The Bulletboys, I could go on and on. The sound has been good there too, especially lately. Great White is in three days and I can't fargin wait. I'm excited.
I used to dislike going there, but not anymore. They have made changes to great effect. Keep it up guys!