Scuttlebutt
The Forecastle Festival: From Hip-Hop to Hillbilly
Once a small afternoon outdoor concert, Louisville's Forecastle Festival has come a long way in the seven years of its existence. Starting in 2002 as a small neighborhood gathering in Louisville's Highlands district, Forecastle debuted with just six bands on one stage in one day. It has now grown to more than fifty bands on four stages over almost three full days. It has become one the region's largest organized "Call to Action" showcases, combining music with art and environmental activism.
This year's Forecastle Festival, held July 25-27 on Louisville's Belvedere, brought together a wide array of social and cultural groups, from happy hippies, to hip-hoppers, some hillbillies and a few homeboys (and girls). Every one of them was treated to live performances of their favorite musical genre several times over from the large roster of talent. Regardless of any perceived social difference, everyone rallied around the festival's environmental activism keynote speech, delivered by environmental activist Robert F Kennedy Jr., son of the late Robert F. Kennedy. His hour-long speech was extremely moving, given in such a context that only a hypocrite would have disagreed with him.
Onto the music.
Del The Funky Homosapien
Del The Funky Homosapien brought mad lyrics, as it's referred to in the hip-hop community/culture. His set was filled with repeated slang terms and sentence fragments, consisting of "1's and 2's," "old school" "yo" and something that resembled a chorus, the repetition of "diving the virus…" Again, I interpreted this to be the chorus.
There were also plenty of 45-second breaks where Del requested the audience to "throw their hands up in the air." I know there is talent that is rooted in his performance, but it is incomprehensible to anyone who has a only foundation of country or rock music as their basis of appreciation.
GZA
Thankfully, there was Wu Tang Clan alumni GZA (pronounced Jizz-ah), who saved the night for the hip-hop performances. GZA's immediate presence on the stage brought a flurry of "W's" being made with the first three fingers of the crowd, a symbolic vow of allegiance to the Wu Tang Clan. Overall, GZA delivered a much tighter set with better rehearsed songs than his predecessor, and, for the most part, coherent pronunciation of words that were, um, comprehensible. DJ Muggs also was much better at controlling and influencing the perception of the music as a whole and complimented the lyrical mastery that GZA possesses. Notably, GZA's set contained a tribute song by the late Dirty Old Bastard's "Shimmie Shimmie Ra." Good stuff from the world of hip-hop.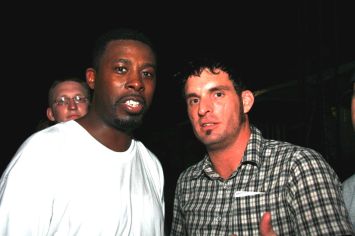 GZA with Jason Ashcraft
Film School
Los Angeles-based Film School surprised me with an impressively tight set of psychedelic Goth rock laden with pop influences. They delivered those eclectic styles consistently, with each song having its own attitude. Look them up at myspace.com/filmschool and make an effort to catch them live. You won't be disappointed and will thank me later.
Snowden
This was one band that mailed me their latest studio album Anti Anti before heading to Louisville. Interesting band. Their music is delivered rather euphorically and pop -rock-ish but not cheesily. The band's bassist, Corinne Lee, was the best performer and, possibly, the best musician in the band. Playing not only bass but a synthesizer as well, she also managed two floor toms. She had the best stage presence by far. You have to see Corinne play her instruments to believe me. Trust me, it's pretty cool and I'm hard to please. Overall this is another artist worth checking out at myspace.com/snowden.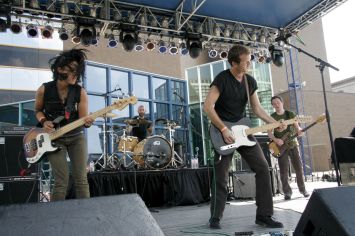 Snoweden at Forecastle Fest. Photo by Jason Ashcraft
The Del McCoury Band
Nashville's Del McCoury Band brought a living room concert feel to their performance, playing to a setting sun and a bunch of shirtless, good ol' boys who wanted more beer. Del seemed to be a happy old man who regularly laughed onstage at his own antics, and even provided an honest in-song admission of forgetting his lyrics. The crowd also laughed it off as Del continued with the song.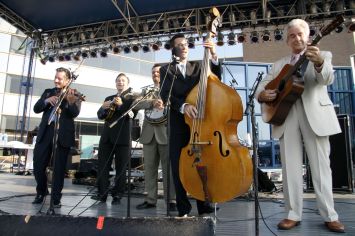 Del McCoury Band at Forecastle Fest. Photo by Jason Ashcraft
Del made his first public appearance in Nashville's Grand Ole' Opry, playing with Bill Monroe's Bluegrass Boys, way back in 1963.
Rounding out the rest of the band was Kentucky native Jason Carter, violin and fiddle; Ronnie McCoury, banjo; Rob McCoury, mandolin and Alan Bartram upright bass.
Their website is www.delmccouryband.com, definitely check them out.